Delicious sweet and savoury vegan Mother's Day recipes for brunch, lunch and dinner. Healthy gluten-free and oil-free recipes that your mother will love.
Sweet and Savoury Vegan Mother's Day Recipes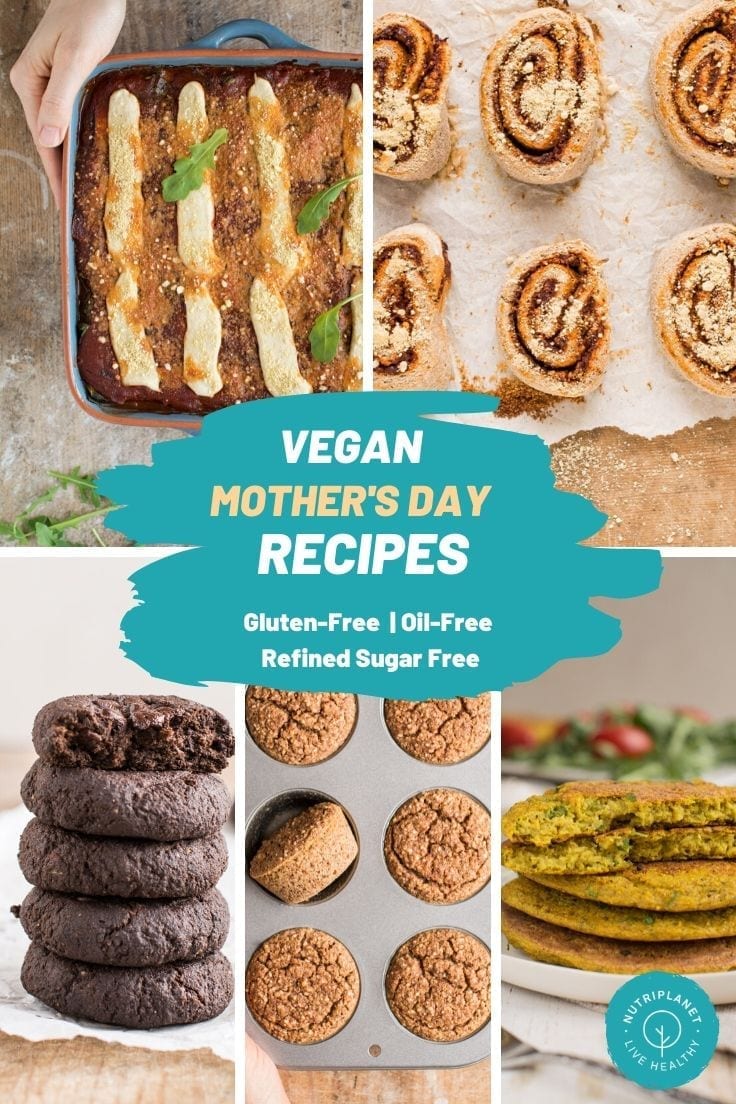 Vegan Mother's Day Breakfast
Surprise your mother with delicious and healthy breakfast that will make the Mother's Day morning so special and memorable. Share your morning and bond over food that you love and that loves you back!
Let's start with those light and fluffy vegan oatmeal pancakes that excel in simplicity as well as delightful taste. They are perfect blender pancakes for those lazy and mindful weekend mornings, thus making it a perfect vegan Mother's Day recipe.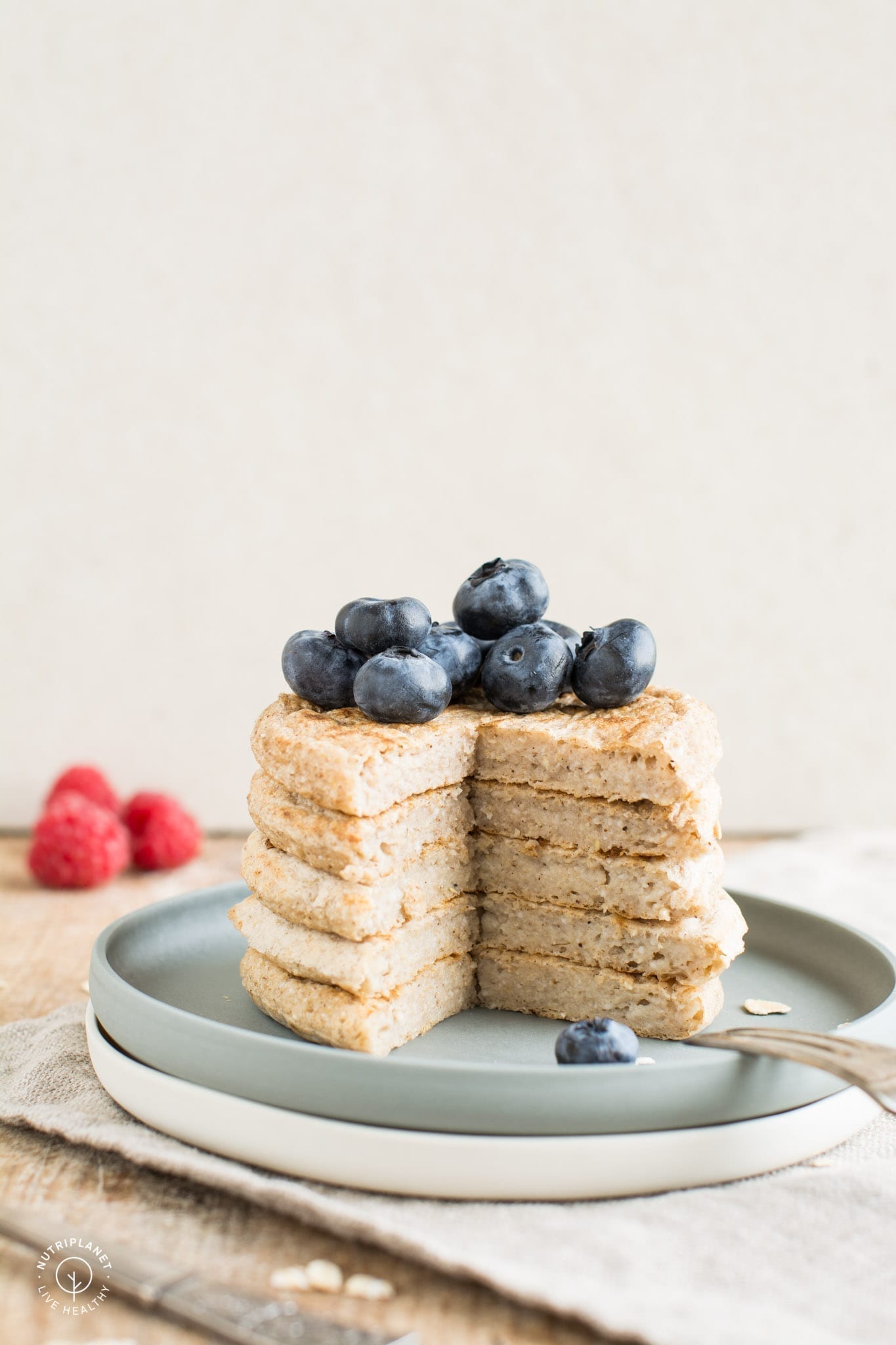 Absolutely delicious strawberry avocado smoothie with creamy texture that is extremely easy to make requiring just 3 ingredients. No added sugars or other additives! Perfect as a light Mother's Day breakfast!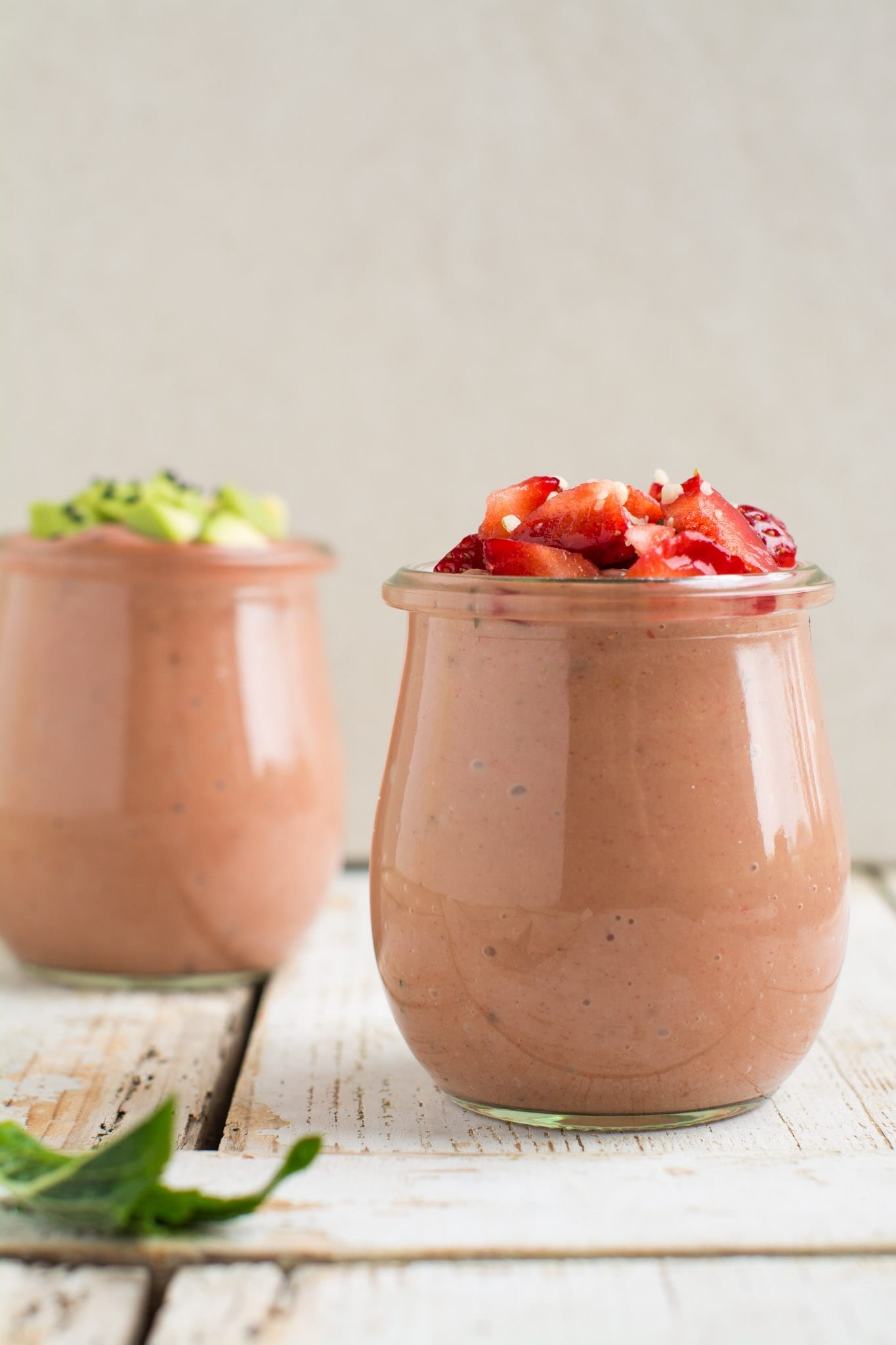 Next comes my favourite vegan omelette recipe! Say goodbye to chickpea flour and try this vegan omelette made with sprouted chickpeas instead. I love this recipe because it's moist, fluffy and has got texture. Moreover, sprouting improves the flavour and makes chickpeas easier to digest. However, soaking alone would also be enough, if you don't have time or patience for sprouting.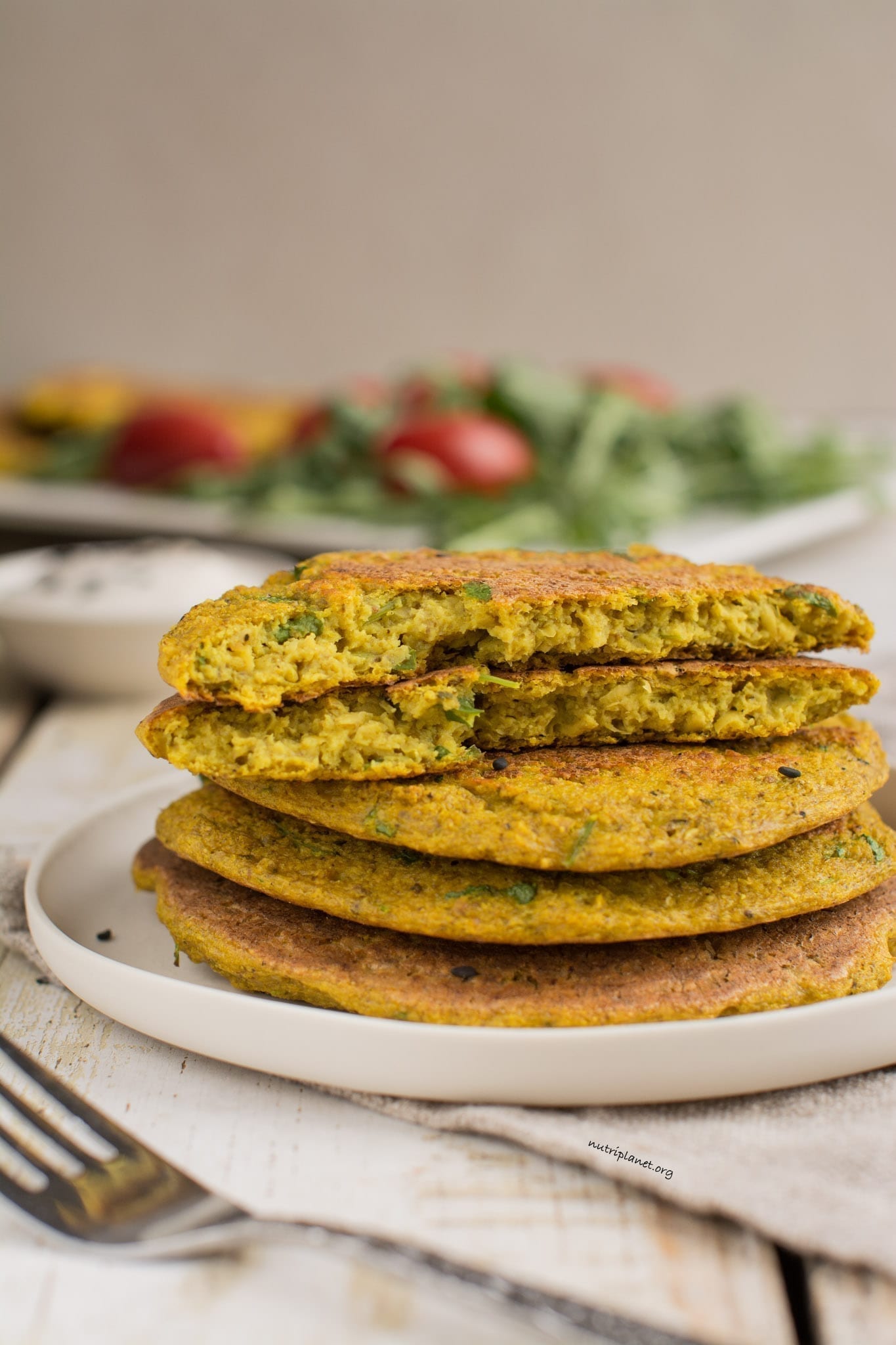 If you love chickpeas, here's another breakfast idea! Gluten-free vegan egg salad sandwich that is super easy and quick to make. You'll only need 1 bowl, a fork and 10 minutes of your time. Spread it on a slice of toasted bread and bite into egg-flavoured creamy deliciousness!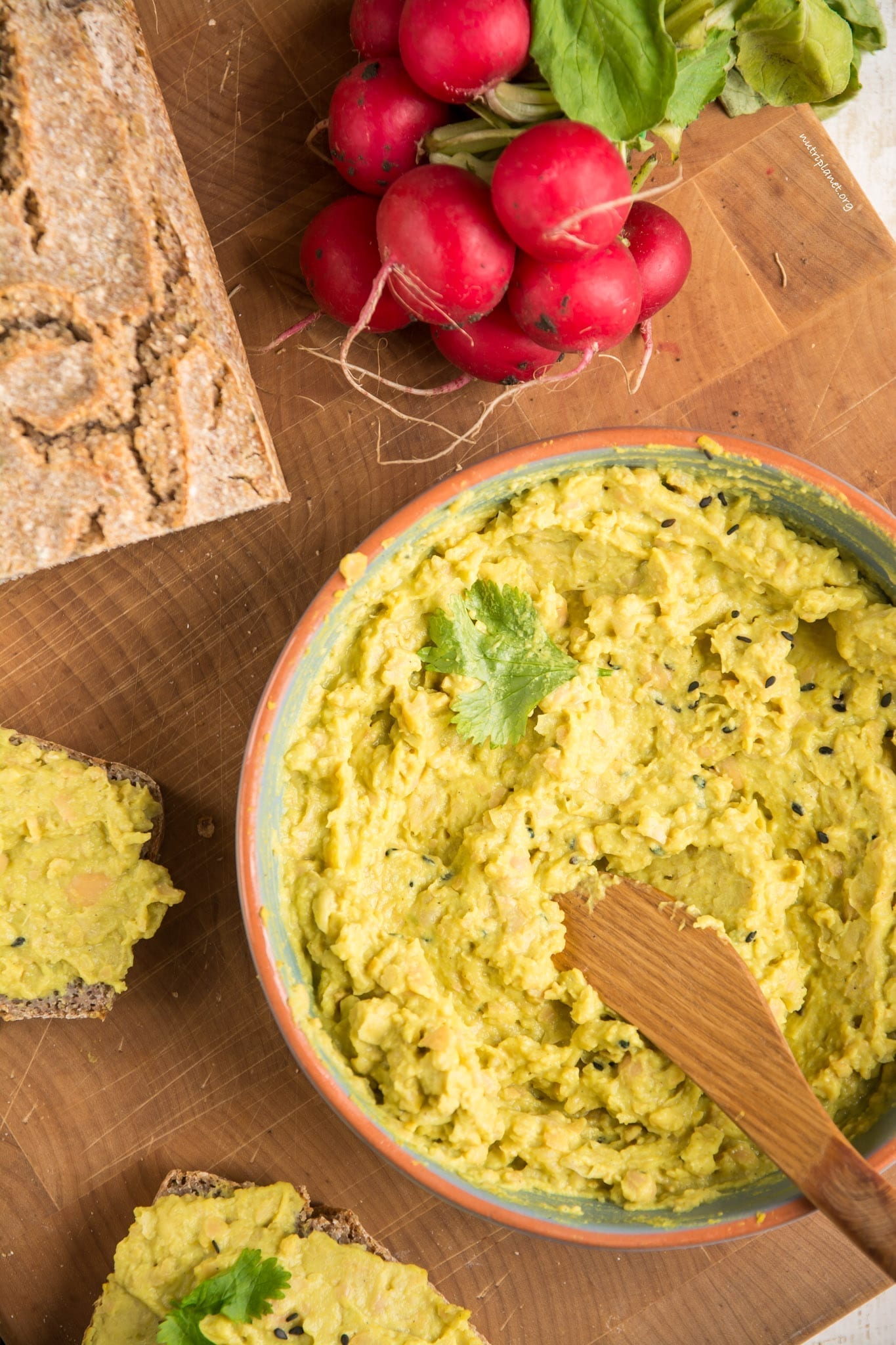 And finally, try out those savoury gluten-free waffles! They would make an excellent choice as one of vegan Mother's Day recipes. The recipe uses soaked grains instead of flour and is also Candida diet friendly. Furthermore, those delicious waffles happen to be almost oil-free as well (just a little is used to grease the silicone waffle forms).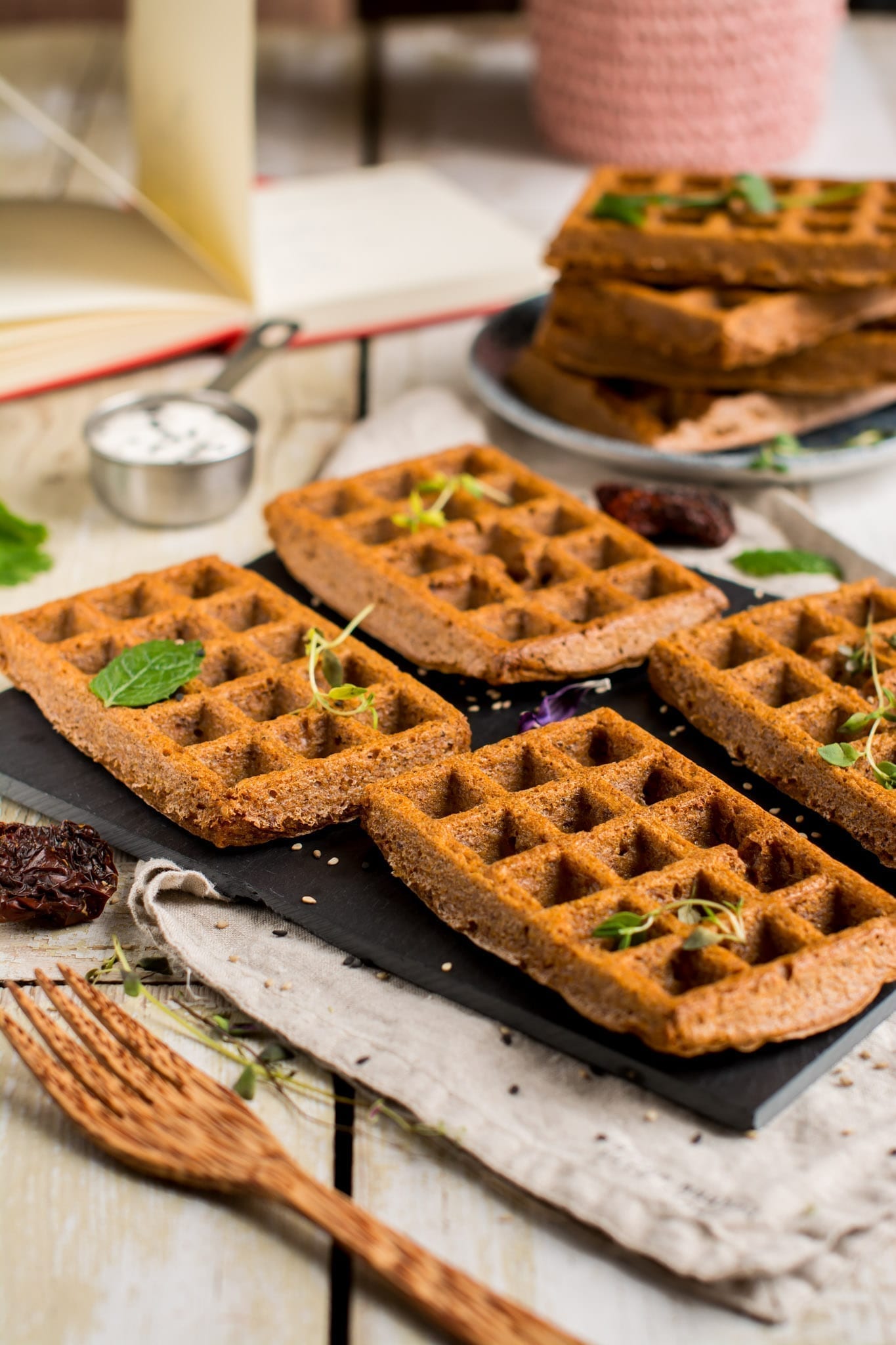 Those savoury vegan sorghum muffins make a perfect healthy breakfast, snack or brunch requiring only 5 ingredients. Furthermore, they are gluten-free and oil-free. Get ready for a boost of flavours, a subtle sweetness and a bit of crunch.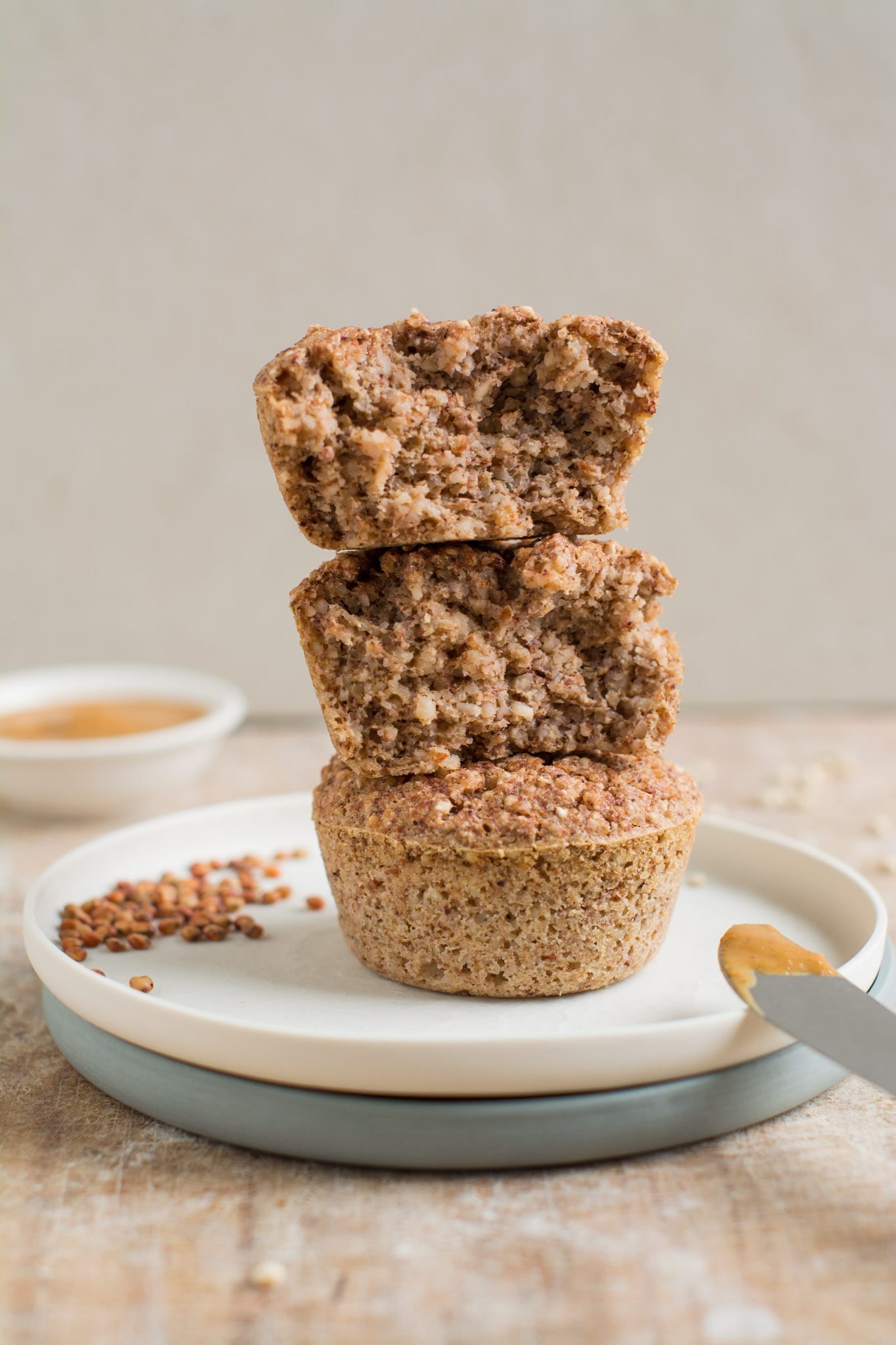 Should your Mother be into cookies make those super easy and delicious vegan oatmeal cookies! They are soft and chewy using whole food plant-based ingredients. You only need a bowl, fork, plate and spatula to make the 3 versions: chocolate chip, raisin and goji berry, and coconut cookies.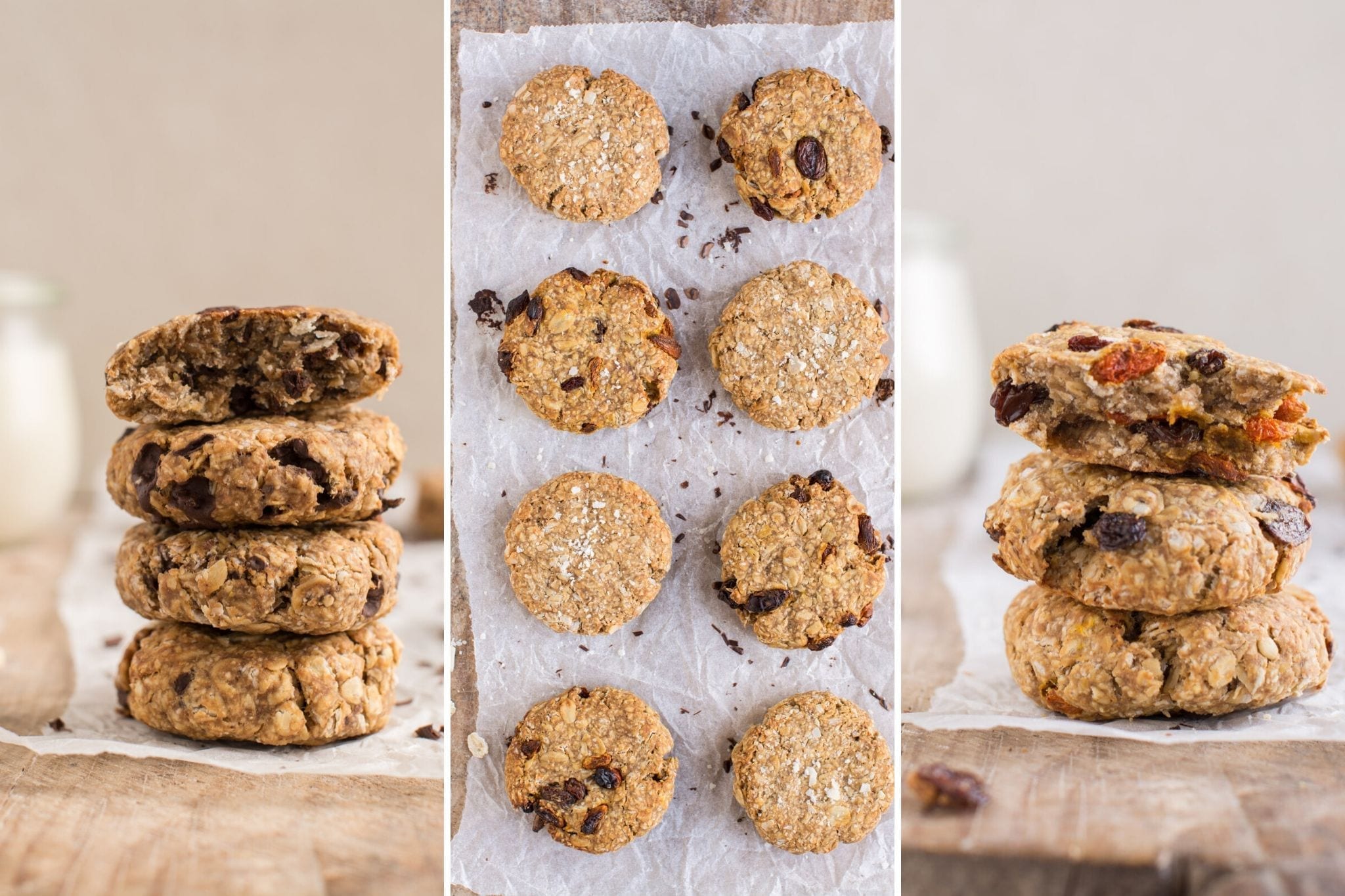 This delicious savoury oatmeal is full of Mediterranean flavours and nutrients that your mother will appreciate in the morning. It is filling and will keep the blood sugar stable until lunchtime. It's a delicious vegan Mother's Day recipe!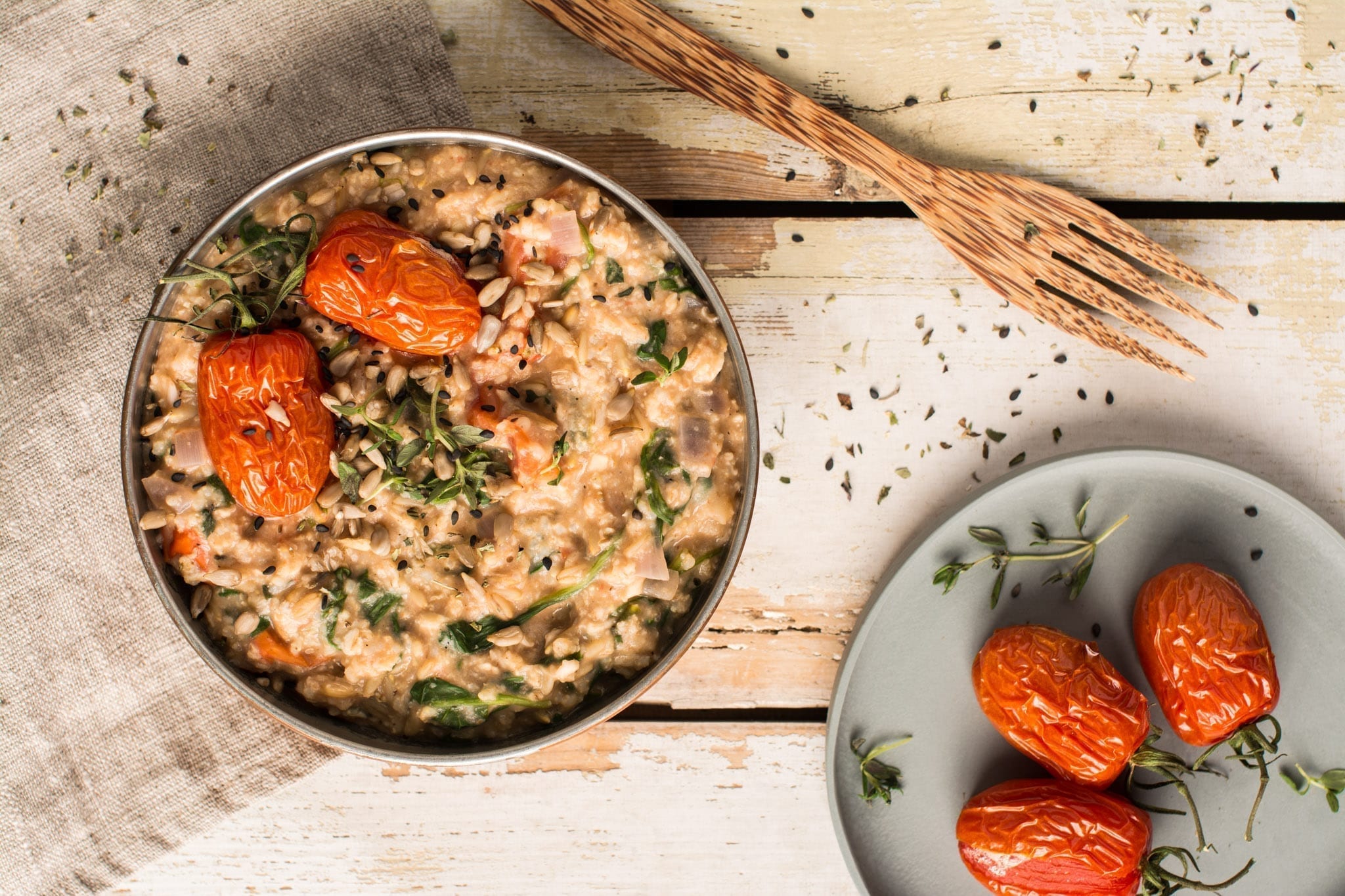 Vegan Mother's Day Brunch [Savoury]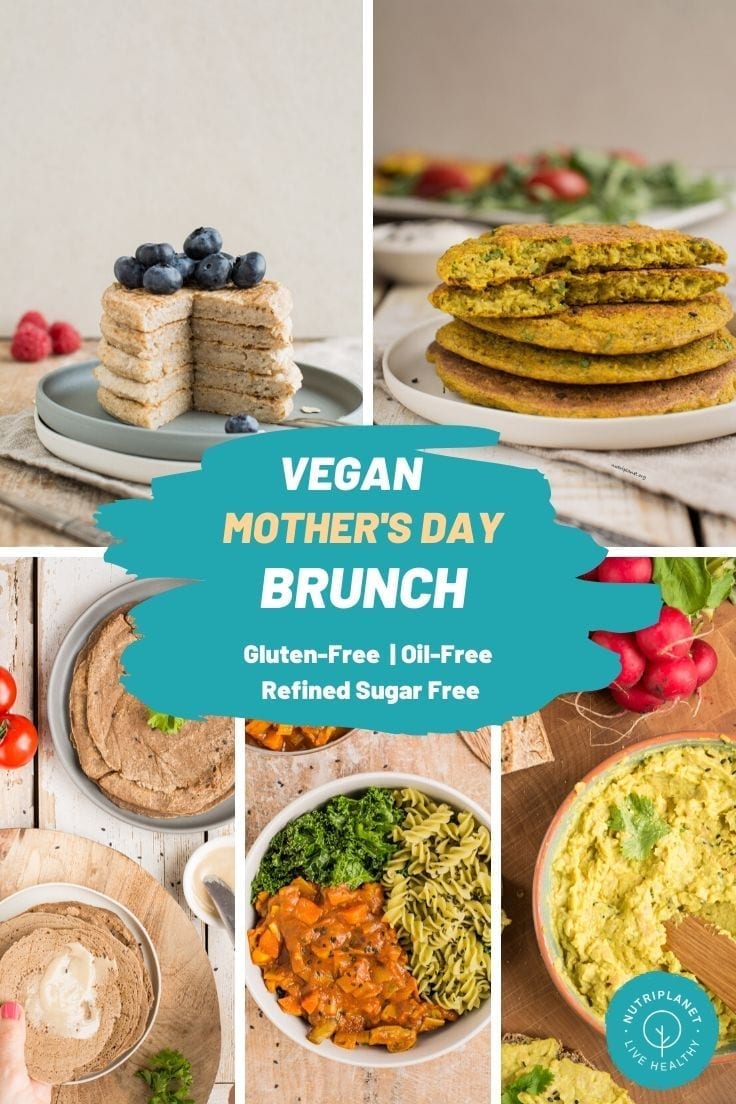 It might be tricky to get to your mother in the Mother's Day morning. Instead, you can prepare either decadent or simple brunch (whichever suits you best) and catch up on whatever you need to catch up on 🙂
Superbly flavourful vegan tomato zucchini casserole with mozzarella that is oil-free and gluten-free. Excellent Mediterranean vegan recipe for side dish or main meal. It could definitely be the centrepiece of your vegan Mother's Day brunch table.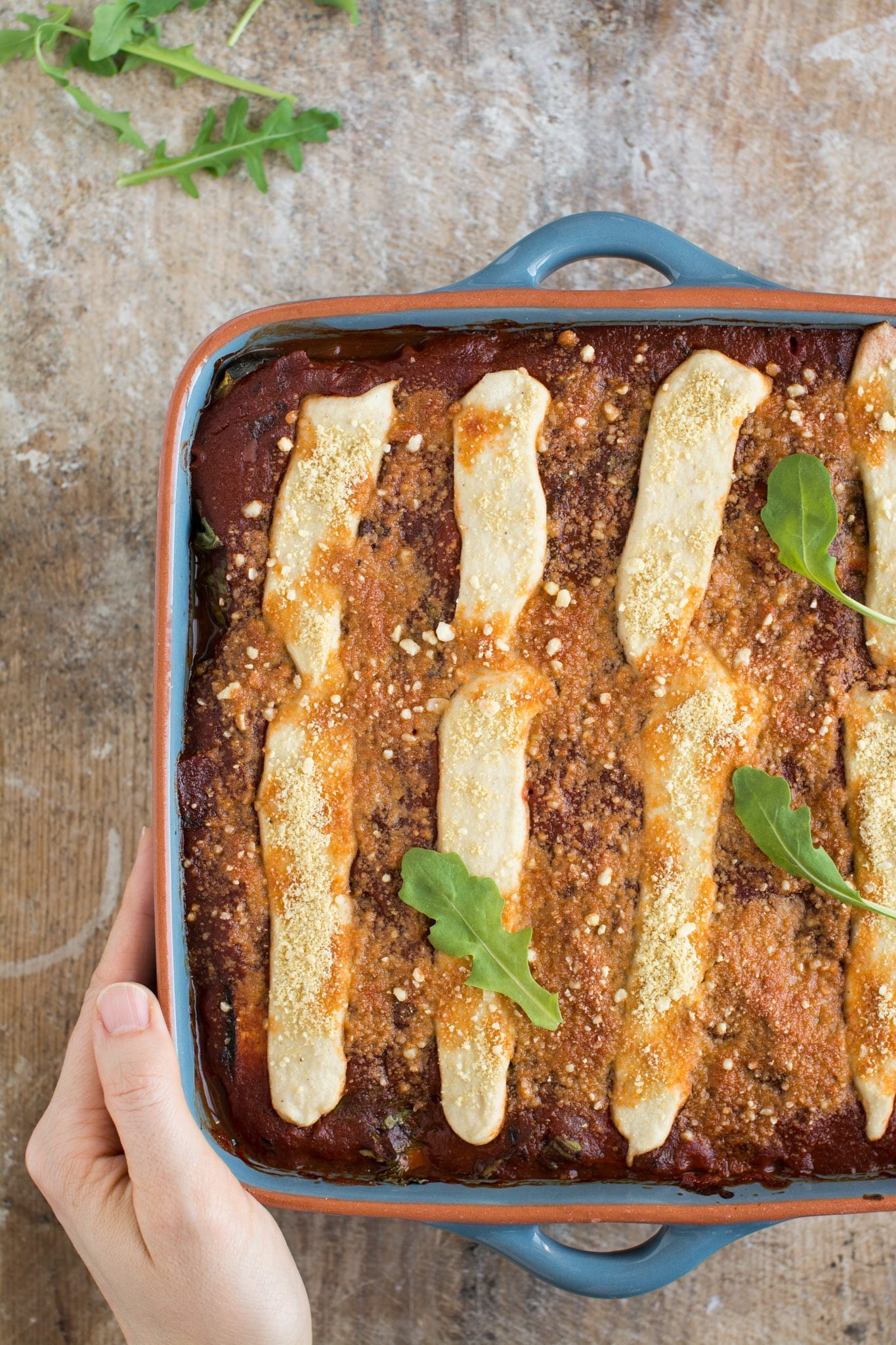 Maybe you're into wraps, tacos, enchiladas or quesadillas? Try those healthy oil-free Mediterranean flavoured gluten-free tortillas made with soaked buckwheat instead of flour. Those tortillas definitely belong in the list of vegan Mother's Day recipes.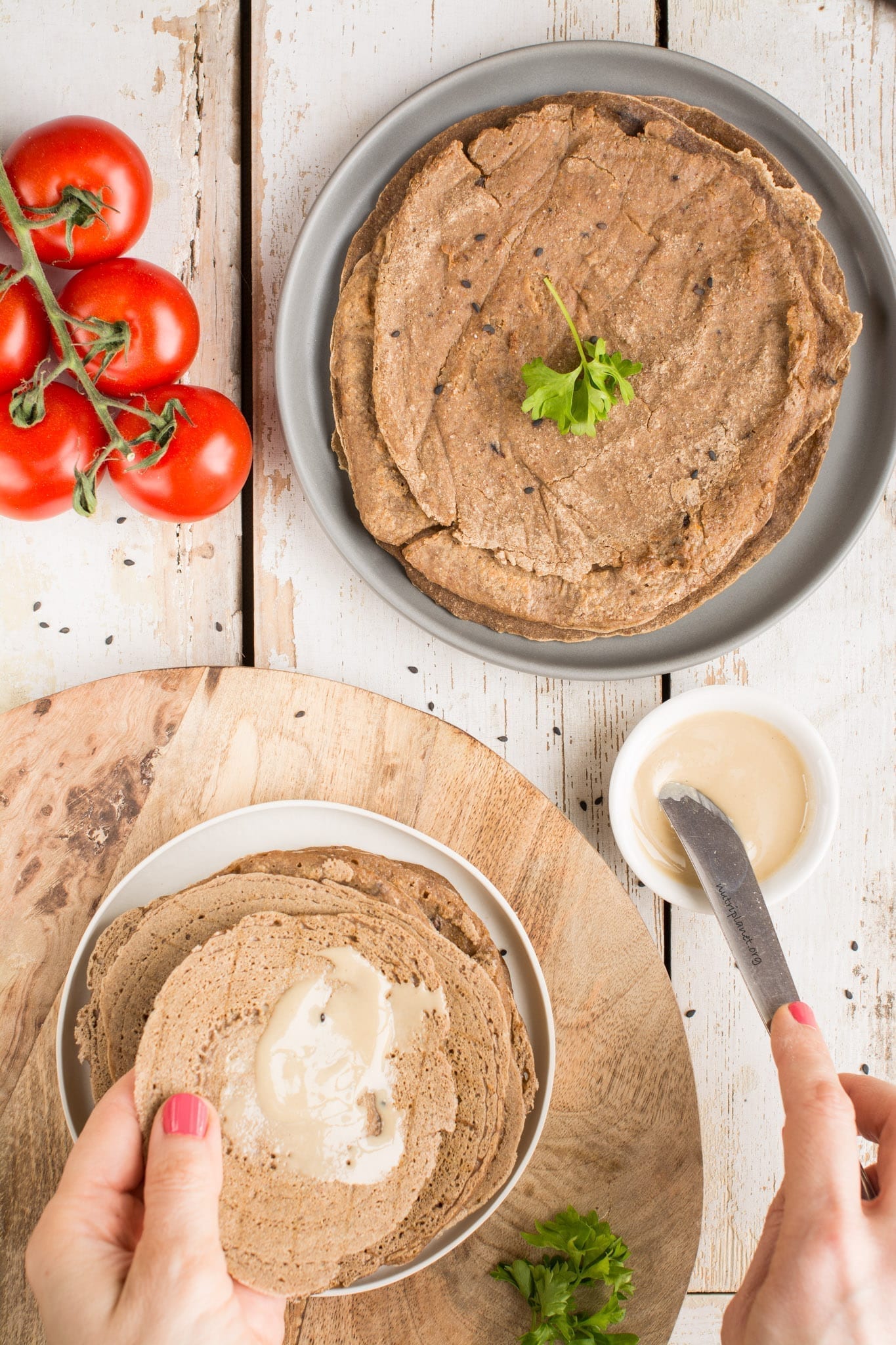 Here's a little something different among vegan Mother's Day recipes! Try these homemade gluten-free vegan pizza rolls if you and your mother fancy a healthy savoury bite sized snack. Furthermore, they are yeast-free and oil-free for maximum benefits. As I've tested those pizza rolls on my 9-year-old, I can tell you that your kids will love this recipe.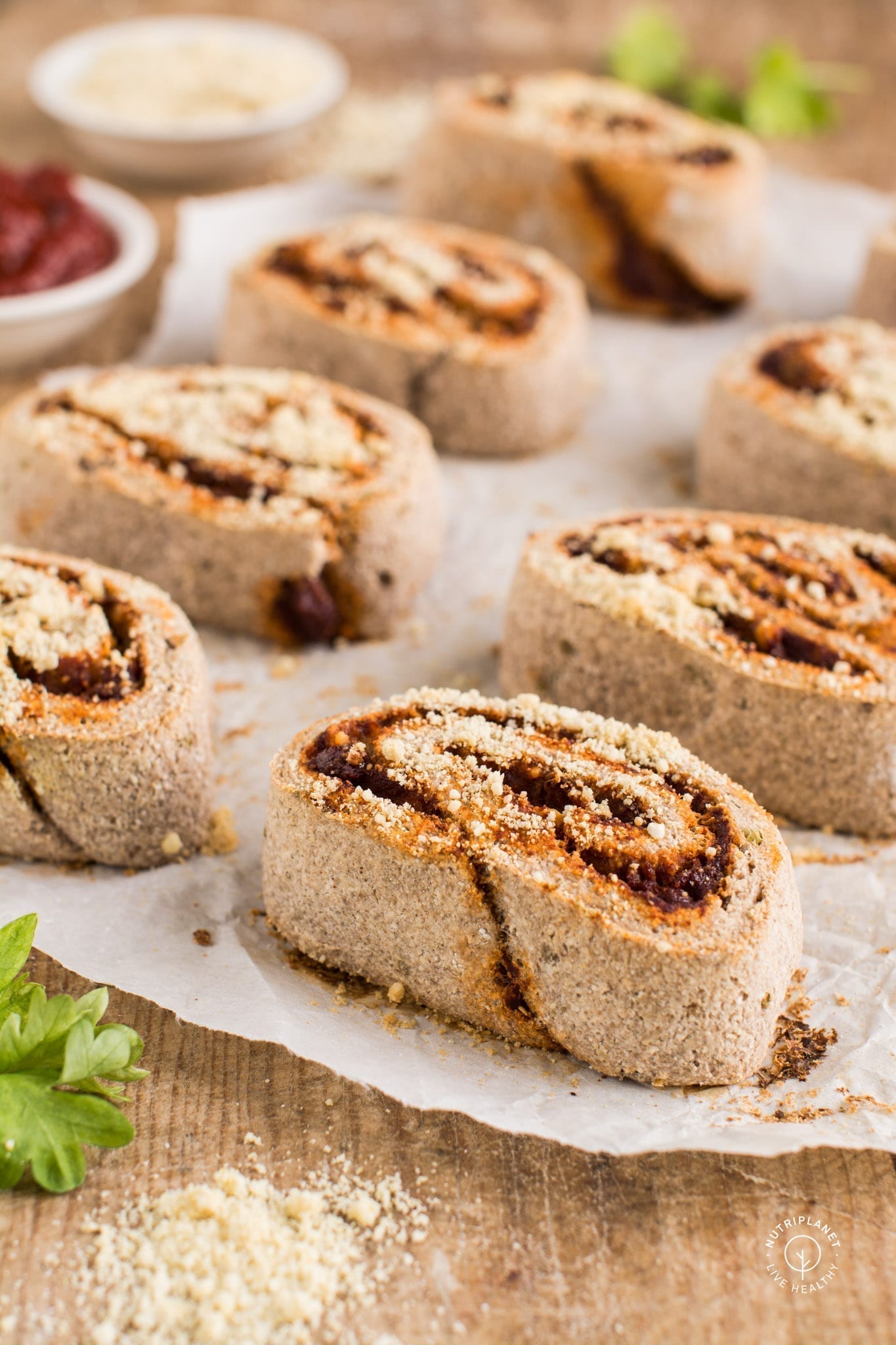 Should you desire a proper satiating meal, try this easy Mediterranean flavoured mushroom tomato sauce that goes so well with al dente pasta or cooked rice and even serves as a dressing on top of Buddha bowls.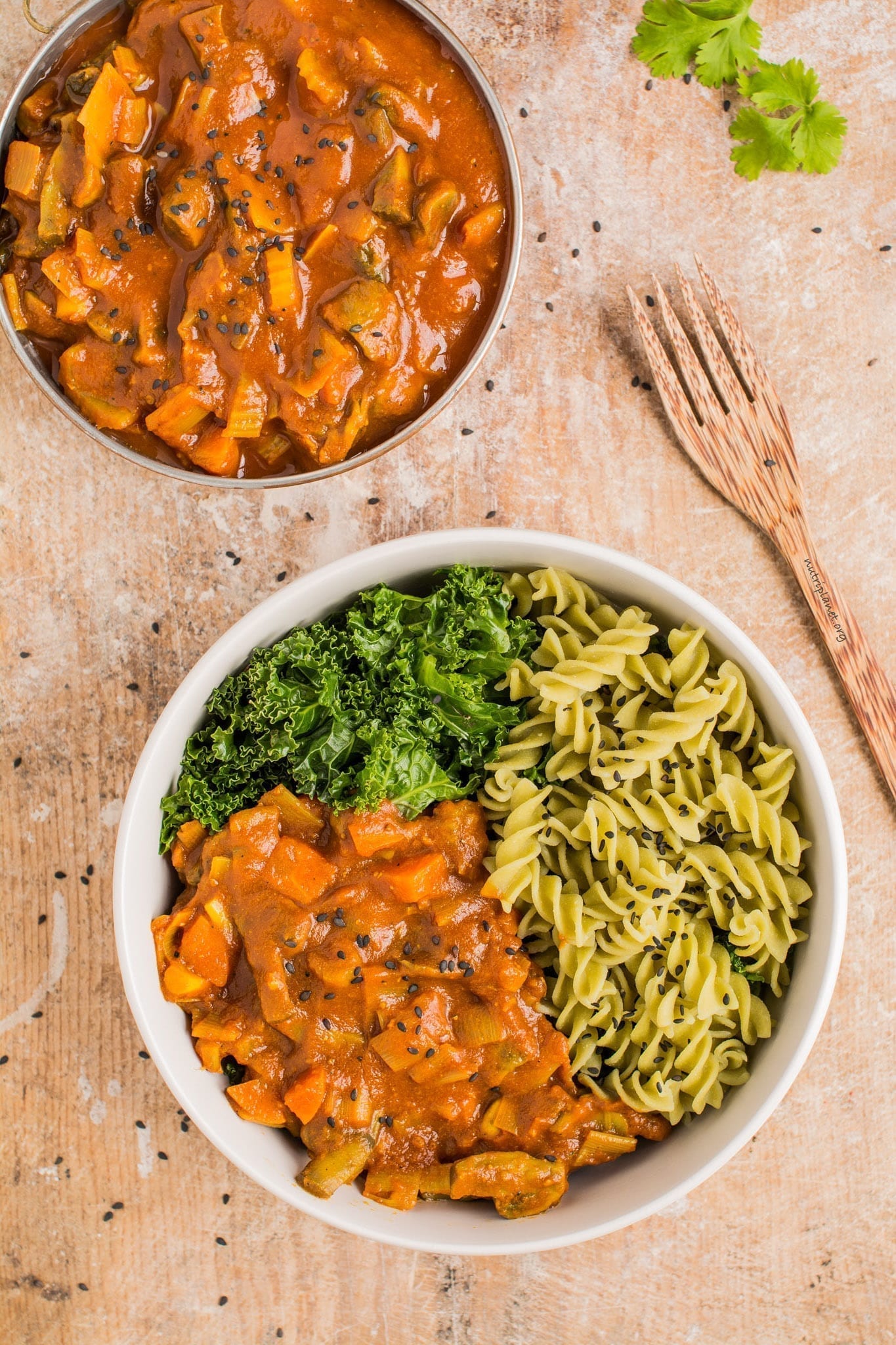 Here's an awesome finger-food for vegan Mother's Day brunch! You'll love this baked vegan falafel recipe with canned chickpeas, if you're into healthy oil-free plant-based treats. My simple falafel balls are full of flavour and have perfect consistency despite being gluten-free.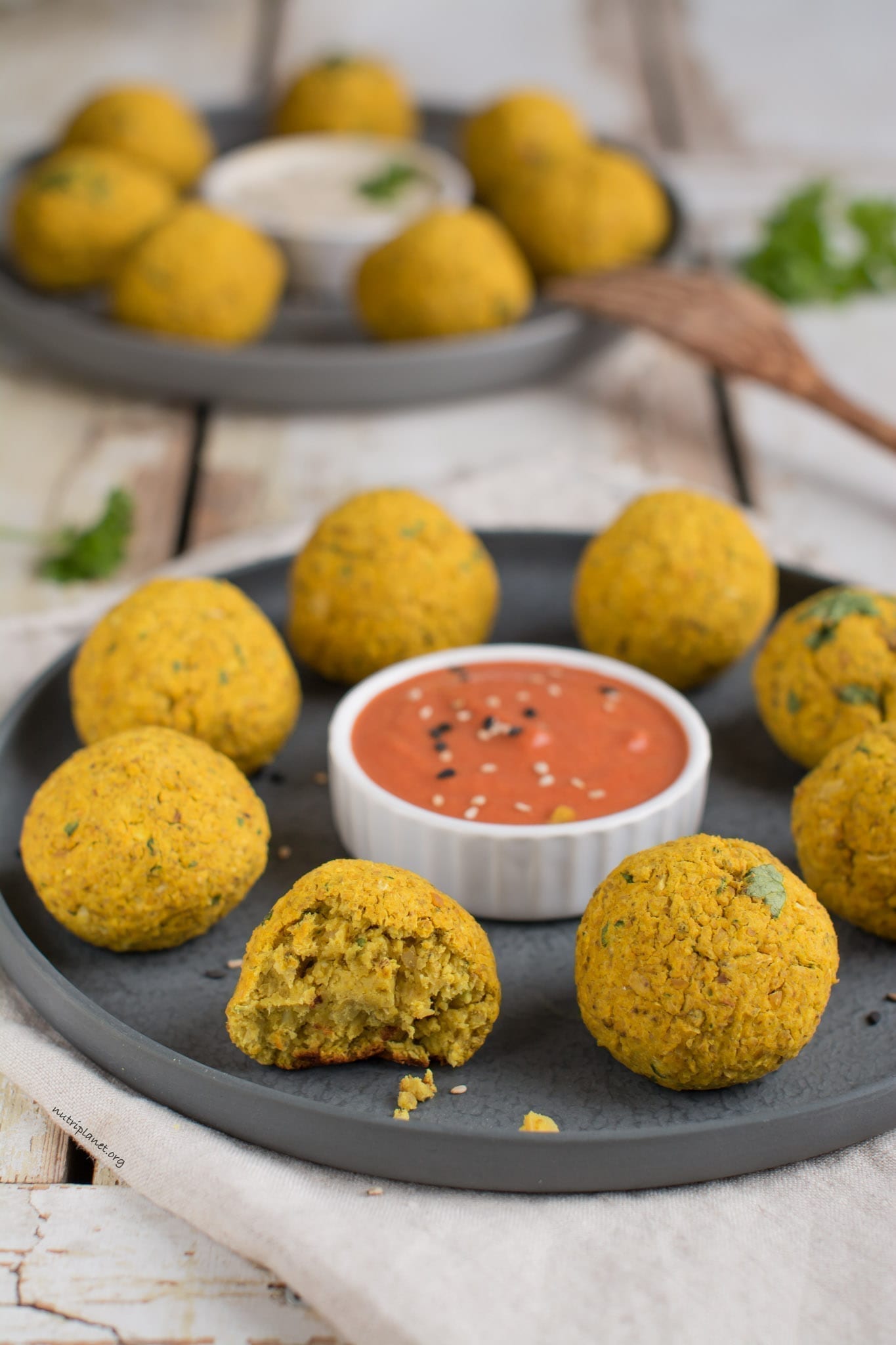 Next up is something quite festive and eye-catching for your dear mother. It's super healthy and lean quiche made with tofu, beets and spinach.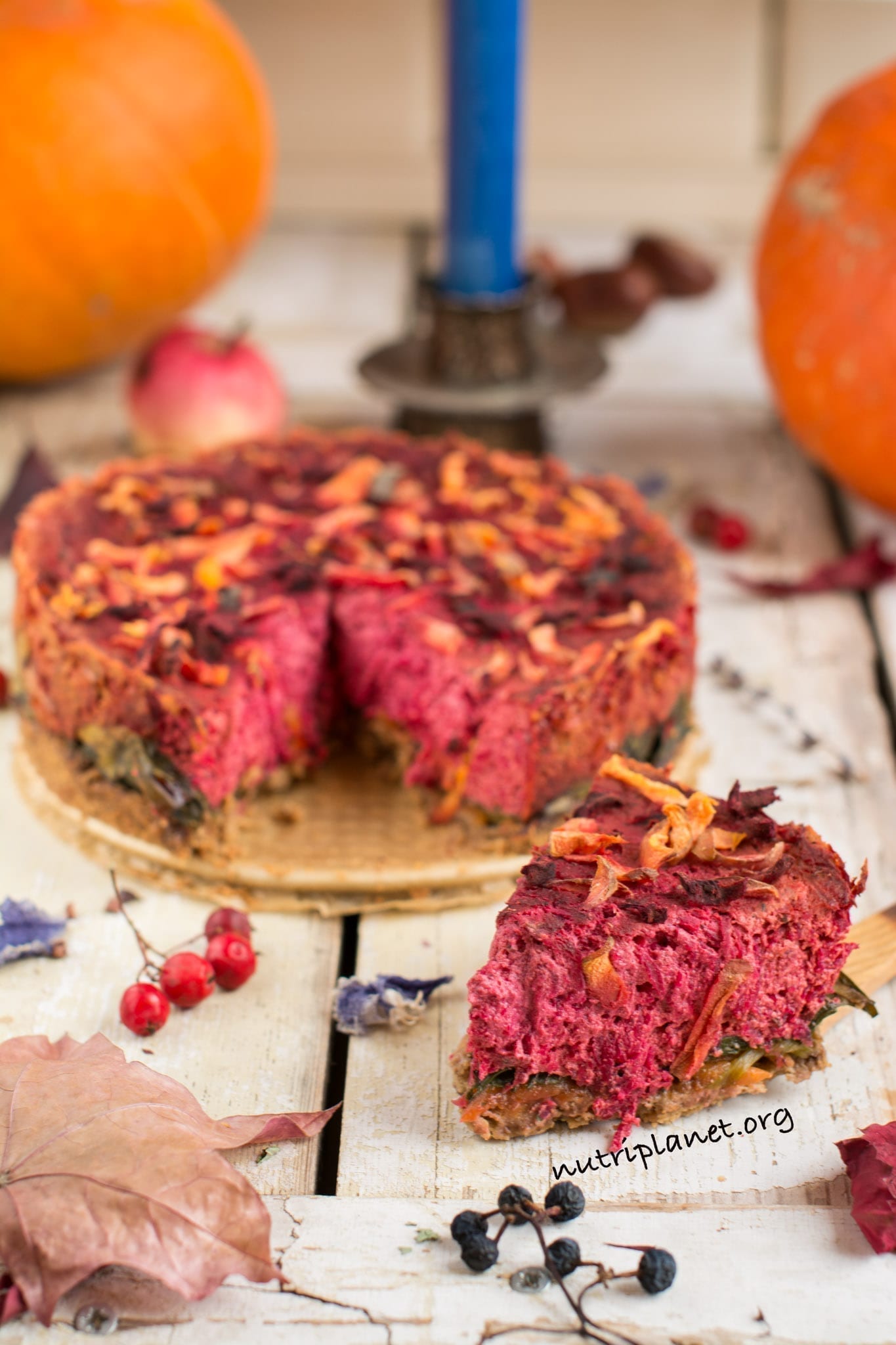 Attention to all burger lovers! Here's a quick and easy black bean mushroom burger recipe that requires 15 minutes of your time (+ baking time), a food processor and oven. Those vegan black bean burgers combine the delightful flavours of mushrooms and fresh herbs leaving a heavenly scent floating in your kitchen.
Vegan Mother's Day Desserts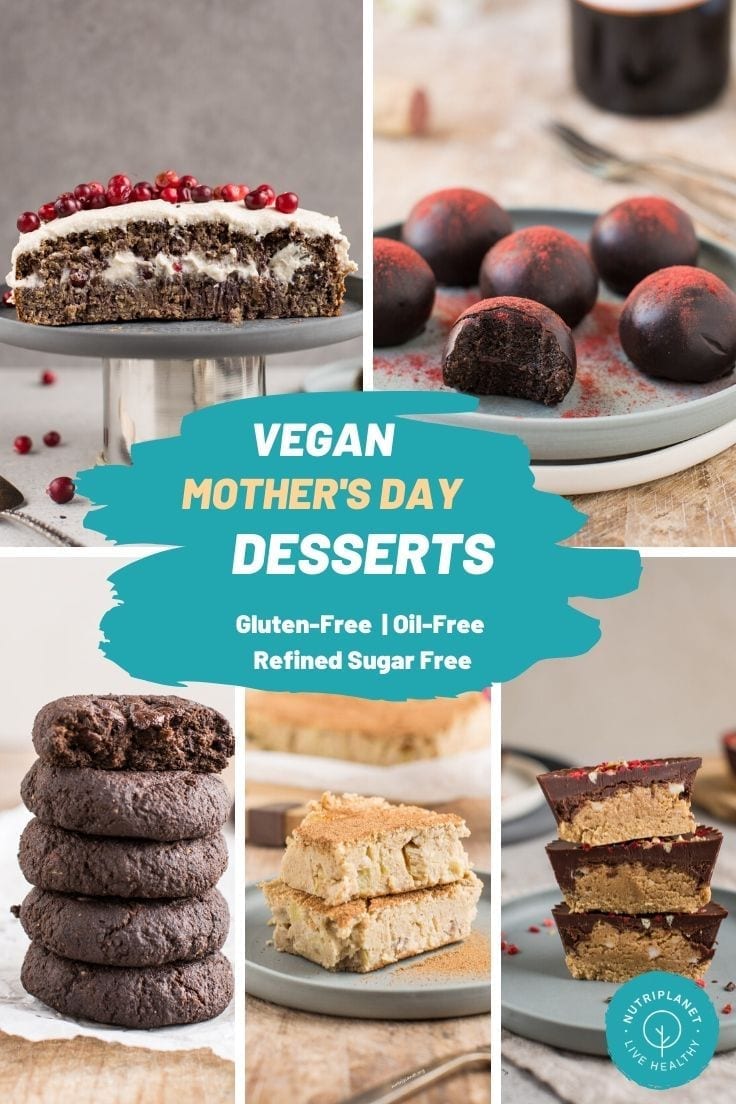 Dessert is usually something that is associated with festivities, including Mother's Day. It's widely known that while conventional cakes, cookies and other treats flatter the tastebuds, they also tend to wreak havoc on your health. So, why not pamper your mother with vegan Mother's Day dessert that is delicious and health promoting at the same time!
Let's begin with oil-free and refined sugar free flourless vegan rhubarb custard cake that takes a proud place among vegan Mother's Day recipes. Taste the refreshing sourness of rhubarb combined with creamy custard of chickpeas and coconut in a healthy way.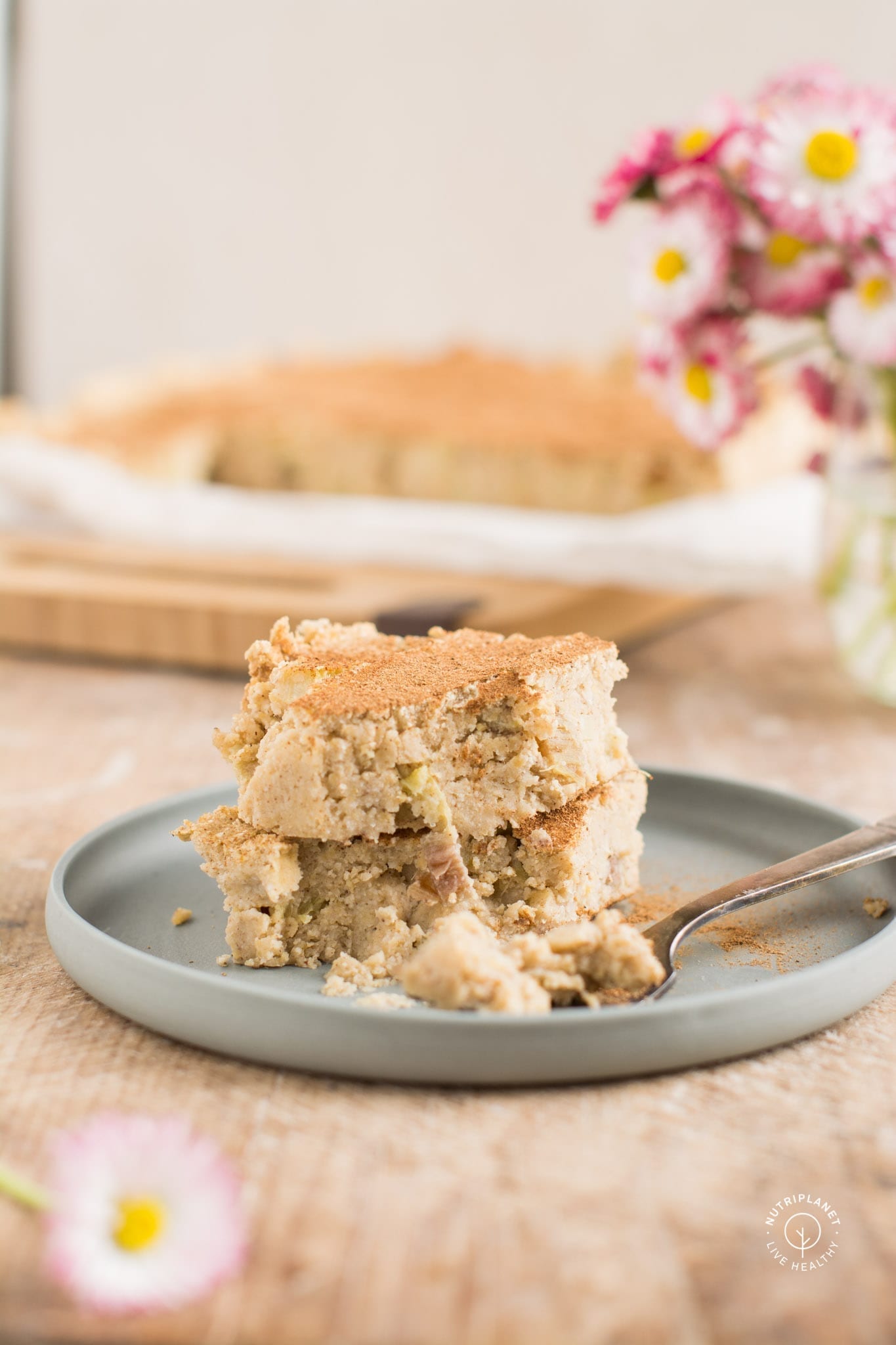 Soft and fudgy whole food plant-based chocolate beet brownies that are gluten-free and exceptionally easy to make. You'll only need a food processor and 15 minutes of your time. Perfect if you want to spoil your mother with something delicious and healthy at the same time.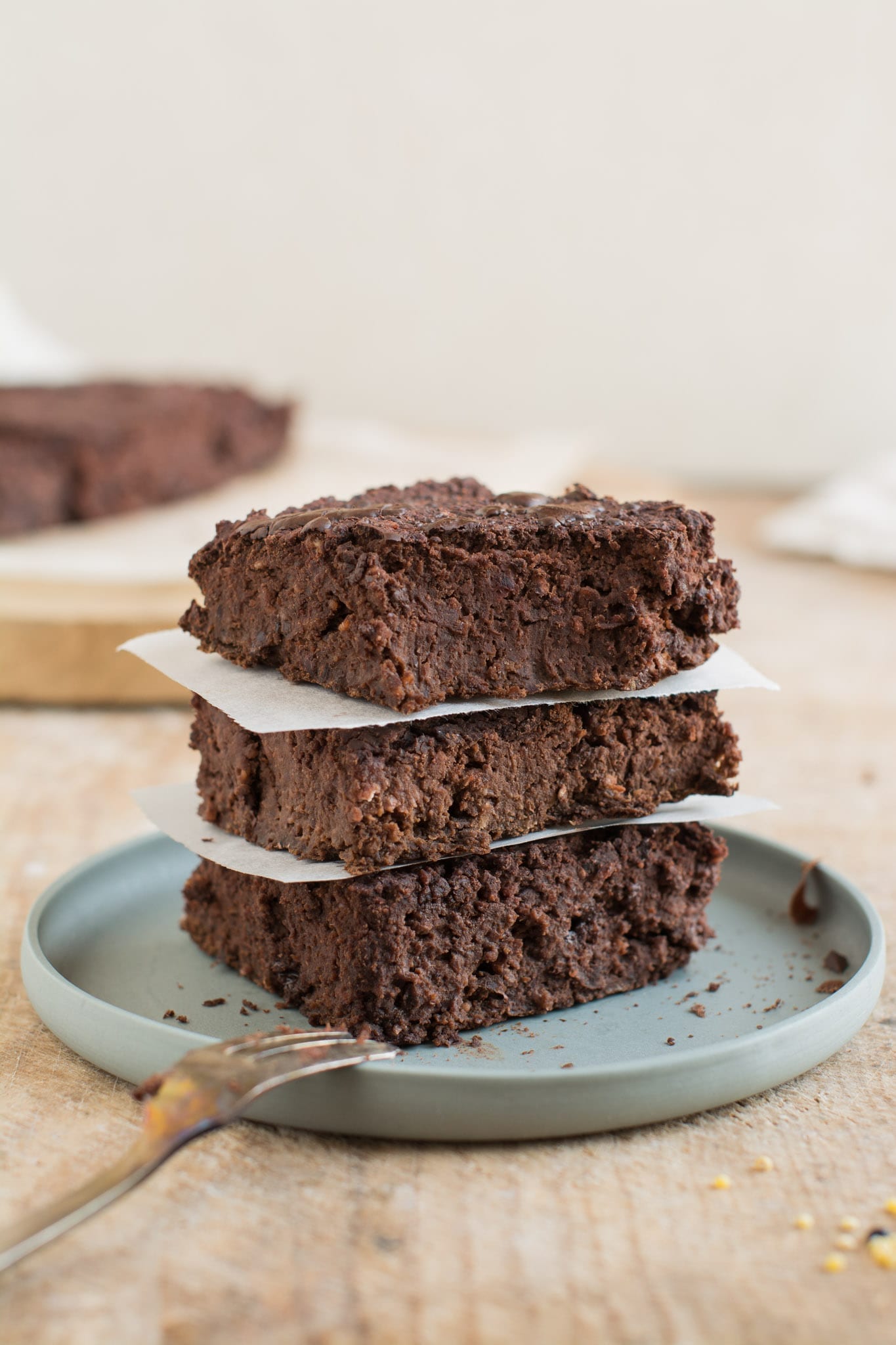 Now, who doesn't love chocolaty cookies? Enjoy life with those vegan gluten-free chocolate chip cookies that are oil-free yet so hearty and chewy. You'll only need 7 ingredients and about 10 minutes of your time to make those easy oil-free vegan chocolate chip cookies.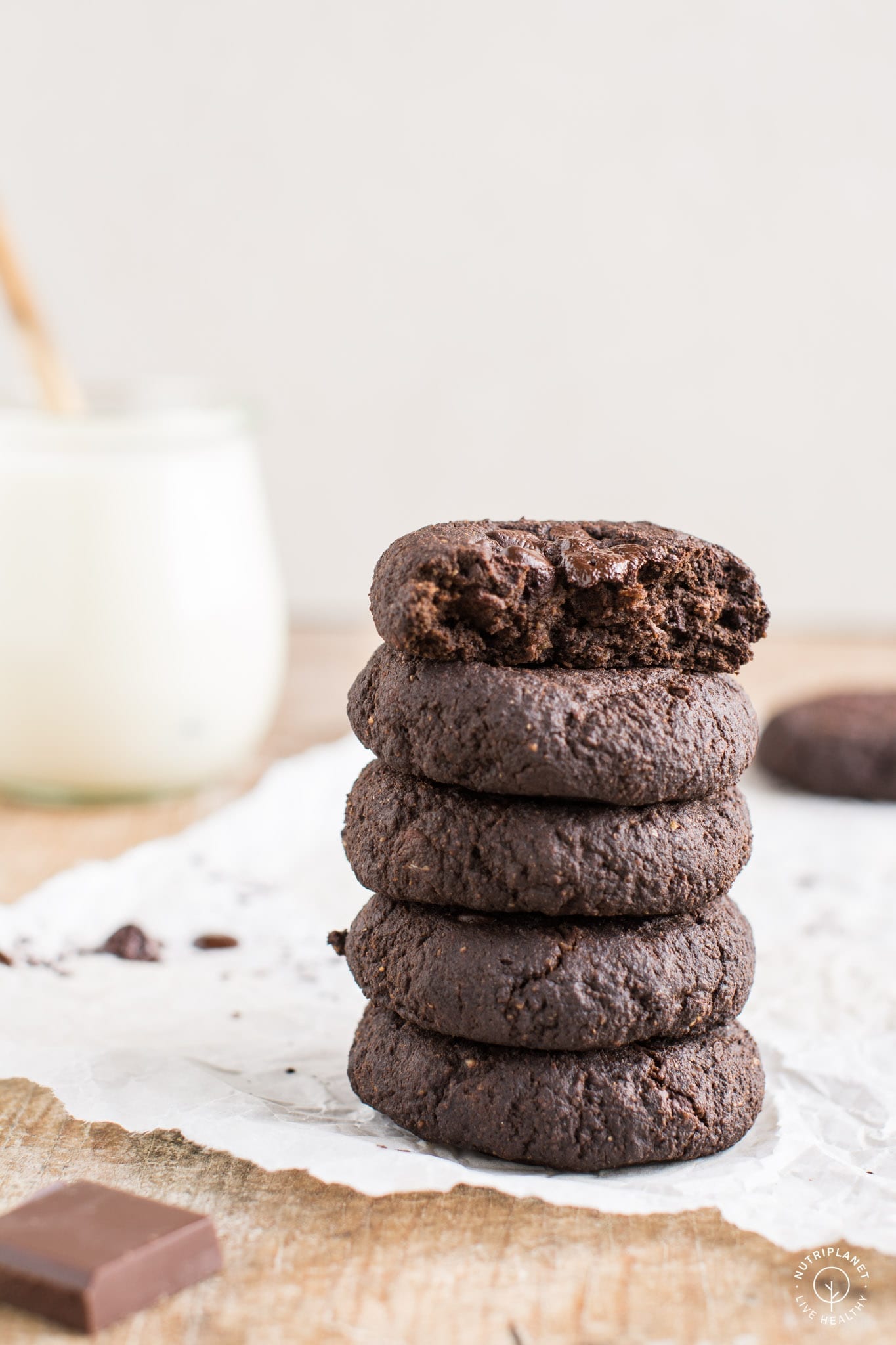 Vegan truffles with red wine make a decadent chocolate treat for any special occasion, like Mother's Day or Valentine's Day. I find it noteworthy, that this dark chocolate truffle recipe can be made totally cocoa-free (hence Candida cleanse friendly) by coating the truffles with my carob chocolate instead of regular one.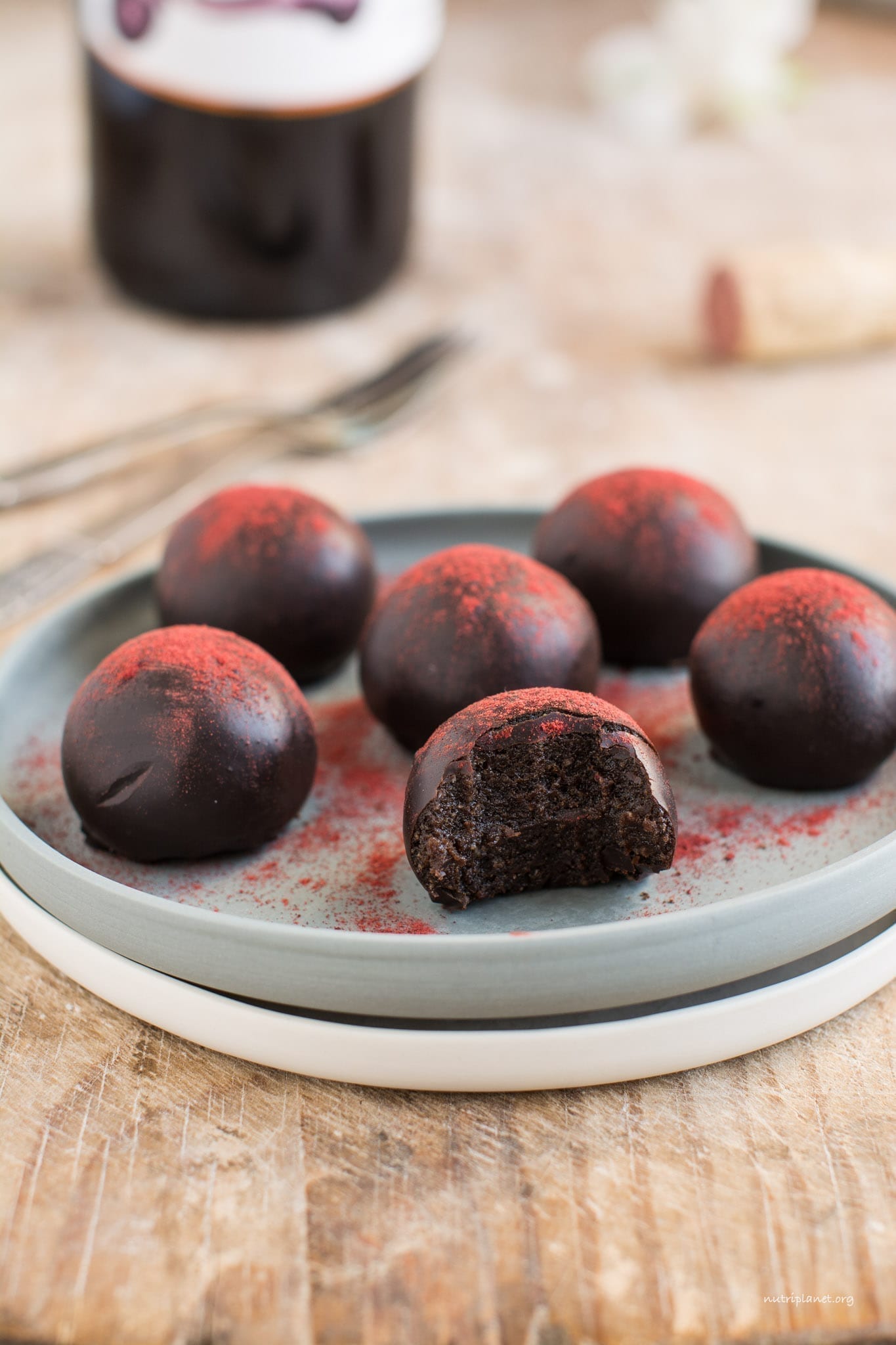 Ready for some action in the kitchen to create something really decadent? Let me show you how to make peanut butter cups with dark chocolate using wholesome ingredients. You'll find them irresistible as the peanut butter filling is perfectly sweet, salted and caramelly at the same time.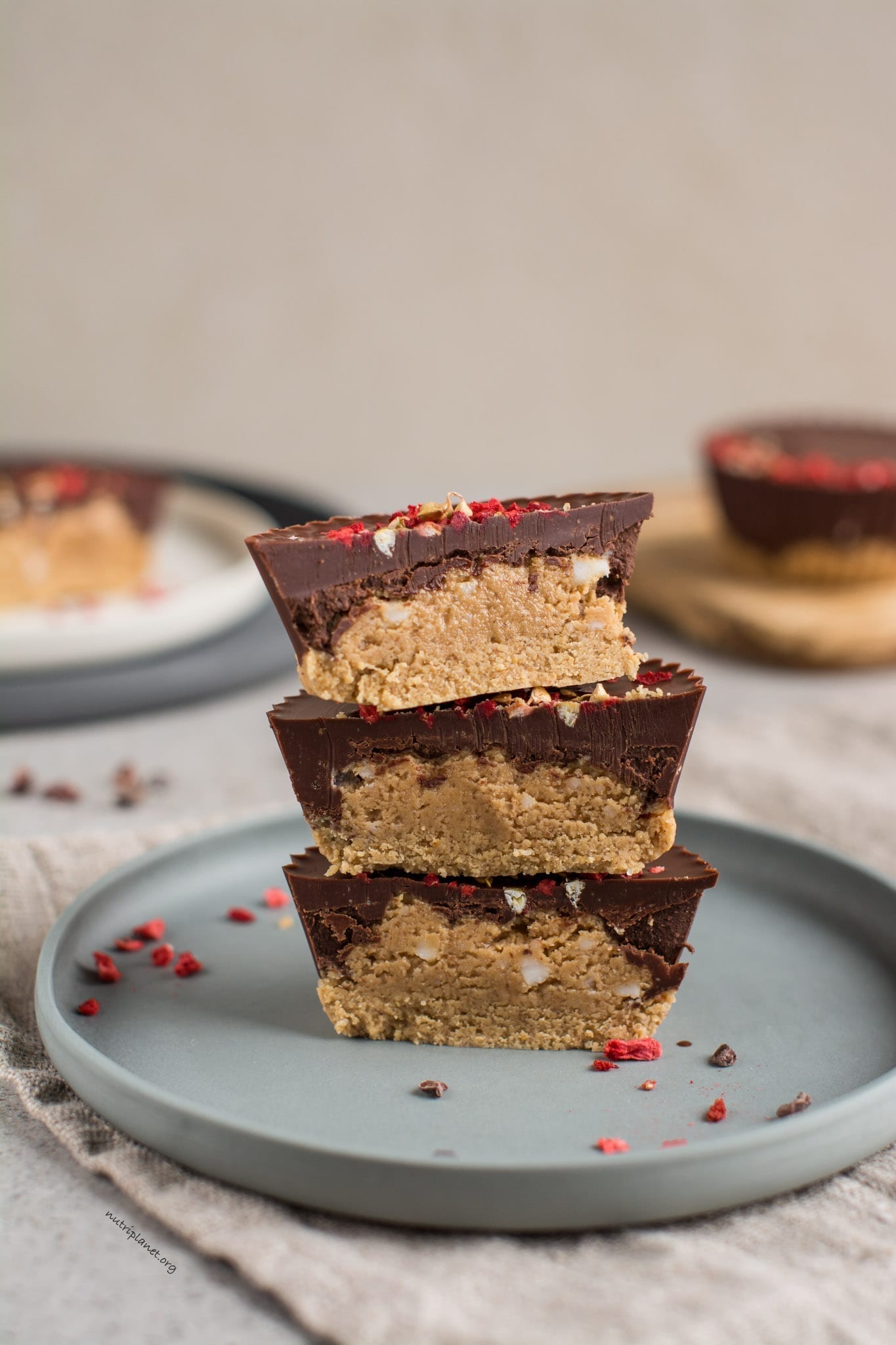 This healthy gluten-free vegan carrot cake absolutely blew my mind with its lemony cream cheese frosting and cranberries hidden inside. Despite its fancy facade, my carrot cake recipe is pretty easy, requiring only 10 ingredients (not counting salt, sweetener, baking powder and optional ingredients), 2 bowls, a spoon and baking tin to make.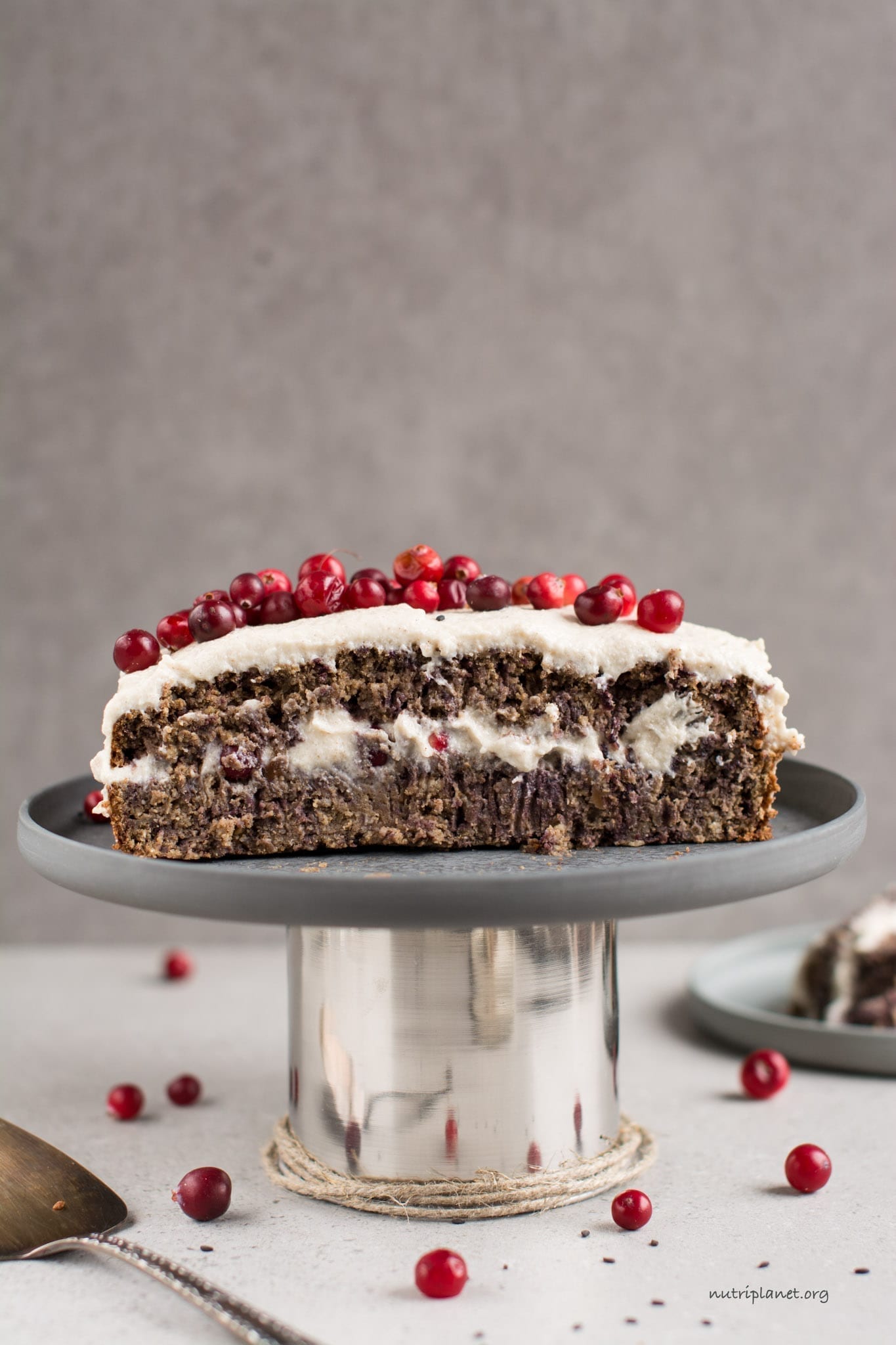 Good old brownies can't go missing from vegan Mother's Day recipes! What do you think? Here's an over-the-moon delicious and healthy-as-hell brownie recipe. To make those sweet potato brownies you need to have a big bowl, a smaller bowl and immersion or regular blender as well as a small chopping board, knife, spoon and baking tin or pan. That's it!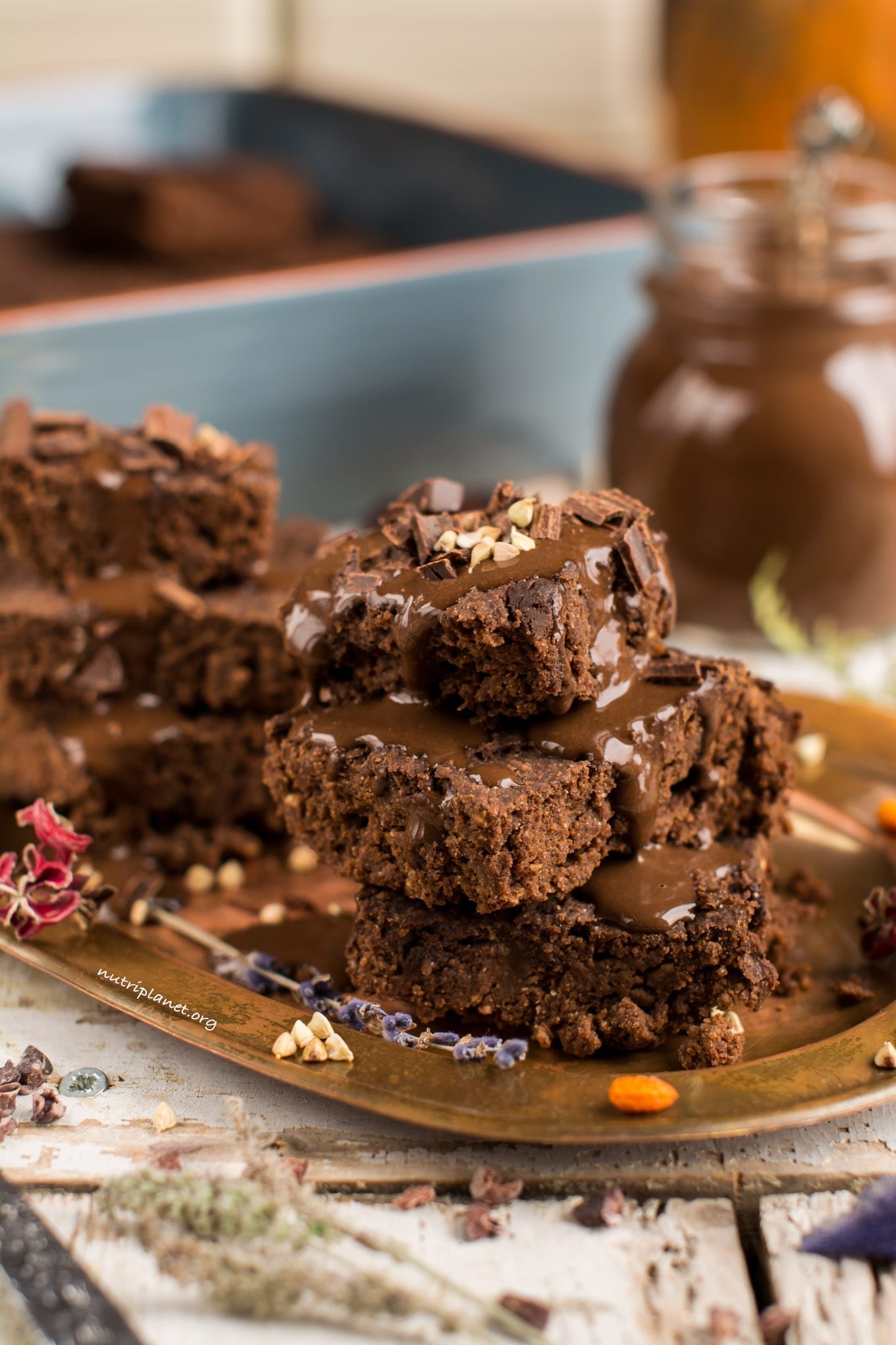 Should you and your mother be after a small sweet bite, these rich and healthy grain-free vegan peanut butter protein balls that use no refined sugars or oils are so easy to throw together! Furthermore, they are perfect raw energy bites for those lazy afternoons.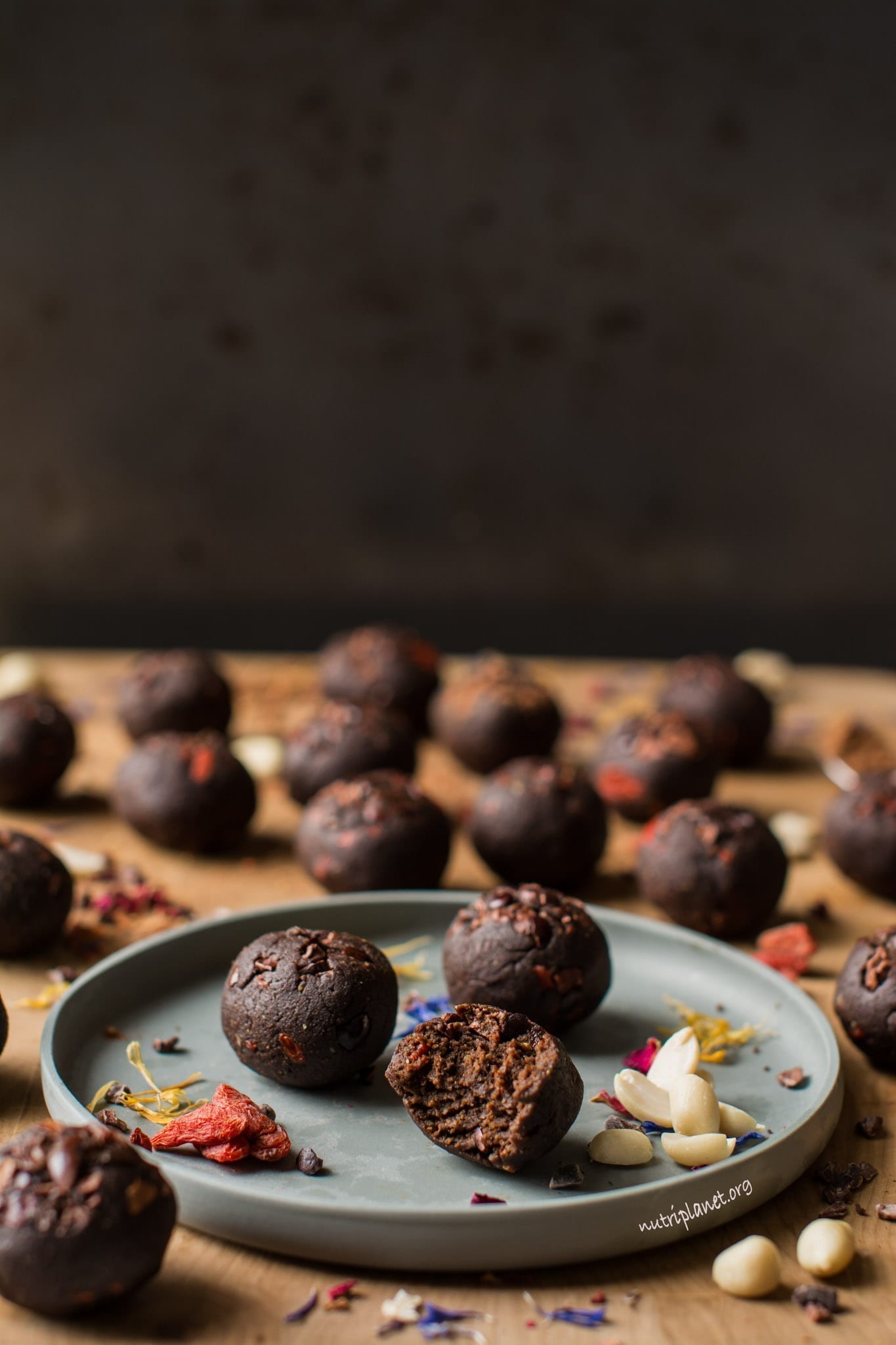 Healthy low-fat no dates chocolate bliss balls that can proudly take its place among vegan Mother's Day recipes. They are a great plant-based energy boosting sweet treat without the load of excessive fat. It's one of those vegan bliss ball recipes that is: perfect for healthy snacking, rich in minerals and vitamins, super easy to make.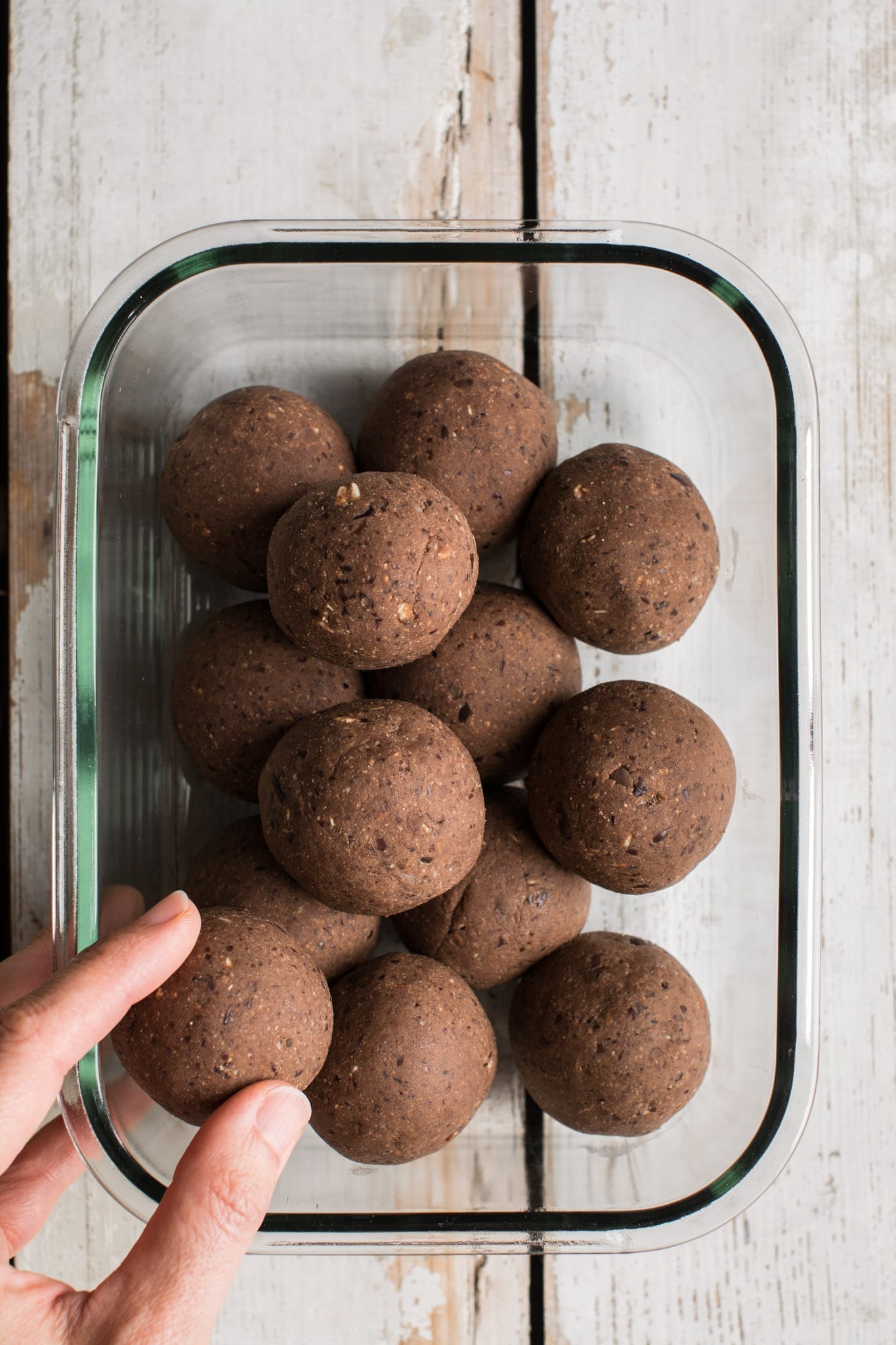 Blow everyone's mind with this no-bake gluten free vegan cheesecake recipe that is also refined sugar free and Candida diet friendly. It is delicious and has perfect texture, i.e. it doesn't fall apart when kept out of freezer for a period of time.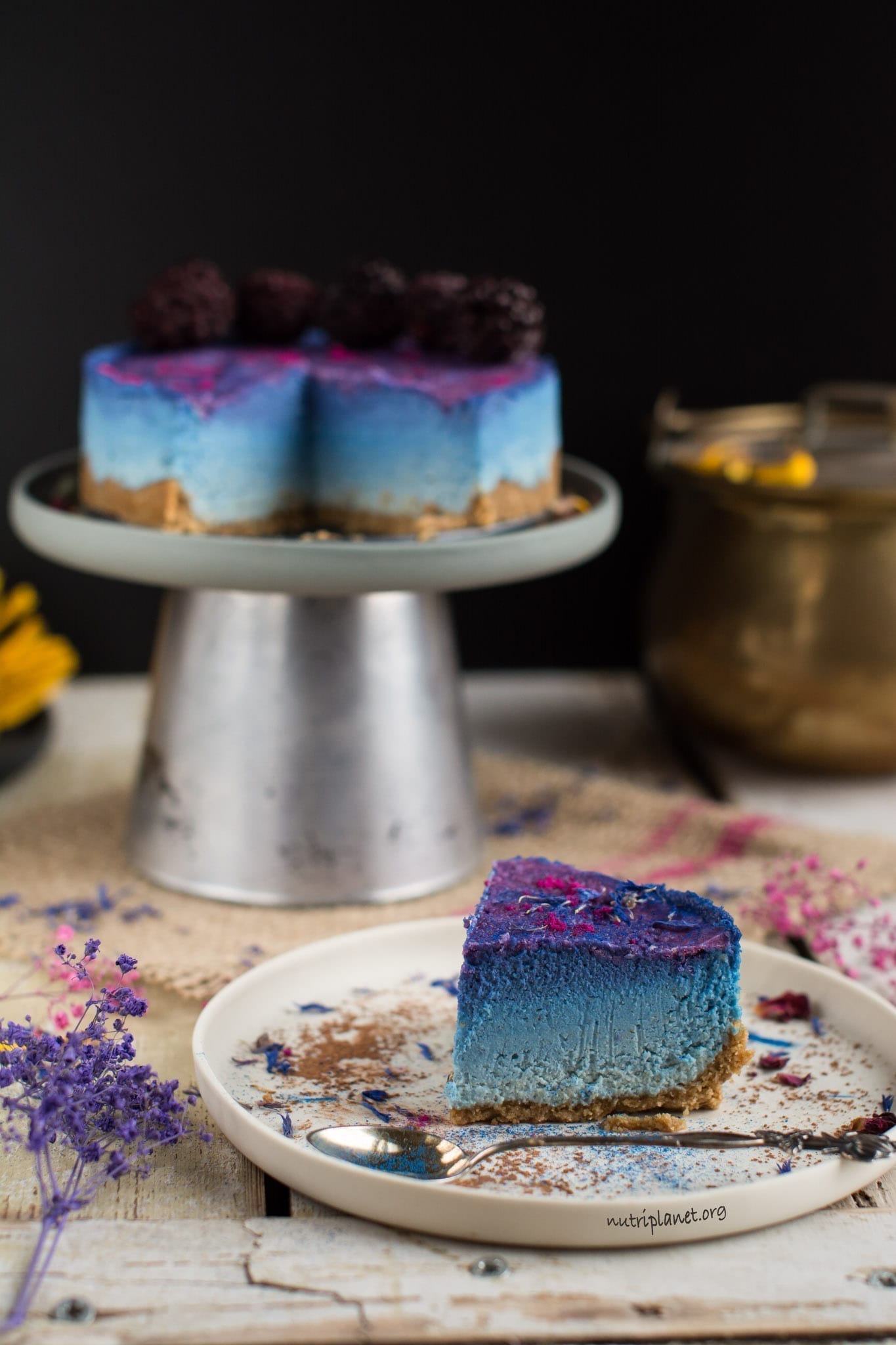 Those decadent espresso bars make an excellent chocolaty bite after Mother's Day dinner. They resemble Nucao's espresso chocolate bar but come with a third of the price. You'll need only 6 ingredients and 15 minutes of your time.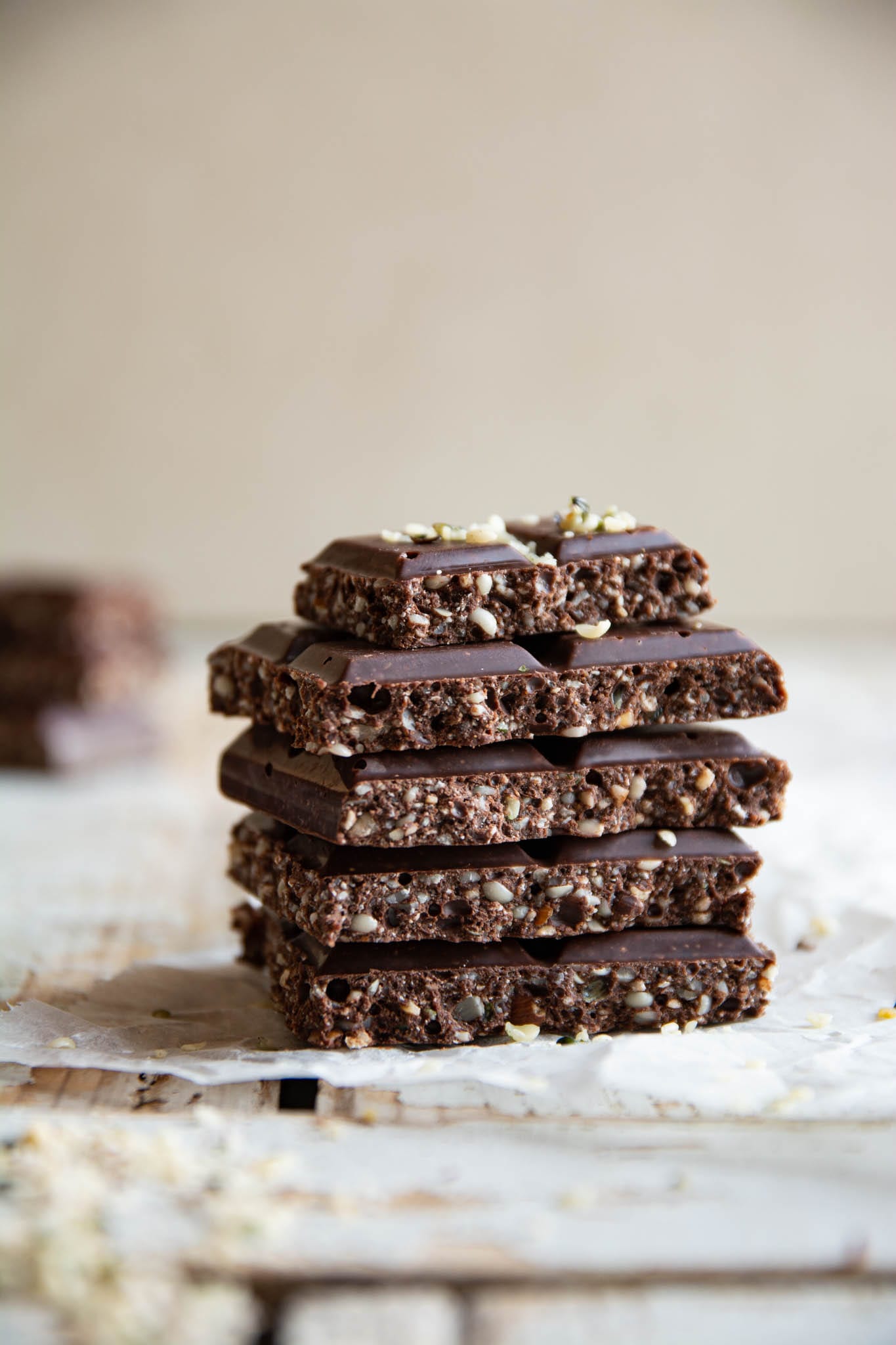 Finally, I give you mind blowing no yeast gluten-free vegan cinnamon rolls that you'll definitely fall in love with. This recipe uses no refined sugar or vegan butter, but is yet so hearty, moist and filling.