Super easy and delicious vegan oatmeal cookies that are soft and chewy using whole food plant-based ingredients. You only need a bowl, fork, plate and spatula to make the 3 versions: chocolate chip, raisin and goji berry, and coconut cookies.
I love those oatmeal cookies because they are:
Super easy to make
Whole food plant-based
Gluten-free
Oil-free
Refined sugar free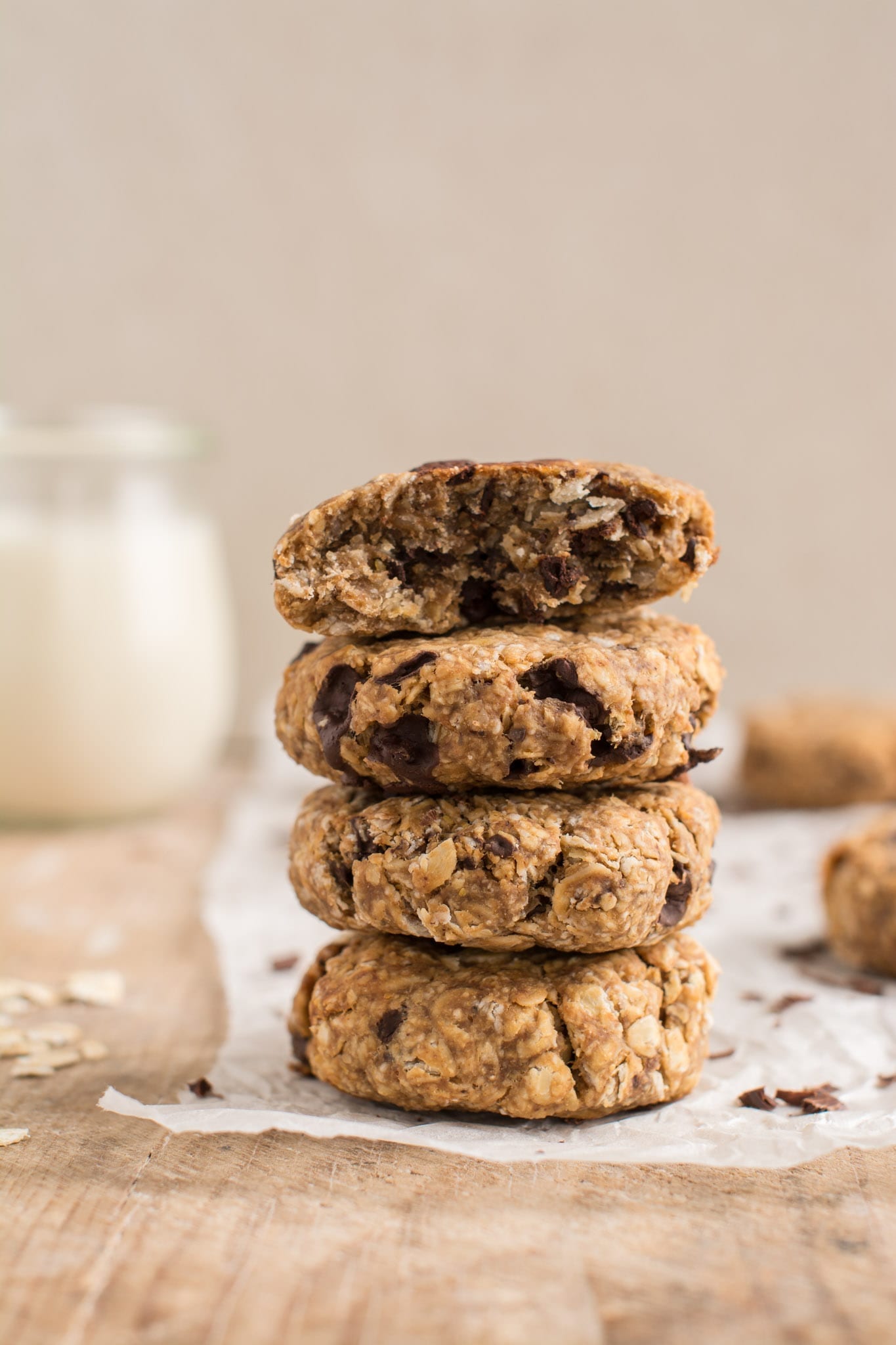 The Ingredients
Needless to say, those oatmeal cookies are whole food plant-based and therefore use no refined ingredients like brown sugar, maple syrup, coconut oil or vegan butter. Furthermore, you won't find even oat flour in my healthy cookies.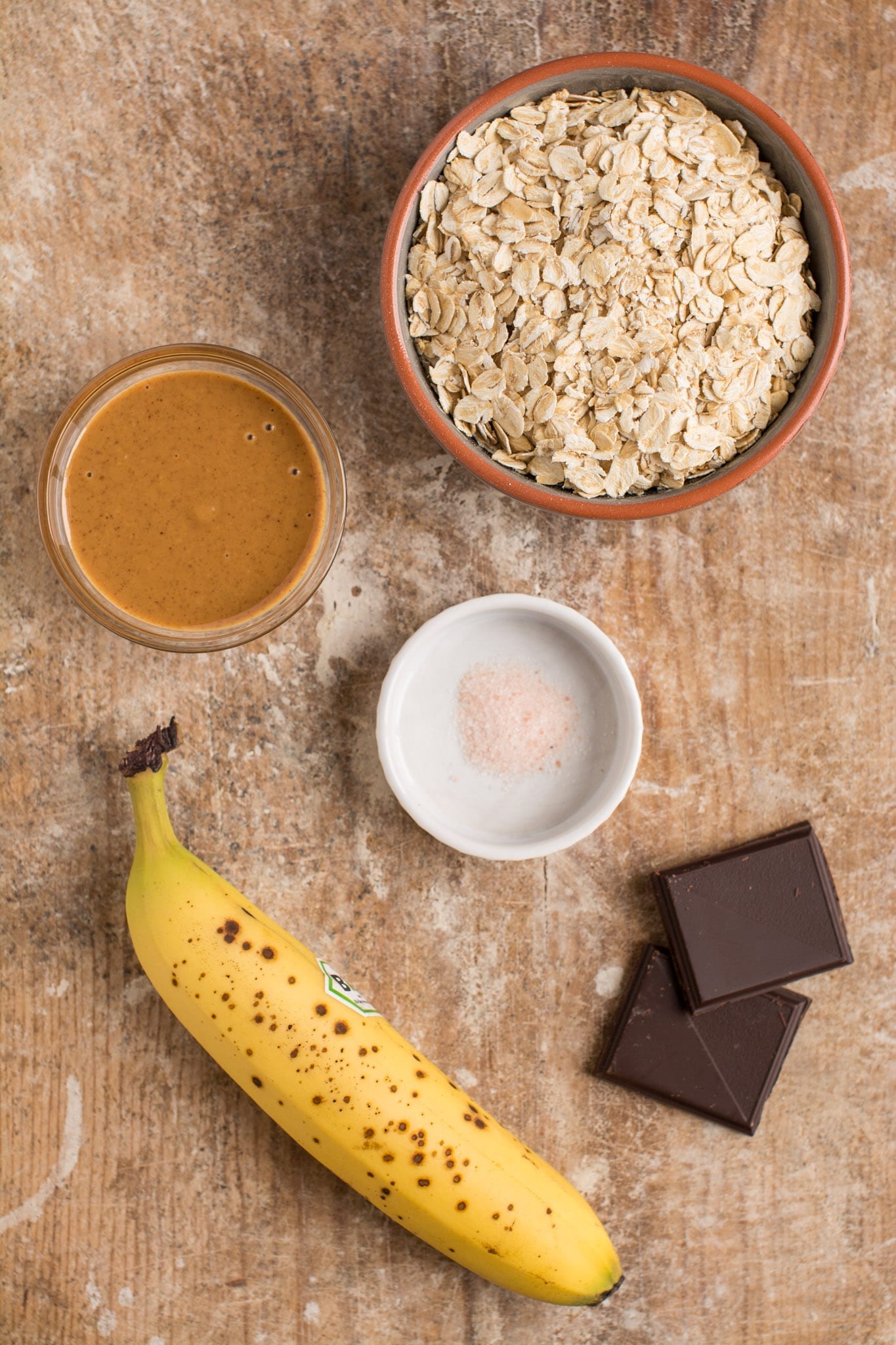 Instead, this recipe uses organic gluten-free rolled oats. You definitely don't need to opt for gluten-free variety, should you not have issues with gluten.
Both, the moisture and sweetness are provided by mashed bananas and organic additive-free peanut butter. The latter is also responsible for heartiness that usually is attributed to added oils.
Finally, the chocolate chip version of those oatmeal cookies evidently contains chopped dark vegan chocolate.
For the other two varieties I decided to add raisins/goji berries and desiccated coconut chips. By the way, I ground shredded coconut myself in spice grinder.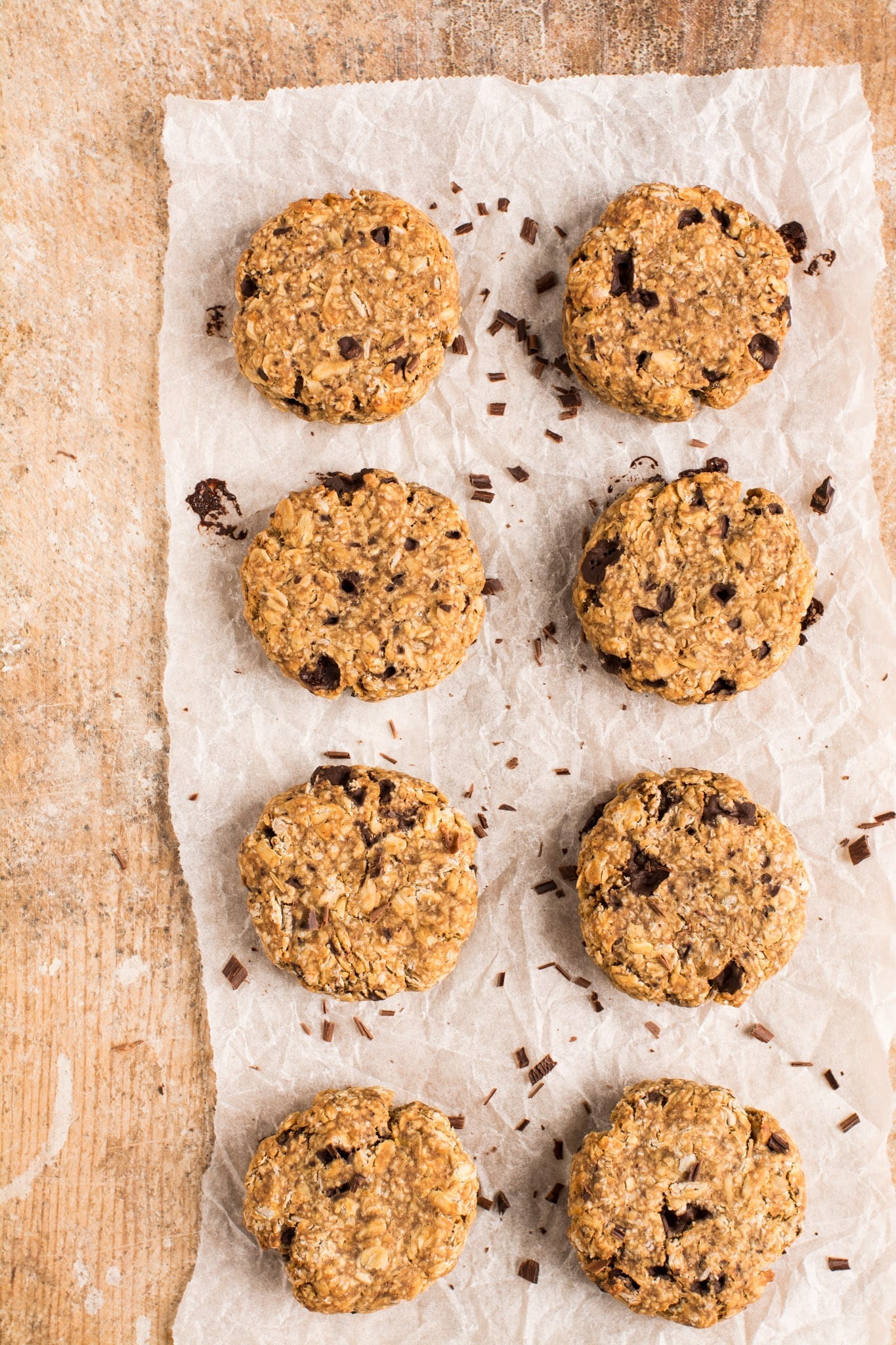 Vegan Oatmeal Cookies 3 Ways
I gathered that this simple recipe needed to be stretched out a bit and therefore created 3 delicious versions.
Vegan chocolate chip oatmeal cookies were my first delicious try of this recipe. As you might guess, I simply added chopped dark chocolate to the main ingredients (rolled oats, banana and peanut butter). My 10-year-old was so excited that he wanted me to make those cookies every day from this moment on.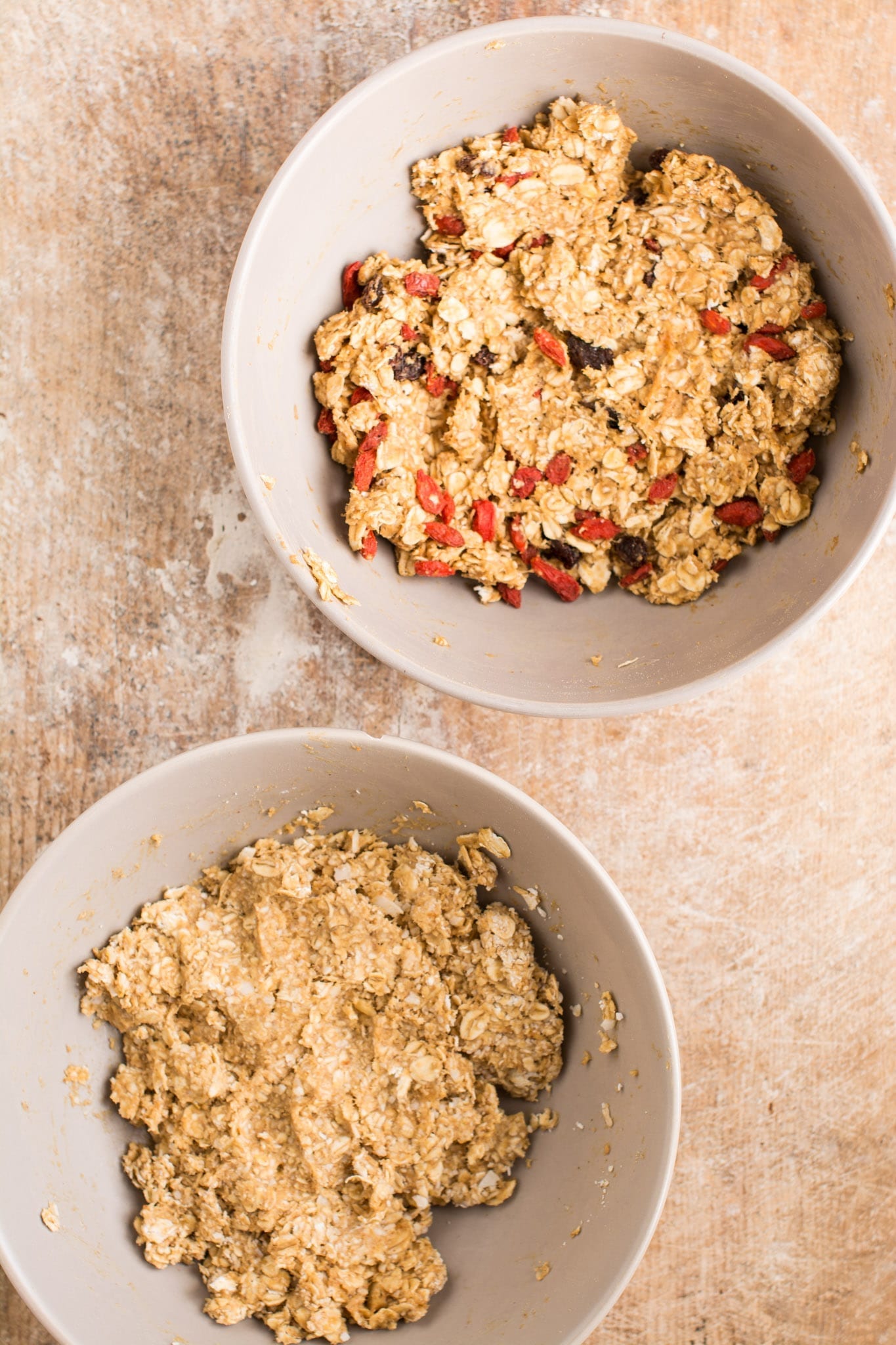 Next came vegan oatmeal raisin cookies with goji berries. I must admit I love this version as much as the chocolate chip one. It's as easy as mixing a small handful of both raisins and goji berries into the base batter. Of course, you might go for other preferred dried fruits and berries as well.
Finally, I wanted to try vegan oatmeal cookies with a touch of coconut. To achieve that, I folded a few tablespoons of ground desiccated coconut into the cookie dough. Incidentally, should you not have coconut chips at hand, it's quite easy to grind larger coconut flakes yourself in a spice grinder.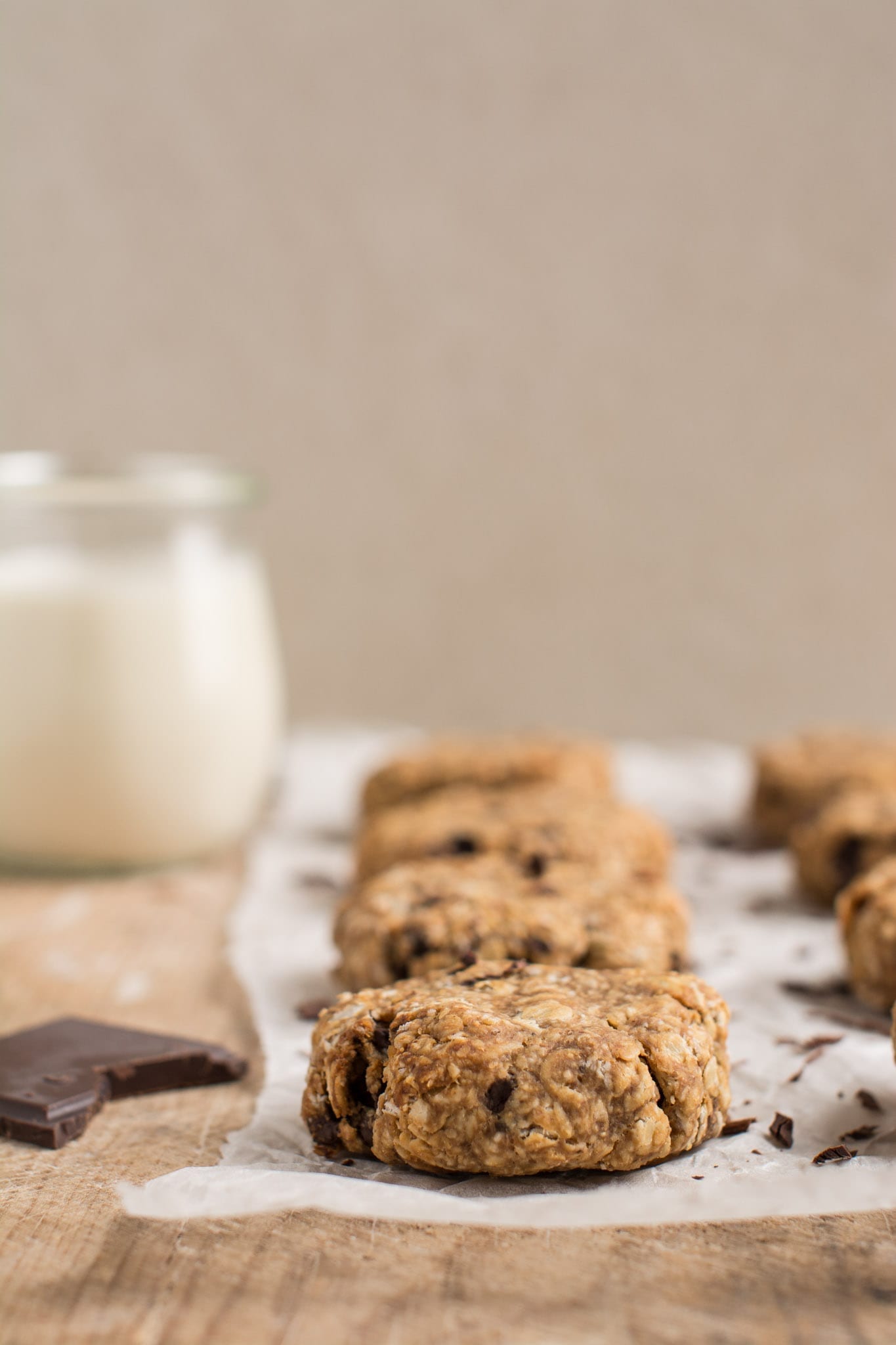 Watch the below video for all three versions of my vegan oatmeal cookies:
To sum it up, I love those oatmeal cookies because they are:
Super easy to make
Whole food plant-based
Gluten-Free
Oil-free
Refined sugar free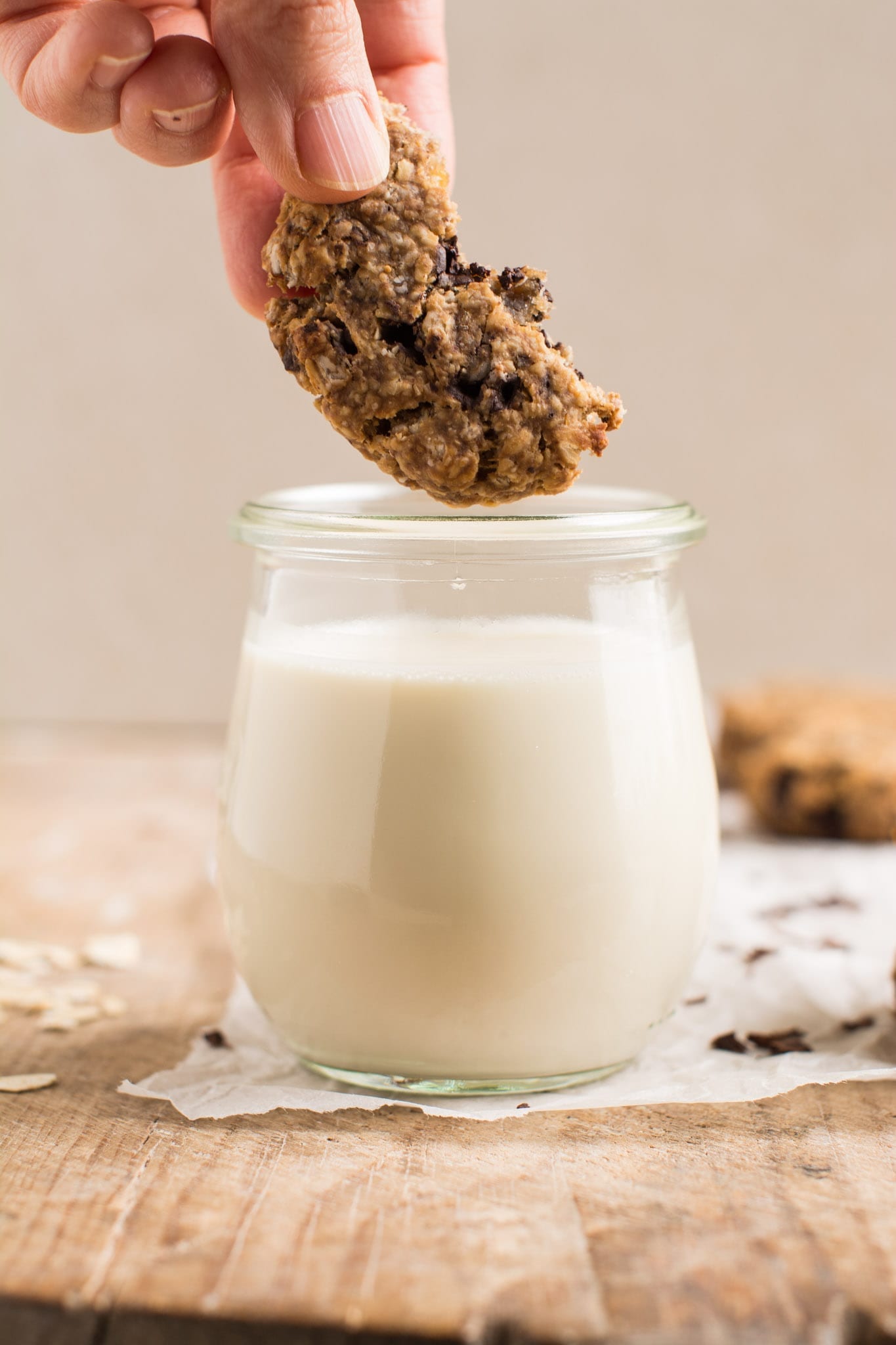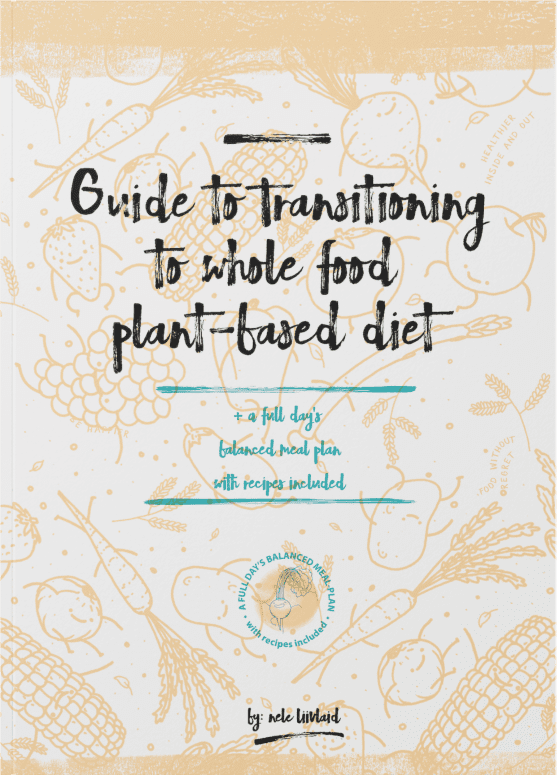 Download my FREE Guide to Plant-Based Diet
Including a full day's meal plan!
Learn the basics, prepare your kitchen and pantry, compile a balanced meal plan, handle challenges with family and friends, learn the tricks of dining out as well as travelling.
Learn the secrets of weight loss, better health and happiness!
Print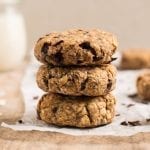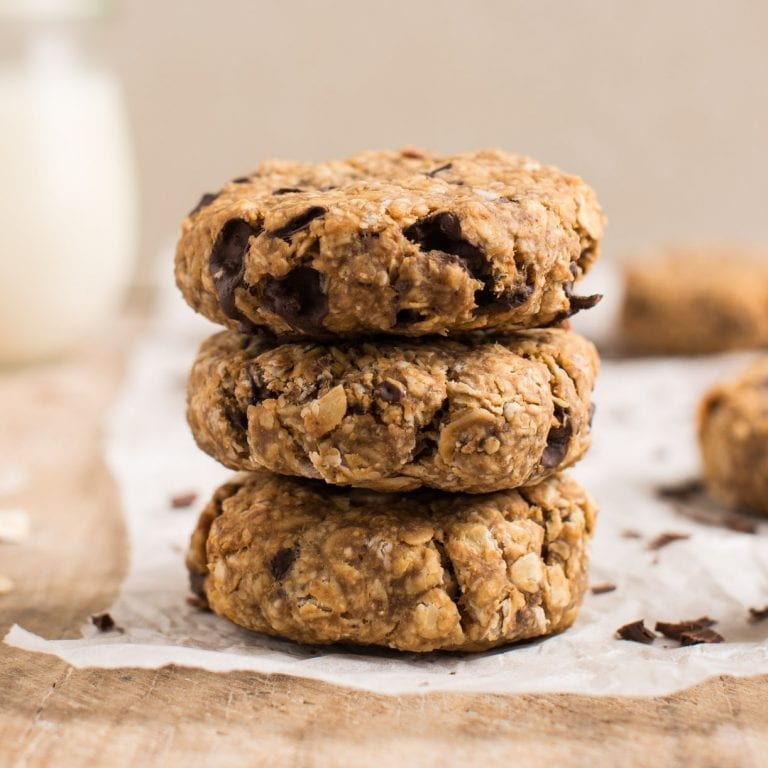 Vegan Oatmeal Cookies
---
Description
Super easy and delicious vegan oatmeal cookies that are soft and chewy using whole food plant-based ingredients. You only need a bowl, fork, plate and spatula to make those healthy cookies.
Chill time: 30 minutes
---
---
Instructions
First, make sure your peanut butter is at room temperature. If not, measure 100 grams and leave it out on kitchen counter.
Start by pouring 2 cups of rolled oats into a large bowl.
Next, take a large plate, peel the bananas and mash them with fork until they're nicely pureed.
Now mix peanut butter and Himalayan salt with pureed bananas (using a fork). Alternatively, use regular or immersion blender to process peeled bananas, peanut butter and salt into a smooth puree.
Transfer the wet ingredients onto rolled oats. Mix with a spatula or with your hands until everything is well incorporated.
Then, fold in the chopped dark chocolate or cacao mass. Stick the batter into fridge for 30 minutes.
When the dough has cooled, form 8 cookies by measuring about 50g (1.8oz) of batter for each cookie (about 2 heaping tablespoons of dough). Then from a dough ball, press it down with your hand and shape it into a circle. Transfer the cookies onto a baking sheet lined with parchment paper.
Bake the cookies at 175C (350F) for 20 minutes until golden brown. Let cool.
Raisin/goji berry cookies: add 1 tbsp. each of raisins and goji berries.
Coconut cookies: add 2 tbsps. desiccated coconut chips.
Notes
Use gluten-free rolled oats for gluten-free cookies.
Make sure you indeed have medium bananas or even a bit larger. Otherwise your cookies might be too dry. In fact, if you prefer moister and/or sweeter result, I'd advise opting for larger ones with a weight of about 136g (4.8oz) with peel. 
Should you be allergic to peanut butter or choose to avoid it for other reasons, use additive-free almond butter instead.
Storage: on kitchen counter in a container with loose lid for a couple of days, in fridge for 4 days and in freezer for longer keeping.
Watch tutorial video to see two other delicious versions of those oatmeal cookies: raisins/goji berries and desiccated coconut.
Should you follow a low-glycemic diet, it's useful for you to know that one cookie contains 9.7 glycemic load points.
For Candida diet friendly version, use 5½ tbsps. of unsweetened applesauce instead of banana. In addition, if you're in the cleanse phase, substitute almond butter for peanut butter.
Nutritional data (1 raisin/goji cookie): 181 kcal, 20.4g carbohydrates (45% of kcal), 7.8g fats (39% of kcal), 5.9g protein (13% of kcal), 3.5g fibre, 146.3mg sodium.
Nutritional data (1 coconut cookie): 185.5 kcal, 18g carbohydrates (39% of kcal), 9.4g fats (45.6% of kcal), 5.8g protein (12.5% of kcal), 3.6g fibre, 142.5mg sodium.
Prep Time:

15 minutes

Cook Time:

20 minutes

Method:

Oven
Nutrition
Serving Size:

1 chocolate chip cookie

Calories:

185

Sodium:

142.5mg

Fat:

9g

Carbohydrates:

18g

Fiber:

3.5g

Protein:

6g
Keywords: oatmeal cookies
Disclosure: this post contains affiliate links. As an Amazon Associate and Goodio Chocolates affiliate I earn from qualifying purchases. For every purchase made from the links in this post, you'll be able to support my work. So you can look after your health, and contribute to my mission at the same time. Thank you!