This easy Mediterranean flavoured mushroom tomato sauce goes so well with al dente pasta or cooked rice and even serves as a dressing on top of Buddha bowls. Make a bigger batch and you'll have delicious weekday meals in no time at all!
Other awesome qualities of my mushroom tomato sauce include the following:
Easy to make
Common ingredients only
Relatively quick
Perfect for batch cooking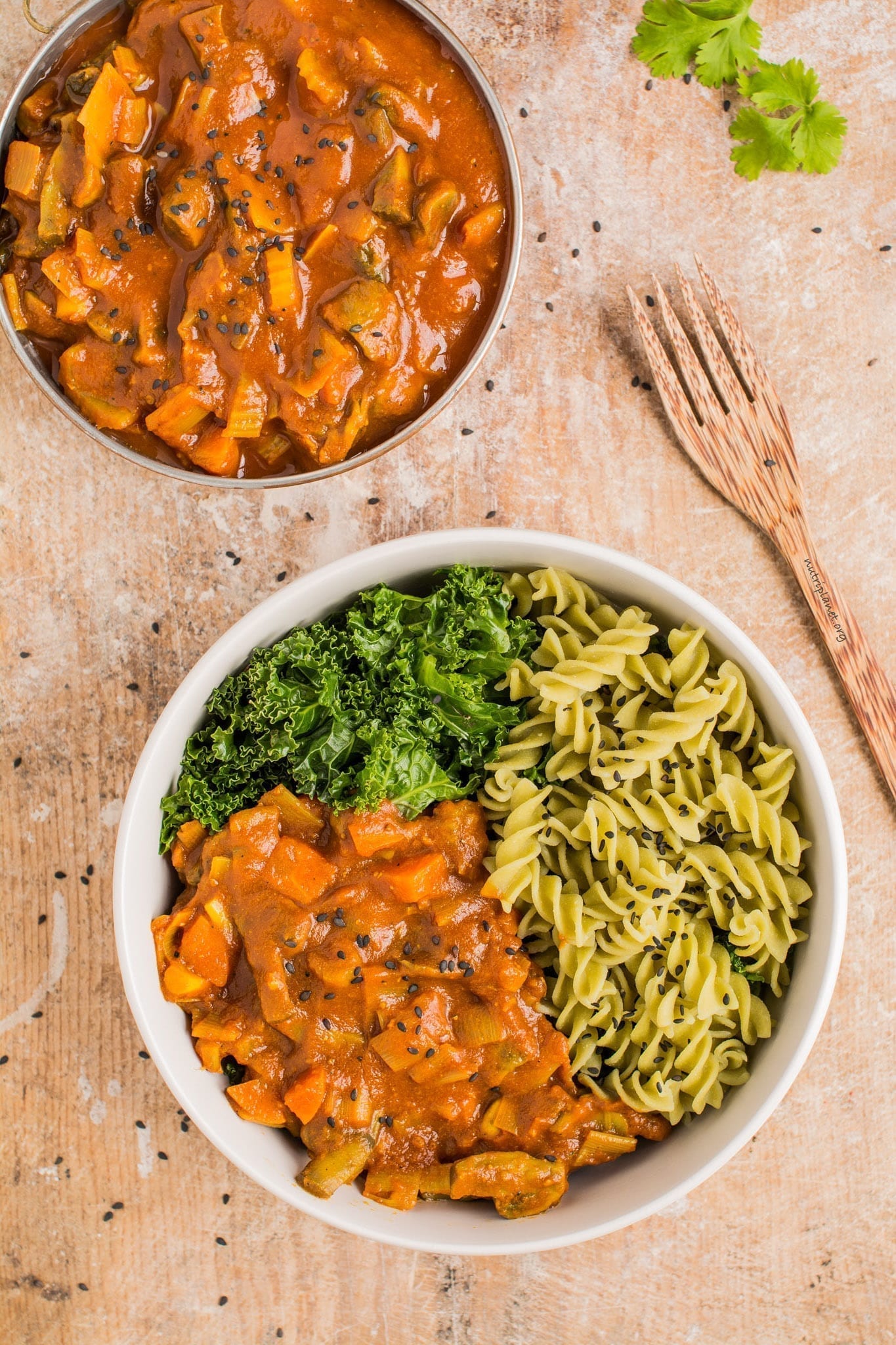 The story behind my mushroom tomato pasta sauce
One afternoon I simply threw this mushroom tomato sauce together using the ingredients in hand and shared the outcome on Instagram stories. To my surprise people started asking for the recipe! So, I wrote it down, made another batch and took photos to accompany the blog post. I sometimes forget that very often it's the simplest recipes and meal ideas that appeal to people and make their life easier. So, here you go, I give you an easy mushroom tomato sauce to go with your pasta or rice dishes.
The ingredients in my mushroom tomato sauce recipe
As the name of the recipe indicates, it has mushrooms and tomatoes in it 🙂 I used button mushrooms that, besides being affordable and yummy, also serve their purpose very well.
As far as the tomatoes go, I opted for organic unsalted tomato puree in a glass bottle that's just incredibly quick and easy to use. However, you may use fresh tomatoes instead (diced tomatoes or crushed tomatoes). Another way would be to puree fresh tomatoes using a blender.
I don't know about you, but to me any good tomato sauce comes with some more veggies besides tomatoes. In this particular recipe I selected leeks, carrots and celery to be my veggie buddies. Usually it's the onions that serve as base for tomato sauce, but I find leeks as delicious. Besides, many people are allergic to onions and would be happy with a recipe without those otherwise so precious veggies.
Now, I prefer to add crushed garlic into ready dishes as opposed to cooking it in order to preserve as much allicin as possible. Should allicin be no concern to you, feel free to chop your garlic and throw it in with the other veggies in the beginning.
And finally there's dried oregano for the Mediterranean flavour! To boost up the flavours even more, add some fresh basil at the end of the cooking.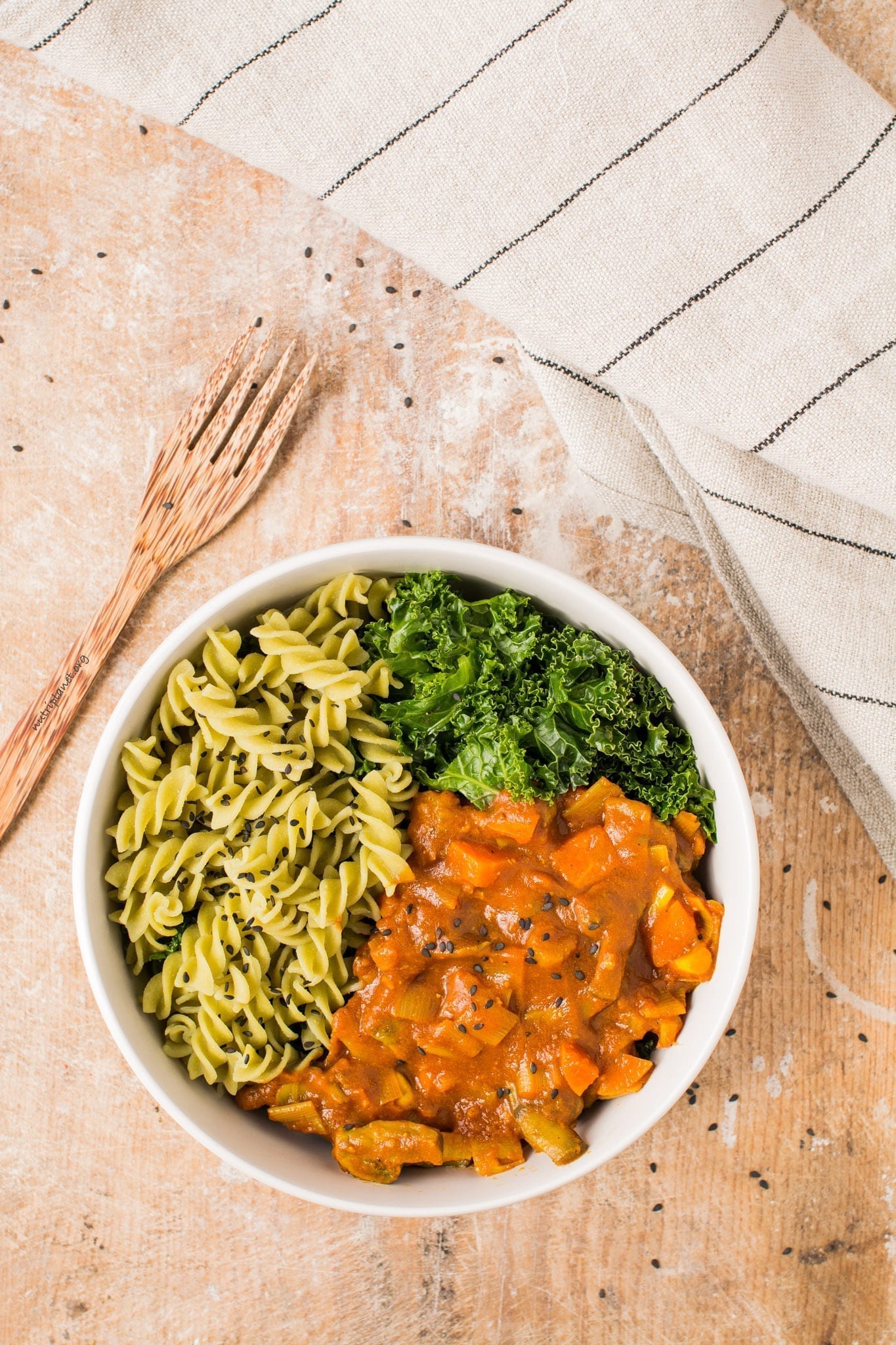 Surprising facts about button mushrooms
I recently listened to an interview on the Food Revolution Summit 2019 and discovered that the simple button mushrooms are superior to all the fancy and expensive varieties when it comes to cancer fighting components. Furthermore, you'd only need to eat half a mushroom daily to get the benefits! Now, how awesome is that! However, please note that heating is definitely required to destroy agaritine, a natural toxin found in mushrooms.
Should you have any dietary restrictions, you'd be glad to know that this mushroom tomato pasta sauce is:
Finally, do let me know in the comments below whether you love the combination of mushrooms and tomatoes! I'd love to hear from you! Please also tag me in social media whenever you make and share my recipe. Instagram @thenutriplanet and Facebook @nutriplanet.health.hub
Print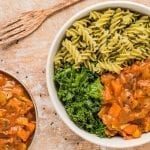 Simple Mushroom Tomato Pasta Sauce
---
Description
This easy Mediterranean flavoured mushroom tomato sauce goes so well with al dente pasta or cooked rice and even serves as a dressing on top of Buddha bowls. Make a bigger batch and you'll have delicious weekday meals in no time at all!
---
1

medium leek, chopped

2

celery stalks, chopped

2

medium carrots, chopped

450g

(

1

lbs) button mushrooms, diced

680g

(

1.5

lbs) unsalted tomato puree

½ cup

water

2

tsps. dried oregano

4

garlic cloves, crushed
Himalayan salt (max ¼+⅛ tsp. for Plantricious version)
Black pepper to taste

5

tbsps. coconut milk
---
Instructions
Start by preparing your veggies – slice mushrooms and chop celery, carrots and leek.
Next, sauté mushrooms – heat up a few tablespoons of water in a large skillet over medium heat. Once the water starts to sizzle add sliced mushrooms and cover. Sauté them over a medium heat for 5 minutes, stirring occasionally.
Then, throw in chopped leek, carrots and celery. Stir, cover and sauté for another 5 minutes until the veggies are soft. Also, add water if necessary.
Now it's time to pour in the tomato puree along with ½ cup of water and dried oregano. Stir well, bring to boil and simmer on low heat for 15 minutes. Turn off the heat.
Finally, add crushed garlic and coconut milk and season with salt and pepper.
Garnish with nutritional yeast, chopped basil, parsley, coriander and/or green onions. Should you be into spices, sprinkle on some red pepper flakes or chilli.
Notes
Storing
Fridge: 3-4 days
Freezer: 1 month
Prep Time:

10 minutes

Cook Time:

30 minutes

Category:

Side

Cuisine:

Mediterranean
Nutrition
Serving Size:

1/4

Calories:

170kCal

Sodium:

167mg

Fat:

4.2g (22.2% of kcal)

Carbohydrates:

21g (49% of kcal)

Fiber:

8.2g

Protein:

7.2g (17% of kcal)
Tips on serving my mushroom tomato sauce:
Have it over al dente pasta, or cooked rice, quinoa, buckwheat, amaranth, millet, beans or lentils. Include plenty of greens (lettuce and/or cooked leafy greens) to go with your meal.
Add this tomato sauce to Buddha bowls or salad bowls to serve as oil-free dressing.
It would also make an awesome bread and cracker spread or dipping sauce once cooled and thickened.
Tips on my mushroom tomato pasta sauce recipe:
You may use any mushrooms you like, i.e. cremini mushrooms, Portobello mushrooms etc.
Feel free to use fresh tomatoes (diced tomatoes or crushed tomatoes) instead of tomato puree. Alternatively, you may also puree fresh tomatoes in a blender.
Coconut milk is totally optional! So, should you wish to have your dish really low fat, you may ditch it altogether. On the other hand, those who don't mind extra creaminess may increase the amount of coconut milk.
Why I add my crushed garlic only when the dish is ready? It's because I want to preserve the precious allicin in garlic that would be destroyed by cooking. This is especially relevant when you struggle with Candida overgrowth.
Go crazy and add a splash of red wine along with tomato sauce :)
And finally, easily turn this mushroom tomato sauce into Indian flavoured version by substituting oregano with turmeric and my Indian Spice Mix.
How to store my mushroom tomato pasta sauce:
Store in a sealed container or jar in fridge for up to 4 days.
For longer keeping divide into portions and freeze for up to a month.
Disclaimer: this post contains affiliate links. As an Amazon Associate I earn from qualifying purchases.