This oil-free and refined sugar free flourless vegan rhubarb custard cake takes a proud place among summery treats. Taste the refreshing sourness of rhubarb combined with creamy custard of chickpeas and coconut in a healthy way.
My flourless vegan rhubarb cake:
Is crustless
Requires only a few ingredients
Is easy to make
Makes a refreshing summery treat.
However, should you crave something more festive and decadent, try out my Easy Vegan Rhubarb Cake with Crust.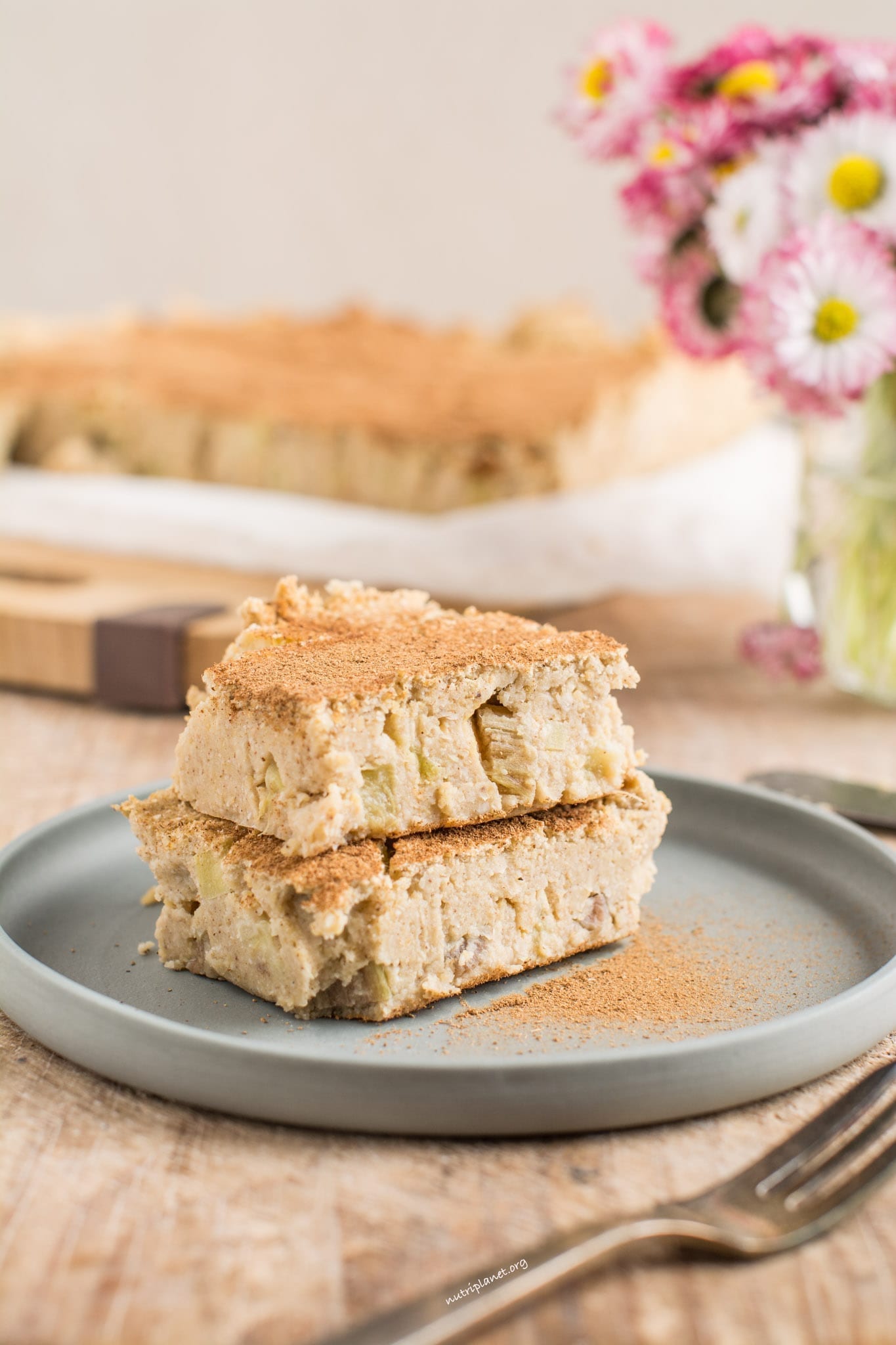 To be honest, I used the aforementioned cake recipe as a base when developing this rhubarb custard cake. The thing is, I needed a simpler recipe that would take less effort, but be as awarding and tasty. As a result, I give you flourless rhubarb custard cake that's delicious, super easy to make and requires only a few ingredients. And above all, basically no cooking skills are required. How great is that?
The ingredients in my vegan rhubarb custard cake
As you already might now, conventional custard is a combo of melted butter, egg yolk and sugar. Furthermore, some recipes may even include whipped cream and/or sour cream. Now, that'd be a totally unhealthy fat bomb, especially when combined with refined sugar.
Instead, I've found that chickpeas and coconut milk (with a healthier sweetener) give the most delicious custardy taste and consistency without the adverse effects of butter and sugar combination.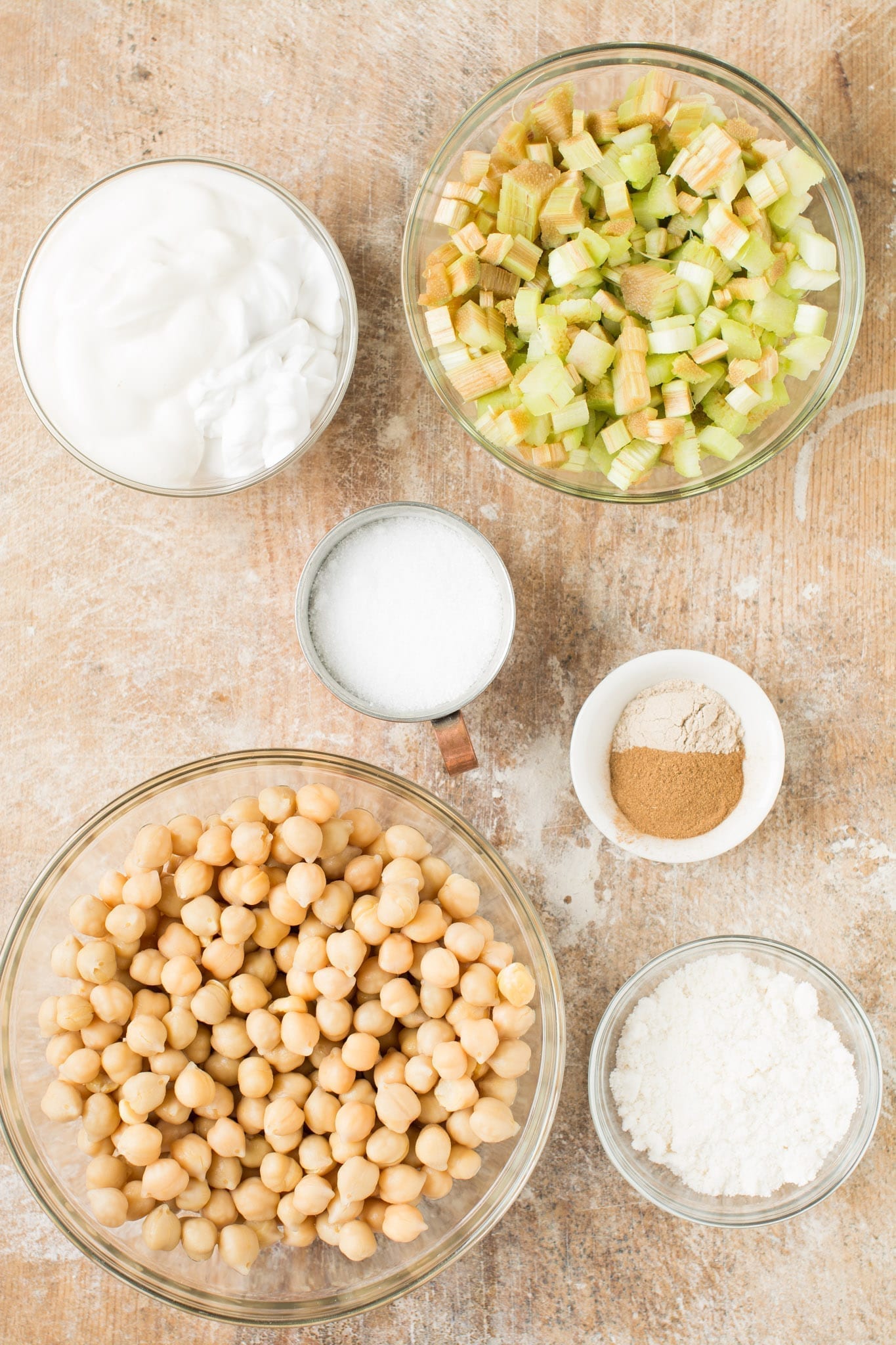 That being said, my healthy rhubarb custard cake batter mainly consists of cooked chickpeas, coconut milk, and soy yogurt resulting in a beautiful yellow cake mix. Of course, you absolutely cannot go without cinnamon and a sweetener, which is xylitol in my case. And finally, I use a bit of psyllium husk powder to bind it all together. For substitution tips scroll down below the recipe and find out what you can use instead of xylitol and/or psyllium.
Also, I find it noteworthy that my recipe does not use baking powder. It's because there's absolutely no need for it – it's not a fluffy cake, but more of a moist kind. Furthermore, I've learned that many people have dietary restrictions or are simply allergic to baking powder. So, a rhubarb custard cake without baking powder is highly appreciated, right?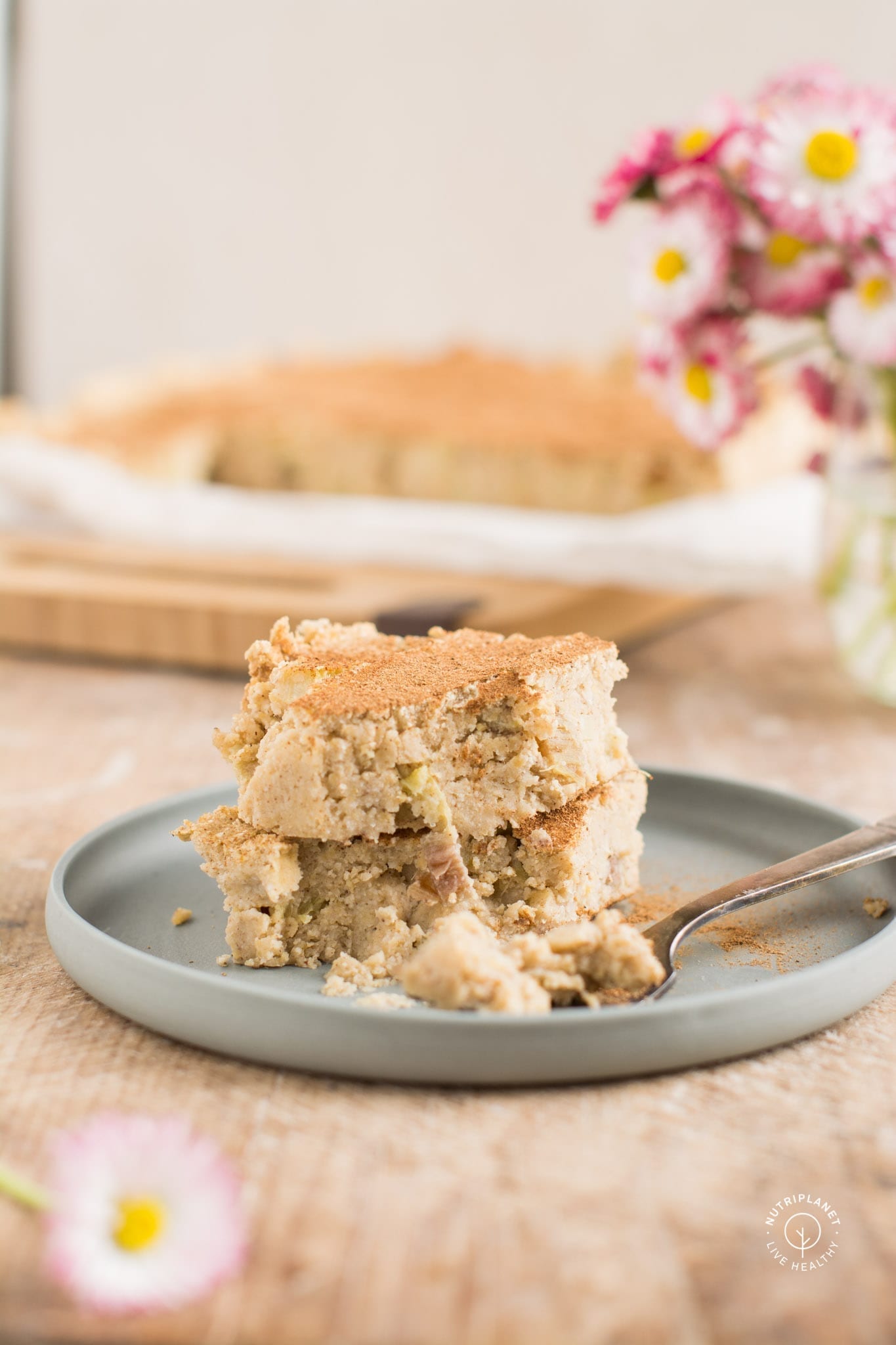 To sum it up, my vegan flourless rhubarb custard cake is:
Gluten-free
Grain-free
Can be made soy-free
Nut-free and peanut-free
Refined sugar free
Relatively low in fat
Vegan Candida diet friendly
So, get cooking, if you crave something:
Sweet and sour
Refreshing
Creamy and delicate
Healthy and delicious
Finally, I'd love to hear from you! What's your take on rhubarb? Do you even like it? How does my version of vegan rhubarb custard cake sound? Let me know in the comments below! Please also tag me in social media whenever you make and share my recipe. Instagram @thenutriplanet and Facebook @nutriplanet.health.hub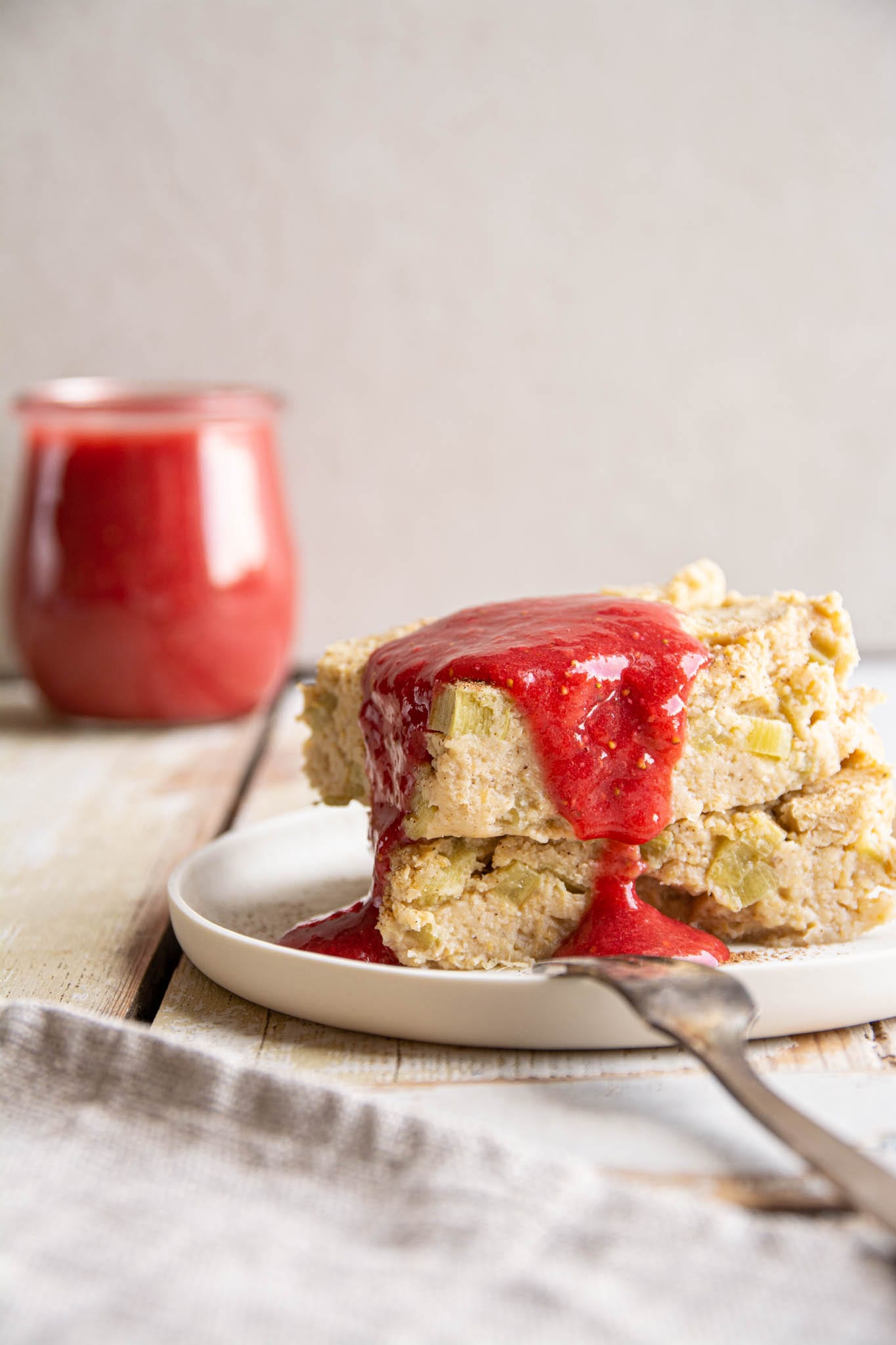 Print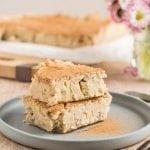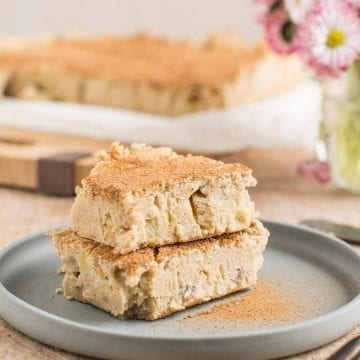 Flourless Vegan Rhubarb Custard Cake
---
Author:

Nele Liivlaid

Total Time:

1 hour 10 minutes

Yield:

4

servings

1

x
Description
This oil-free and refined sugar free flourless vegan rhubarb custard cake takes a proud place among summery treats. Taste the refreshing sourness of rhubarb combined with creamy custard of chickpeas and coconut in a healthy way.
---
---
Instructions
Start by draining and rinsing the chickpeas, if you use canned ones. Also, peel and chop rhubarb and set aside.
Preheat the oven to 175°C (350°F).
Next, process all ingredients (except rhubarb) in a blender or with immersion blender until you have smooth cake batter.
Then, mix in chopped rhubarb and pour the batter into baking dish or cake tin lined with parchment paper or lightly greased. I used 22×22 cm (8.6×8.6 inch) dish. Sprinkle some extra cinnamon on your rhubarb cake.
Finally, bake it at 175°C (350°F) for 40-45 minutes until golden. Let the cake cool before serving.
Notes
Storing: Fridge: 3-4 days; Freezer: 1 month.
Try this rhubarb cake with my low sugar strawberry sauce!
Nutritional info (⅛ of the cake), Plantricious version: 196 kcal, 23g carbohydrates (47% of kcal), 5.3g fats (24% of kcal), 7.6g protein (15% of kcal), 7.8g fibre, and 91mg sodium.
Prep Time:

30 minutes

Cook Time:

40 minutes

Method:

Baking
Nutrition
Serving Size:

⅛ of the cake

Calories:

162 kcal

Sodium:

48.3mg

Fat:

4.5g

Carbohydrates:

27g

Fiber:

7.9g

Protein:

6.9g
Keywords: rhubarb custard cake
Tips on my vegan flourless rhubarb custard cake recipe:
Serve with a dollop of vegan ice cream or thick coconut cream.
Any plant yogurt may be used instead of soy yogurt – almond yogurt, cashew yogurt, coconut yogurt, or oat yogurt.
Feel free to use other sweeteners if you don't struggle with Candida overgrowth. For example, coconut palm sugar, date sugar or raw cane sugar would be good options. You may also go for liquid stevia – 12 drops = 1 tbsps. of xylitol.
If you don't have psyllium husk powder, grind it yourself from psyllium husks or use 1 tbsp. of husks instead.
Ground chia seeds would also make a good substitution for psyllium powder – use 1½ tablespoons and let the batter set for 5 minutes before baking.
You can also use frozen rhubarb instead of fresh. Also, try this recipe with fresh or frozen sour cherries!
Tip for sensitive bellies:
Soak and sprout the chickpeas yourself and then cook until soft. Get more details from Guide to Sprouted Chickpeas.
How to store my vegan rhubarb custard cake
Cut the cake into pieces and store in a sealed container in fridge for up to 4 days.
Freeze the pieces for longer keeping (for up to a month). Heat them up in oven or microwave oven.
Disclaimer: this post contains affiliate links. As an Amazon Associate I earn from qualifying purchases.
Feel free to PIN the below image!