Let's make an easy low sugar strawberry sauce using fresh strawberries. All you need is a blender and 3-4 ingredients. This sauce is ideal for pancakes, crepes, waffles, cheesecake, pound cake, ice cream, and other desserts.
My low sugar strawberry sauce is:
vegan and plant-based
low-fat
low glycemic
Candida diet friendly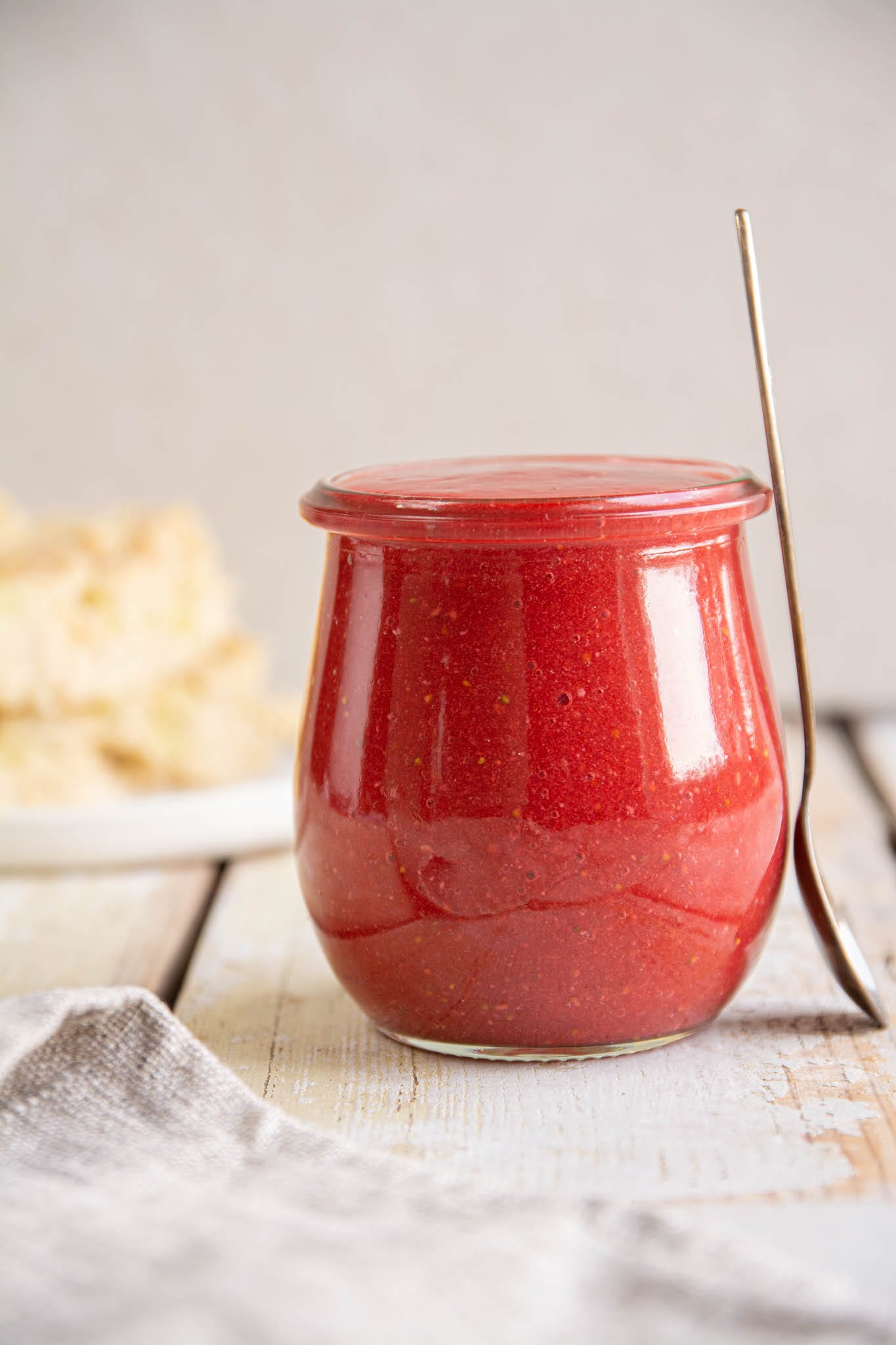 In case you are a visual learner, make sure to watch the below tutorial video on my strawberry sauce!
How to Make Homemade Low Sugar Strawberry Sauce
What I love about this recipe is that it's so easy to make! More precisely, you don't need to cook the sauce, which saves a huge amount of time. So, what will you need?
The Ingredients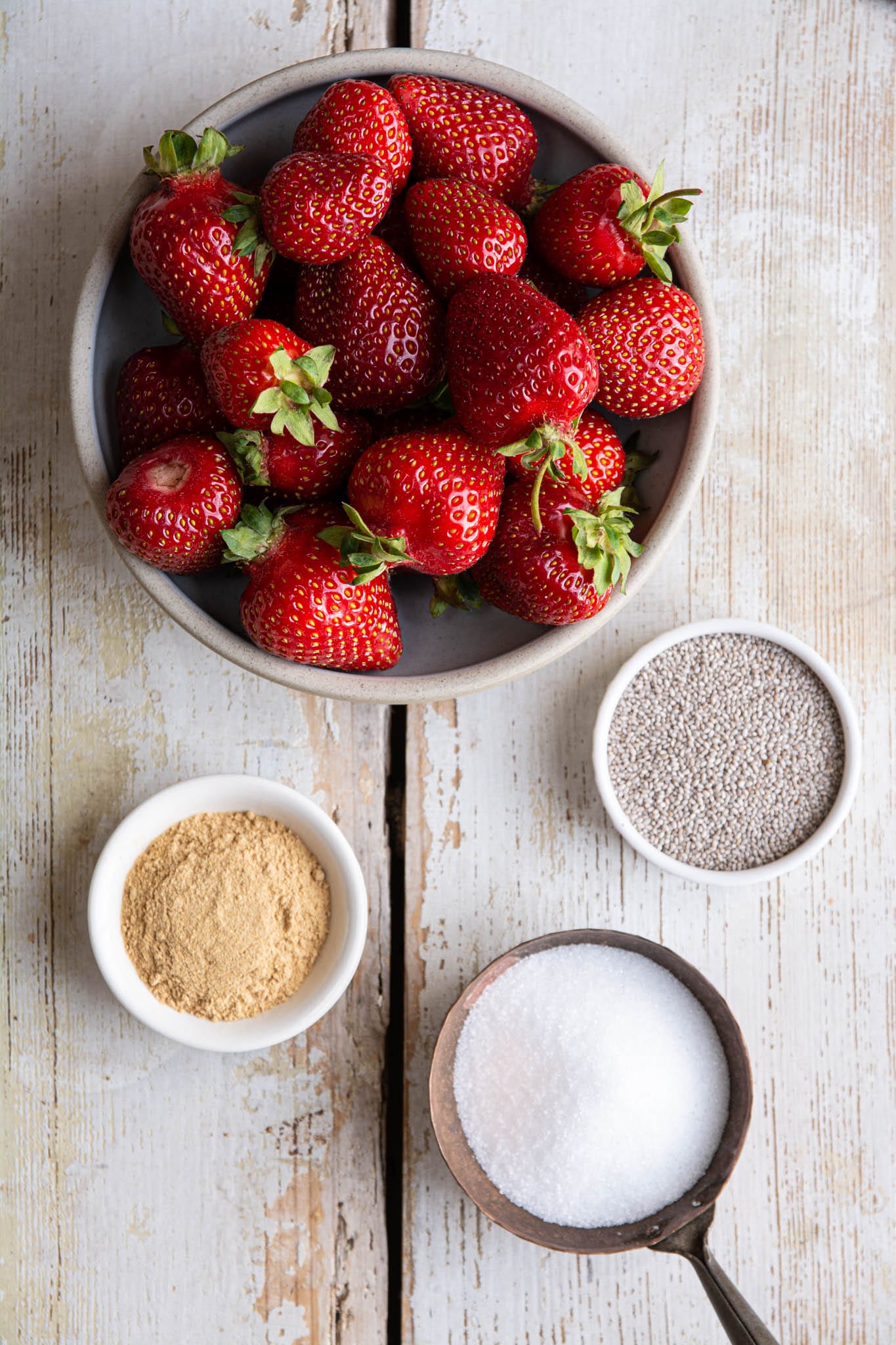 Fresh Strawberries
First and foremost, go and buy some delicious fresh strawberries, organic if you can. In case the strawberry season is over, you might also try with frozen strawberries, thawing them first.
Next, when blending fresh strawberries, the result will be very liquid. For that reason, we will need something to thicken it up. I'm using ground chia seeds, which is an excellent thickening agent in liquid recipes. You might also choose psyllium husks or psyllium husk powder instead.
By the way, you can use both white and black chia seeds for that matter. In case you're really after aesthetics, I'd suggest going for white chia seeds not to mess with the colour of your strawberry sauce.
As the main sweetener, I chose erythritol. Erythritol belongs to a class of compounds called sugar alcohols. It has about 70% of the sweetness of sugar. In large-scale production, erythritol is created when a type of yeast ferments glucose from corn or wheat starch.
Is erythritol safe?
Overall, erythritol appears to be very safe. It's because erythritol is different from the other sugar alcohols. Namely, most of it gets absorbed into the bloodstream before it reaches the colon. In fact, about 90% of erythritol is excreted unchanged in the urine.
According to Dr. Michael Greger's standards erythritol was considered harmless. It's because it's found naturally in pears, melons and grapes and is absorbed in the intestines. So it doesn't have a laxative effect. However, new research has been conducted and it can now even seen as helpful as it contains antioxidants.
However, eating high amounts may still cause digestive upset because the remaining 10% travels down to the colon. In fact, one study showed that 50 grams of erythritol in a single dose increased nausea and stomach rumbling.
However, feeding studies providing up to 0.45 grams per pound (1 gram per kg) of body weight show that it is very well tolerated. So, unless you're eating massive amounts at a time, you're unlikely to get an upset stomach.
Go to my article Candida Diet Sweeteners for cited sources.
Our second and more natural sweetener is mesquite powder. No worries, if you can't find it as it's an optional addition to your strawberry sauce.
Mesquite is a traditional native American food with a very low glycemic index and a high mineral content. Mesquite powder or flour is made from the leguminous seed pods of the drought-tolerant mesquite plant, also known as algarrobo. Mesquite flour has a very pleasant, sweet, caramelly and nutty taste.
Lemon Juice
Another optional ingredient in this recipe is lemon juice. In my opinion, it adds some extra freshness to the sauce. However, I suggest blending all the other ingredients first, then taste it and decide for yourself whether lemon juice is needed.
Replacements
Instead of erythritol you might also use xylitol. It is a sugar alcohol that is found in small amounts in many fruits and vegetables and is therefore considered natural. Since xylitol is still a refined sweetener, it doesn't contain any vitamins, minerals or protein. In that sense, it provides only empty calories.
Xylitol looks and tastes like sugar but has fewer calories and doesn't raise blood sugar levels.
Even though sugar alcohols are technically carbohydrates, most of them do not raise blood sugar levels and thereby don't count as net carbs. The latter makes them popular sweeteners in low-carb products.
Even though the word "alcohol" is part of its name, it's not the same alcohol that makes you drunk. On the contrary, sugar alcohols are safe for people with alcohol addictions.
NB! Be careful not to over consume as it may cause digestive ailments. Due to sugar alcohols' unique chemical structure, your body can't digest them. They therefore pass unchanged through most of your digestive system. When they reach the colon, they are fermented by the resident bacteria, which produce gas as a side product. Consequently, eating high amounts of sugar alcohols may cause bloating and digestive upset. Since xylitol is not absorbed it draws fluid into your colon and can have a laxative effect.
Go to my article Candida Diet Sweeteners for cited sources.
In order to prepare this recipe according to Plantricious guidelines, use date sugar instead of erythritol. What's Plantricious anyway?
Plantricious is a new food category for prepared and packaged plant-based foods and recipes – Plantricious aka plant nutritious. The latter is based on nutrition guidelines created and endorsed by the most respected medical experts in US advocating plant nutrition for optimum health. Read more and get Plantricious recipes!
In case you can't find mesquite but still want to use something similar in your strawberry sauce, Peruvian carob will come to the rescue.
However, don't be fooled by the carob part in its name because unlike regular carob, Peruvian carob has a light brown colour and is more similar to mesquite powder.
Peruvian carob is a pod, very similar to mesquite, which is powdered and then used as a sweetener. It has a caramelly flavour – a great low-glycemic addition to cakes, biscuits, and other desserts.
The Process
It's super easy to make my strawberry sauce! Let's go through the steps shortly:
You start by washing the fresh strawberries and removing their leaves. By the way, if you have organic strawberries, you might as well leave those leaves be as they contain beneficial nutrients.
Next, grind the chia seeds using a spice/coffee grinder. I recommend grinding a bigger batch and storing the leftovers in a jar in the fridge for other recipes. For example, I prefer to make chia puddings with ground chia seeds. This is because grinding makes the nutrients, including omega 3's, more available. Furthermore, your pudding will be ready much faster as ground seeds absorb liquid much quicker than whole seeds.
Now it's down to throwing all the ingredients into a blender or a beaker and blending them into a smooth strawberry sauce.
How to Use Strawberry Sauce
There are several delicious ways you can use homemade strawberry sauce:
Drizzle it on homemade pancakes or crepes.
Pour it over vegan cheesecake, rhubarb cake, pound cake, blondies, brownies or any cake really.
Prepare scrumptious parfait with plant-based yogurt and cookies.
Spread it on a slice of sourdough bread.
Have this delicious strawberry sauce topping with your morning porridge, oatmeal or overnight oats.
Finally, this sauce would be a great addition to your favourite chia pudding.
Here are some recipes my strawberry sauce will go excellently with: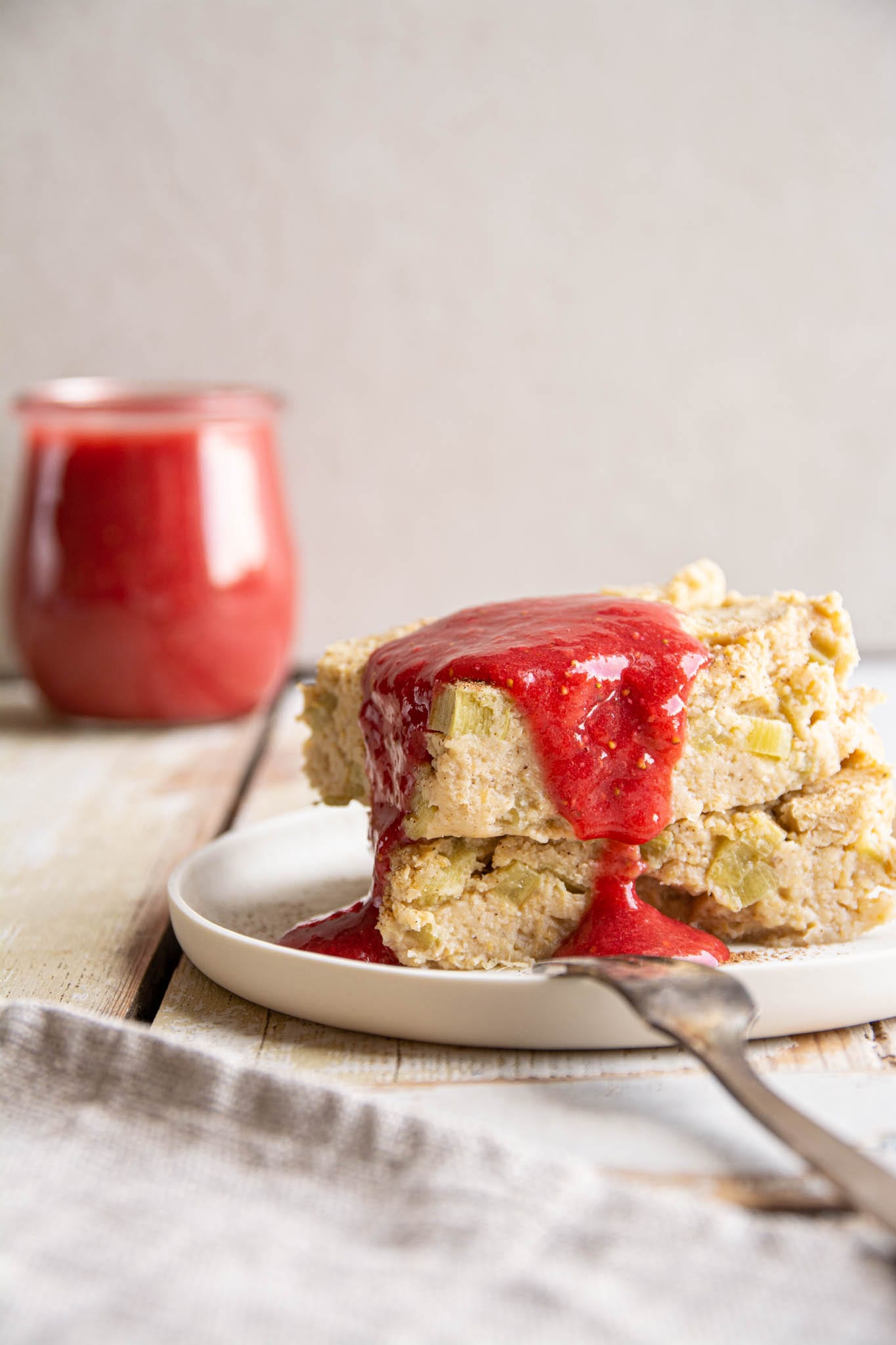 How to Store Homemade Strawberry Sauce
Since this strawberry sauce is made with fresh berries, it won't keep very long in the fridge. That being said, store it in an airtight container or jar in the fridge for up to 4 days. It will keep a bit longer if you keep the container closed and don't open it daily.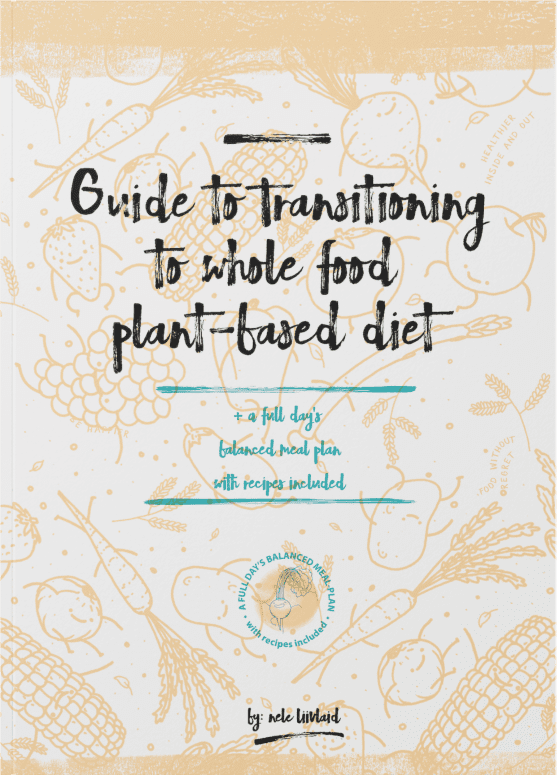 Download my FREE Guide to Plant-Based Diet
Including a full day's meal plan!
Learn the basics, prepare your kitchen and pantry, compile a balanced meal plan, handle challenges with family and friends, learn the tricks of dining out as well as travelling.
Learn the secrets of weight loss, better health and happiness!
Print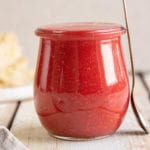 How to Make Low Sugar Strawberry Sauce [Video]
---
Author:

Nele Liivlaid

Total Time:

10 minutes

Yield:

500

ml (2 cups)

1

x

Diet:

Vegan
Description
Let's make an easy strawberry sauce using fresh strawberries. All you need is a blender and 3-4 ingredients. This sauce is ideal for pancakes, crepes, cheesecake, pound cake, and other desserts.
---
---
Instructions
Start by washing the strawberries and remove the leaves.
Then, grind the chia seeds using a spice/coffee grinder. Grind a bigger batch and store the leftovers in a jar in the fridge. Use up in other recipes.
Next, place all ingredients into a blender or beaker and, using a regular or immersion blender, process until you have smooth strawberry sauce.
Consume immediately or store in a sealed container or a jar for up to 4 days.
Notes
Nutritional info for Plantricious version with date sugar (¼ of the recipe): 90.6 kcal, 16g carbohydrates, 1.4g fats, 1.7g protein, 3.6g fibre, 1.6mg sodium.
Feel free to use any preferred sweetener instead on erythritol or date sugar.
As far as chia seeds are concerned, you may use both white and black varieties.
Prep Time:

10 minutes

Category:

Desserts

Method:

Blender
Nutrition
Serving Size:

¼ of the recipe

Calories:

56 kcal

Sugar:

6.6g

Sodium:

1.6mg

Fat:

1.2g

Saturated Fat:

0.1g

Carbohydrates:

8g

Fiber:

3.6g

Protein:

1.5g
Keywords: strawberry, sauce
Disclosure: this post contains affiliate links. As an Amazon Associate I earn from qualifying purchases. For every purchase made from the links in this post, you'll be able to support my work. So you can look after your health, and contribute to my mission at the same time. Thank you!
You're welcome to PIN the below image!