It's cake again. And it's cheesecake… again. However, this time it is vegan baked cheesecake as it's winter after all and baking just seems a better idea.
The story behind this vegan baked cheesecake goes like this – there was a huge vegan fair in Tallinn in the beginning of November where I found a great local organic company Loodusvägi (the power of nature) that, among other items, sells awesome tofus. I instantly thought that their unflavoured tofu calls for a baked cheesecake and I was right – it blends into so deliciously rich and hearty ricotta that it's hard not to eat it right out of the blender.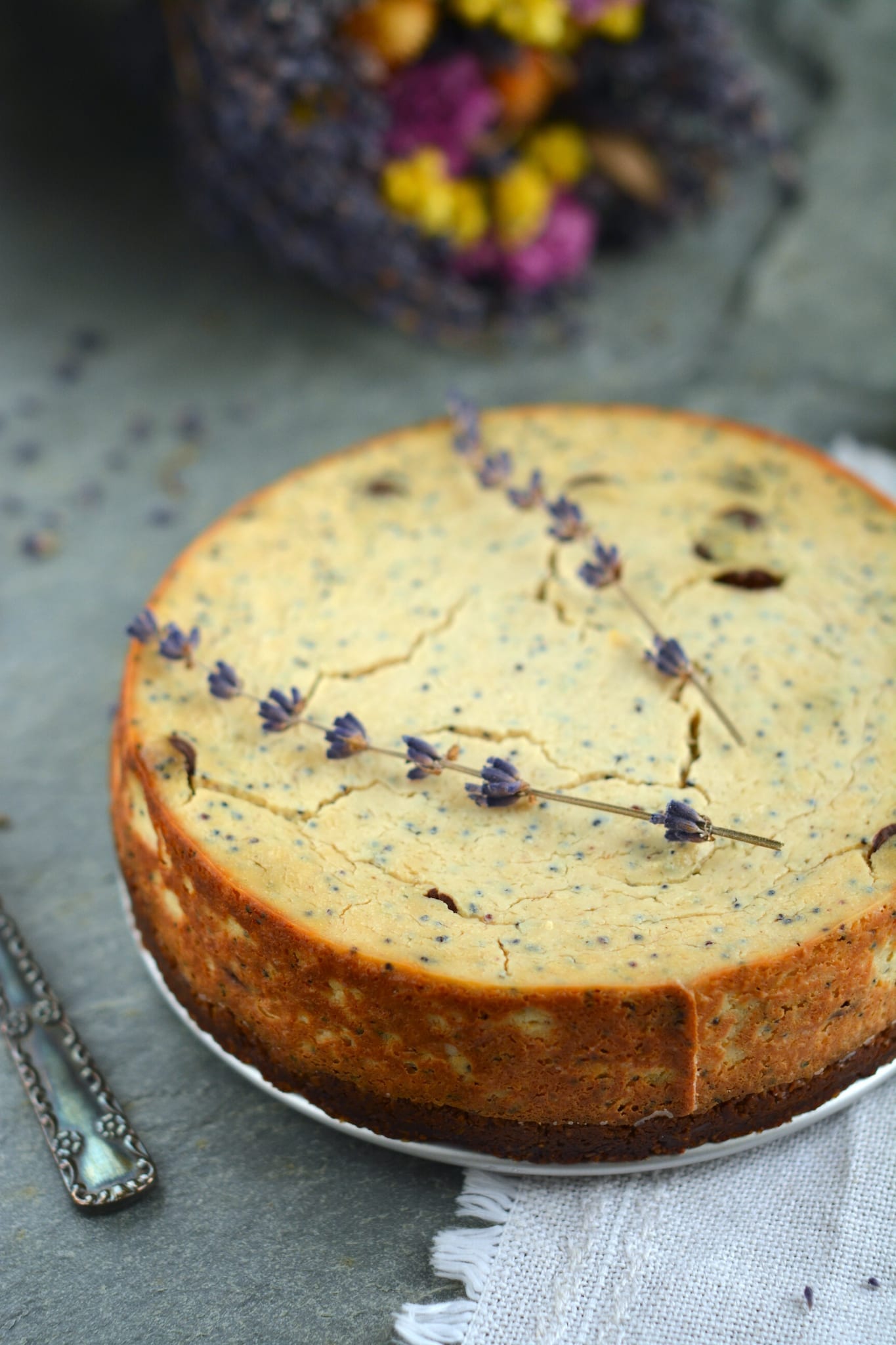 So, I baked the first vegan cheesecake without crust and it worked out very well, but I figured it'd look more impressive and festive with a crust, so I went for a lighter version made of oat bran, walnuts and juicy dates. As always I keep my cakes oil-free and refined sugar free. I sweetened the filling with xylitol because I'm on vegan Candida diet, but you can use any sweetener you like including juicy dates.
There are only 3 dates in the crust, so I figured I'd try eating it. Luckily I was fine and didn't experience any Candida symptoms. However, should you be in the first stages of Candida diet, replace the dates with xylitol or stevia and add a tablespoon of plant-based milk to moist the crust batter.
Next, I added some poppy seeds and dark chocolate buttons (sweetened with xylitol) to give my vegan baked cheesecake more character and used psyllium husk to firm it up.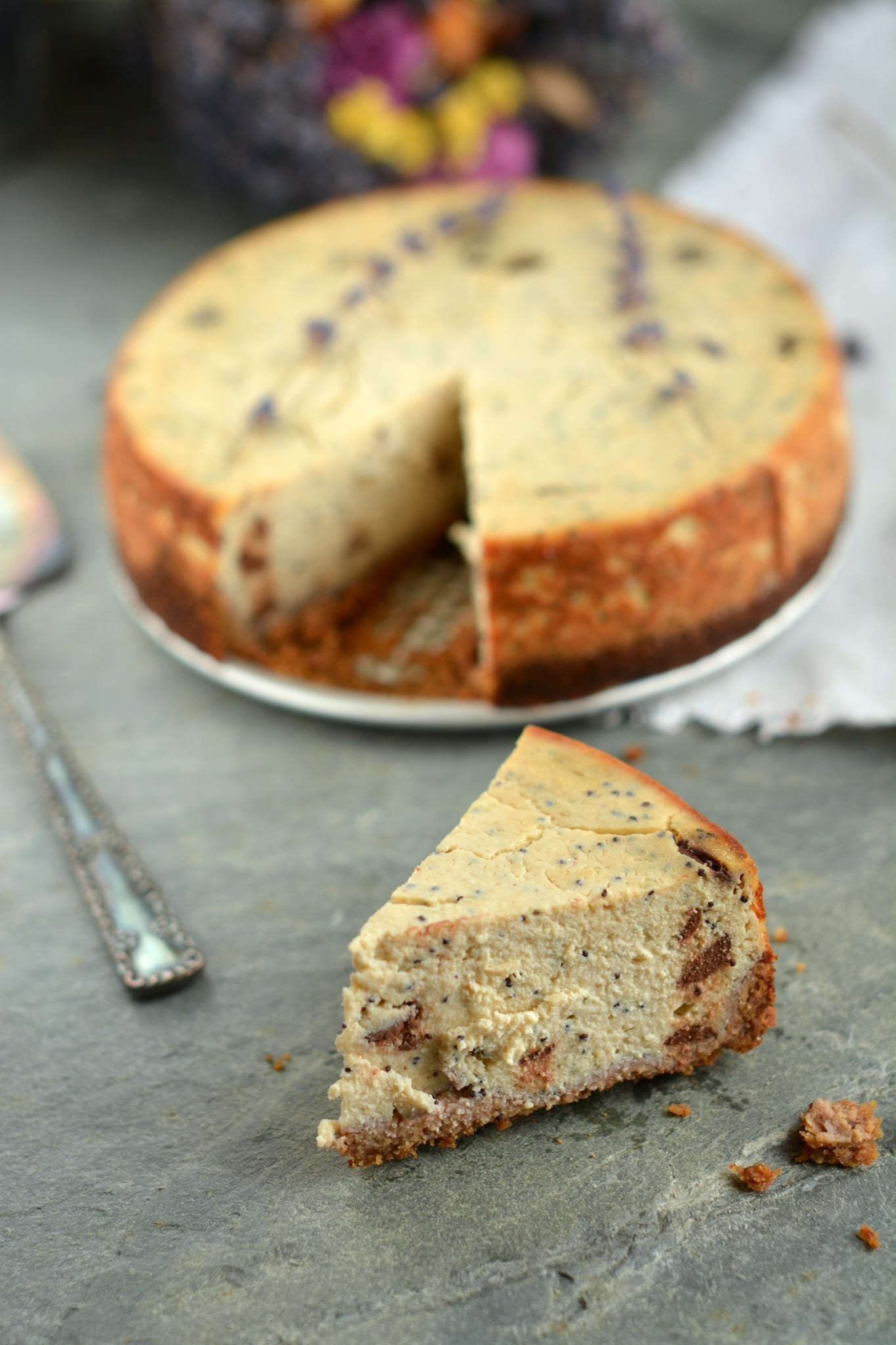 Besides my own family, I tested the cake on my in-laws who found it delicious. For my mother-in-law the sweetness was just right, but my father-in-law said that maybe it could be a little bit sweeter. I'd suggest making a sweeter sauce to go with the cake – fruit puree or chocolate sauce made of dates, water and raw cacao. It's a good way to go if you are making the cake for a crowd with different preferences – the ones who prefer it sweeter can add the sauce and the ones who prefer milder tastes can enjoy the flavour and texture of the awesome tofu as well.
My vegan baked cheesecake is plant-based, refined sugar free, gluten-free (if you tolerate the avenin in oat bran), oil-free and dairy-free, but absolutely delicious!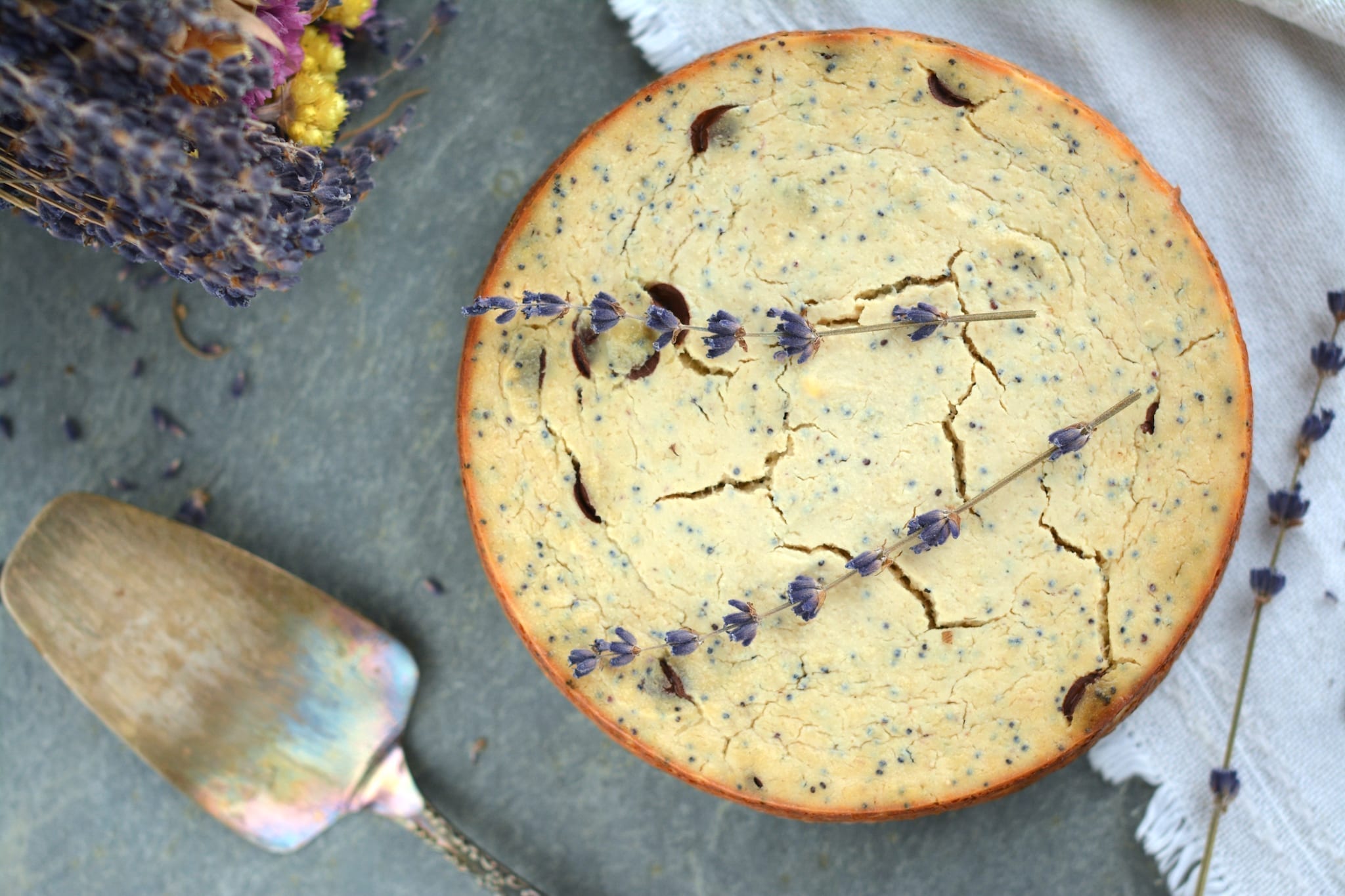 Vegan Baked Cheesecake Recipe
6" (15 cm) or 6.3" (16 cm) cake
Ingredients:Crust
½ cup walnuts, soaked
⅓ cup oat bran
Pinch of Himalayan salt
3 soft (juicy) dates, stone removed
Ingredients:Filling
2 packages (2x270g, 2×9.5oz) hard unflavoured tofu
4 tbsps. lemon juice
150g (5.3oz) plant-based milk
Pinch of Himalayan salt
1 tbsp. psyllium husk
½ tsp. vanilla
3 tbsps. xylitol
1 tbsp. poppy seeds (add later)
2 tbsps. dark chocolate buttons and chopped chocolate (add later)
Directions
Soak walnuts for 4 hours.
Combine soaked nuts, salt and oat bran in food processor and process until fine crumbs and the ingredients start to stick together. Add dates and process again until everything is well combined and the batter sticks together when pressed between fingers.
Line a 6" (15 cm) or 6.3" (16 cm) round springform cake tin with parchment paper. Press the crust into tin with your hands (wet your hands if it sticks) and bake in 190 C (375 F) oven for 10 minutes. Remove from oven and set aside.
While the crust is baking, cut the tofu into small cubes and combine all filling ingredients (except poppy seeds and chocolate) in a blender. Process until homogeneous and silky batter forms. Taste and add more of sweetener, if you feel like it is not sweet enough for you.
Finally mix in poppy seeds and chocolate buttons.
Pour the filling onto crust and bake in 175 C (350 F) oven for 45-50 minutes until the cake starts to turn golden.
Let cool completely. It'd be ideal to let it sit in fridge for a couple of hours after it has cooled down.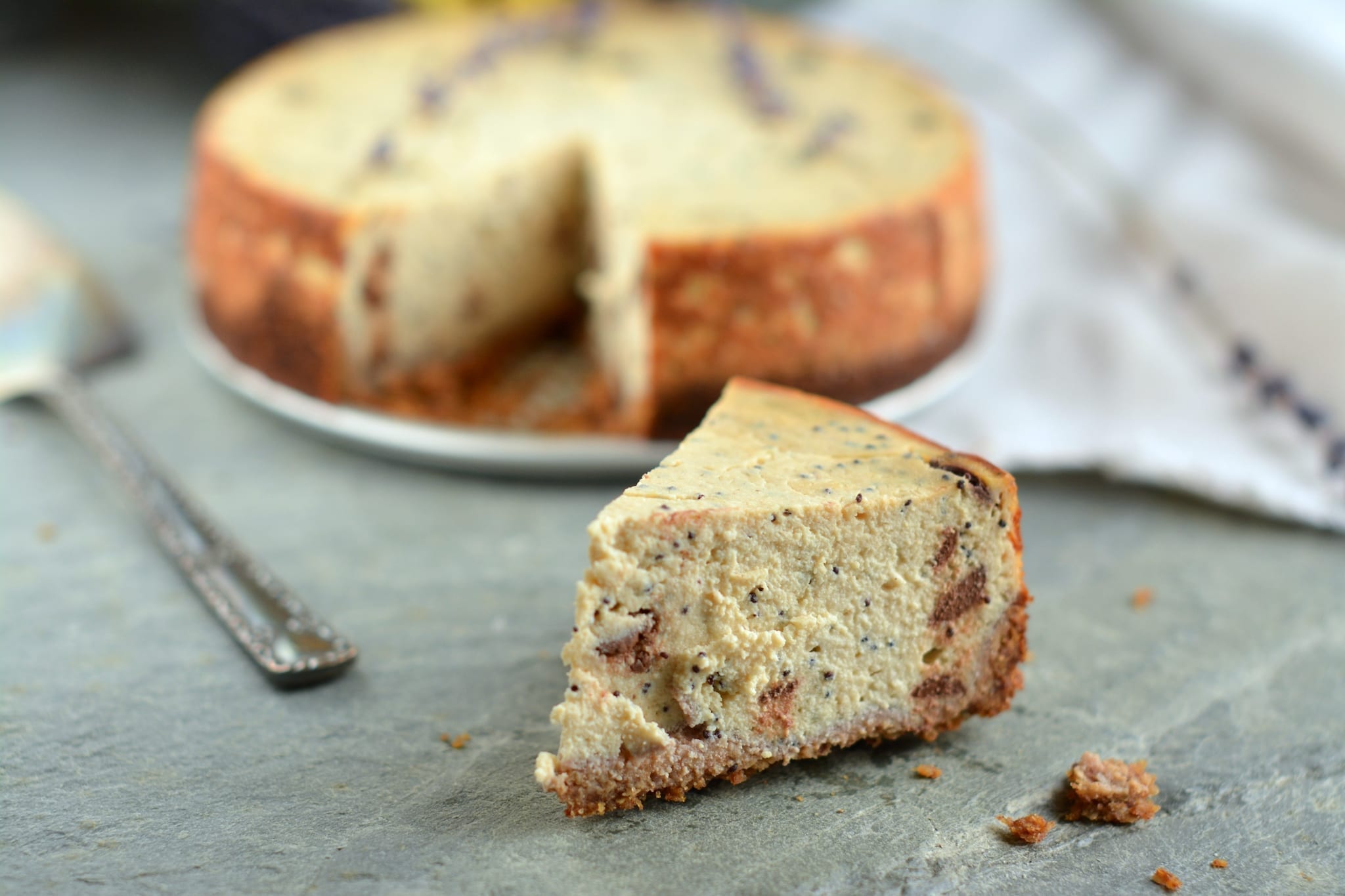 Tips:
If you don't have time to soak the walnuts, add 1-2 tbsps. of plant-based milk or water for moistness.
Use 6 juicy dates (or more) to sweeten the filling, if you are not on Candida diet.
Prepare a sauce to go with the cake – fruit puree (mango, strawberry, banana-berry) or chocolate sauce made of dates, water and raw cacao (blend ½ cup juicy dates or soaked dried dates, 1 ½ tbsps. raw cacao, pinch of salt and as much water as needed for desired consistency).