From famous celebrities such as Jennifer Lopez, Eva Longoria and Ricky Martin to top corporate bosses, yoga has grown into a very popular workout routine for so many people around the globe. If you're also interested in yoga, you need to know that there are many different types of yoga and not all of them are created equal. And depending on your needs, you should choose one that best suits you.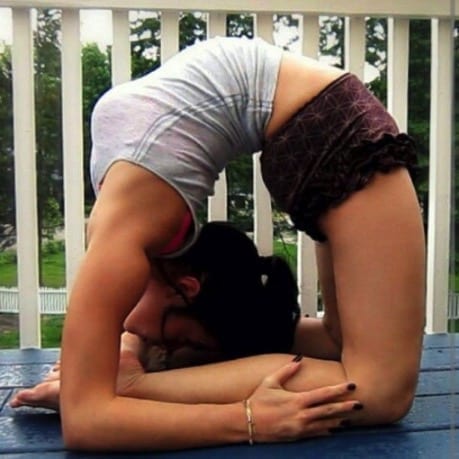 Via: yoga-life.com.au
Here are five of the most popular yoga types you'll find in gyms, fitness centers and ashrams around the world.
Mainstream Yoga Types
1. Hatha yoga
"Hatha" is one of the most common terms you'll hear or read about when it comes to yoga. Ideal for beginners, Hatha is one of the most commonly practiced forms of yoga today. It's gentle, easy to learn, focuses on breathing, holds the pose and quiets the mind. All of these things are essential for any yoga practice.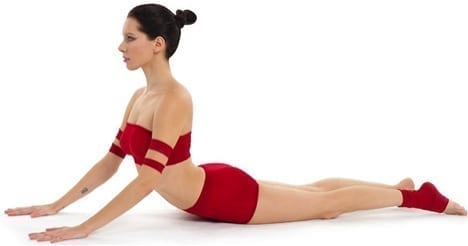 Via: stylecraze.com
2. Bikram yoga
Bikram yoga is perfect for those who love to sweat. It was created in early 1970s by Indian yoga practitioner Bikram Choudhury. It consists of a series of 26 poses that stretch and strengthen muscles as well as "rinse" and compress the body's organs. The yoga poses are performed in a heated environment to help get rid of toxins, prevent injuries and promote more flexibility. Every Bikram yoga class you attend will follow the same series of 26 poses.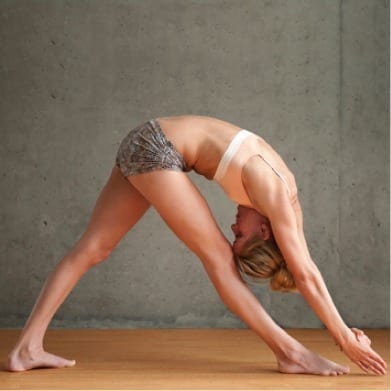 3. Ashtanga yoga
Ideal for the more advanced and athletic yogis, Ashtanga yoga is considered to be well-structured and more challenging. It comprises 6 different sequences, which you can go through independently and at your own pace.
If you want a practice that's less calming and more aggressive, Ashtanga is for you. Its classes will leave you in sweat and you'll most likely be sore the next day.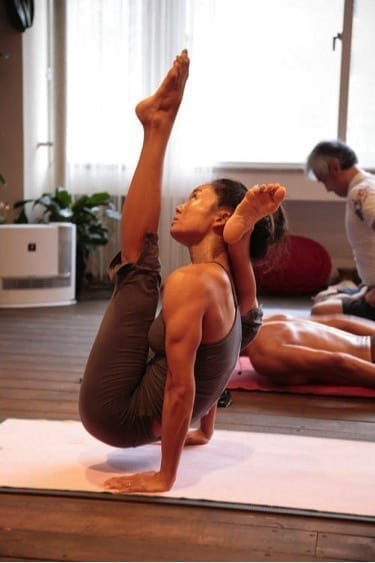 Via: fuckyeahashtangayoga.tumblr.com
4. Iyengar yoga
If you really want deep relaxation while getting some wonderful, thorough all-over-the-body stretching, then go for Iyengar yoga. This type of yoga will help you gain correct alignment of your body. Once it's properly aligned, you will reap maximum benefits and prevent injuries. Slow paced, Iyengar often utilizes props like straps, cushions, blankets and blocks, and is excellent for people recuperating from injuries, the disabled and the elderly.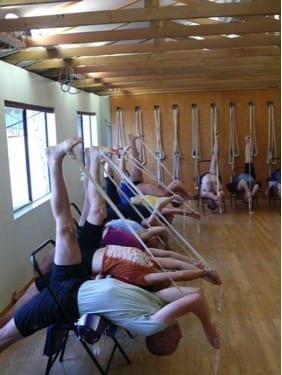 Via: sandiegoyoga.com
5. Vinyasa flow
Similar to Hatha, Vinyasa yoga is more fitness-oriented and faster-paced. Known for its focus on breathing and flowing sequence, this yoga type will most likely make you sweat but somehow relax and invigorate you at the same time. Vinyasa is basically a general term for many different styles. Some gyms or yoga studios call it dynamic yoga, flow yoga, flow-style yoga or Vinyasa flow.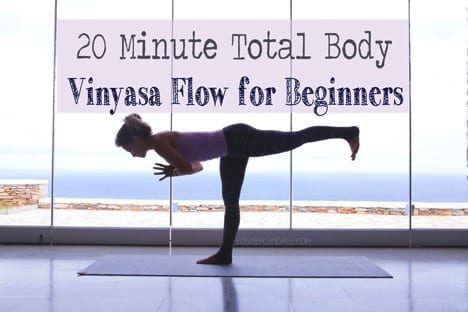 Via: yogabycandace.com
There are just five of the mainstream yoga types you can try. It's certainly important to explore the yoga world a little more so you can find out what style best fits your needs and wants. However, to successfully perform any of the aforementioned yoga types, you will be required to use either a cushion or mat so that you can perfect your workout. Let us now have a look at some of the tips that can assist you to find the best meditation cushion and best yoga mat.
Tips on How to Find the Best Meditation Cushion and Best Yoga Mat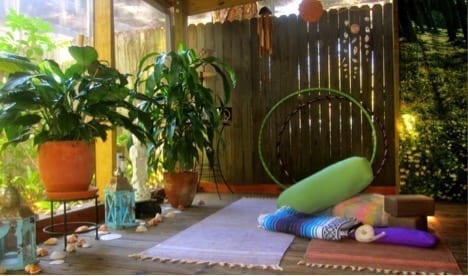 Via: thejourneyjunkie.com
Tip 1: Searching for Yoga Cushions and Mats Online:
Did you know that having access to an internet connection can help you find answers to any type of queries you might be having. When looking for the best cushions or mats for yoga or meditation, simply Google, "The Best Meditation Cushions and Yoga Mats" and you will be provided with several options to choose from.
However, only consider buying yoga mats and cushions from a reliable site in order to reduce the chances of getting conned online.
Tip 2: Reference from Neighbors or Family Members:
Members of your family or even close allies that you've got who often practice yoga or meditation can help you secure a reliable seller dealing with yoga mats and cushions. It' s essential that you ask such people about how reliable the yoga mats and cushions they' re using are, how effective the online seller who sold them such products was and also inquire about the cash amount they used buying their yoga mats and cushions.
Tip 3: Going to the Different Sellers you've Chosen:
Sacrifice your time and visit all the sellers dealing with yoga mats and cushions you' ve chosen so that you can be able to view and inquire more about the products they' re dealing with. Going through past consumer review lists of these sellers and contacting a few people from them can help you know how trustworthy these sellers are.
Kindly do not consider any seller dealing with yoga mats and cushions, who fails to provide you with review lists of his/ her past clients since it' s an indication that he/ she is trying to hide something that he or she does not want you to know.
Tip 4: Considering a Licensed Person:
Consider buying your yoga mat or yoga cushion from a wholesaler or retailer who is licensed, since it is the only proof you can make use of to tell whether you' re dealing with a person who is selling genuine items.
Tip 5: Purchasing the Mats or Cushions from a Cheap Seller:
Promote any seller selling yoga mats and meditation cushions who does not only sell his/ her products fairly, but also the one who guarantees you with satisfactory results in the long run.
Types of Yoga Mat and Their Benefits
1. Yoloha Cork Yoga Mat:
This eco- friendly mat assist a person practicing yoga keep his/ her grip with damp hands, most especially during hot yoga.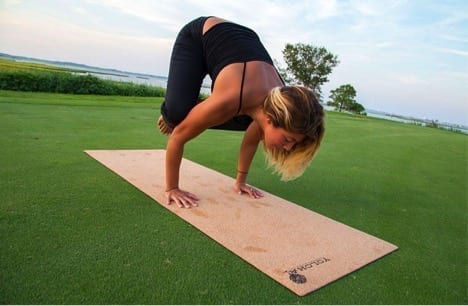 Via: fancy.com
2. Kula Elite Hybrid Yoga Mat
This type of mat is often absorbent and sure to keep you grip- happy on the mat. The other kinds of yoga mats you should consider buying in order to make your yoga experience enjoyable include; lululemon the mat and manduka black pro yoga mat.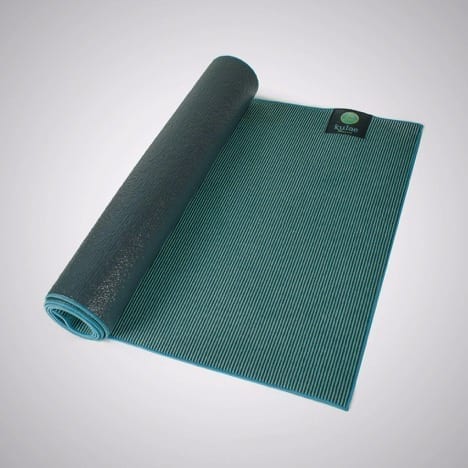 Via: yogaformen.com
Last, but definitely not the least, ensure that you know the types of best yoga mats and yoga cushions which will perfectly suit your needs and be assured to get the best yoga experience when you will be practicing the different type yoga. Also, if you're not a pro in performing the different types of yoga, consider hiring an expert to train you everything you need to know about yoga.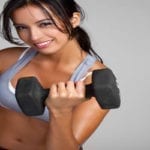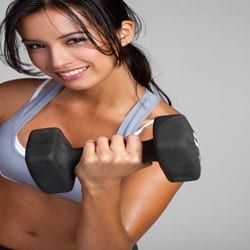 Author bio: Emily is founder of BodyShape101, a blog where she and her associates talk about exercise, fitness, and yoga. Their aim is to help people like you to achieve perfect body. BodyShape101 is concentrated on exercise & fitness tips, and making the most out of it. She is also a mother of one and she tries to find balance between her passion and her biggest joy in life.