Those light and fluffy vegan oatmeal pancakes excel in simplicity as well as delightful taste. They are perfect blender pancakes for those lazy and mindful weekend/day mornings.
According to my hubby those pancakes come very close to the traditional Russian buttermilk pancakes. Furthermore, when I asked my kid how he'd describe those oat pancakes, his quick and short answer was, "Super-duper!"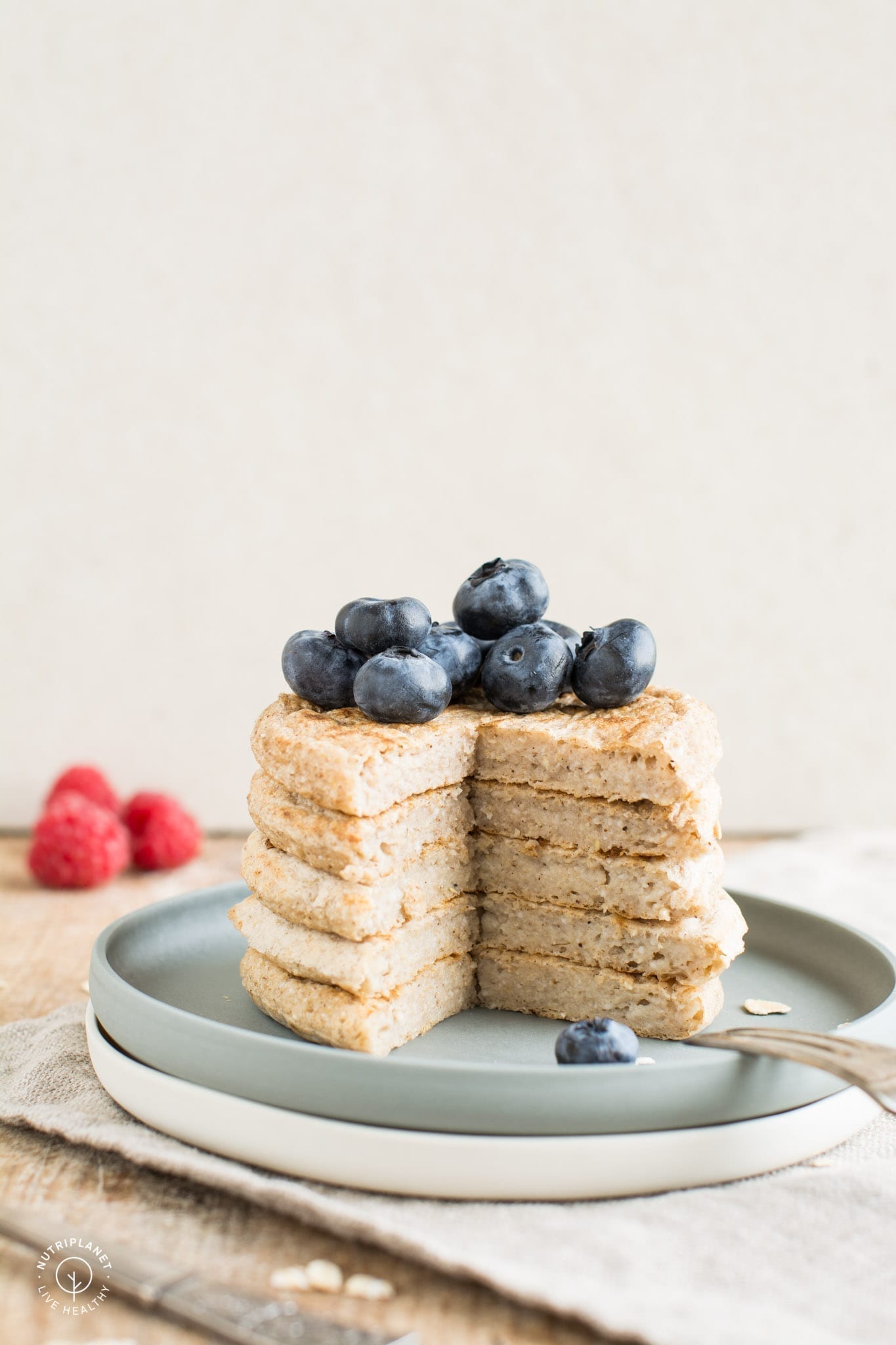 Should you be into sourdough and buttermilk pancakes, definitely check out my Chocolaty Buckwheat Sourdough Pancakes and Vegan Lentil Buttermilk Pancakes.
I decided to keep this vegan pancake recipe low in fat, which makes it a perfect breakfast after having my celery juice in the morning. Nevertheless, they still are very hearty and filling thanks to oats' nutritional profile, i.e. 15% of protein and 18% of fats. Why celery juice and why the low-fat breakfast? Watch the video below:
It's worth mentioning that the first version of those oatmeal pancakes contained tartrate baking powder. However, I discovered that this recipe works even better without. Baking powder makes them rise a lot on the pan, but they'd shrink significantly once they cool down. The latter didn't happen when I discarded the baking powder. So, it's good news to everyone allergic to baking powder!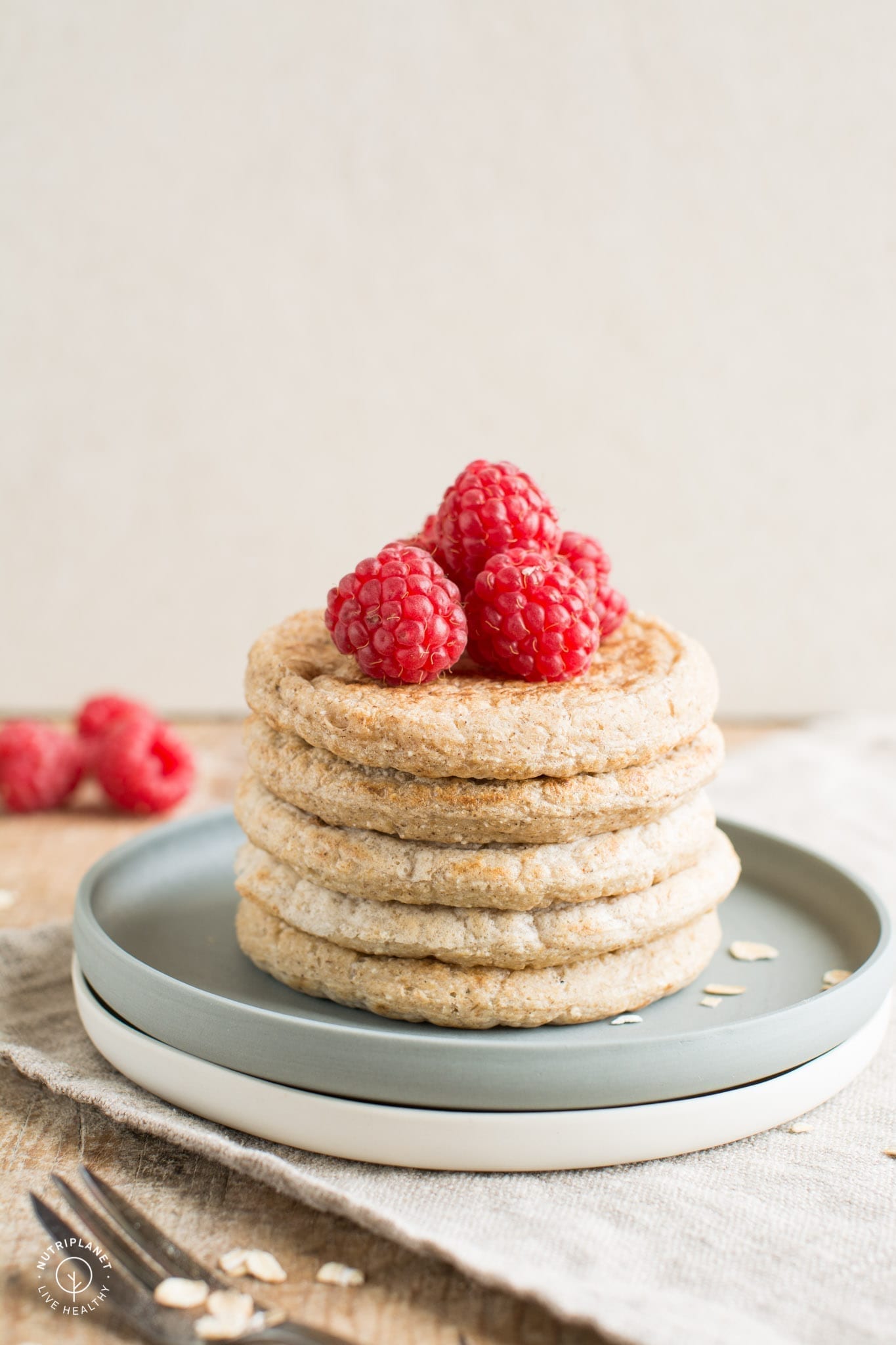 My vegan oatmeal pancakes are:
Gluten-free
Dairy-free
Low-fat
Candida diet friendly (also for Candida cleanse)
Soy-free
Peanut-free and nut-free
Low-glycemic
Yeast-free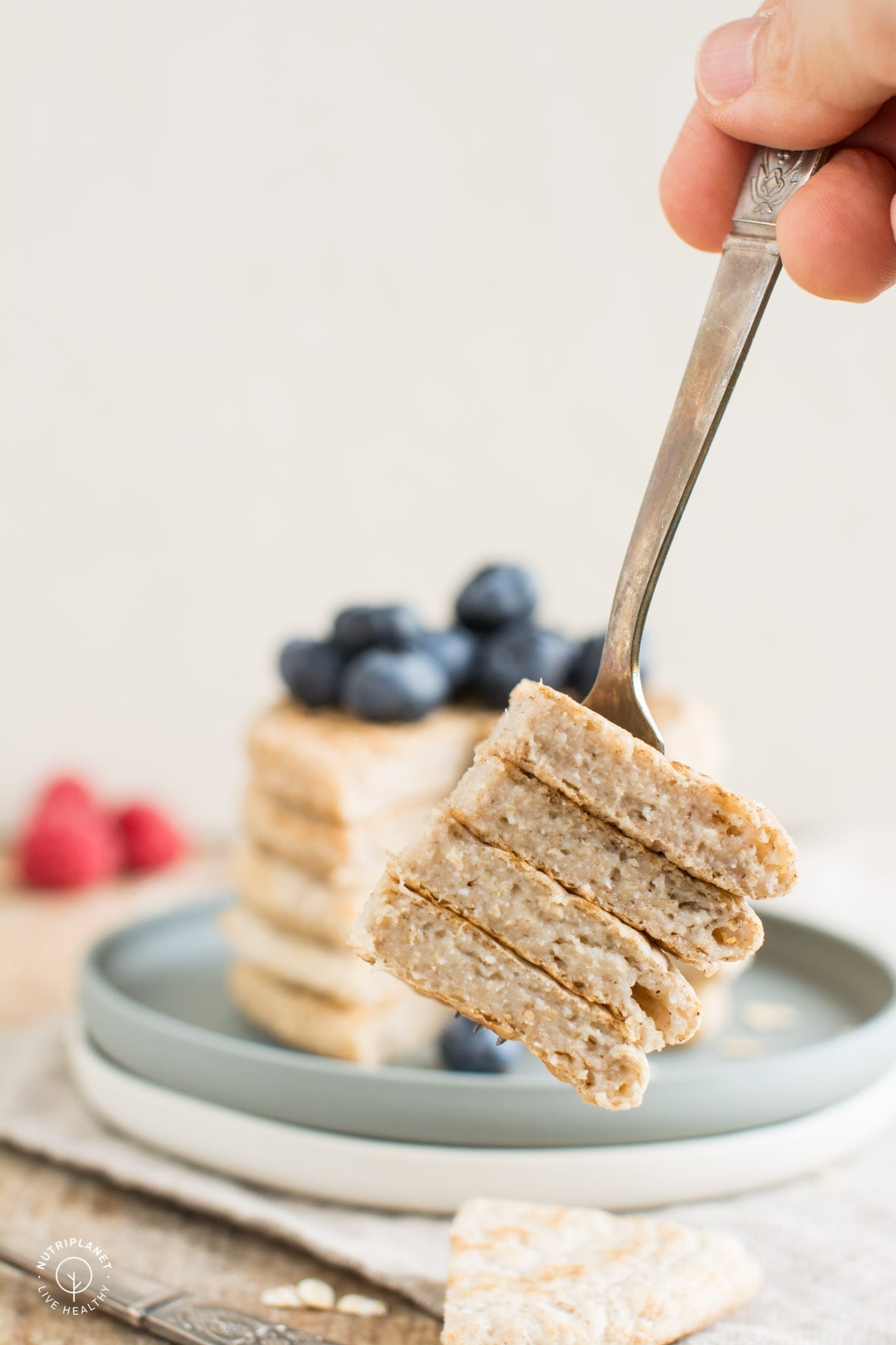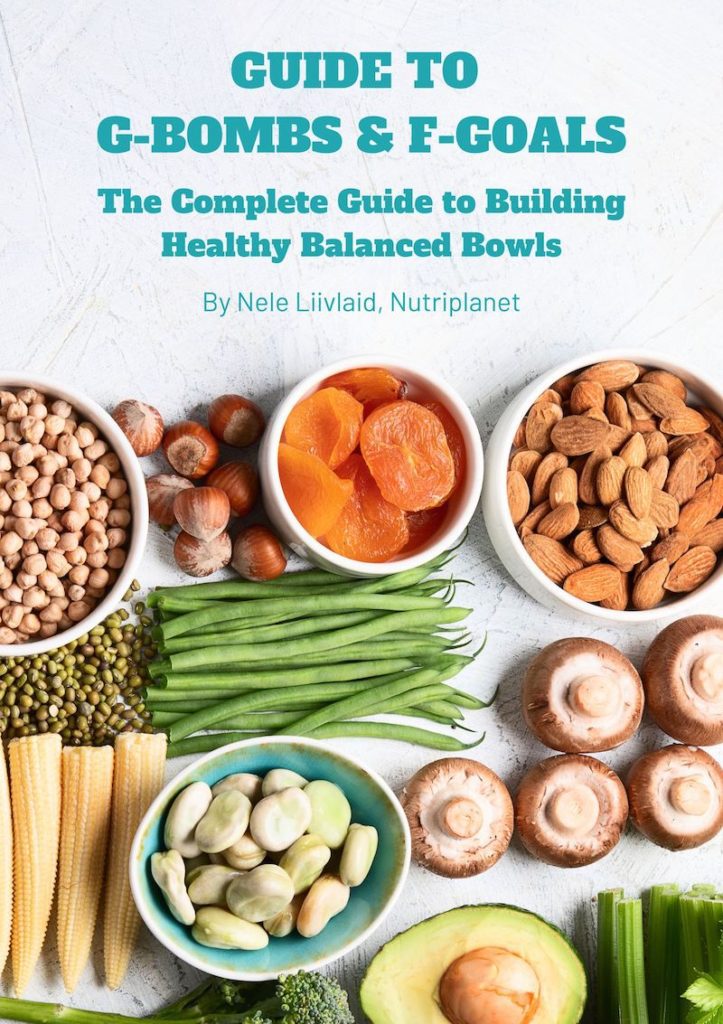 Step-by-step visual guide to building your own balanced bowls.
Print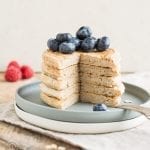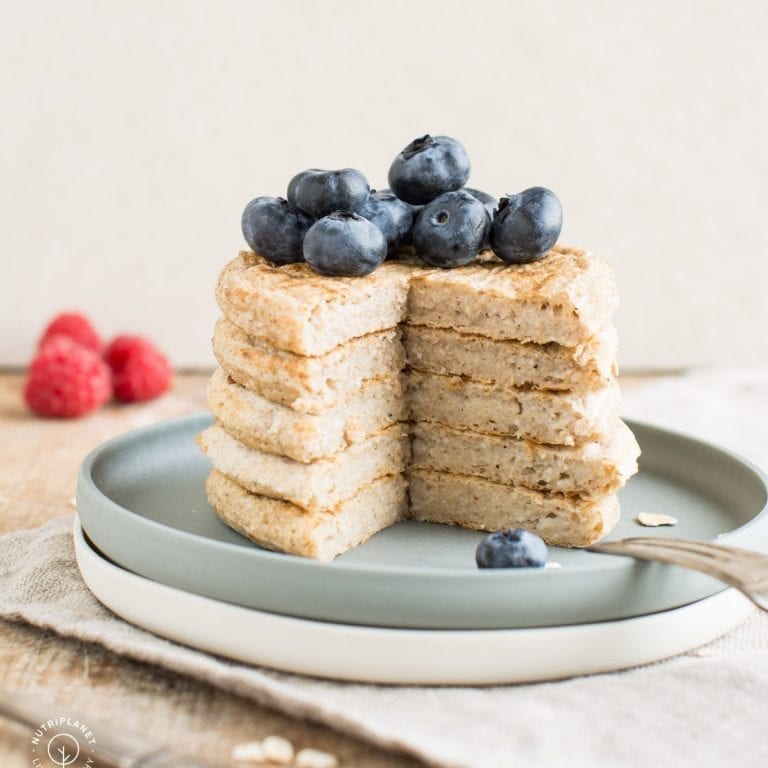 Vegan Oatmeal Pancakes
---
Description
Those light and fluffy vegan oatmeal pancakes excel in simplicity as well as delightful taste. They are perfect blender pancakes for those lazy and mindful weekend/day mornings. 

---
---
Instructions
Start by combining rolled oats and filtered water in a bigger clean bowl. Cover the bowl with clean kitchen towel or a lid and soak overnight or for 6-8 hours. You can leave the bowl onto kitchen counter.
Next, add salt and cinnamon. Using immersion blender process until you've got a smooth batter. Now, throw in psyllium husks as well as coconut flour and blend again. Finally, stir in apple cider vinegar and let the pancake batter sit for at least 10 minutes. The longer it sits (even for a few hours in fridge), the thicker the batter – perfect for those chubby pancakes you see on the photos. 
For frying the pancakes, add a few drops of coconut oil or avocado oil onto a good quality non-stick pan and swipe it off with folded kitchen paper. Let all the oil absorb into the paper and use it to swipe the pan clean between pancakes. Heat the pan up over medium heat.
Now, if you make small pancakes, add one heaped tablespoon of batter (as much as you can fit) into each cavity of your pancake pan. Should you make bigger pancakes, put 2 heaping tablespoons of batter onto pan and even it out with a spoon. The frying time greatly depends on your stove. I flip it around when it is dry on top and also check the colour of the bottom side. I cook the pancakes for about 6 minutes on one side and about 3 minutes on the other side. I have gas stove. It's important to have the heat at medium or even a bit lower as high heat would burn the pancakes before they can cook through. Let the pancakes cool a bit before eating.
Notes
Soak time: 6-8 hours
Prep time: 1 hour
Nutritional info (4 small pancakes), Plantricious version: 201 kcal, 23g carbohydrates, 5.2g fats, 6.8g protein, 8.8g fibre, 175.6mg sodium, and 14 GL points.
Should you have anything left over, store in a sealed container in fridge for up to 3-4 days. For longer keeping, put pieces of parchment paper between the pancakes and freeze them for up to a month.
Prep Time:

5 minutes

Cook Time:

55 minutes

Category:

Breakfast
Nutrition
Serving Size:

4 pancakes

Calories:

177

Sugar:

0.9

Sodium:

175.5

Fat:

3.5

Saturated Fat:

1.5

Unsaturated Fat:

2

Trans Fat:

0

Carbohydrates:

23

Fiber:

7.6

Protein:

5.9

Cholesterol:

0
Tips on my vegan oatmeal pancake recipe:
Regular blender can be successfully used instead of immersion blender. Should you go for it, add all the ingredients (except apple cider vinegar) at once. Stir ACV in at the end.
You may use 3 tablespoons of ground chia seeds or 4 tablespoons flax seeds instead of psyllium husks. However, you'd get better result with psyllium husks.
Also, feel free to use 2 teaspoons of psyllium husk powder instead of whole husks.
If you want, you may substitute water with plant milk, e.g. almond milk, oat milk, soy milk etc.
In order to make less or more pancakes, simply divide or multiply the ingredients.
Craving for chocolate pancakes? Stir some dark chocolate chips into the batter before cooking.
This recipe can also be used for waffle recipes. I'd recommend making oven waffles with silicone waffle mould.
The thickness of those pancakes really depends on your preferences! Definitely let the batter sit longer (even for a few hours), if you prefer them really thick. Should you be in a hurry and can't wait that long, add a bit less water to rolled oats when you put them to soak.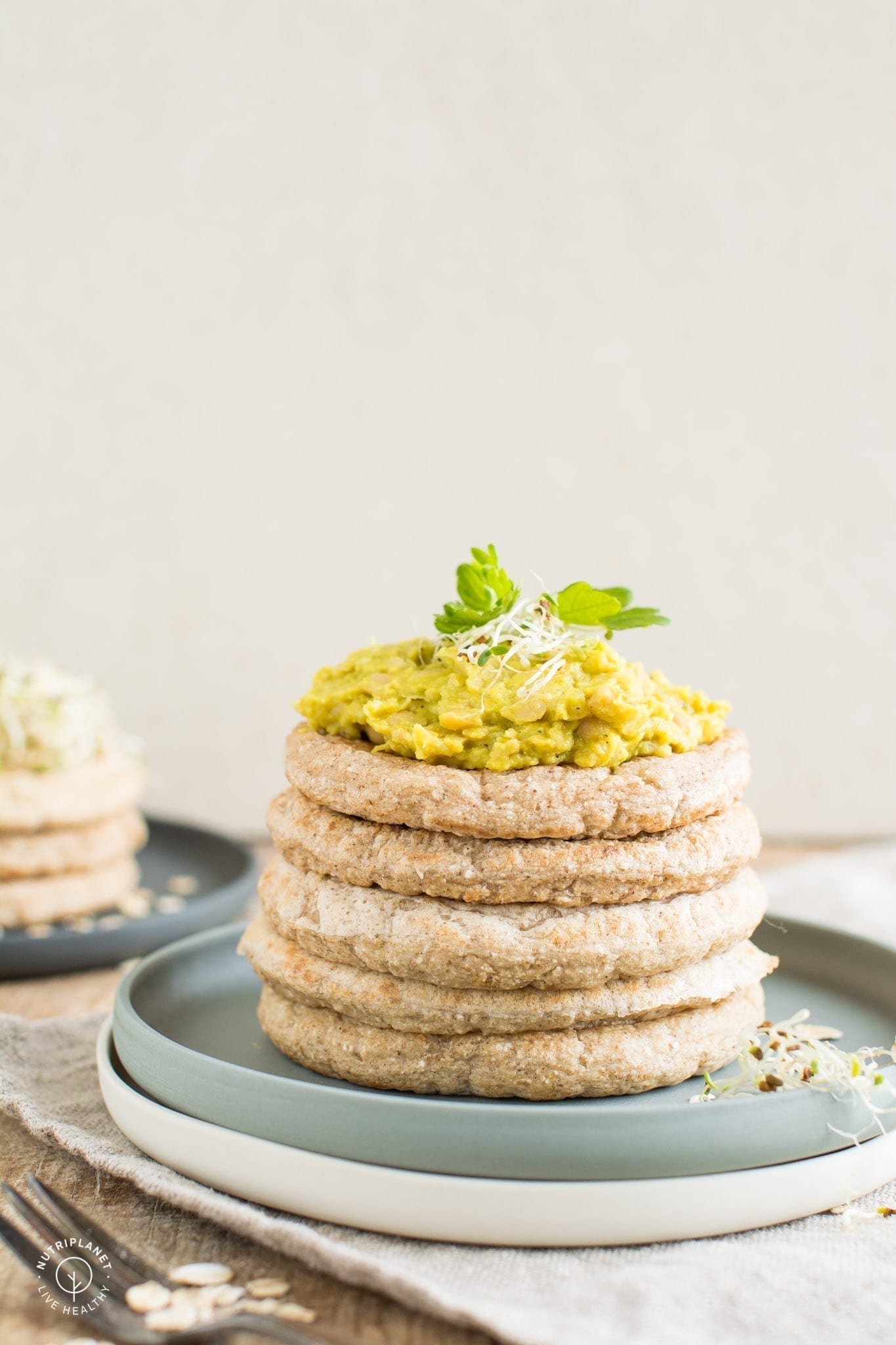 Topping ideas
To be honest, I prefer to eat them plain, as they're so full of taste! Those oatmeal pancakes are a perfect combination of sweetness of oats, sourness created by apple cider vinegar and the hint of cinnamon!
However, the following healthy toppings can only add to their goodness:
Unsweetened store-bought or homemade applesauce.
Fresh and/or frozen berries – whole or pureed.
Any fruit puree – mango, banana, apricot, prune etc.
Should you like to add some fats, spread nut or seed butter on your pancakes, e.g. additive-free peanut butter, almond butter, tahini, sunflower seed butter, pumpkin seed butter etc.
Avocado mash would also be a great option – sprinkle some lemon juice, salt and black pepper on top of avocado to boost the flavours!
More savoury options include my vegan egg salad, hummus or plain plant yogurt (store-bought or homemade cashew yogurt).
For the below Halloween oatmeal pancakes, add some spirulina and/or barley grass powder to the batter.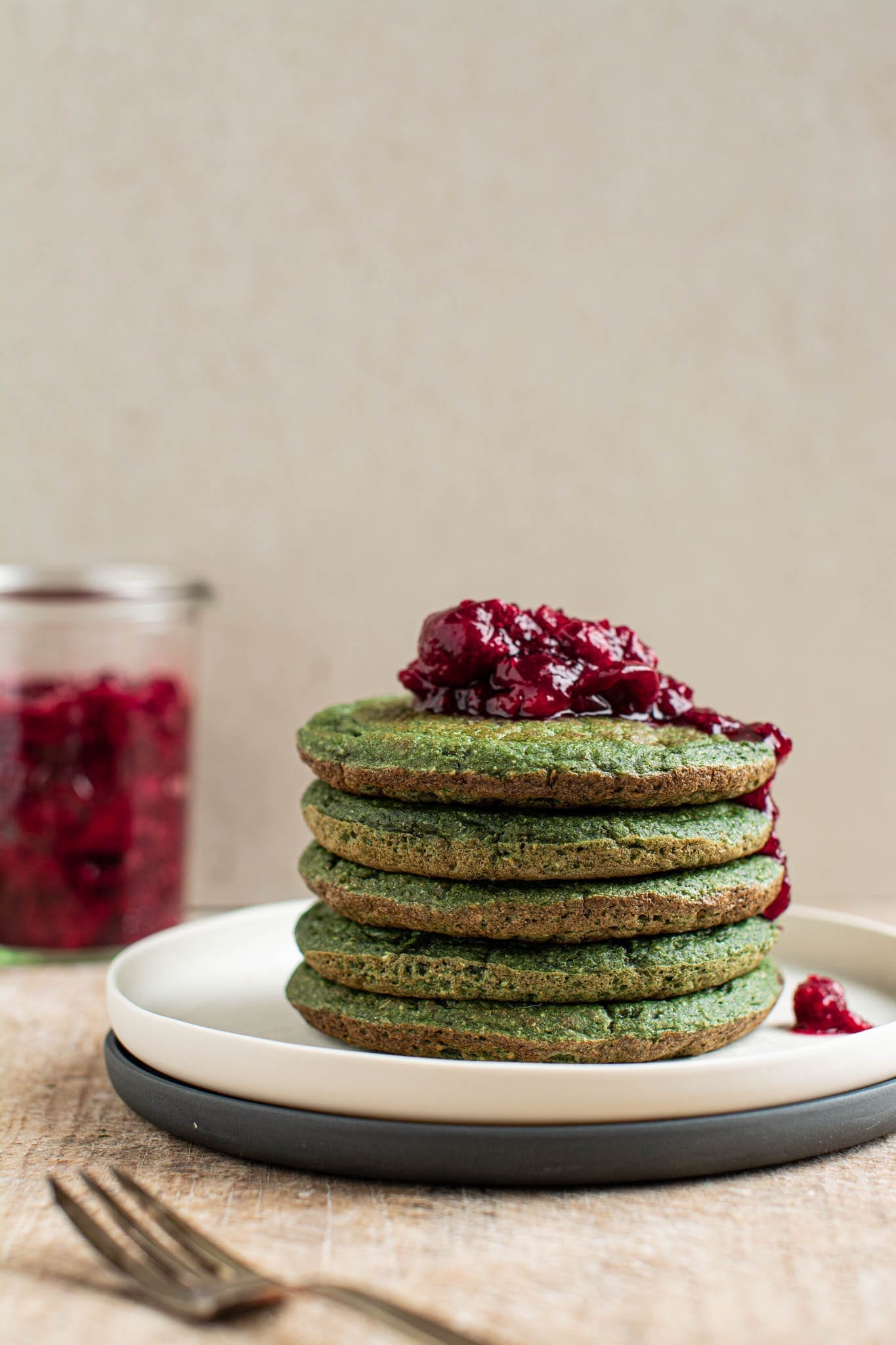 Disclosure: this post contains affiliate links. As an Amazon Associate I earn from qualifying purchases. For every purchase made from the links in this post, you'll be able to support my work. So you can look after your health, and contribute to my mission at the same time. Thank you!
Feel free to PIN the below image!