People often ask me how to make homemade applesauce. So, here you have it – an easy homemade applesauce recipe for canning that is full of flavor.
In my opinion the best apples for applesauce are organic ones, preferably from your own or from grandma's garden. In addition, apple picking can be a very calming activity making your homemade applesauce extra special.
If you're into sweet taste, then sweet apples are the best to use for making unsweetened applesauce. Other than that, you may use any apple varieties you like, from granny smiths to golden delicious.
I think sugar-free applesauce is the only option when it comes to homemade applesauce. The way I see it, you might as well get store bought applesauce, if you need sugar in it.
Much to my regret, most applesauce recipes include brown sugar or maple syrup for deeper colour. However, I find that cinnamon does the same job even better without the adverse effects of added sugar.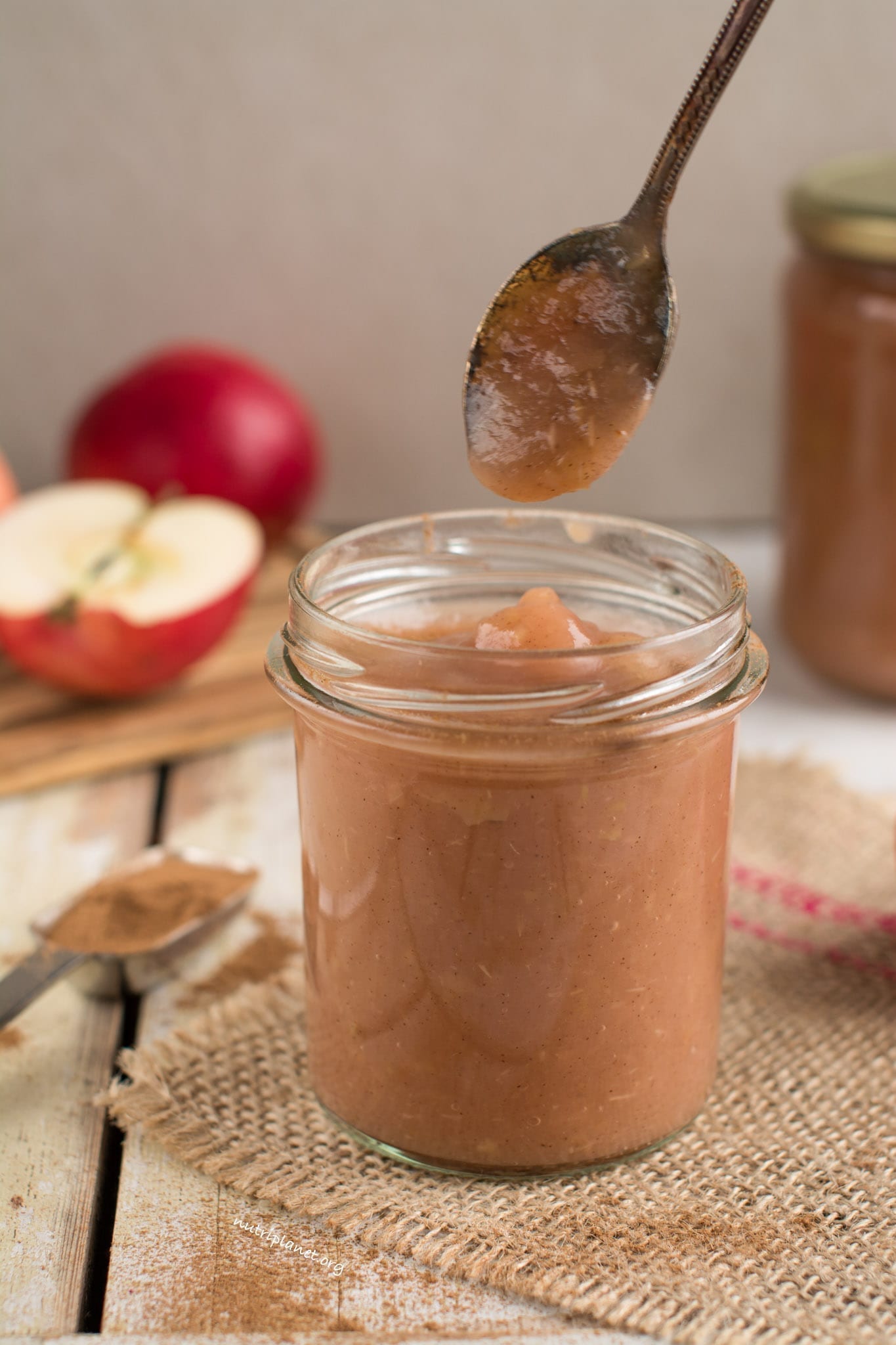 Homemade applesauce benefits:
Applesauce helps promote digestion due to high concentration of pectin. It also promotes the growth of probiotic bacteria.
You can use applesauce instead of oil for leaner baked treats.
Calories in applesauce are low – only 100 kcal in one cup of unsweetened applesauce.
Combine homemade applesauce with a few nuts and you've got yourself a filling and balanced meal.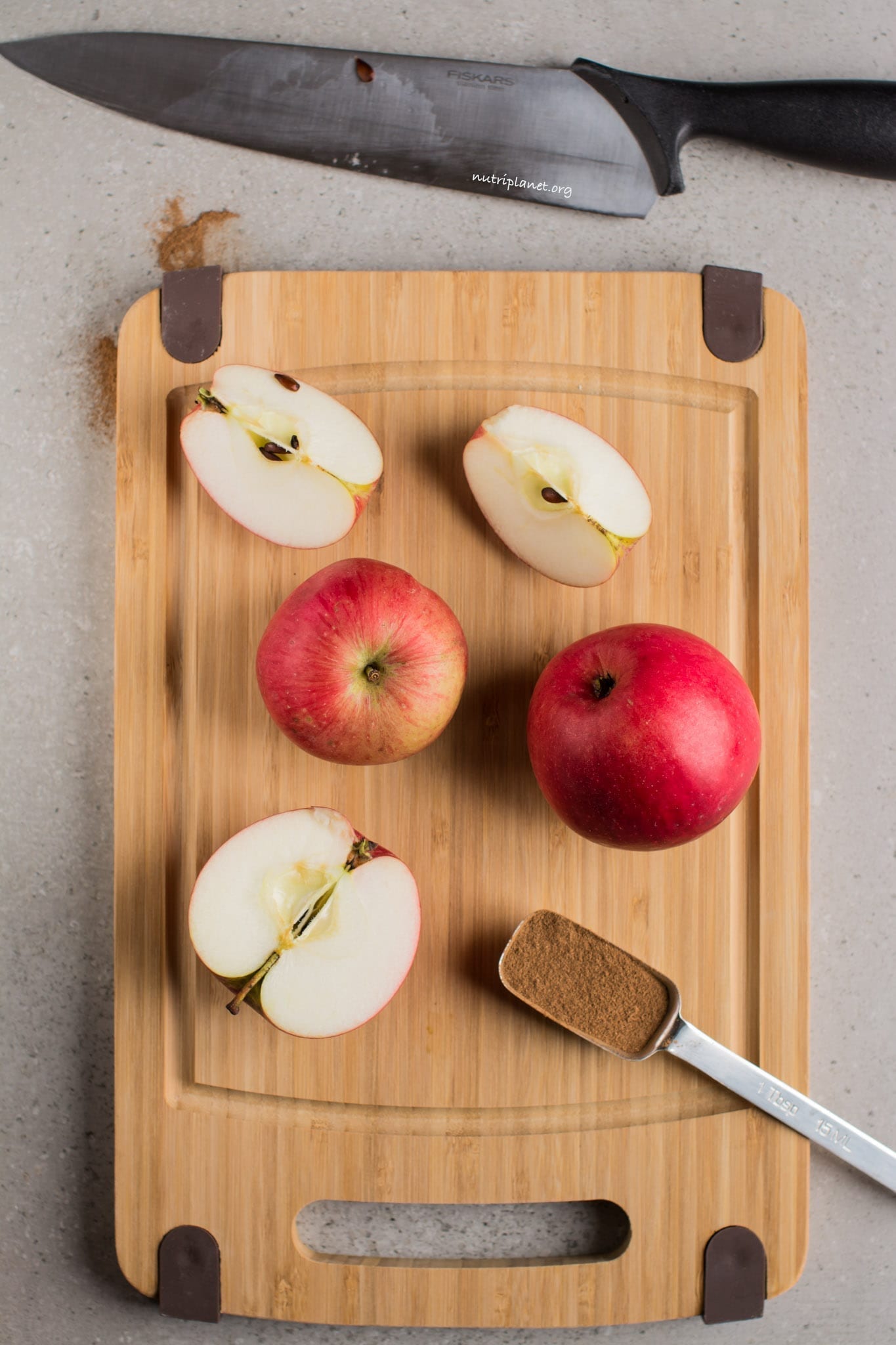 How to use homemade applesauce?
I like to eat my homemade chunky applesauce as it is!
Or make a simple dessert with applesauce and/or plant yogurt or ice cream. Add a bit of sweetener if necessary.
Baking with applesauce is so easy by replacing oil with applesauce or using applesauce instead of eggs.
How much applesauce equals one egg? ¼ cup of applesauce for one egg will do in most baking recipes.
When you substitute applesauce for oil or butter use the ratio 1:1. So if the recipe calls for ¼ cup of oil, use ¼ cup of applesauce.
Furthermore, there are many recipes with applesauce up on my blog: carrot cake with applesauce, applesauce muffin recipe, applesauce pancakes, applesauce brownies, applesauce cookie recipe, and applesauce desserts like Yogurt Parfait and Sweet and Creamy Mung Bean Dessert/Porridge.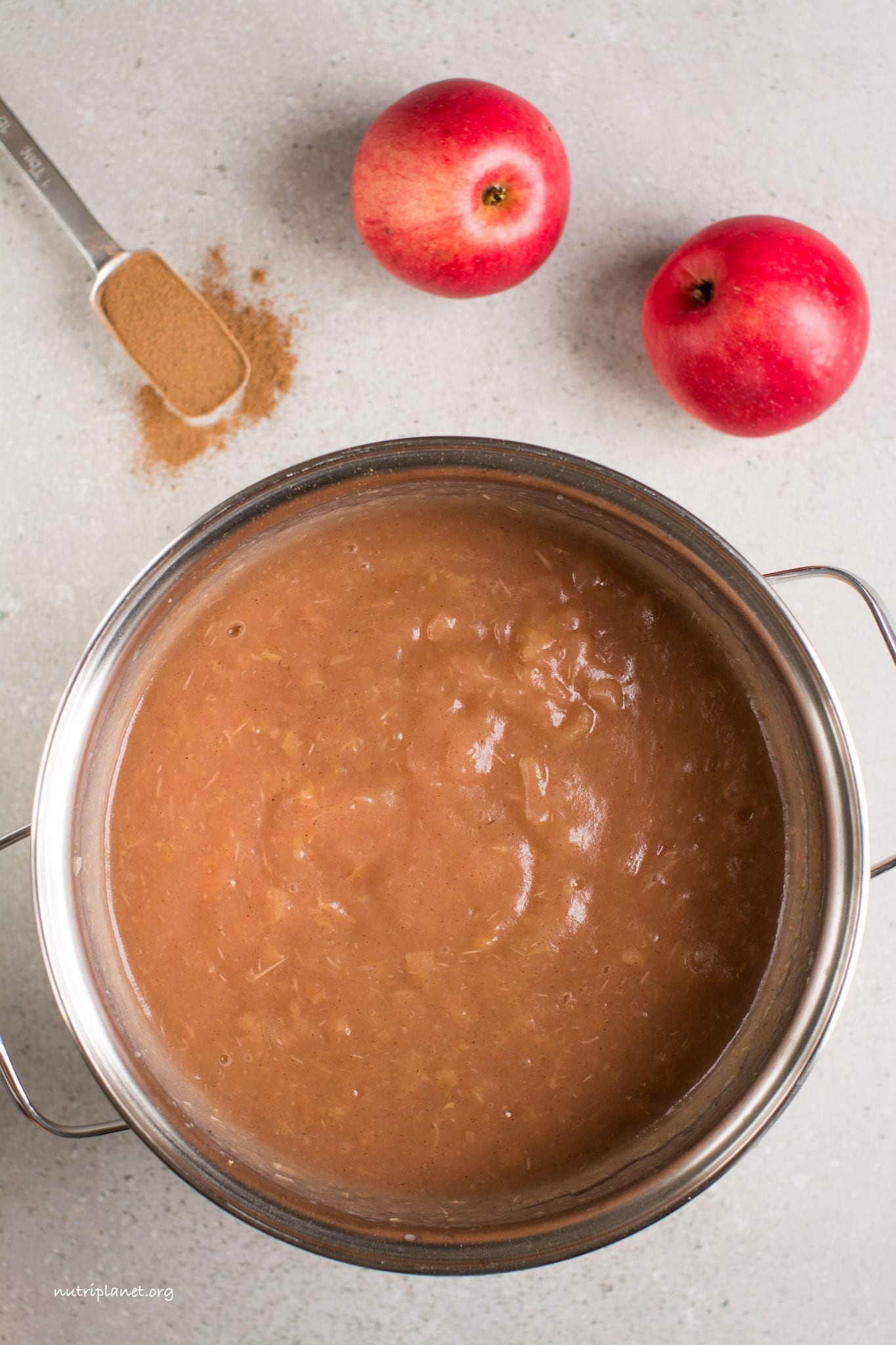 What else do I love about homemade applesauce?
It's so easy to make!
You'll have the amazing apple flavours within your reach at all times.
Homemade applesauce is so versatile and has so many uses.
I think everyone can have homemade applesauce as it's:
Sugar-free
Rich in fibre
Gluten-free
Oil-free
Nut-free
Soy-free
Suitable for those with Candida overgrowth
Low glycemic
Low-fat
Grain-free
It's basically just apples!
Finally, I'd be thrilled to hear whether you're as excited about homemade applesauce as I am! Let me know in comments! Instagram @thenutriplanet and Facebook @nutriplanet.health.hub
Enjoy!
Print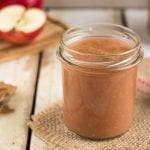 Homemade Applesauce
---
Description
People often ask me how to make homemade applesauce. So, here you have it – an easy homemade applesauce recipe for canning that is full of flavor.
---
Any amount of apples
Water
Cinnamon and ginger (optional)
---
Instructions
Start by washing the apples. Then, peel the apples, if you're using non-organic variety. No need to peel organic apples!
Next, cut the apples into quarters and remove the core with knife or use apple corer. Then chop the quarters into cubes and throw them into pot. Add some water – about ⅙-¼ of the volume of the apple cubes. For example, if you have 1 liter of apple cubes, add ⅙-¼ liter of water.
Bring to boil and simmer at a medium heat for about 6-7 minutes until the apple peels look translucent and apples are tender. The larger the volume, the more time it'll take. You may also press the apple cubes down with a spoon a few times while cooking (check video below).
Add a bit of cinnamon and/or ginger powder and puree your applesauce with a help of immersion blender, food processor or food mill. If you're after chunky applesauce, use potato masher.
Should your apples be quite sour, drip a few drops of liquid stevia into your applesauce. If you feel that your applesauce is too thick, add boiling water until you have the desired consistency.
Prep Time:

20 minutes

Cook Time:

7 minutes

Method:

Boiling
Nutrition
Serving Size:

1 cup (224g, 8.6oz)

Calories:

113 kcal

Sodium:

1.52mg

Fat:

0g

Carbohydrates:

25.2g

Fiber:

6.24g

Protein:

0g
How to sterilise jars
There are a few ways for sterilising jars and lids:
Sterilizing jars in oven is one of the easiest methods. Heat oven to 100°C (215°F), put your jam jars upside down onto the oven rack and heat them for 15 minutes. Wash the lids in hot suds and rinse in scalding water. You may also boil them for 5 minutes.
Use dishwasher to sterilise canning jars and lids. This is what I use most often.
Sterilizing jars in boiling water is the most common way. Put jars in a deep pot and cover with hot water. Bring water to a boil and boil jars, covered, 15 minutes. Turn off heat and let jars stand in hot water.
How to can applesauce
Canning applesauce is quite easy really.
Take sterilised canning jars and fill them with your freshly made hot homemade applesauce leaving 1½ cm (½-inch) headspace. Wipe the rims. Remember, jars should be filled while still hot.
Tightly close the lids and let cool. You should hear the "ping" of the jar lids sealing. Check to be sure jar lids have sealed by pushing on the centre of the lid. If the lid flexes up and down, it did not seal. Refrigerate jar and use up within five days.
Here you have the secrets to canning homemade applesauce! No rocket science to it!
Tips on my homemade applesauce recipe:
Spice it up with fresh ginger – finely chop a small piece and simmer with apple cubes.
You can even add chocolate, nut butters or coconut cream to your applesauce. My own favourite is simple cinnamon applesauce.
The amount of cinnamon is really up to you – start modest and adjust according to your taste.
Some applesauce recipes use apple juice instead of water. You may try that, but it'll definitely increase the glycemic load of your applesauce, as juice has no fibre.
If you prefer not to deal with sterilising jars and canning your applesauce properly, prepare smaller quantity that will be consumed in about 5 days and store it in fridge.
Another option is freezing applesauce – simply transfer the applesauce to freezer-safe containers or bags and freeze for up to 3 months.
Disclaimer: this post contains affiliate links.