I created these low fat vegan apple cinnamon muffins almost a month ago when I was in Barcelona. So, whenever I make them now, the smell and taste take me back to my second hometown and I sigh longingly 🙂
Don't forget there's tutorial video further down!
I had just published vegan gluten-free blueberry muffins recipe before the trip and was quite obsessed with those. However, blueberries cost a fortune in Barcelona, which is why I used that I had in hand. It just so happened that apples were the only suitable fruits in my kitchen the morning I wanted to bake a new batch of muffins. So, I used those, added quite a bit of cinnamon and the result blew me away! Consequently I stuck to those low fat vegan apple cinnamon muffins for our entire stay.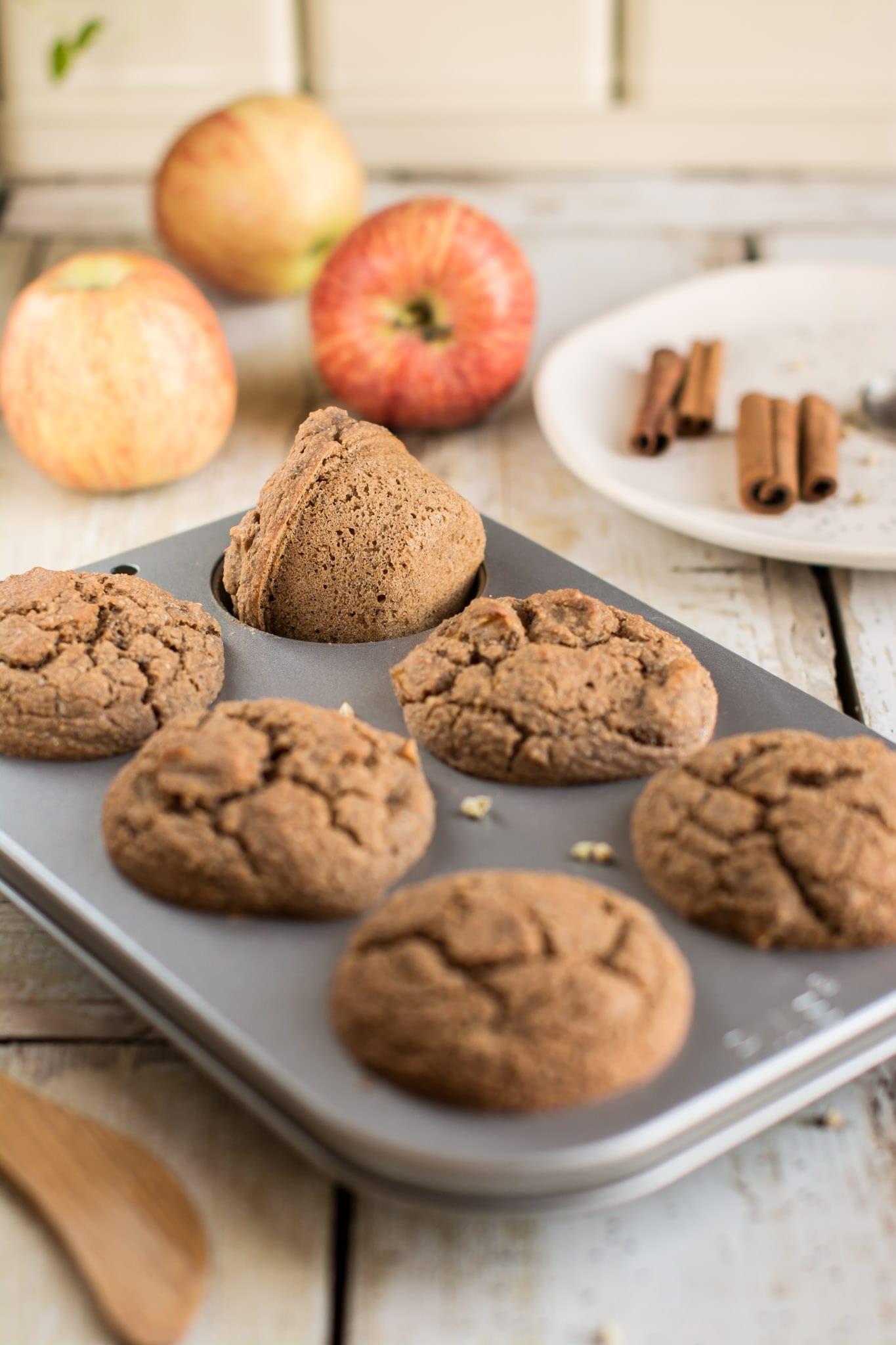 For the first batch I used only buckwheat. However, I wanted to bring the glycemic load of my muffins down and substituted half of the buckwheat with oat bran. As result, one muffin had almost 3 GL points less than before. Awesome, isn't it?!
To sum it up, my low fat vegan apple cinnamon muffins are almost as healthy as muffins can get. Besides being plant-based and oil-free, they are also gluten-free and sugar-free. Now, oil-free doesn't always mean low fat. However, in this case I can proudly say that it does, because you only get 19.8% of calories from fat from this muffin recipe. Of course, you could make them even leaner by ditching the peanut butter altogether. In fact, I have tried nut butter free version and they taste equally good.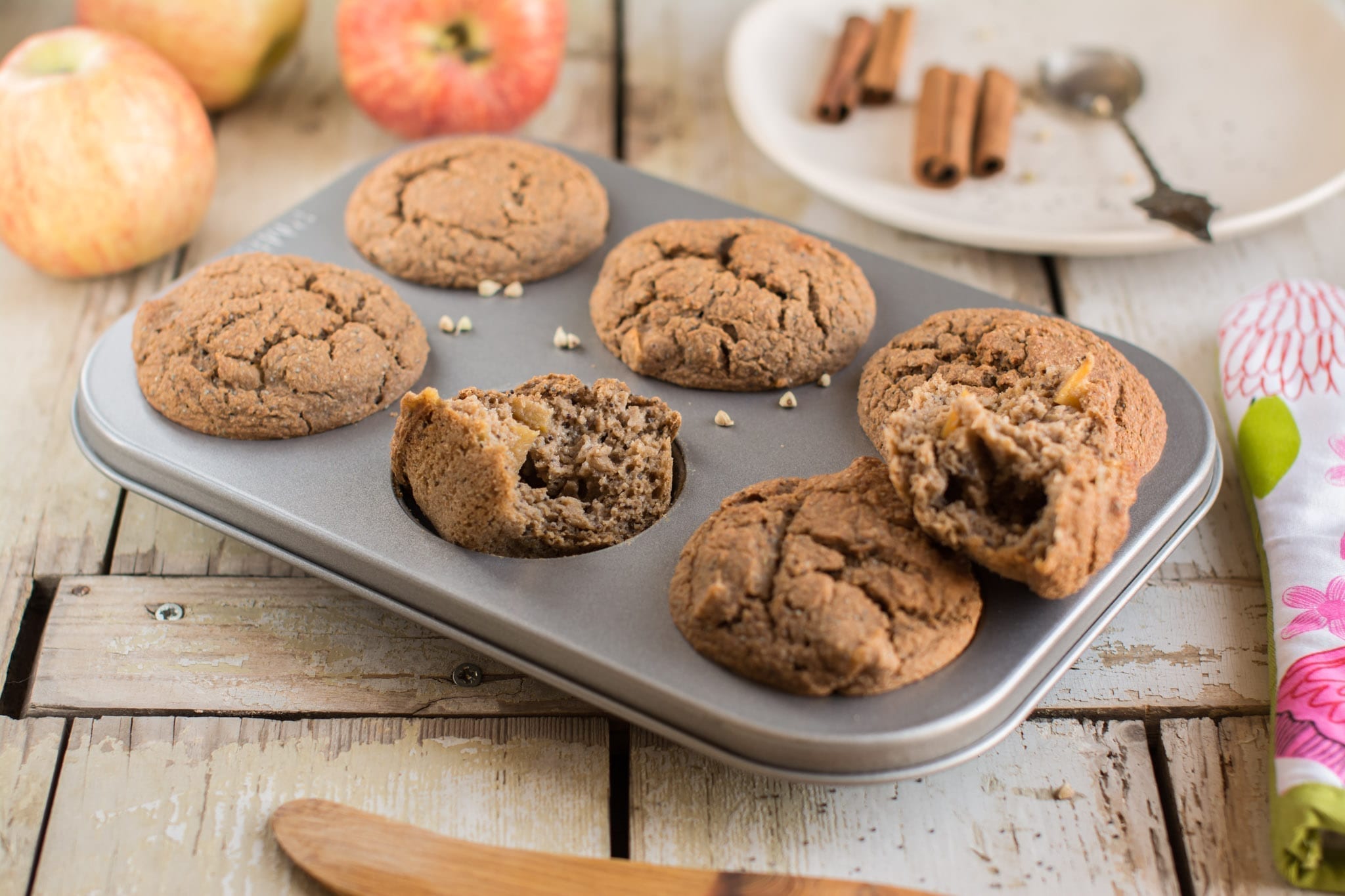 Low Fat Vegan Apple Cinnamon Muffins
Ingredients:6-8 muffins
80g (2.82oz) raw buckwheat, soaked
80g (2.82oz) oat bran
1 big ripe banana (210g, 7.4oz with skin)
1 tbsp. (16g, 0.6oz) peanut butter without additives
2 tbsps. (30g, 1.06oz) unsweetened applesauce
2 tsps. cinnamon
¼ tsp. Himalayan salt
160g (5.6oz) naturally sweet plant milk (oat or rice)
2 tsps. aluminium free baking powder
1 tbsp. poppy seeds (add later)
1 cup (100g, 3.5oz) apple cubes, add later
Directions
Firstly, soak buckwheat overnight (or all day or at least 6 hours). Rinse and drain.
Heat oven to 175°C (350°F).
Next, put all ingredients except baking powder, poppy seeds and diced apple in blender and blend until smooth batter is formed.
Now, blend in baking powder. Then mix in (DON'T BLEND) poppy seeds and apple cubes.
Finally, divide the batter between 6 muffin forms and bake for 40 minutes until the muffins are golden.
These low fat apple cinnamon muffins make a delightful breakfast or mid-morning/afternoon snack with tea or coffee.
Nutritional info per ⅙ of recipe: 179 kcal, 24.6g carbohydrates (67.2%), 3.92g fats (19.8%), 5.83g protein (13.1%), 5.39g fibres, and 11.4 GL (glycemic load) points.
Tips for my low fat vegan apple cinnamon muffins:
Make smaller muffins by dividing the batter between 8 muffin moulds and bake for 35 minutes. You'd get 8.55 GL points and 134 kcal from ⅛ of the recipe.
Now, if you don't tolerate avenin in oats, use only buckwheat. Take 160 grams of raw buckwheat and soak overnight. Instead of 160g of oat milk, use only 100g.
Next, make sure not to overload the muffin batter with apple cubes or they'd turn out too moist inside. Should you have a bit more than 100g of apple, cut bigger chunks and add them on top of each muffin.
Furthermore, you can freeze the leftovers and heat your muffin in the oven whenever necessary. This way you save yourself a lot of meal prep hassle during the week.
Finally, those allergic to peanut butter can use any other unsweetened nut or seed butter. Furthermore, you can also ditch the butter altogether.