I started my soak-and-blend method for healthy muffins, nutritious and balanced porridges and guilt-free pancakes with this vegan gluten-free blueberry muffins recipe. Before that I had used the same method for fermented buckwheat bread. I love it because it allows me to get a cleaner and more digestible outcome. Remember that flours are ground up from dusty and not soaked grains. Thus, it means you're getting a lot of phytates that inhibit mineral absorption and cause digestive ailments.
Don't forget to watch the tutorial video further down!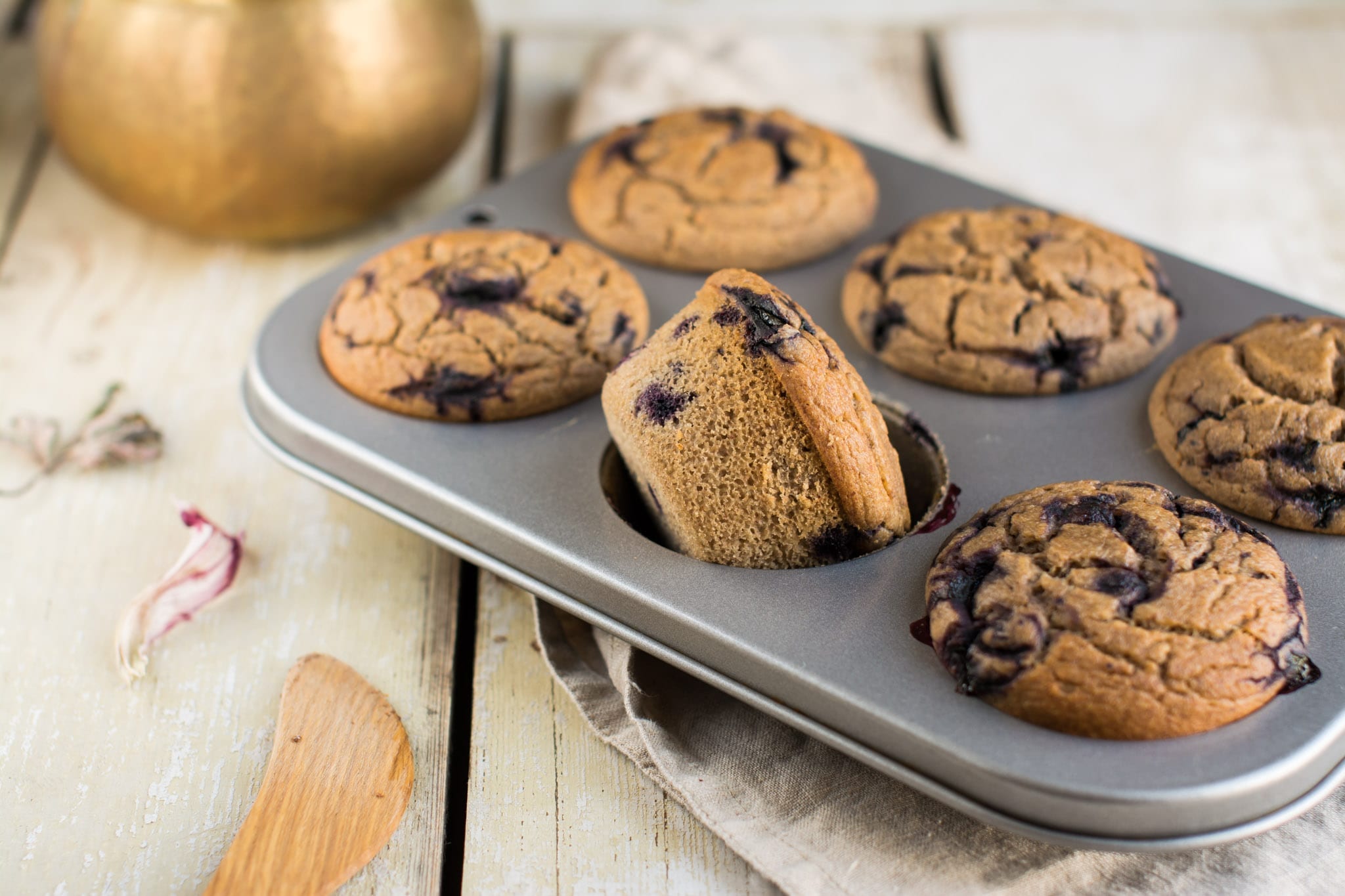 It was initially my aim to create muffins that didn't use flour. However, I also wanted them to differ from my Quick Barley Bread (Karask). Unexpectedly they turned out delightfully soft and springy like a sponge cake! And that with the first try! I just love the texture of these muffin breads so much that I even developed a proper vegan sponge cake using this recipe as a base.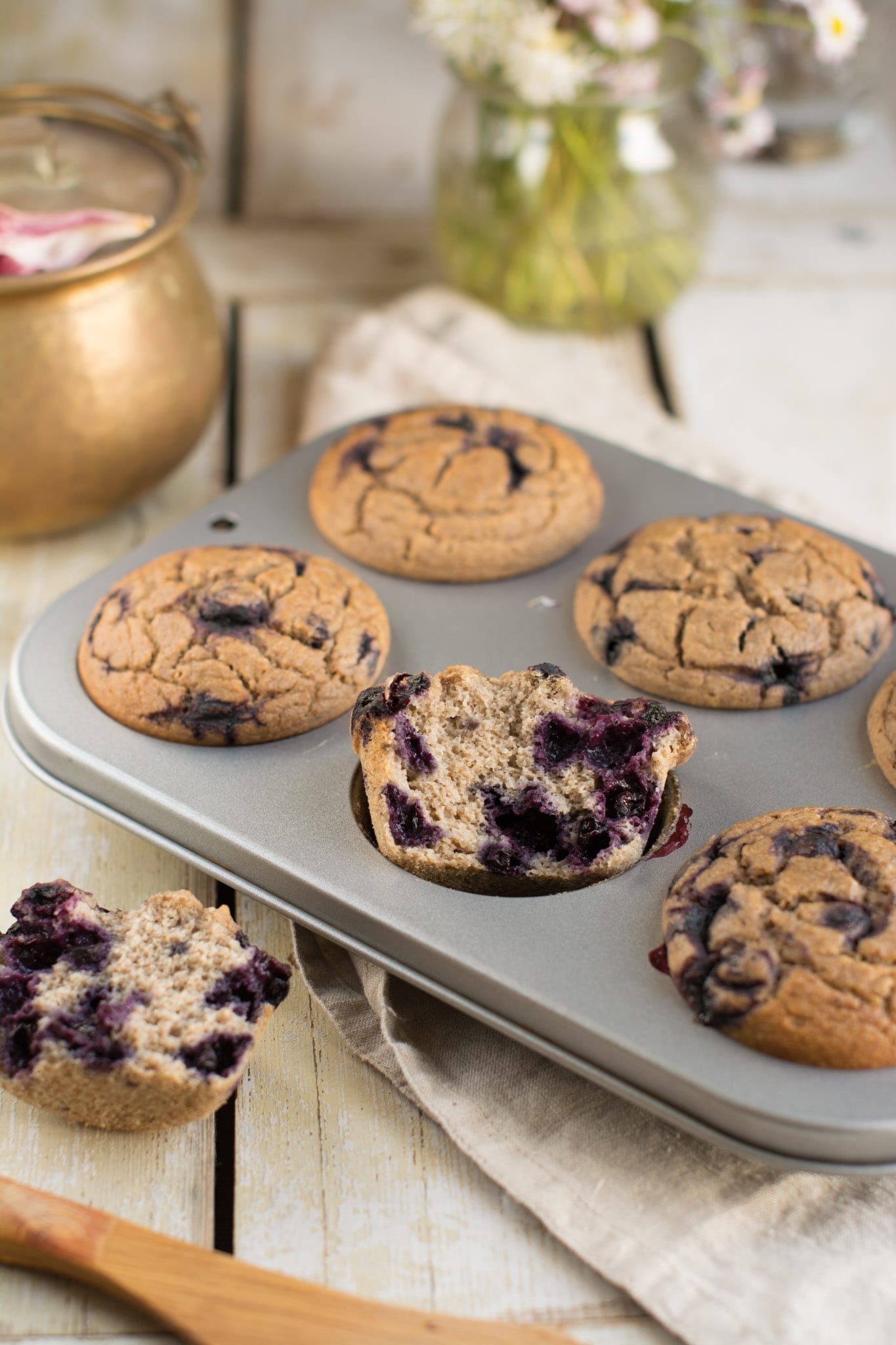 However, be aware as they are not very sugary, but only sweetish enabling you to taste all the ingredients – the divine flavour of blueberries and subtle sweetness of peanut butter combined with the taste of banana. Furthermore, I especially like that in a small extent millet maintains its crunchiness
I find the problem with conventional bakes being the overly sweet taste. It only lets you distinguish the texture and not the flavours. The more you chew on my blueberry muffins the sweeter they get.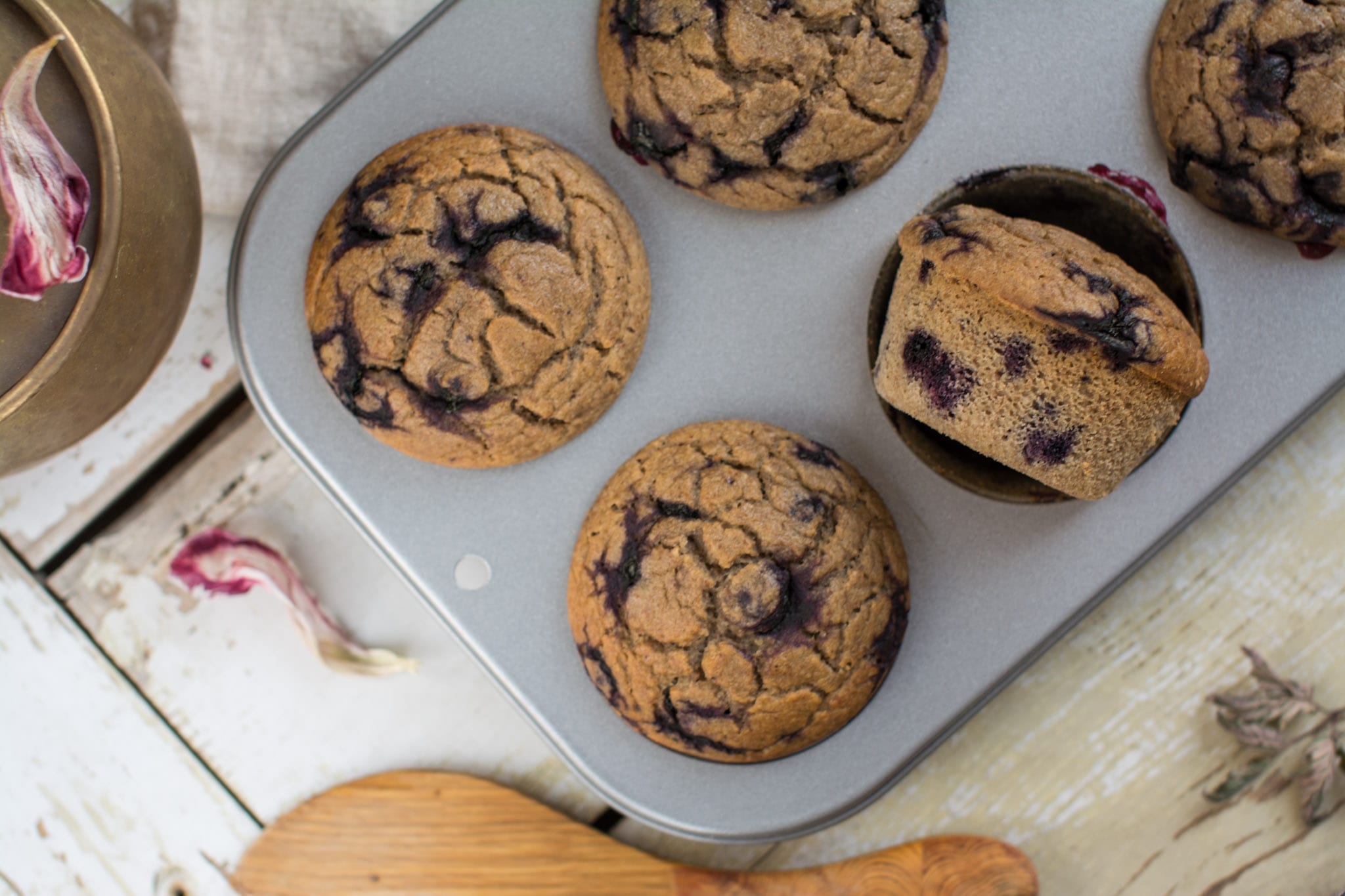 My vegan gluten-free blueberry muffins are also sugar-free and oil-free. So, totally everything-free, but so delicious and spongy!
Vegan Gluten-Free Blueberry Muffins Recipe
Ingredients:6-8 muffins
80g (2.8oz) millet, soak
80g (2.8oz) not roasted buckwheat groats, soak
⅓ cup (80ml, 2.8oz) oat or rice milk
2 tbsps. (30g, 1.06oz) applesauce
2 tbsps. (40g, 1.4oz) peanut butter
155g (5.5oz) ripe banana
⅛ tsp. of Himalayan salt
2 tsps. baking powder
¾ cups (100g, 3.5oz) wild blueberries, fresh or frozen
Directions
Soak millet and buckwheat overnight (or all day) in separate bowls. Wash and drain (you can use one sieve).
Heat oven to 175°C (350°F).
Put all ingredients except baking powder and blueberries in blender and blend until smooth batter is formed. Don't worry, it's supposed to be fairly liquid as millet swells quite significantly.
Now, blend in baking powder. Finally mix in (DON'T BLEND) the blueberries.
Divide the batter between 6-8 muffin forms and bake for 33-35 minutes until the muffins are golden. Let cool covered with clean kitchen towel.
Tips on my vegan gluten-free blueberry muffins:
These muffins make a delightful breakfast or mid-morning/afternoon snack with tea or coffee.
As I'm not on Candida cleanse any more, I can have one of those muffins without any adverse consequences. Should you still not be OK with even a small quantity of bananas, add a bit more applesauce and some xylitol or stevia for sweetness.
Store in freezer and, for a soft result, heat up in microwave oven.
Don't leave the muffins on kitchen counter as they'd be too dry. If you don't want to freeze them, store in a sealed container in fridge for up to 3 days.
Nutritional info per ⅙ of recipe: 223 kcal, 33.2g carbohydrates (66.3%), 5.44g fats (21.9%), 6.58g protein (11.8%), 3.79g fibres, and 15 GL (glycemic load) points.