Quick bake Karask is traditional barley bread in Estonia. It is also known in other countries, such as Scotland and Ireland, where it's called soda bread.
Traditionally it is made using butter or oil, eggs and buttermilk. You can also find recipes using other flours than barley and no eggs and/or butter/oil.
Knowing me, I wanted a good Karask, but plant-based and oil-free. I even went a step further and decided to use soaked barley groats instead of flour.
I try to soak all my seeds, nuts, grains and legumes as soaking makes them more easily digestible, reduces or removes phytic acid (which reduces mineral absorption); releases the enzyme inhibitors that store nutrients while growing and prevents premature germination, and even boost vitamin B content.
I use the same method for fermented buckwheat bread.
I was really happy with the outcome – it tasted as heavenly as the Karask I remember from my childhood. The plant-based and oil-free quick barley bread Karask has become a nice change to the muffins we usually have for our mid-morning snack. We just love it with nice cup of coffee or tea!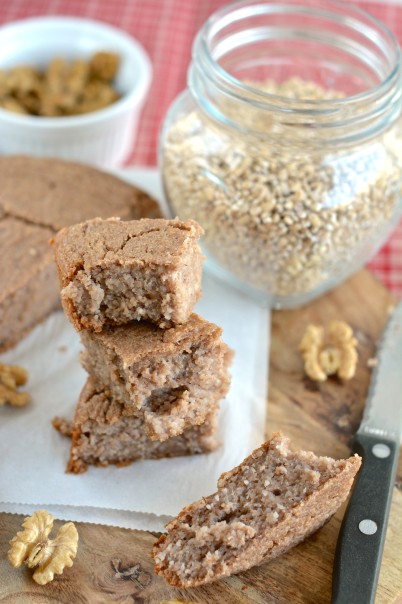 Quick Barley Bread Karask Recipe |8 servings|
Ingredients
1 cup barley groats, soaked (measure dry barley)
½ cup plant-based milk
Pinch of seal salt
1 medium banana
2 tbsps. unsweetened applesauce
Handful of walnuts, soaked (optional)
2 tsps. baking powder
Directions
Soak barley groats overnight or for 6-8 hours. Soak walnuts for 4 hours. Drain and rinse both.
Heat oven to 180 C (355 F).
Place all ingredients except baking powder into blender. Blend for a few minutes until the batter is formed – you might need to help with a spoon in the beginning. It won't be a smooth and silky batter. Instead you'll still see pieces of barley. Don't worry; this is how it needs to be. When the batter is done, mix or blend in the baking powder.
Line a round (or other shaped) 17 cm (7-inch) cake tin with parchment paper and pour the batter in. If you use a bigger cake tin, the bread will just be thinner and probably needs less baking.
Bake in 180 C (355 F) oven for about 40 minutes. The tooth stick needs to come out clean.
Let cool and enjoy!
Tips:
I used half unsweetened soymilk and half oat milk, which is naturally sweeter than soy giving the bread nice flavour.
Use any nuts you like. Soak pecans for 4-6 hours, almonds for 8-12 hours and hazelnuts for 8 hours. No need to soak Brazil and macadamia nuts.
If you love spreads, go ahead and use tahini, hummus, vegan mayonnaise or any other spread you like.
If you'd like nut pieces in your bread, chop the soaked nuts and mix into the batter without blending. Before chopping, dry them as well as you can with kitchen paper or in warm oven (40 C, 100 F).
Make Karask muffins by dividing the batter between 8 muffin forms and baking for 30 minutes.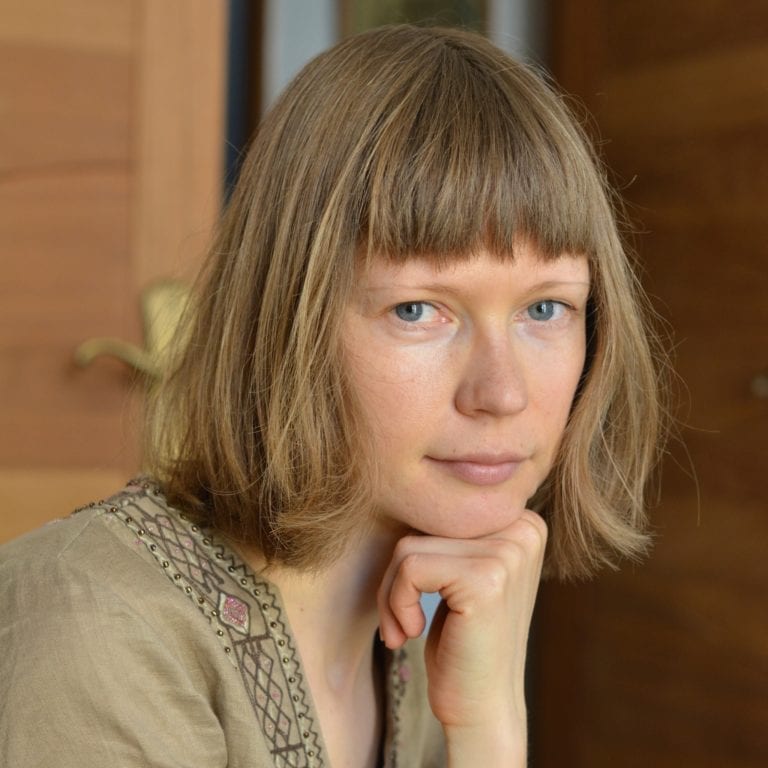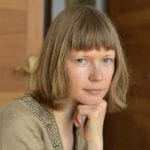 Nele Liivlaid: founder of Nutriplanet.org She has been into healthy eating for many years, but developed a more profound interest in nutrition and related diseases when she started reading The China Study and other special books on nutrition. After being in real estate and hospitality business for more than 10 years she decided to totally change her path to spread the word about healthy and sustainable nutrition and lifestyle.