I still remember the fluffy buttermilk pancakes from my childhood using whipped egg whites in the batter that I liked much better than the flat ones. So, it was about time I created vegan buckwheat sourdough pancakes.
Now that I've been making fermented buckwheat bread for ages, it made me think of using the same batter for pancakes as it's so fluffy and has a perfectly sour taste. I made the first batch with sour soymilk that I happened to have in the fridge and the pancakes turned out so great. However, I realise that most people don't happen to have sour plant-based milks in their fridges, so I decided to make those buckwheat sourdough pancakes with regular oat milk.
As it's the cold season, it does not hurt adding turmeric wherever you can, including pancake batter. Besides fighting off the nasty viruses and relieving your running nose and cough, your pancakes will also be of a nice yellow colour. The batch I photographed is without turmeric, but equally tasty.
Yet another way of getting a nice colour and some autumn flavour is to use pumpkin puree instead of applesauce.
I've now prepared my buckwheat sourdough pancakes on two Sundays and I'm sure this Sunday will be no exception.
As usually I made this pancake recipe plant based, gluten free and sugar free. I would also call them basically oil free, as only a bit of coconut oil is used for rubbing the pan.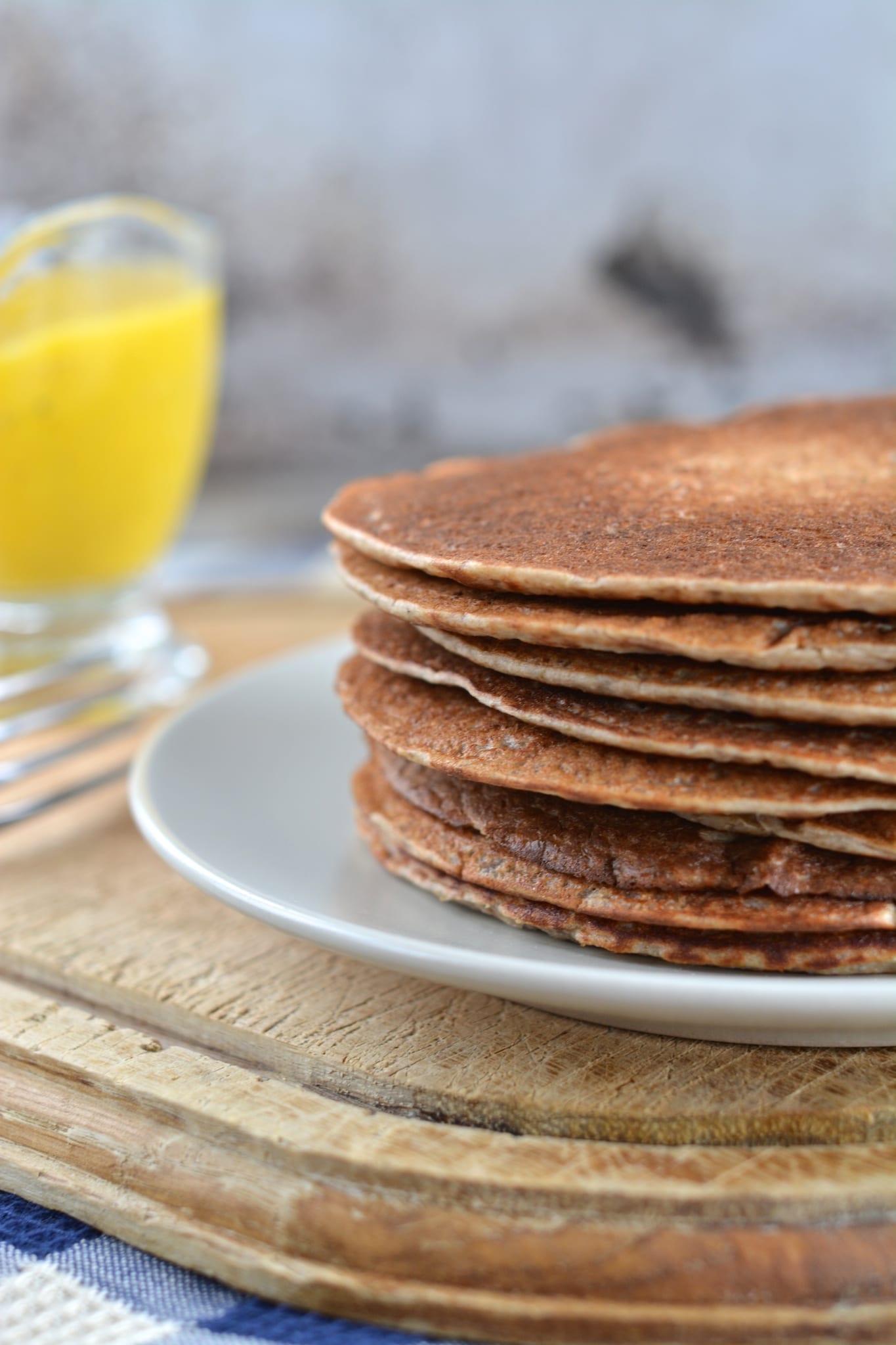 Buckwheat Sourdough Pancakes
Ingredients:for fermenting
200g (7oz) raw buckwheat
150g (5.3oz) water + water for soaking
Ingredients:<strong>Add to fermented batter</strong>
1 ripe banana
2 tbsps. ground flax seeds
2 tbsps. unsweetened applesauce
2 tsps. cinnamon
1 tsp. turmeric (optional)
A few pinches of sea salt
250g (8.8oz, 1.06 cup) unsweetened oat milk
Directions
First, soak the buckwheat for at least 6 hours. Place thoroughly rinsed and drained groats with 150g of water into blender and blend until you get a homogeneous batter.
Then, place this batter into a plastic or ceramic bowl (big enough to mix the pancake batter later), cover with clean kitchen cloth and place into a warm (30 C, 86 F) oven for at least 7 hours. Metal bowl would interfere with the fermenting process. It's ready when the batter has risen and you see small bubbles.
Next, smash the banana with fork or blend with immerse blender and add it to the batter with applesauce, ground flax seeds, cinnamon, turmeric and sea salt. Mix thoroughly and carefully with wooden spoon. Don't be too hasty, as you'd lose the fluffiness of the batter.
Now, gradually add oat milk and mix well. Let the batter sit for 5 minutes to let the flax seeds get slimy.
Finally, take a non-stick pan (it's best to have a separate pan for pancakes to avoid any sticking). Put a bit of coconut or olive oil on the pan and rub it with folded kitchen paper until all the excess oil is absorbed into paper. Use the same paper to clean the pan between pancakes.
Jam
You might as well call me the weird one, but having sensitive digestive system and therefore being a bit of right food combining freak, I prefer my pancakes plain, without any fruit purees. I just take my speciality coffee with soymilk to enjoy them. Anyway, I usually have my fruit smoothie while I bake the pancakes, so the fruits and grains can't get into a fight in my stomach.
However, you don't need to be as weird 🙂 Go ahead and puree some fruits for pancake jam:
Blend berries of your choice with banana.
Blend fruits of your choice. Mango puree is my boys' favourite.
Add spices of your choice, e.g. cardamom, vanilla, cinnamon, to either the pancake batter or your sauce/jam.
Applesauce makes a great pancake jam, especially if you add a splash of coconut milk.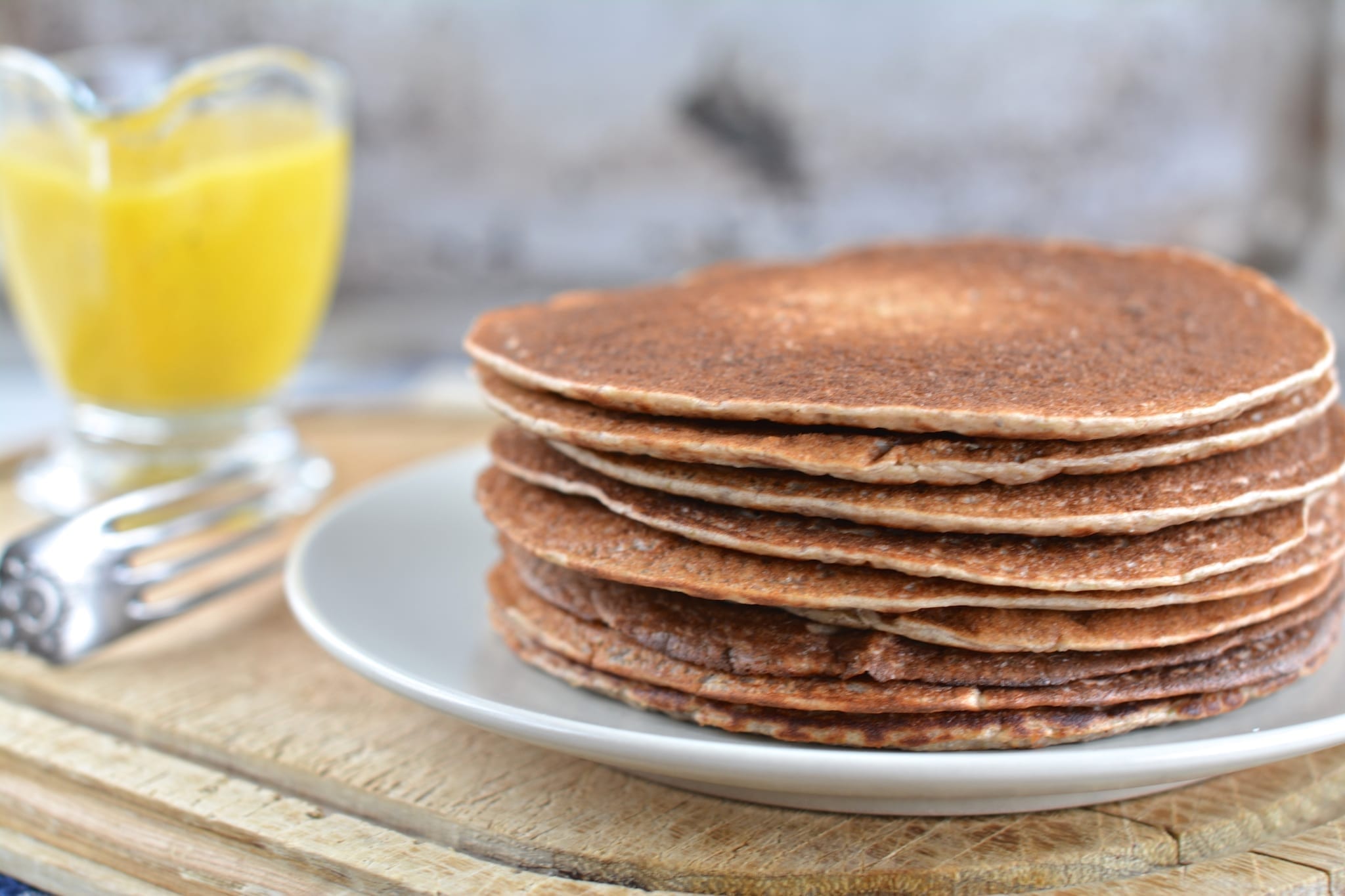 Tip on my buckwheat sourdough pancakes:
The best timing to be able to bake the pancakes in the morning is to put the groats to soak in the morning or afternoon the day before, and blend the batter and put it to ferment the evening before. In the morning when you wake up, just take it out of the oven and get going.
Bon appétit!