First, let me start by saying that those vegan buttermilk pancakes are the most delicious pancakes my hubby has ever had. At least this was what he said! By now I've made those lentil pancakes in many variations (different colours) and they're all so fluffy and delicious!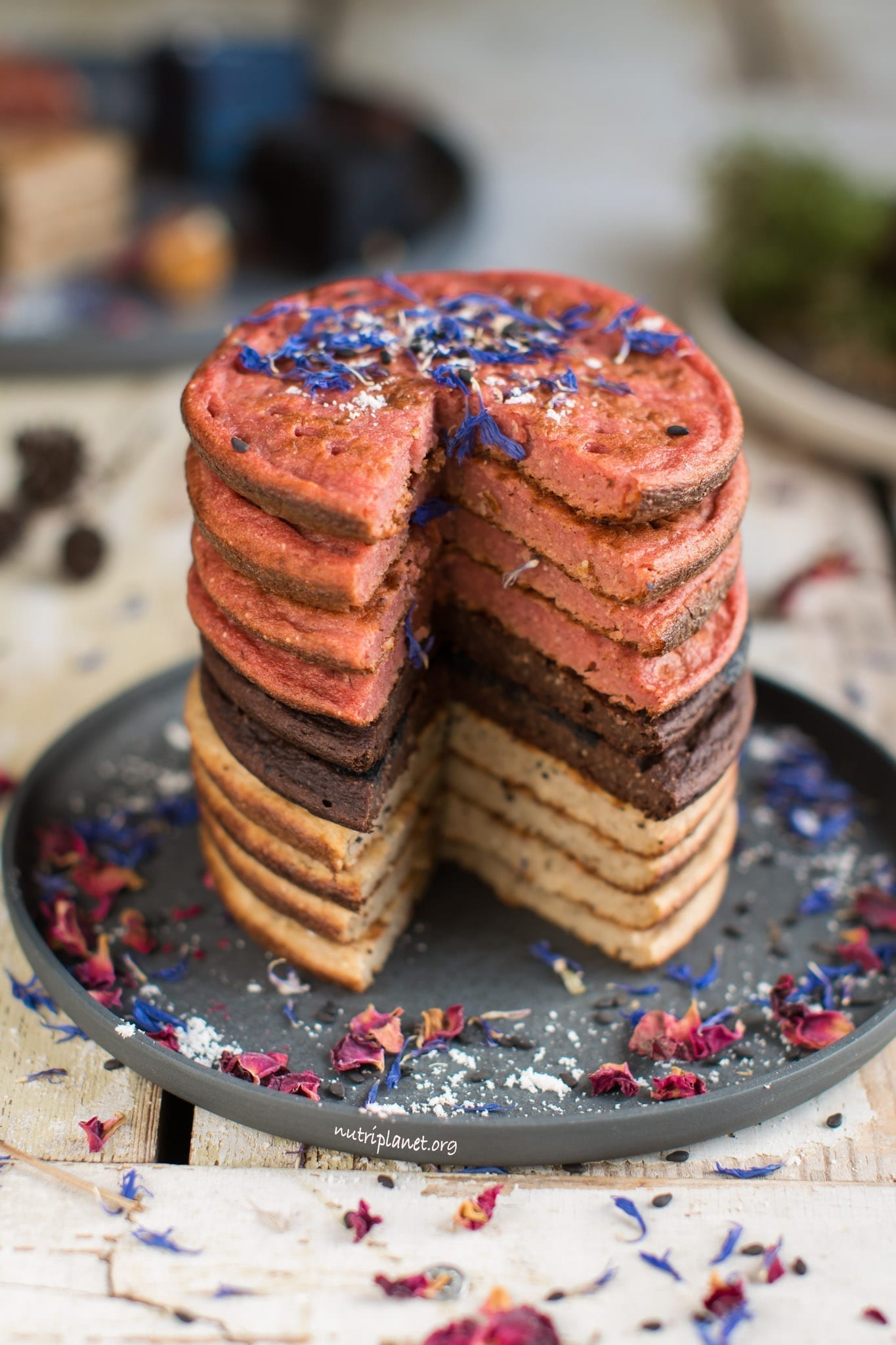 Moreover, my vegan buttermilk pancakes are different from any other gluten free vegan pancakes you might find online, because I don't use any gluten free flour mixture or an all purpose flour containing who-knows-what unwanted ingredients.
Instead, my lentil pancakes are super healthy using soak and blend method making the grains and legumes more digestible and enhancing mineral absorption by reducing the amount of phytates. I've always found that properly soaked and cooked legumes are much better on my tummy compared to lentil or chickpea flour for example.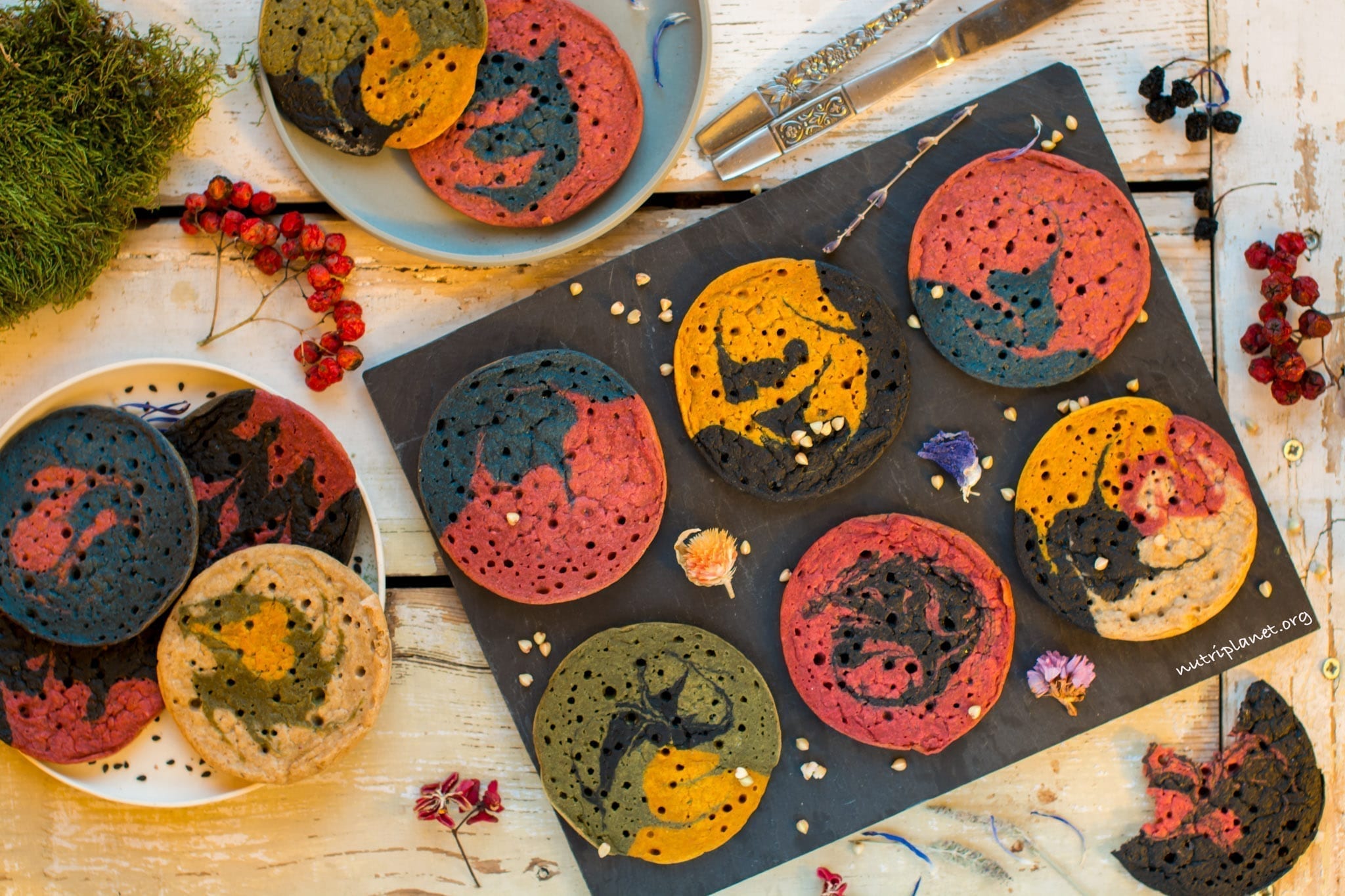 Another note – as the cooking water (aquafaba) contains the same phytates, my digestive system absolutely cannot handle it. The one time I tried cooking with aquafaba, I got a terrible stomach ache. So, I don't understand how people can handle it!
Now, I have many pancake recipes up on my blog, but until now I had never used vegan buttermilk or soaked lentils in the batter. And I'm glad I did because it really turned out to be a great recipe for fluffy pancakes full of flavour.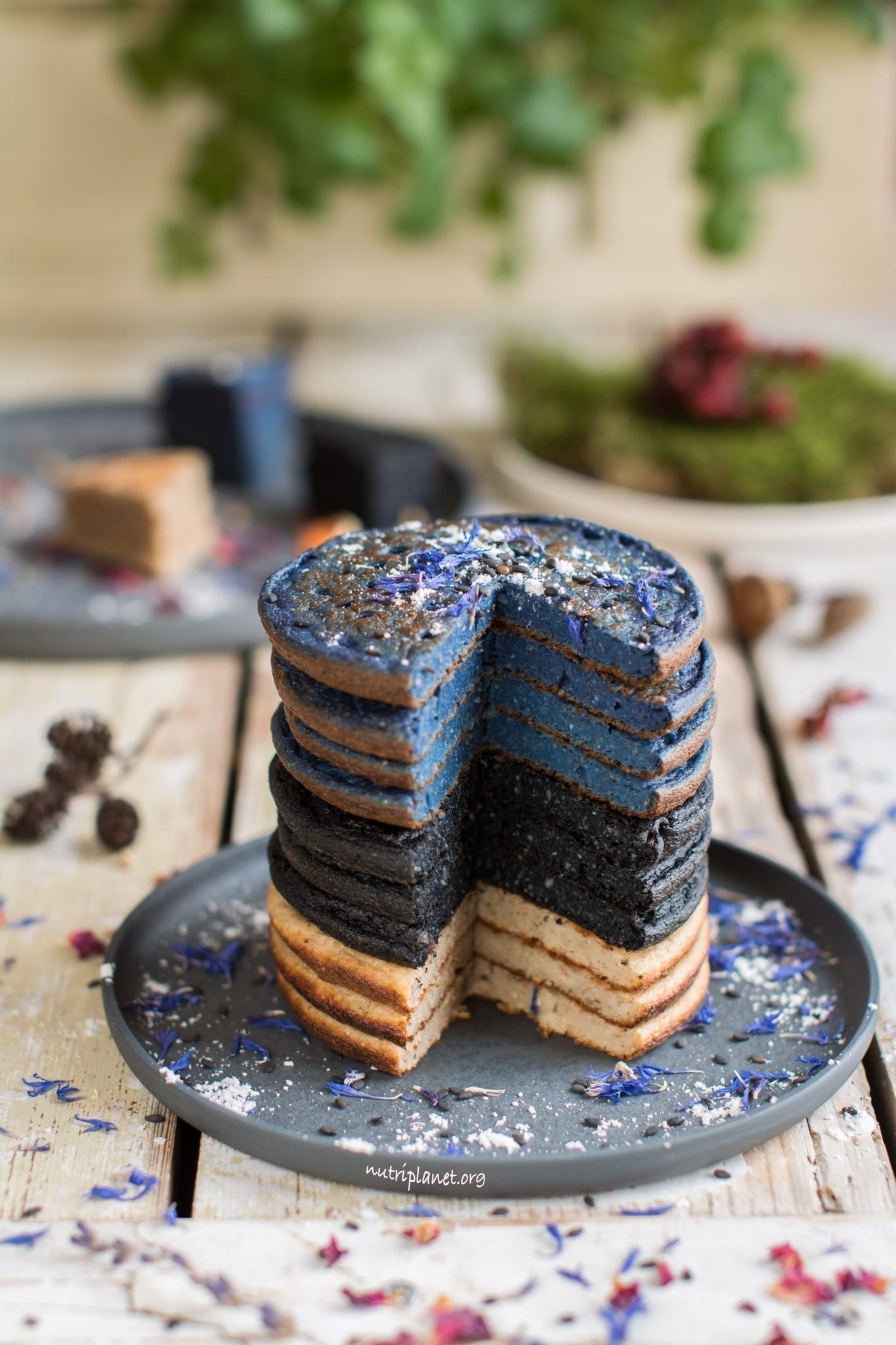 How to make vegan buttermilk for my lentil pancakes:
Directions
First, pour 1 ¼ cup of soy milk into a bowl.
Then, add 1 tablespoon of apple cider vinegar and stir.
Next, let the milk mixture sit for at least 5 minutes and you have vegan buttermilk!
Finally, for extra sourness and thickness I also add ¼ cup of plain soy yogurt.
I use soy milk that contains 13.5% of soy beans and is the richest I have found. Thus, it curdles so well! Should your milk have lower percentage (like 8%), try adding a little bit more of soy yogurt to make the buttermilk thicker.
Why are my vegan buttermilk pancakes with lentils so awesome?
Gluten free
Dairy free
Low fat
Refined sugar free
Plant based
Rich in fibre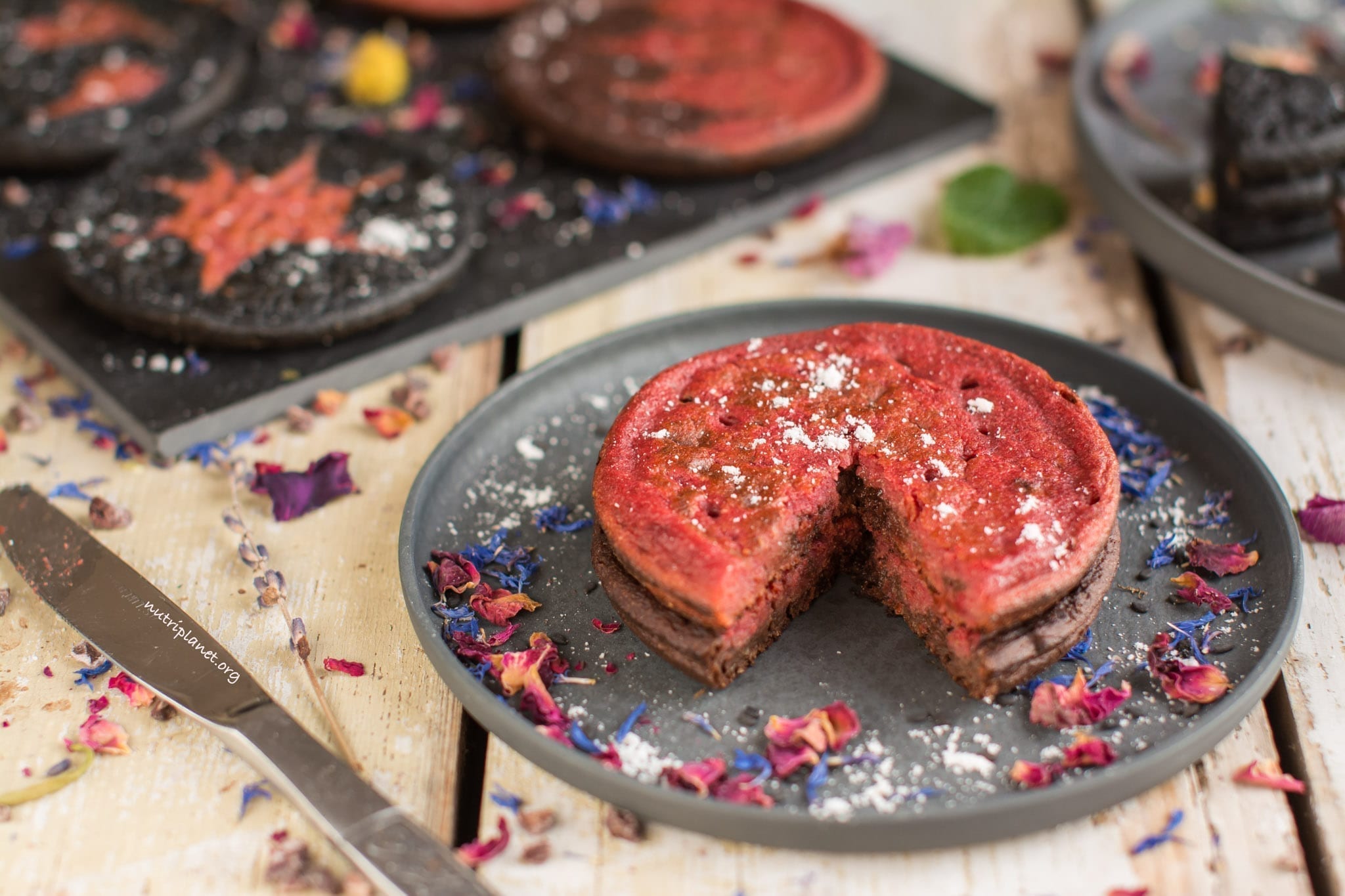 Now, if you crave some fluffy pancakes, get cooking because those pancakes are it! I hope you enjoy every last vegan buttermilk pancake you make!
And one last reminder – make sure to scroll down for:
tips on toppings
ingredient substitutions
natural colourings
a short video
Please leave me a comment below if these colorful pancake make your day! Please also tag me in social media whenever you make and share my recipe. Instagram @thenutriplanet and Facebook @nutriplanet.health.hubur kitchen!
Print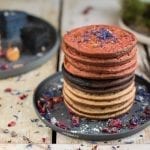 Vegan Buttermilk Pancakes with Lentils
---
Description
First, let me start by saying that those vegan buttermilk pancakes are the most delicious pancakes my hubby has ever had. At least this was what he said! By now I've made those lentil pancakes in many variations (different colours) and they're all so fluffy and delicious!
Soak time: 4 hours
---
---
Instructions
First, soak split red lentils for at least an hour and raw buckwheat groats for at least 4 hours. Rinse and drain.
Next, pour soy milk into a bowl and stir in 1 tablespoon of apple cider vinegar to prepare buttermilk. Let it sit for at least 5 minutes.
Then, put all the dry ingredients into a large bowl or blender.
Stir soy yogurt into the buttermilk and transfer the wet ingredients into a bowl or blender of dry ingredients. Process using an immersion blender or regular blender until you have homogeneous pancake batter.
Next, add a few drops of coconut oil or avocado oil onto a good quality non-stick pan and swipe it off with folded kitchen paper. Let all the oil absorb into the paper and use it to swipe the pan clean between pancakes. Heat the pan up over medium heat.
Now, if you make small pancakes, add about 2 tablespoons of batter into each cavity of your pancake pan. Should you make bigger pancakes, put a ladleful of batter onto the pan and even it out with a spoon/ladle or by shaking and/or tilting the pan to get the exact shape of your pan bottom. The frying time greatly depends on your stove. I flip it around when it is dry on top and also check the colour of the bottom side. You'll have about 26 small pancakes.
Notes
One pancake has 2 GL points.
P.S. If you use sweet topping, you might as well ditch the xylitol in the pancake batter.
Nutrition
Serving Size:

1/26 of the recipe

Calories:

43 kcal

Sodium:

40.7mg

Fat:

0.73g

Saturated Fat:

0.1g

Carbohydrates:

6.8g

Fiber:

1.43g

Protein:

2.2g
Keywords: vegan lentil pancakes
Topping ideas for my vegan lentil pancakes:
Blended berries and/or fruits of choice

Tips on my vegan buttermilk pancakes:
Firstly, feel free to substitute xylitol with preferred sweetener, if not following vegan Candida diet. For example, you can use maple syrup, agave syrup, coconut sugar, coconut nectar, or raw cane sugar.
Another hack – use split lentils for shorter soaking time.
Then, should you want to make the same recipe using lentil flour and buckwheat flour, add 140g (4.9oz, ½ cup + 1 tbsp.) of water to pancake batter.
If you don't have psyllium powder, use 2 tablespoons of ground flax seeds instead. Let the batter sit for about 10-15 minutes before cooking.
Finally, give those lentil pancakes a twist by adding blueberries or chocolate chips to the batter resulting in delicious chocolate chip or blueberry pancakes.
How to naturally colour my lentil pancakes:
Add natural colourings to have rainbow pancakes, i.e. wheatgrass powder, blue spirulina, regular spirulina, beetroot powder, pink pitaya powder, turmeric, butterfly pea powder, acai powder, carob, or cocoa. You may need to add a bit more liquid with some powders. To my experience carob and beetroot powder thicken quite a lot.
Another alternative would be to substitute some of the liquid with beet, acai, blueberry or blackcurrant juice for example.
PIN IT!