This healthy chocolaty vegan yogurt parfait is a great afternoon pick-me-up snack that takes only one bowl and less than 5 minutes to make! Besides its simplicity, you'll enjoy the perfect creaminess combined with fresh flavour that'll lift you up!
NEW! There's how-to video further down!
I can honestly say that my favourite yogurt for this vegan parfait is Sojade Soja's plain soy yogurt (no advertisement, just genuine enthusiasm). It has only three ingredients: soybeans, water and probiotic. Furthermore, its consistency is to die for! I love any products that have very short list on ingredients, i.e. no stabilizers, sweeteners, thickeners, oils or God knows what.
That being said, whichever plant yogurt you choose, make sure it's as natural as possible. Certainly avoid sweeteners and added oils or fats.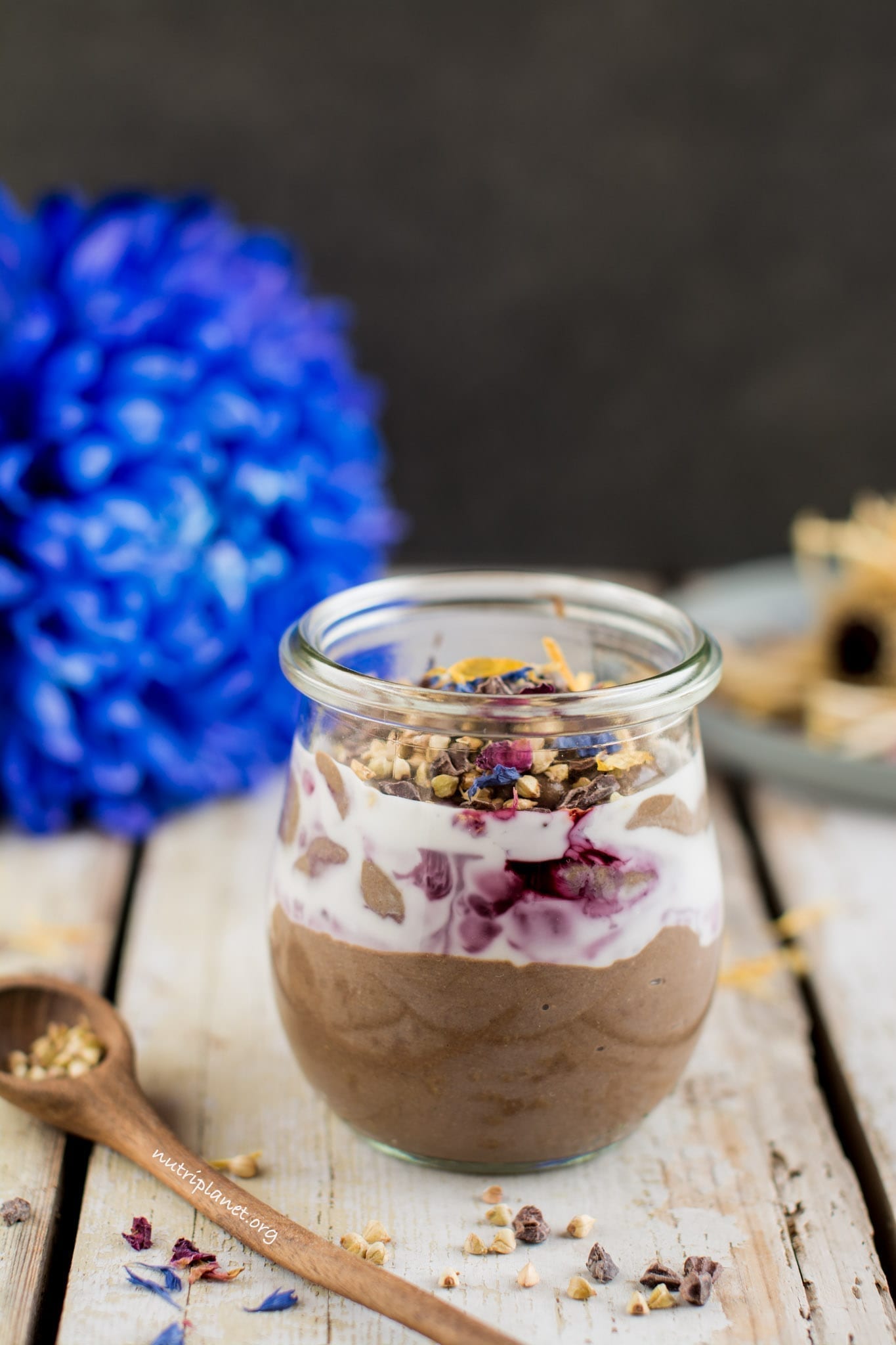 What makes this vegan yogurt parfait so perfect as a snack is that it's:
Low glycemic
High in protein
Gluten free
Oil free
Candida diet friendly
To sum it up, this vegan yogurt parfait is for you, if you want to keep your blood sugar stable and need to mix something up really quickly. Time is not an issue if you have the ingredients, a spoon and a small bowl!
Do let me know if you try it out! Leave a message below and/or tag me in social media.
Enjoy!
Chocolaty Vegan Yogurt Parfait
Ingredients: 1 serving
5 heaped tbsps. (150g, 5.3oz) plain soy yogurt
½ level tbsp. coconut flour
2 level tbsps. carob powder
½ level tbsp. cocoa powder
½ level tsp. cinnamon
Liquid stevia (I used 7 drops) or birch xylitol to taste
⅛ tsp. ground clove (optional)
⅛ tsp. ground nutmeg (optional)
Directions
In a small bowl, mix all ingredients together.
Add toppings of choice: unsweetened applesauce, cocoa nibs, chopped nuts, sprouted buckwheat, fresh or frozen berries, some pure blueberry, lingonberry, cranberry, lemon or pomegranate juice.
Nutritional info (includes 50g applesauce and 10g buckwheat sprouts): 198 kcal, 29.2g carbohydrates (47.5% of kcal), 6.64g fats (30.2% of kcal), 11g protein (22.2% of kcal), 11.8g fibre, 16 GL points.
NB! The final consistency depends greatly on the yogurt you use. If the yogurt contains thickeners and is therefore quite thick, you might want to use less of the powders or add a bit of plant milk for desired consistency.
Tips on my chocolaty vegan yogurt parfait:
Use any plant-based yogurt you like, i.e. oat, hemp, almond, cashew, pea and even flax! Or make your own oat yogurt.
Coconut flour can be substituted with any nut flour or nut/seed-based protein powder.
To spice things up, you can make layers of yogurt mix, berries and/or applesauce.
If you're not on Candida diet, use any sweetener you like such as agave, maple, coconut nectar or sugar, date paste.
You can easily take it on the go as well – prepare it when you can and store in sealed Mason jar or a container. Grab it from fridge and enjoy your afternoon snack wherever you happen to be!
Finally, I also like to add a teaspoon of baobab or rosehip powder for vitamin C. However, should you top the parfait with some wild berry, pomegranate or lemon juice, you'd have it covered.
You absolutely don't need to use clove and nutmeg if you don't like them. Or add a bit less of them. I included those spices for their anti-fungal properties and because I love the taste!
Disclaimer: this post contains affiliate links.