This Buddha bowl recipe is perfect if you're looking for easy vegan lunch recipes that can be made in less than 30 minutes. Besides being quick, it's indubitably delicious and balanced meal. It's because it's got it all – lots of veggies of many colours, protein, healthy fats and beneficial spices.
To be honest, these are the kind of easy vegan lunch ideas that I use to prepare my own meals daily. As a rule, I vary the veggies depending what's in season and what I have at home, add some protein as well as fats and I'm ready to go.
As far as the veggies are concerned, I always choose different colours and definitely have leafy greens as part of the dish. In summer I use more raw ingredients and in winter steam most of my veggies.
Next comes protein, which can be chickpeas, mung beans, lentils, beans, peas, tofu, tempeh, edamame beans, buckwheat, millet, quinoa, amaranth etc. Choose whatever agrees with you the most.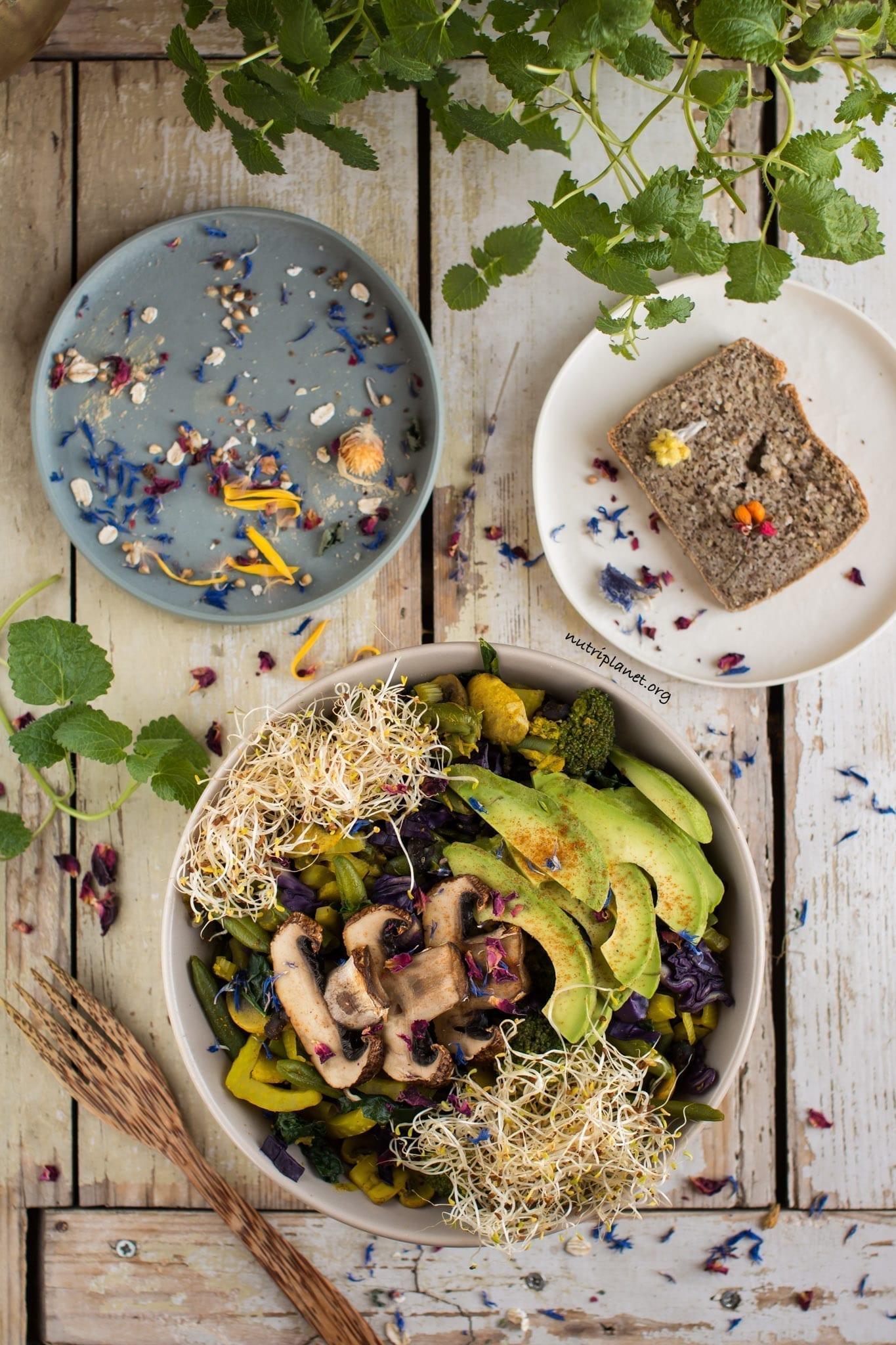 Finally, you absolutely don't need any oils to have some healthy fats in your easy vegan lunch bowl. Instead, think of avocados, olives, nuts and seeds. You can either chop them up and add to your bowl or prepare a salad dressing by pureeing some avocado or nut/seed butter with water, lemon juice and some salt. To spice it up, blend in some crushed mustard seeds, fresh garlic or garlic powder, turmeric, paprika powder and black pepper. Other dressing ideas for you to check out: Oil-Free Vegan Salad Dressing with Oven-Baked Veggies, White Bean Salad Dressing, or Pesto.
Follow those steps and you can prepare yourself delicious vegan lunches every day with minimal effort as the combinations are endless.
This easy vegan lunch Buddha bowl is suitable for almost anyone as it's:
Gluten free
Oil free
Candida diet friendly
Low glycemic
Plant based
Finally, it is a perfect recipe if you want to make your food fresh and from scratch every day. In fact, there's no excuse not to make it, if you have the means (kitchen and ingredients) as time is not the issue.
Please do let me know if you make this easy vegan lunch recipe or a variation of it, because I'd love to know! Leave me a comment below or tag me in social media! Enjoy!
Easy Vegan Lunch Buddha Bowl
Ingredients: 1 serving
1 small (17g, 0.6oz) celery stalk, chopped
1 Portobello mushroom (about 84g, 3oz), chopped or sliced
About ¼ (75g, 2.6oz) of bigger fennel bulb, chopped or sliced
150g (5.3oz) green beans (fresh or frozen)
½ tsp. turmeric
¼ tsp. garam masala (optional)
¼ tsp. garlic powder
½ cup broccoli florets
1 cup chopped kale
½ cup (loosely packed) finely shredded red cabbage
Himalayan or black salt and black pepper to taste
Ingredients:add later
80g (2.8oz) chickpeas, drained and rinsed
35g (1.2oz) avocado slices
Alfalfa sprouts (as much as you like)
Directions
First, place chopped or sliced mushroom, celery, fennel, green beans, turmeric, garlic powder and garam masala into a saucepan with a few tablespoons of water. Sauté for about 5 minutes, stir occasionally. You'll have more liquid as the water seeps out of the mushrooms.
Next, throw in broccoli and sauté for 2 minutes. Make sure there's enough liquid or it can burn! Then comes kale's turn, which needs another 3-4 minutes. Add water 1 tablespoon at a time if necessary.
Finally, add shredded cabbage, turn off the heat and cover for additional 2-3 minutes to soften it a bit. Then, season the dish with black pepper and Himalayan or black salt.
Combine your bowl: pour the sautéed veggies into a salad bowl and add chickpeas, oven-baked and sliced Portobello mushroom, avocado slices and alfalfa sprouts.
Season with any fresh herbs you have in hand – parsley, cilantro, onion greens, basil, thyme, or marjoram.
Nutritional info: 308 kcal, 47.9g carbohydrates (62.2% of kcal), 9.76g fats (28.5% of kcal), 17.3g protein (22.5% of kcal), 20.3g fibre, 20.6 GL points.
P.S. You can easily make this bowl low fat by ditching the avocado!
Tips on my easy vegan lunch Buddha bowl:
Need to make more servings? Just multiply all ingredients by the number of people you need to serve.
You can easily change the veggies if you don't have them all. For example, white or Chinese cabbage instead of red cabbage, cauliflower instead of broccoli, and chard, spinach or pak choi instead of kale.
If you want you can use any mushrooms you like, i.e. Portobellos are not a must.
Use any preferred spice blend or curry powder instead of turmeric and garam masala.
Should you have some extra time, chop up fresh garlic and use it instead of powder.
Finally, Chickpeas can be substituted with any other legumes, i.e. beans, lentils or mung beans.