Here's another vegan oil-free pesto recipe for you – this time made with spruce tips and basil. I added some basil to smooth out the sour taste of spruce tips. Furthermore, I use nutritional yeast in this oil-free pesto recipe to give it a cheesy flavour. And it works wonderfully!
Don't forget to watch the tutorial video further down!
Read all about why you should pick some spruce tips from my blog post Spruce Tips: 5 Reasons to Eat & 8 Ways to Use Them.
I just realized I don't have any "conventional" pesto recipes on my blog, but only vegan, oil-free and made of rather unusual ingredients like this Oil-Free Ground Elder Pesto I posted a month ago. However, I don't think it's a defect, but rather characteristic to my blog 🙂 I mean, why go the boring way, when you can discover something new, right?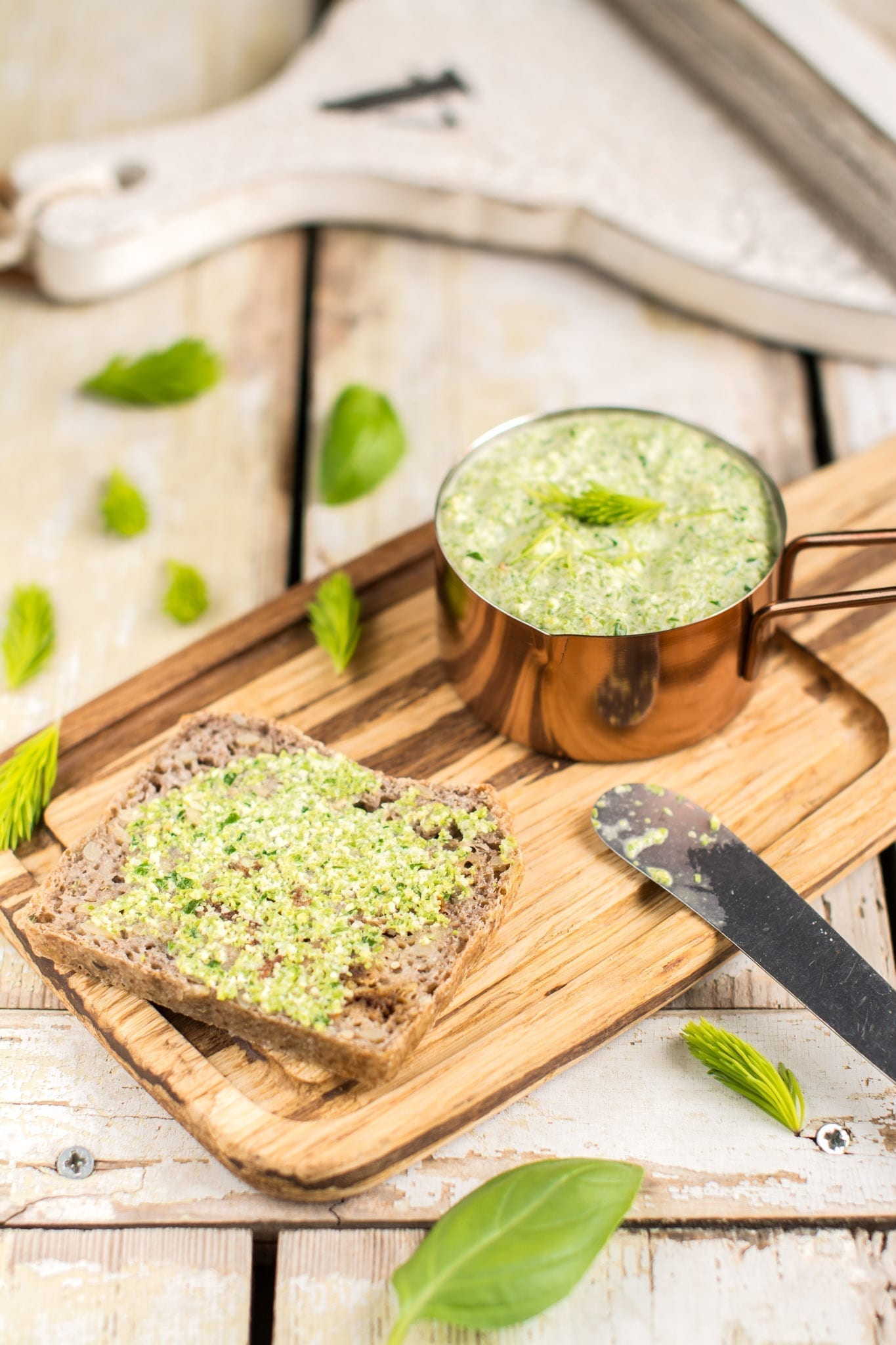 I definitely think that oil-free pesto is the way to go, as there are enough healthy fats from pine nuts in this recipe. Oil is usually added for consistency, but the same result can be achieved by using water and lemon juice without compromising the outcome. So, why not make pesto something that you can consume without regret (in moderate quantities of course) rather than having the conventional fat bomb? Just so you know, the herbs actually don't make it a lot better as most of the calories would come from pure fat anyway.
To sum it up, I really hope that next time you decide to make pesto you'd give a vegan oil-free pesto a chance before making a grab at the oil bottle.
My vegan oil-free pesto made of spruce tips is oil-free, gluten-free, sugar-free and Candida diet friendly (leave out nutritional yeast if you are on cleanse mode).
Oil-Free Pesto with Spruce Tips and Basil
Ingredients
1 cup spruce tips
Handful of basil leaves
¼ cup pine nuts
⅓ cup nutritional yeast
Himalayan salt to taste
Juice of ¼ of medium lemon
⅛ cup water
Directions
Add all ingredients into a small food processor and process until well incorporated. Scrape sides with a spoon if necessary.
Store in a sealed container in fridge for up to 4 days.
Tips:
It is delicious on my fermented buckwheat bread.
Leave out nutritional yeast if you are on Candida cleanse diet.
You can try other nuts, e.g. almonds, if you don't have pine nuts.