Yesterday was May 1st and we finally had a nice and sunny spring day! So, we decided to use it well and went gathering fresh and young weeds from the wild part of my favourite park. When we got home I quickly made the most amazing oil-free Ground elder pesto. It was so yummy that my kid had a few tablespoons to accompany his lunch. I threw the Ground elder that was left over into red lentil-mushroom dhal that came out scrumptious as well!
Ground elder, also known as Bishop's weed and goutweed, is one of the first abundant edible greens that appear in springtime. To gardeners Ground elder usually is a nuisance rather than blessing. However, they should consider growing it instead as it is a plant that does not need much care, thriving in harsh conditions.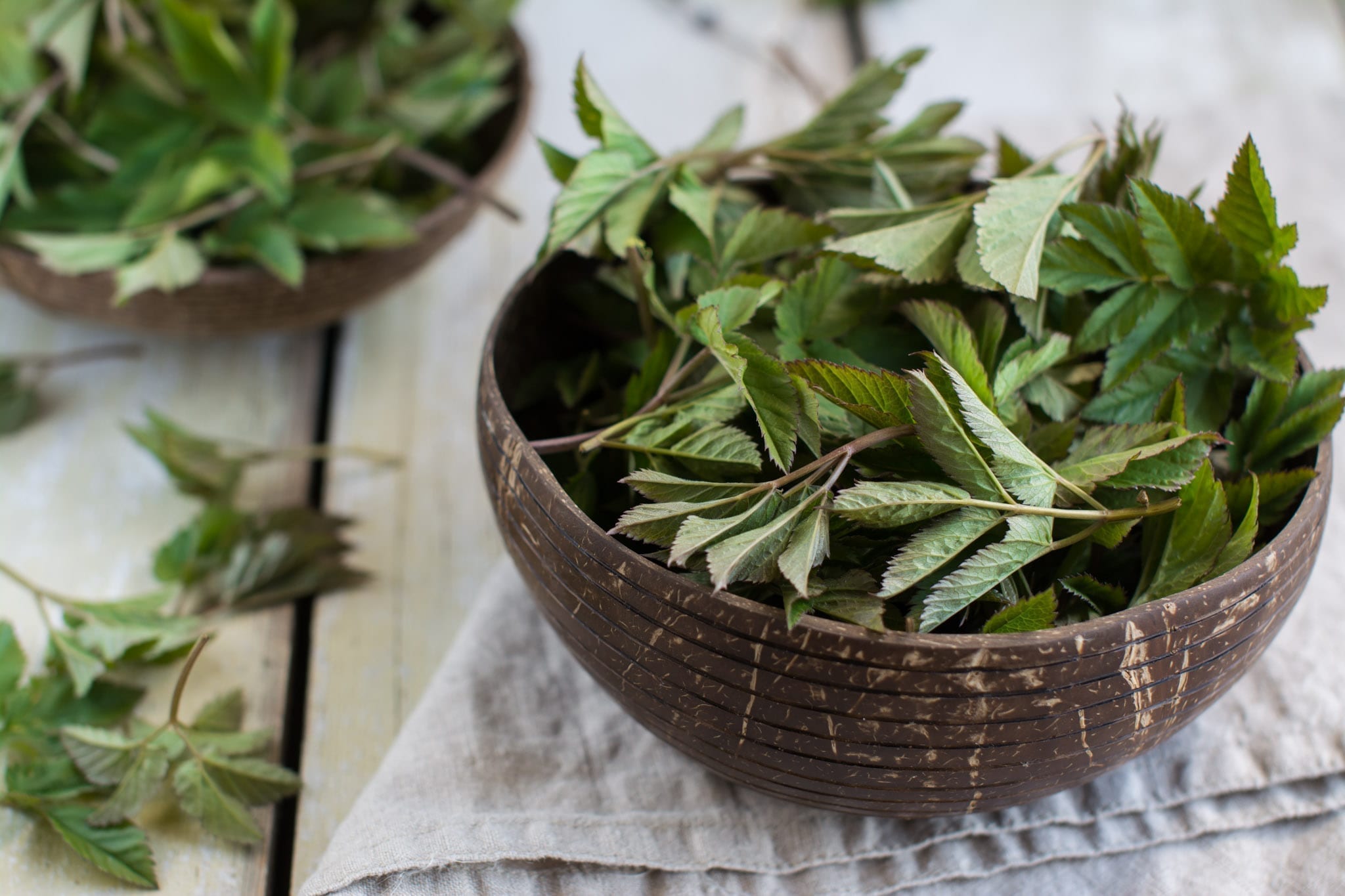 Ground elder is rich in vitamin E and C containing lots of antioxidants. It has also been used externally to treat gout, arthritis and rheumatic complaints.
When it comes to picking, choose young tender leaves, before the plant is in bloom. Remember to gather your Ground elder at least a hundred metres from any road to avoid contamination.
You can use Ground elder as any other dark leafy green such as spinach – in soups, salads, stews, smoothies, or to make oil-free Ground elder pesto.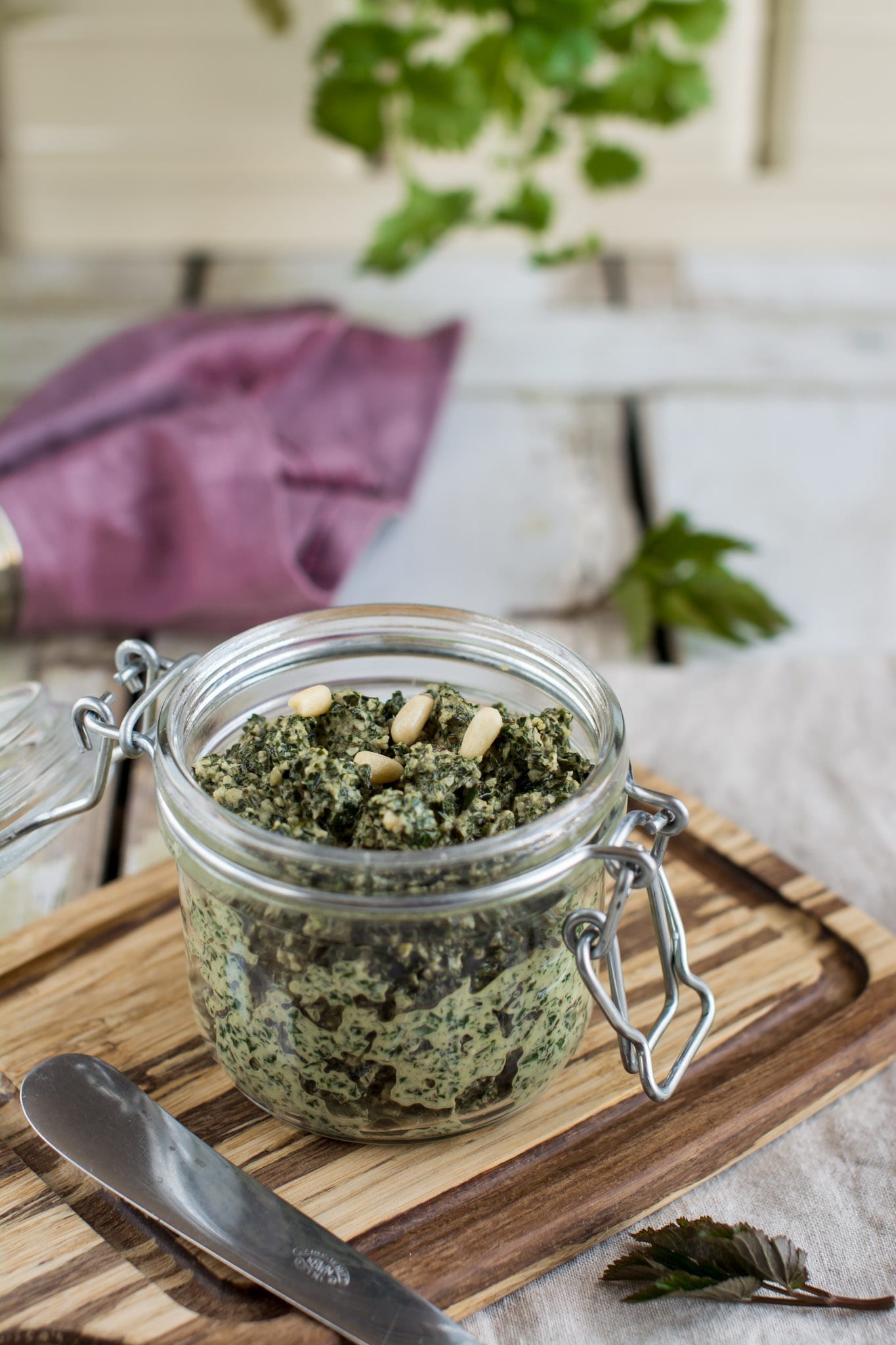 I have to say that it is brilliant how any recipe can be made without oil and taste absolutely amazing! This oil-free Ground elder pesto is an excellent example. I used pine nuts in this recipe and it worked just perfectly. However, you can also experiment with other nuts and seeds, e.g. sunflower seeds, almonds, hazelnuts, or even hemp seeds. Next, to make my oil-free Ground elder pesto a bit more fluid and easier to process I just added a bit of water and lemon juice. Again, no need for oil!
Besides being oil-free, my Ground elder pesto is also vegan, plant-based, gluten-free, vegan Candida diet friendly and doesn't use refined sugar.
Please tag me in social media whenever you try one of my recipes and leave me a comment bellow if you have any questions! I'd love to see your creations! Instagram @thenutriplanet and Facebook @nutriplanet.health.hub
Print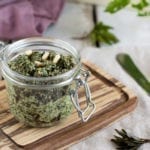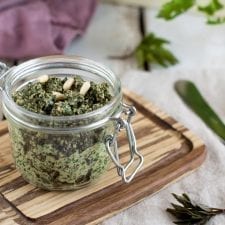 Oil-Free Ground Elder Pesto Recipe
---
Description
These ground elder pesto is being oil-free, vegan, plant-based, gluten-free, vegan Candida diet friendly and doesn't use refined sugar.
---
2

packed cups of young Ground elder leaves
Juice from

half a

lemon

½ tsp

. garlic powder

1

big handful of pine nuts

1 tbsp

. nutritional yeast
Himalayan salt to taste
Enough water for desired consistency
---
Instructions
Rinse and drain Ground elder leaves.
Put all ingredients (except water) into a small food processor, the one that comes with immerse blender (or use the smaller cup of a normal size food processor) and process until well incorporated. Scrape the sides and process again.
Add water gradually and just enough to be able to process the mixture easily. Be careful not to make it too runny.
Keywords: vegan griund elder pesto
Tips:
Use more or less pine nuts – as you prefer.
My oil-free Ground elder pesto goes perfectly with Fermented Buckwheat Bread, Oil-Free Buckwheat Crackers or Quinoa-Buckwheat Crackers. Furthermore, you may use it in salads as a dressing.
Store any leftovers in airtight container, as it tends to turn brown quite quickly. You also might try adding more lemon juice for storing or consider freezing.
You can easily make the same recipe with other herbs and/or weeds, e.g. nettles, basil, wild garlic or use the mixture of them.
If you are not on Candida diet, feel free to use any sweetener you like or discard it altogether.
If you don't have pine nuts, try sunflower seeds, almonds, hemp seeds or hazelnuts instead. I just like pine nuts the best in a pesto.