Learn how easy and quick it is to make plant-based oil-free white bean dressing to top your salads or Buddha bowls. You'll need a blender and less than 10 minutes of your time.
When I adopted whole foods' diet, the hardest part was to find substitution to the oil I used to pour over anything. Sounds familiar?
After having analyzed my menu thoroughly, I realized how easily even just a small spoonful of oil raises fat percentage and gives empty calories. The oil/fat isolated from plant practically does not contain anything besides the fat itself. Therefore, it is always better to eat the whole plant or fruit rather than the isolated oil, e.g. instead of olive oil eat the whole olives.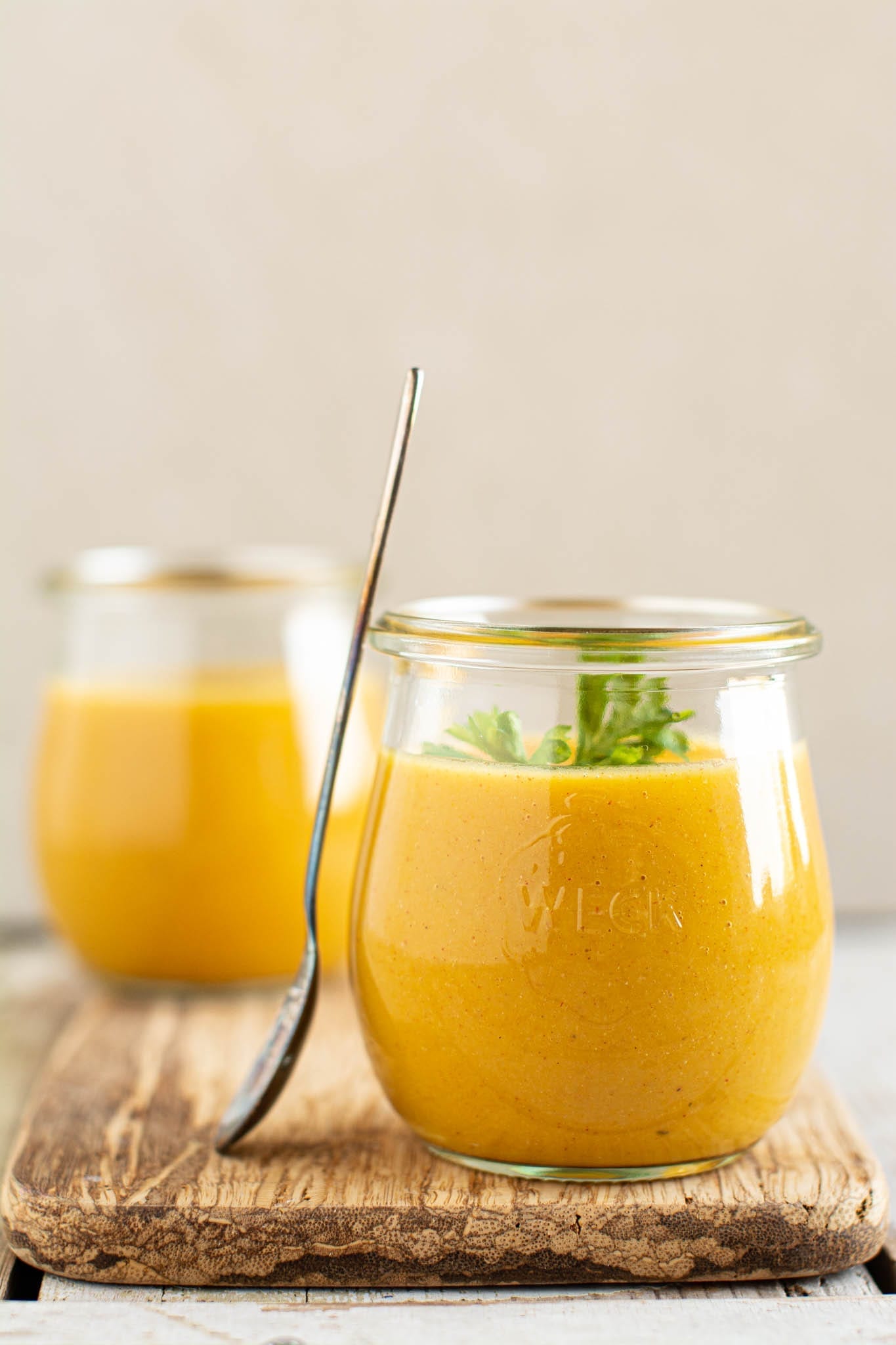 A while ago I shared a sour-cream/mayonnaise made of cashews, which is indeed very tasty and enjoyable, but being quite rich in fat should not be part of an everyday menu. Who could keep to just a small spoonful of the delicious thing? 🙂
How to Make Oil-Free White Bean Salad Dressing
Having salad with beans, as I very often do, it came to my mind to try turning the beans into a tasty and light dressing also suitable for weight strugglers.
The Ingredients
The first and obvious ingredient is white beans giving the dressing its substance and creaminess. While there are several types of white beans, the most common are cannellini beans aka white kidney beans.
White beans are a nutritional powerhouse, as they're packed with fibre and protein. Furthermore, they are also a good source of numerous micronutrients, including folate, magnesium, and vitamin B6. Read more on the benefits of white beans here.
I decided NOT to make this dressing totally fat-free and therefore included some tahini. In case you prefer other nuts or seeds, feel free to use almond butter, peanut butter, or cashew butter.
Next, for the acidity I used lemon juice and balsamic vinegar. However, you can substitute balsamic vinegar with regular vinegar or apple cider vinegar. In case you hate vinegars altogether, go for lemon juice alone.
Acidic agent usually is an essential part of any salad dressing as it will give a pungent boost.
As far as herbs and spices are concerned, I went for garlic powder, mustard, and turmeric. However, it's fair to say that turmeric acts more as a colouring agent than flavour. By the way, in his book How Not to Diet Dr. Michael Greger recommends eating at least a quarter of a teaspoon of turmeric every day.
It's worth mentioning that fresh garlic is a great substitute for garlic powder resulting in more pungent taste. Equally, mustard seeds would do an awesome job if you don't have ready-made mustard at hand.
Then, for saltiness and umami I included tamari sauce. Tamari is one of five popular types of Japanese soy sauces known as shoyu. Shoyu is made by fermenting soybeans — and sometimes wheat — using a special fungus (koji) and brine (moromi). Compared with most soy sauces, tamari is darker, contains little to no wheat, and has a stronger umami flavour.
And finally there's water to adjust the thickness of our oil-free salad dressing. I wrote down a quantity on the recipe card but feel free to change it according to your own preferences.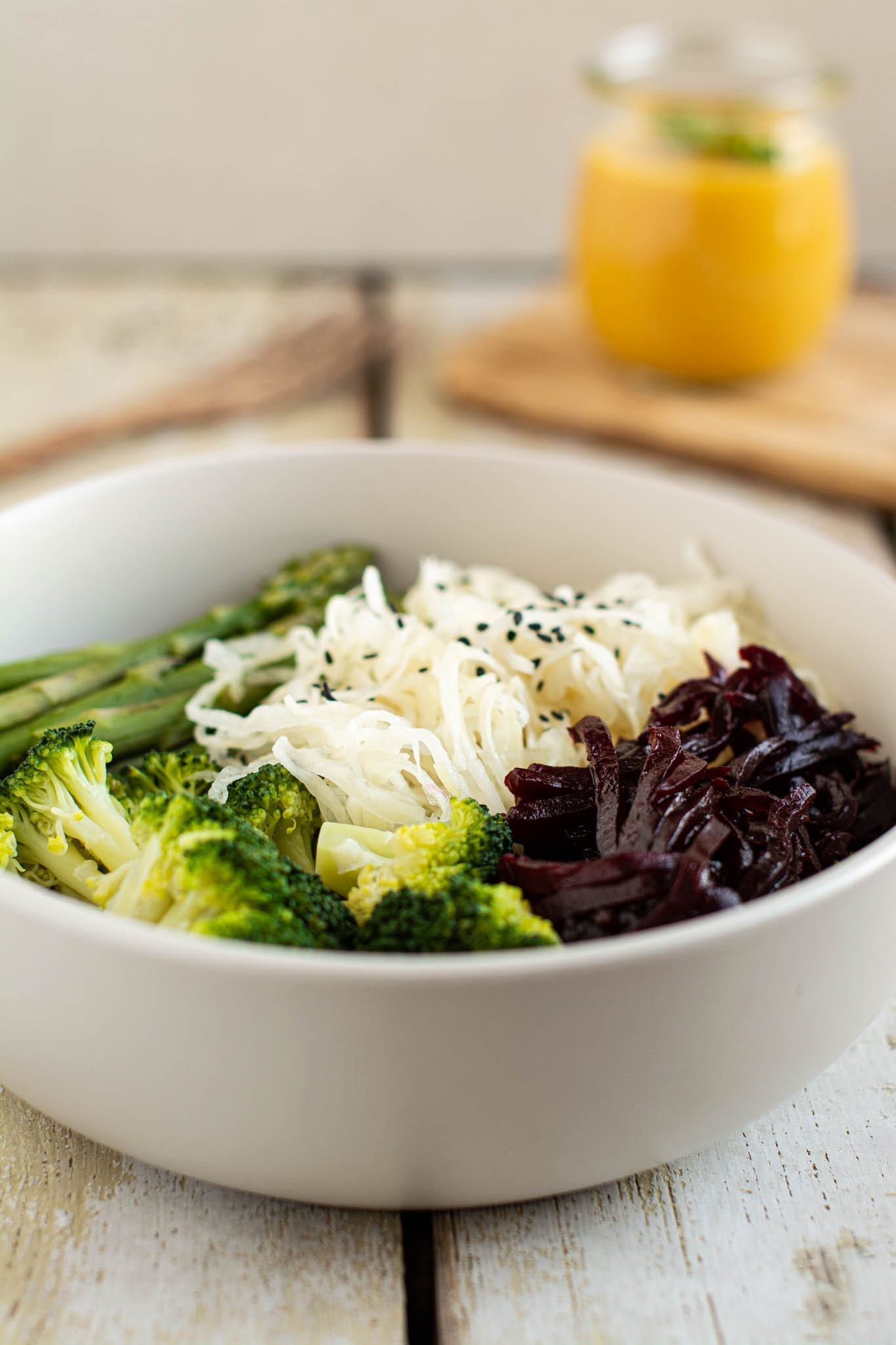 Go and make use of my 6-step guide to vegan oil-free salad dressings! Watch the below video and download a 3-page printable guide.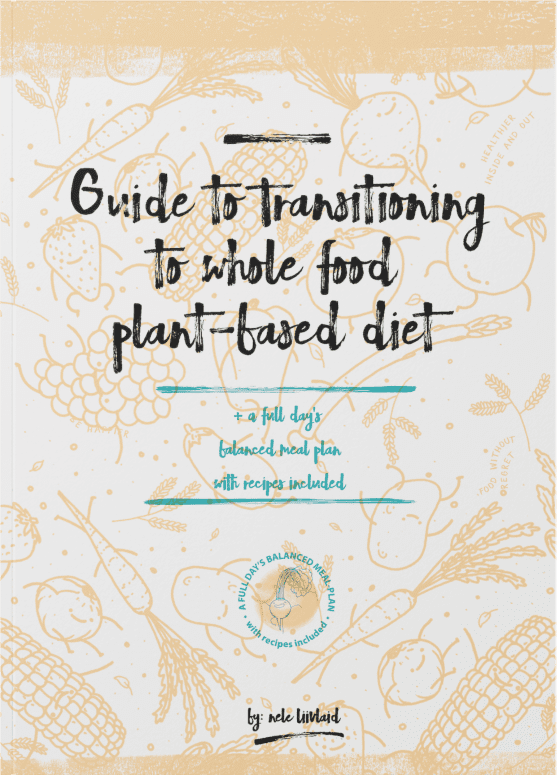 Download my FREE Guide to Plant-Based Diet
Including a full day's meal plan!
Learn the basics, prepare your kitchen and pantry, compile a balanced meal plan, handle challenges with family and friends, learn the tricks of dining out as well as travelling.
Learn the secrets of weight loss, better health and happiness!
Print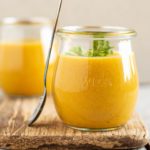 Oil-Free White Bean Salad Dressing
---
Author:

Nele Liivlaid

Total Time:

10 minutes

Yield:

a bit over 2 cups

Diet:

Vegan
Description
Learn how easy and quick it is to make plant-based oil-free white bean dressing to top your salads or Buddha bowls. You'll need a blender and less than 10 minutes of your time.
---
1

can (240g, 8.5oz) unsalted white beans

1 tbsp

. additive-free tahini

2

tbsps. lemon juice

½ tbsp

. balsamic vinegar

½ tsp

. mustard seeds, crushed

½ tsp

turmeric

1 tsp

. garlic powder

4

tsps. tamari sauce
enough water for desired consistency (I used 3/4 cup + 3 tbsps.)
---
Instructions
Place all ingredients in a food processor and process until smooth and dressing-like. You might also use an immerse blender.
Notes
Feel free to substitute balsamic vinegar with regular vinegar or lemon/lime juice.
Peanut butter, cashew butter or almond butter are great substitutes for tahini.
Ready-made mustard will successfully replace crushed mustard seeds. Use a teaspoon of mustard.
You can use a fresh garlic clove instead of garlic powder.
Tamari sauce can be substituted with regular soy sauce or Himalayan salt.
Prep Time:

10 minutes

Method:

Blending
Nutrition
Serving Size:

¼ of the recipe

Calories:

117 kcal

Sugar:

0.9g

Sodium:

241mg

Fat:

2.2g

Saturated Fat:

0.3g

Carbohydrates:

13.4g

Fiber:

4.8g

Protein:

7.4g
Keywords: salad dressing, beans
Tips on my white bean salad:
Pour the dressing on a salad – on photo I have green salad, steamed broccoli, cherry tomatoes, and pieces of fermented rye bread.
Should you require an even leaner dressing, use less tahini or discard it at all.
Enjoy!
Disclosure: this post contains affiliate links. As an Amazon Associate I earn from qualifying purchases. For every purchase made from the links in this post, you'll be able to support my work. So you can look after your health, and contribute to my mission at the same time. Thank you!
Feel free to PIN the below image!