When I adopted whole foods' diet, the hardest part was to find substitution to the oil I used to pour over anything. Sounds familiar?
After having analyzed my menu thoroughly, I realized how easily even just a small spoonful of oil raises fat percentage and gives empty calories. The oil/fat isolated from plant practically does not contain anything besides the fat itself. Therefore, it is always better to eat the whole plant or fruit rather than the isolated oil, e.g. instead of olive oil eat the whole olives.

A while ago I shared a sour-cream/mayonnaise made of cashews, which is indeed very tasty and enjoyable, but being quite rich in fat should not be part of an everyday menu. Who could keep to just a small spoonful of the delicious thing? 🙂
Having salad with beans, as I very often do, it came to my mind to try turning the beans into a tasty and light dressing also suitable for weight strugglers.
Ingredients |serves 2|
1 can unsalted white beans
20 cashews
1 tsp mustard, medium strong
½ tsp turmeric
2 tsp smoked paprika
4 tbsp nutritional yeast
Himalayan salt to taste
enough water for desired consistency
Preparation:
Place all ingredients in a food processor and process until smooth and dressing-like. You might also use an immerse blender.
Nutritional info (1 serving): 293 kcal, 36.1g carbohydrates, 7.87g fats, 19.5g protein, 11g fibre.
Tips:
*Pour the dressing on a salad – on photo I have green salad, steamed broccoli, cherry tomatoes, and pieces of fermented rye bread.
*Should you require a even leaner dressing, put less nuts or discard them at all.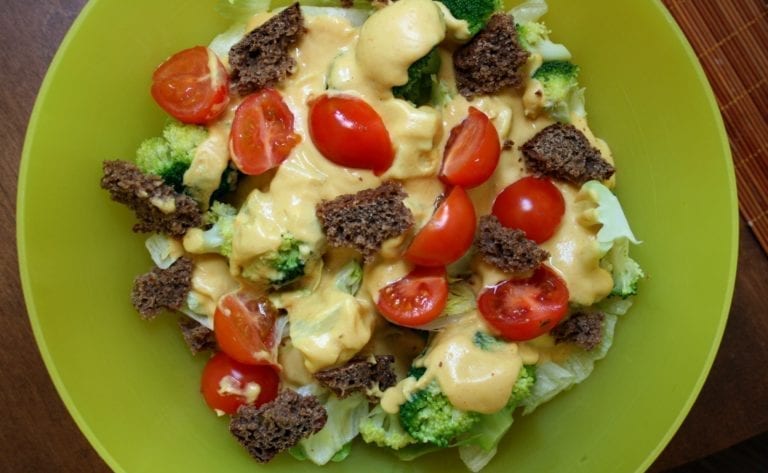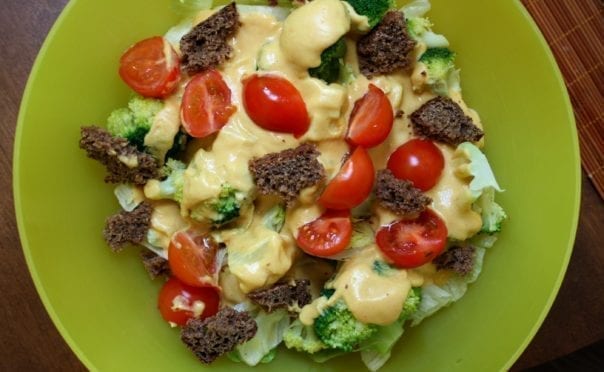 Enjoy!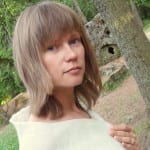 Nele Liivlaid: founder of Nutriplanet.org
She has been into healthy eating for many years, but developed a more profound interest in nutrition and related diseases when she started reading The China Study and other special books on nutrition. After being in real estate and hospitality business for more than 10 years she decided to totally change her path to spread the word about healthy and sustainable nutrition and lifestyle.