You wouldn't believe this beautifully green as well as rich and creamy vegan soup with green peas, broccoli, kale and potatoes is totally oil-free and dairy-free. This soup is a real protein bomb that doesn't lack in flavour, has only 6 ingredients and is ready in 15 minutes. In a word, perfect for those looking for a lean and low fat yet filling and satiating meal option.
This creamy vegan soup was born in the middle of March when on a bright afternoon I started to cook lunch for myself. So, I basically used what I had in hand having bright green colour in mind. To be honest it wasn't my plan at all to develop a recipe or take photos. However, once I had pureed the soup and had seen how beautifully green, thick and creamy it was, I knew there's no escape from setting the scene for photo session.
As you probably know, I'm all for whole food ingredients and prefer foods as nature has packaged them (as much as I can anyway). As a result I don't use any extracted oils and choose get all the healthy fats from whole food sources such as soybeans, nuts, seeds, avocados and olives. Read how to cook oil-free.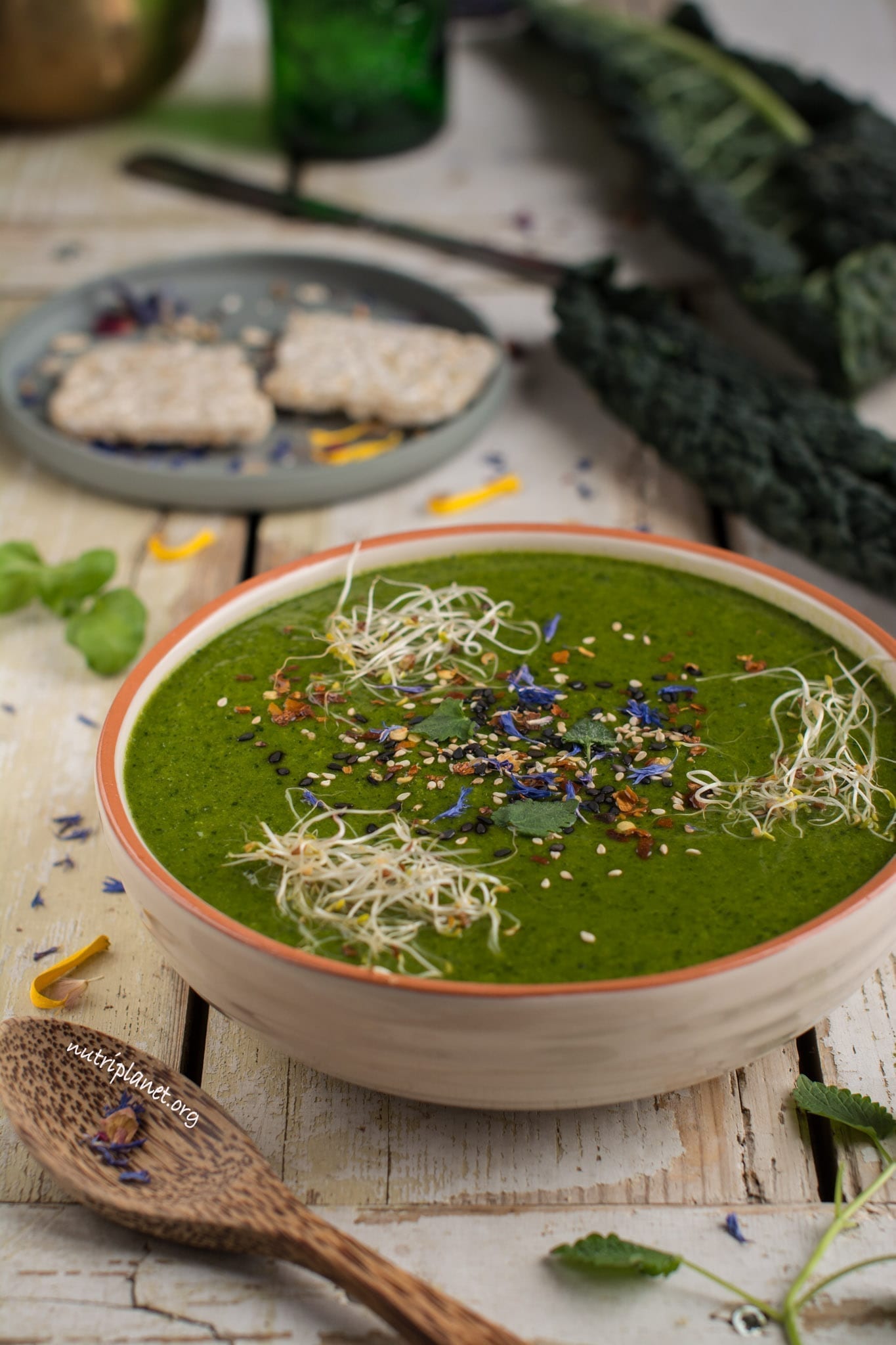 My creamy vegan soup gets enough creaminess and heartiness from green peas and potatoes not to spoil it with any high-fat ingredients such as vegan cooking creams or oils.
This creamy vegan soup makes a perfect light lunch or dinner and should be compatible with almost every dietary restriction as it's:
Gluten free
Dairy free
Oil free
Low fat
Candida diet friendly
Sugar free
Soy free
Nut free
Finally, this creamy vegan soup has the following unbeatable qualities:
Super quick and easy
Ready in 15 minutes
No rare ingredients
Perfect for batch cooking
Only 6 ingredients + spices
Please let me know in comments if you make this soup or if you have any questions. Alternately tag me when you share it on social media, so that I can see your creation!
Creamy Vegan Soup with Peas, Broccoli and Kale
Ingredients:1 serving
120g (4.2oz, almost 1 cup) frozen green peas
40g (1.4oz, ½ cup) chopped leek
45g (1.6oz, 1 small) potato, cut into smaller cubes
80g (2.8oz, 1 large) carrot, cut into smaller cubes
100g (3.5oz) broccoli
50g (1.8oz, 3 cups chopped) kale
1½ tsp. broth powder
½-1 tsp. garlic powder
Black pepper to taste
Enough water for desired consistency
Directions
First, bring half a kettleful of water to boil.
Then, throw frozen peas, chopped leek, carrot, potatoes, broth powder and garlic powder into small pot. Add enough hot water to cover (about 350g, 12.3oz) and bring to boil. Simmer for 5 minutes.
Next, chop kale and cut broccoli florets into smaller pieces. When the 5 minutes is up, add broccoli and kale to the soup. Pour in some hot water as well (just enough to cover) and simmer for another 5 minutes.
Let the soup cool a bit and puree using regular or immersion blender. Add water if necessary. Feel free to leave it chunky to have something to chew on.
Season with black pepper and Himalayan salt (if your broth powder was unsalted).
Finally, garnish with a tablespoon of nutritional yeast, a handful of alfalfa sprouts, a sprinkle of sesame seeds and some mint leaves, parsley or cilantro (optional). You also may add a splash of coconut milk.
Nutritional info (without garnishes): 233 kcal, 43.9g carbohydrates (75.4% of kcal), 2.95g fats (11.4% of kcal), 14.6g protein (25% of kcal), 14.4g fibre, 18.2 GL points.
Tips on my creamy vegan soup with green peas, broccoli and kale:
To prepare more servings, simply multiply with the number of people you're going to serve.
Feel free to use onion instead of leek.
Also, sweet potatoes instead of potatoes work just as fine.
If kale is not in season, go for spinach, chard or other leafy greens. Use the same weight.
Fresh green peas are just as good as frozen ones. Add at the end with broccoli and kale.
If you use Pinterest, feel free to PIN THIS PHOTO: