This quick and easy delicious gluten free vegan mung bean breakfast porridge is like having a chocolate pudding for breakfast. It's perfect if you're looking for vegan grain free breakfast recipes other than tofu scramble or chickpea omelette.
My sweet mung bean breakfast porridge recipe uses sprouted and then cooked green mung beans instead of grains. Usually, when you're searching for vegan grain free breakfast options, you'll find lots of nut-based recipes that are very high in fat. In fact, a whopping 60-80% of calories come from fat in case you go for those nutty granolas or porridges.
At the same time, my sweet mung bean breakfast porridge recipe only has 12% of calories coming from fat. Hence, it makes a perfect option for those looking for healthy and lean yet rich and nutritious meals.
Another aspect I considered when developing this breakfast recipe was to keep it low glycemic. With this in mind, I decided to start sprouting the legumes before cooking them. Besides easing the digestion and enhancing mineral absorption, sprouting also significantly lowers legumes' glycemic load. For instance, 100 grams of cooked mung beans have double the amount of glycemic load points in comparison with the same weight of sprouted and cooked mung beans. Moreover, the same weight of sprouted and cooked mung beans has greater volume allowing you to eat bigger portions. Should this be something that you care about of course. I know I do! 🙂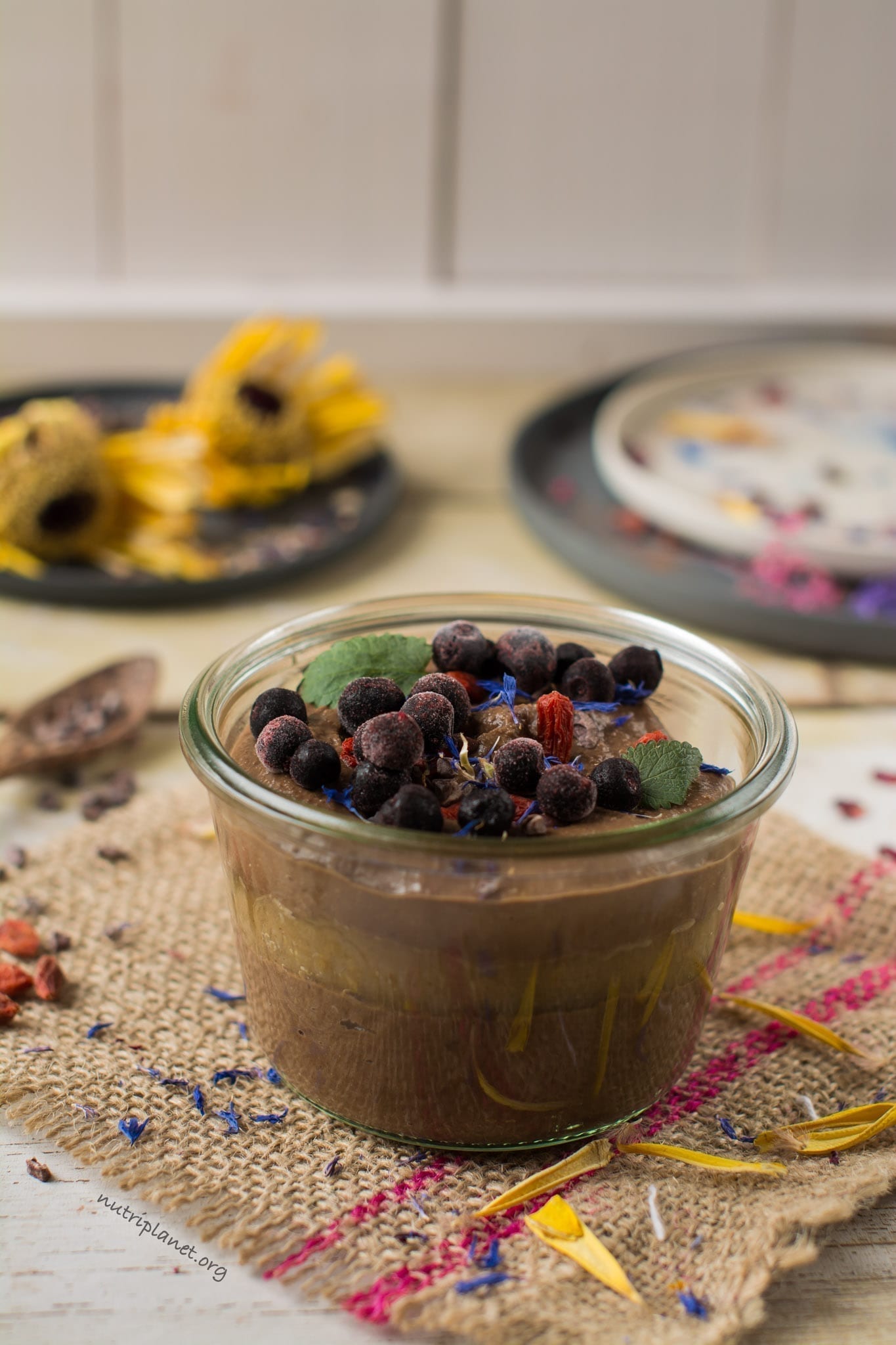 Why I even started to mess about with mung bean porridge, you might ask. Well, my intention was to diminish the amount of grains I was eating to see what effect it might have on my digestion and overall wellbeing. I've followed a low grain menu (I've only had about 15 grams of gluten-free grains daily) for several weeks by now and can report positive results – my blood sugar is much more stable, my head is clearer and digestion's improved. What else can I wish for?
Coming back to my sweet mung bean breakfast porridge recipe, I decided to make it chocolaty, as I adore anything with carob or cocoa in it. However, it is equally delicious for example with barley grass or wheat grass powder as well. Another option is to leave it light coloured like my Chickpea Cookie Dough Bites.
To summarize, my sweet vegan mung bean breakfast porridge is so good because it's:
Vegan and plant based
Gluten free
Grain free
Low glycemic
Low fat
Oil free
Refined sugar free
Candida diet friendly
Prefect go-to breakfast (put it into a jar or container)
Yummilicious!
Watch a series of videos on How to Make Balanced Porridge:
Make this recipe and let me know how you liked it in comments. Or tag me when you share on social media!
Sweet and Creamy Mung Bean Breakfast Porridge
Directions
You can buy sprouted mung beans from supermarket and boil them until soft (about 20 minutes) and then drain. Read how to sprout mung beans at home further down.
Then, add all ingredients into blender or a beaker of immersion blender and process until smooth.
Finally, create layers with applesauce and garnish with some cocoa nibs and fresh or frozen berries of choice.
Nutritional info per serving (doesn't include toppings): 288 kcal, 44.9g carbohydrates (18% of kcal), 4.1g fats (12% of kcal), 8.4g protein (15% of kcal), 19.7g fibre, 16.5 GL points.
P.S. I made calculations with sprouted and cooked mung beans, 90 grams water + 90 grams of oat milk, and 1 tbsp. (13g, 0.46oz) of xylitol.
If you make the recipe with regular cooked mung beans, the GL points would be 21.3. Therefore, if you have sensitive blood sugar, use about 30 grams (1.06oz) less cooked mung beans.
How to sprout mung beans at home
First, soak mung beans in double the amount of cold water for 8-12 hours. Add about 1 tbsp. of apple cider vinegar or lemon juice to your soaking water. This will aid in the development of phytase, the enzyme needed to break down the phytic acid found in grains, nuts, beans, and seeds.
Next, drain and rinse thoroughly.
Place the rinsed mung beans in the sieve over a bigger bowl and cover with folded clean cloth (4 layers would be good). My experience is that if you leave them sprouting in the evening, you'll have nice sprouts already the next morning.
Tips on my sweet mung bean breakfast porridge:
Mung beans are not the only option for this porridge – try lentils, peas, chickpeas or beans as well. As with mung beans, soak and sprout them first, if you want to keep the recipe low glycemic or use a bit less of legumes.
You can use any type of nut flour (protein powder) instead of coconut flour or go crazy and use ten different ones if you like. However, should you choose chia protein powder, you'll need to add more liquid as it absorbs a whole lot more of moisture!
Baobab powder is there for its vitamin C content and sour taste. If you don't have any sour tasting powders (rose-hip, acai, blackcurrant, sea buckthorn, camu camu), then add a bit of lemon juice (and add less plant milk to the batter) or zest.
Carob and cocoa can sub one another, but remember that carob is sweet and cocoa bitter. In case you decide to use more cocoa, you might need to add more sweetener as well.
You can use any plant milk. Again, if you use unsweetened and naturally NOT sweet milks, you might want to add more sweetener of choice.
If you're neither on Candida diet nor need to watch your blood sugar, feel free to use any sweeteners you like, i.e. palm sugar, raw cane sugar, date paste, maple syrup, or agave syrup.
Make a bigger batch for 3-4 days and store in sealed container in fridge.