Gooey and soft vegan gluten free chickpea cookie dough bites aka chickpea cookies that are refined sugar free, oil free, quite low fat and Candida diet friendly.
First of all, I'd like to thank Laura the Fruit Fairy for inspiring me to make those chickpea cookie dough bites aka chickpea cookies with her no-bake cookie dough balls.
Make sure to scroll all the way down to see tutorial video of my chickpea cookie dough bites aka chickpea cookies!
Now, being on vegan Candida diet, I needed to adjust the recipe quite a bit to meet my dietary restrictions. However, to be honest, I haven't been happier about a recipe for ages. Well, except last week for my chocolate mint brownies and then the other week about the chocolate chip blondies, but still… You know what I mean, right? Those chickpea cookie dough bites aka chickpea cookies really are something special!
The best thing about them is that you don't even need to bake them, if you're too lazy. Still, I prefer to, because I tend to eat fewer when they're cooked.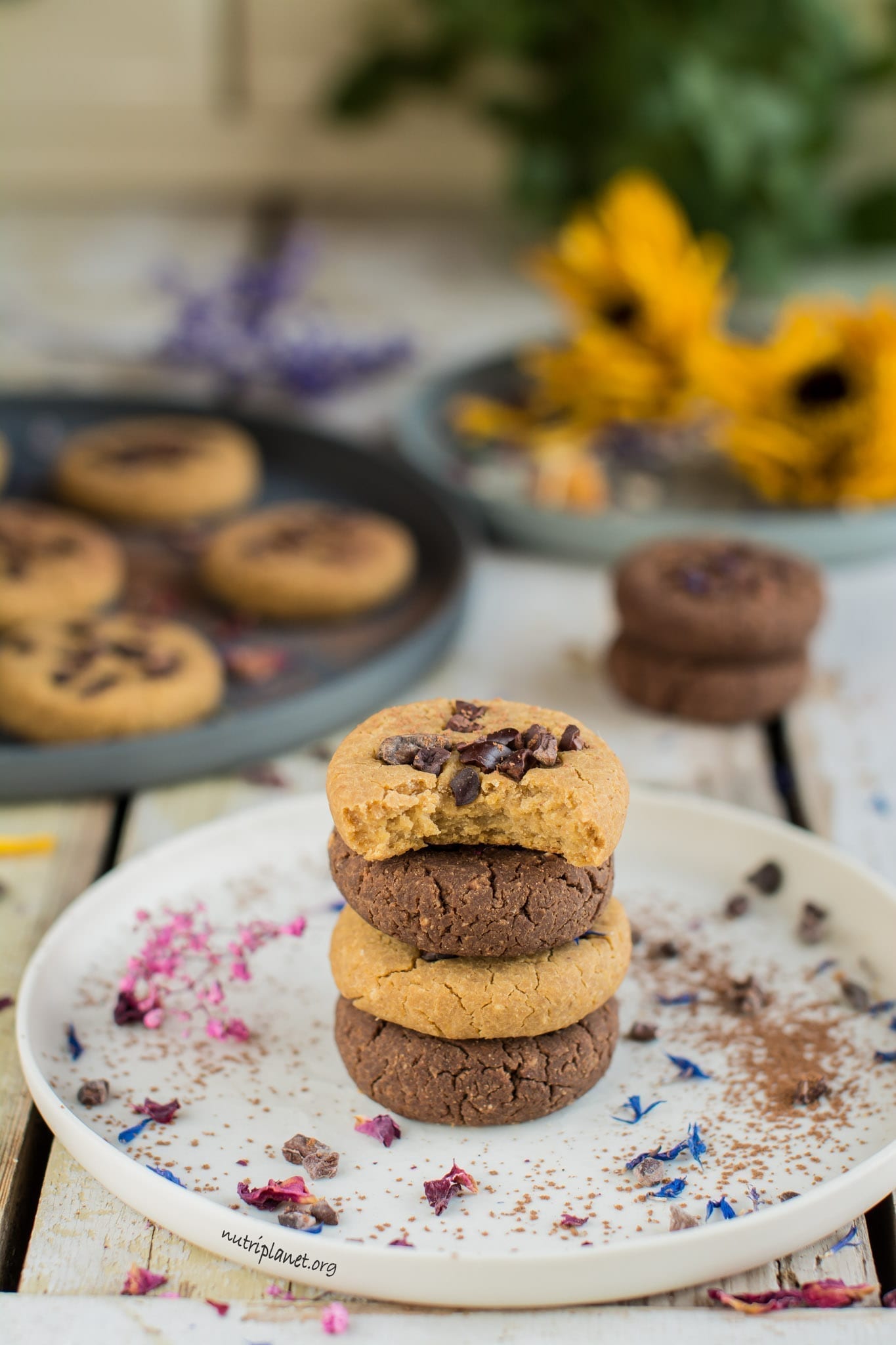 Those chickpea cookie dough bites are excellent because they are:
Gluten free
Refined sugar free
Oil free
Low fat
Candida diet friendly
Now then, whether you are gluten intolerant, on Candida diet, following a low fat diet or low glycemic load diet, those cookies will brighten up your day. And it'll not come in expense of your health and well-being. Be sure to check the nutritional data below for GL points not to overeat.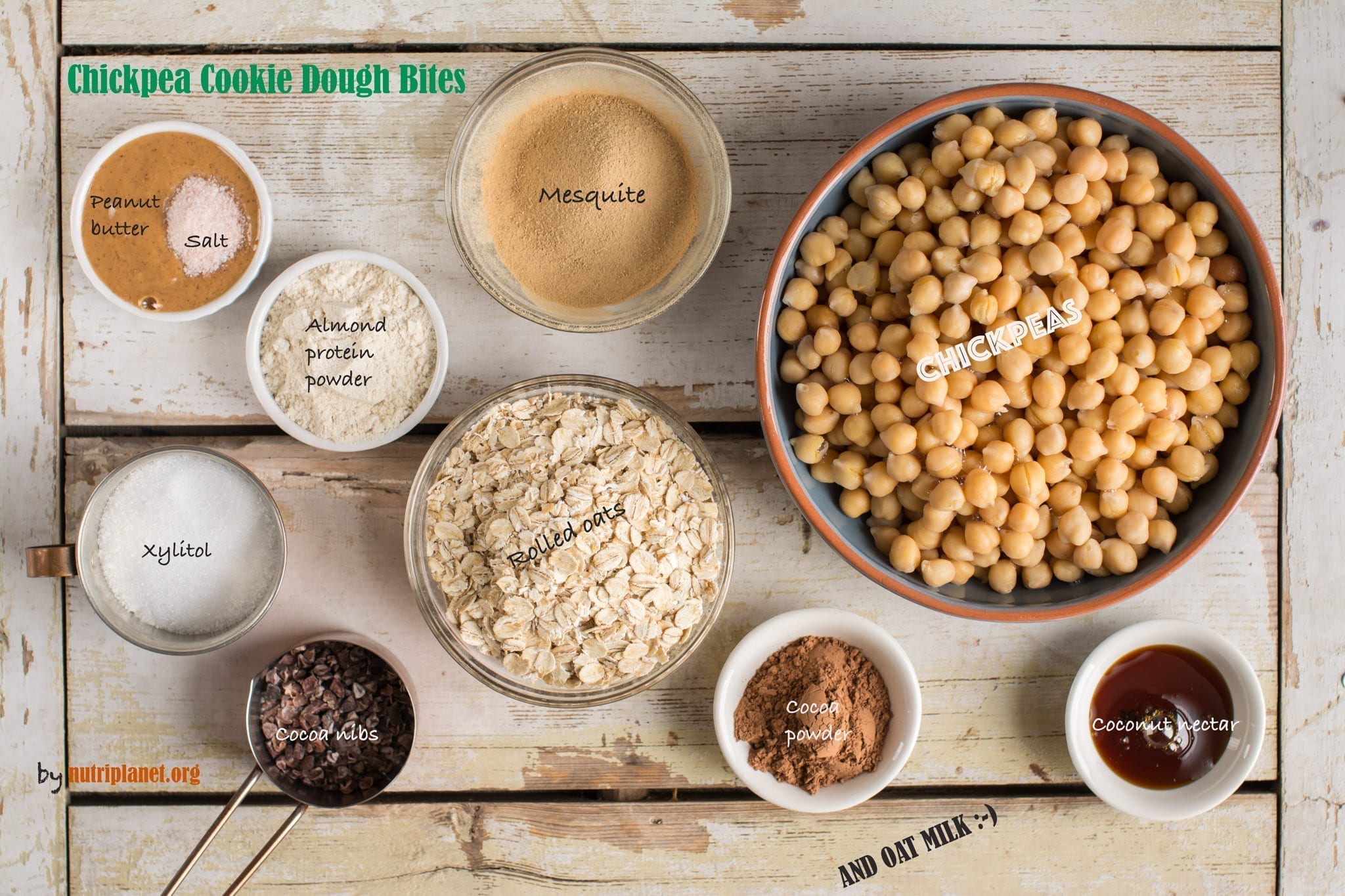 The qualities of my vegan chocolate chip chickpea cookie dough bites aka chickpea cookies go even further:
Perfect for beginners and lazy cooks
Ideal to offer when entertaining or bring with you when visiting
Excellent for batch cooking for a week (freeze them raw or baked)
Awesome grab-and-go item
Gooey and soft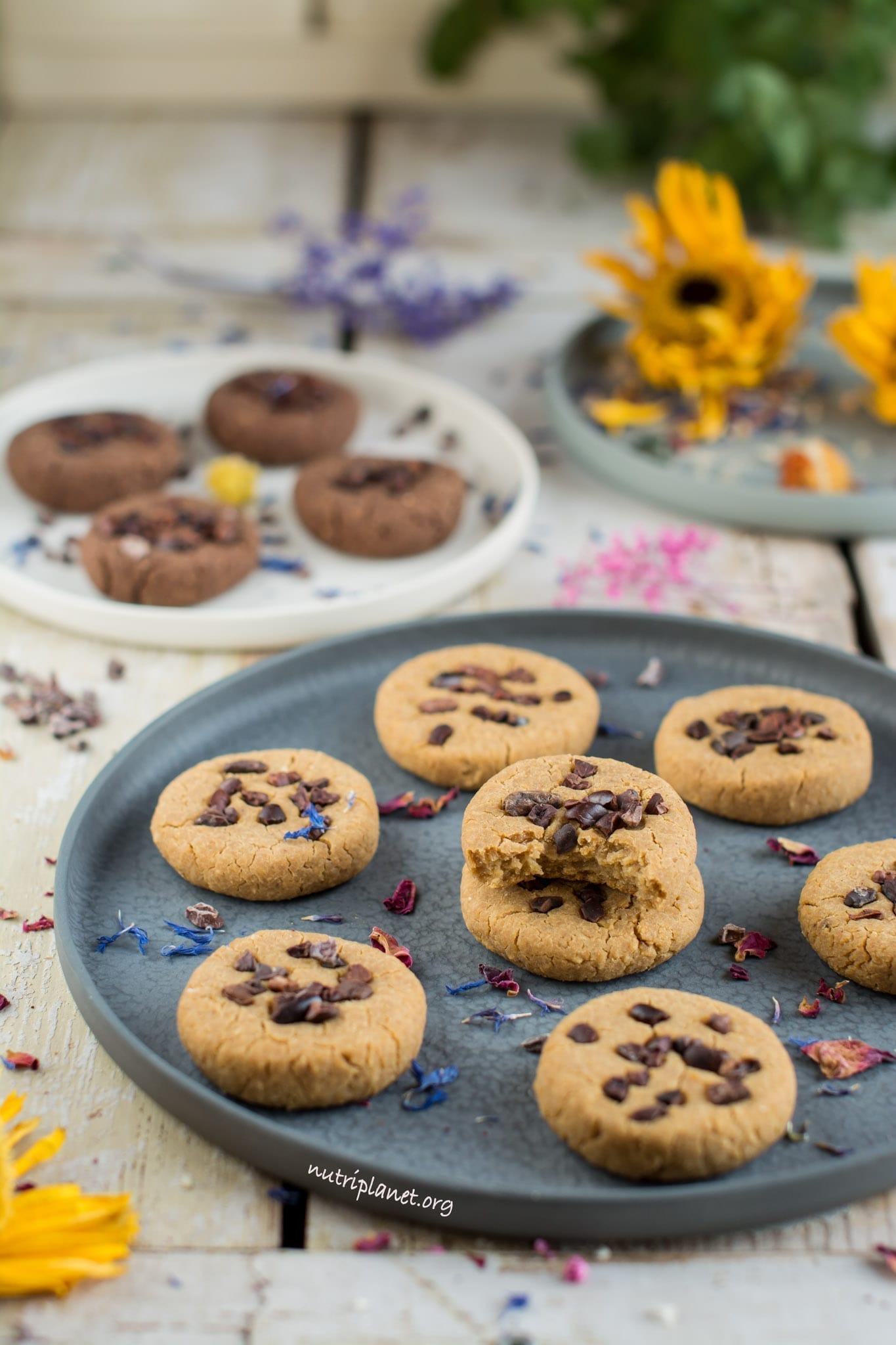 Finally, you'll only need food processor, a spoon, a bowl and a sieve (to rinse chickpeas) to make those chickpea cookie dough bites aka chickpea cookies. A kitchen scale would also come handy if you want your cookies to be even-sized.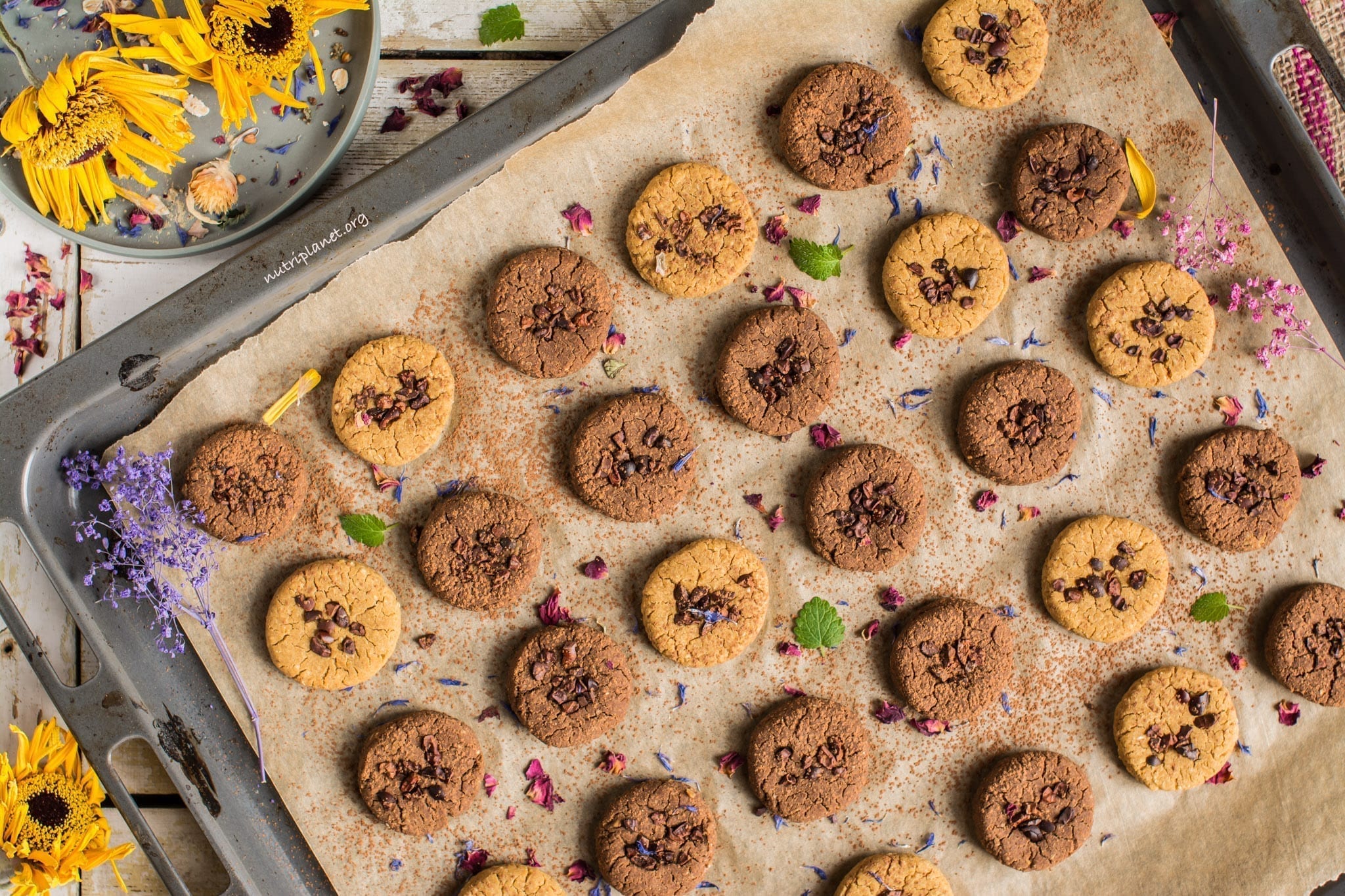 So, it's a must-try recipe! Do let me know how they turned out in the comments below, or if you have any questions or just wish to say hi! 🙂
Chickpea Cookie Dough Bites aka Chickpea Cookies
Ingredients
2 cans of unsalted chickpeas (garbanzo beans)
2 tbsps. (40g, 1.4oz) additive-free peanut butter
½ tsp. Himalayan salt (less, if you use salted peanut butter and chickpeas)
5 tbsps. birch xylitol (or date sugar for Plantricious version)
1 level tbsp. of lemon zest (for Plantricious version) or 6-8 drops of lemon essential oil
2 tbsps. mesquite flour
2 tbsps. almond protein powder or any fat-reduced nut flour
80g (2.8oz) rolled oats
100g (3.5oz) unsweetened oat milk
4 tsps. cocoa powder (add later)
Cocoa nibs (add later)
Directions
First, rinse and drain the chickpeas well.
Then, add all ingredients except cocoa powder and cocoa nibs into food processor and process until you have homogeneous batter. Scrape the sides as necessary.
Next, transfer half of the dough into a bowl and add cocoa powder to the remaining half and process again. Add an additional splash of plant milk if necessary.
Now, weigh about 19 gram (0.67oz) cookies and place them on baking sheet covered with parchment paper. You'll get 40 cookies if you don't eat the dough, which is quite impossible of course 🙂
Shape the cookies with your hands (see tutorial video below).
Finally, press some cocoa nibs onto each cookie and bake them at 190°C (375°F) for 20 minutes.
Nutritional info (1 serving, i.e. 5 cookies, with about 0.3 grams of cocoa nibs per cookie): 194 kcal, 22.7g carbohydrates (65.4% of kcal), 5.75g fats (26.7% of kcal), 9.19g protein (19% of kcal), 7.35g fibre, 66.7mg sodium, and 12 GL points.
I calculated the above with 454 grams of chickpeas, because this was how much I got from 2 cans 🙂
Nutritional info with date sugar: 205 kcal, 25.2g carbohydrates (66.5% of kcal), 5.86g fats (25.7% of kcal), 9.27g protein (18.1% of kcal), 7.28g fibre, and 66mg sodium.
Tips on my vegan chickpea cookie dough bites aka chickpea cookies:
Use any kind of sweetener instead of xylitol, if you don't struggle with Candida overgrowth or unstable blood sugar.
Any nut butter can be used in place of peanut butter. However, I wouldn't recommend dark tahini for its bitter taste.
You can add lucuma powder or yakon powder instead on mesquite or replace it with any nut flour, i.e. almond, peanut or coconut.
It's OK to substitute oat milk with any other plant milk.
Now, those cookies are quite sweet to my taste, so feel free to add less of the sweeteners.
Feel free to use dark chocolate chips instead of cocoa nibs.
Finally, you don't necessarily need to bake two colours, but you may stick to light or brown cookies only.