This healthy gluten-free vegan carrot cake absolutely blew my mind with its lemony cream cheese frosting and cranberries hidden inside. Despite its fancy facade, my carrot cake recipe is pretty easy, requiring only 10 ingredients (not counting salt, sweetener, baking powder and optional ingredients), 2 bowls, a spoon and baking tin to make.
Let me tell you in the beginning that this cake is no low-fat treat, but all the fats come from whole food ingredients. My vegan carrot cake doesn't contain any refined oils or vegan butter/margarine that most vegan cake recipes do.
Up until now I was no fan of frosted cake recipes, but this carrot cake with the smooth and creamy and so perfectly lemony vegan cream cheese totally changed my mind. To be honest, I try not to make it too often, as we'd just eat the cake at one go 🙂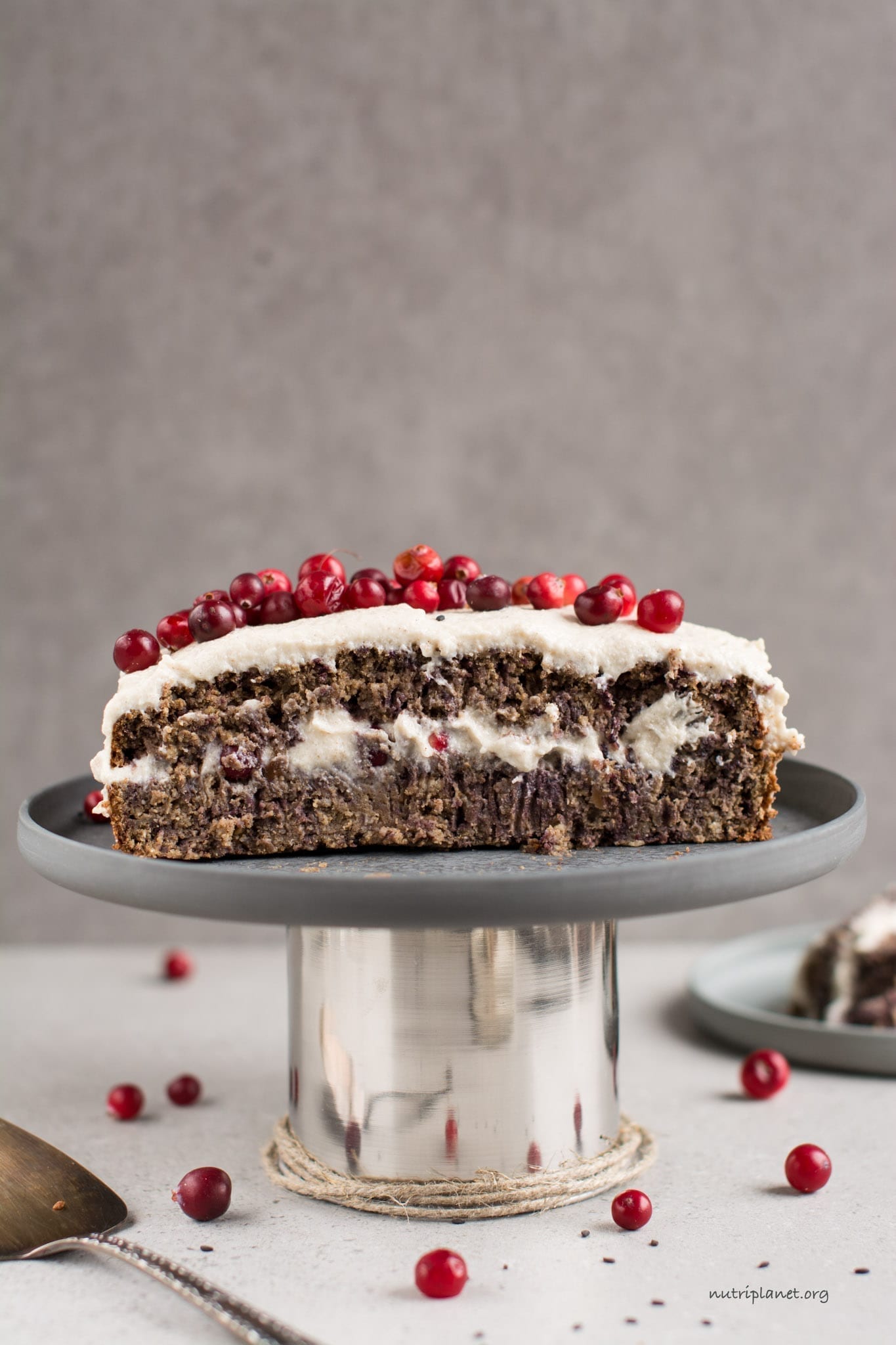 I love this recipe because you can make the cake in different shapes for different occasions:
Make simple loaf and slice it for everyday consumption (with or without frosting).
Take a round cake tin and prepare frosted and decorated cake for festivities.
Finally, a square or rectangle shape will make cute chubby cake pieces with frosting or without.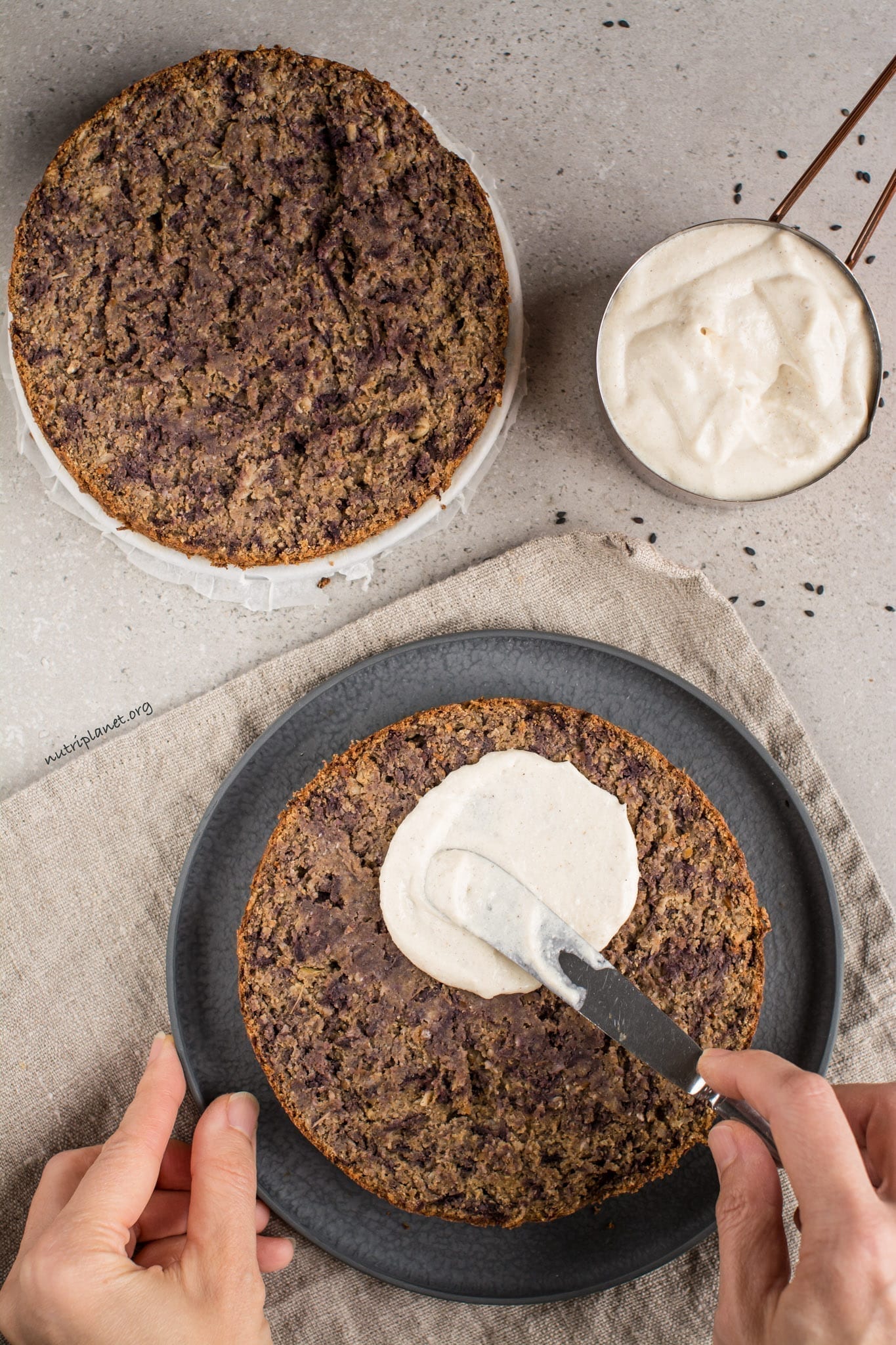 It's important to note, that even though I marked cranberries as optional ingredient, I strongly recommend including them in the recipe. In my opinion this carrot cake absolutely needs those small sour bites hidden inside to give it the right accent. Of course, you might think otherwise!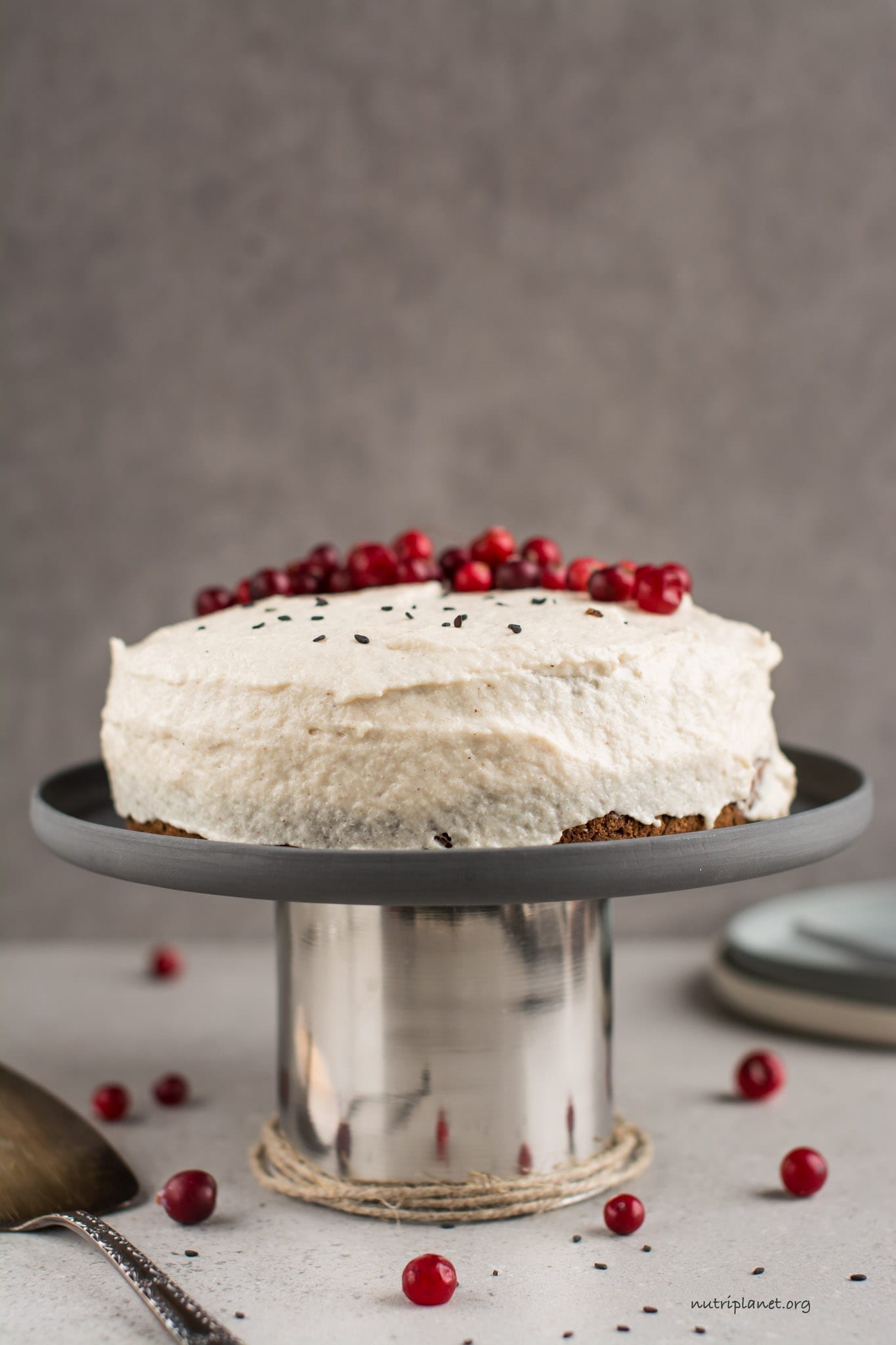 What's special about my vegan carrot cake is that it's:
Gluten-free
Oil-free
Low glycemic
Candida diet friendly
Nut-free and peanut-free (use nut or seeds butters that suit you)
Soy-free
Refined sugar free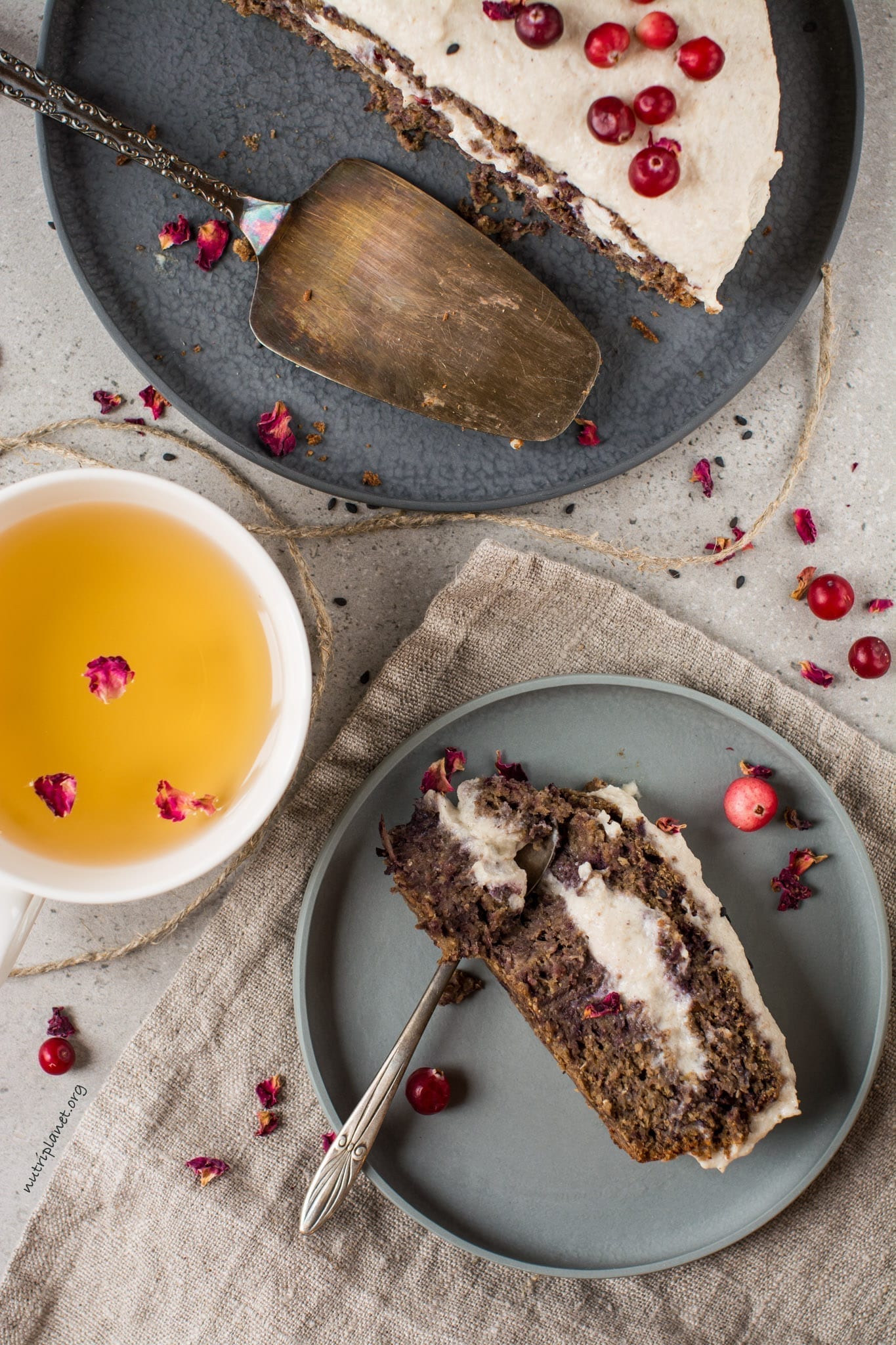 Finally, I'd love to hear from you when you've made this cake. Please leave me a comment below and tag me in social media!
Enjoy!
Vegan Carrot Cake Recipe
Ingredients:wet
1½ tbsps. ground chia seeds + 5 tbsps. water
100g (3.4oz) additive-free nut or seed butter
6½ tbsps. birch xylitol (or date sugar for Plantricious version, see more sub info in tips)
130g (4.6oz) unsweetened applesauce
130g (4.6oz) plain plant milk (see tips)
Ingredients:add later
80g (2.8oz) finely grated carrot
¼ cup of fresh or frozen cranberries (optional)
Directions
Start by mixing together ground chia seeds and water. Next, take nut or seed butter at room temperature and mix it into the chia eggs. Add also the other wet ingredients and mix until you have a smooth blend. You may also use regular or immersion blender.
In a large bowl, mix together all the dry ingredients. Then, pour in the wet mixture and stir until you have a homogeneous batter. You may also use food processor.
Next, finely grate the carrot and mix it into the batter along with cranberries.
Line the bottom of a cake pan with parchment paper and grease the sides with coconut oil or avocado oil. Preheat oven to 175°C (350°F) and bake the carrot cake at for about an hour. It's ready when toothpick inserted into the cake comes out clean. The smaller the cake pan you use, the longer it'll take to bake. I used 15cm (5.9inch) round cake tin (my cake came out 4 cm, 1.6 inches thick) and baked it for an hour and 10 minutes. 

Let cool before slicing.
Nutritional info (⅛ of cake without frosting): 202 kcal, 18.9g carbohydrates (52.4% of kcal), 9.29g fats (41.3% of kcal), 7.05g protein (13.9% of kcal), 7.49g fibre, 171mg sodium, and 5.6 GL points.
Nutritional info for Plantricious version (⅛ of cake without frosting): 213 kcal, 21g carbohydrates (53.6% of kcal), 9.44g fats (40% of kcal), 7.22g protein (13.6% of kcal), 7.4g fibre, and 91.4mg sodium.
Serve with light-coloured vegan frosting (optional): Vegan Cream Cheese Frosting (on photos) or Ricotta Cheese Frosting.
Tips for my vegan carrot cake:
Flax eggs are fine to use as egg replacer instead of chia eggs. Take 2 tbsps. of ground flax seeds and mix it with 5 tbsps. of water.
Make sure the nut or seed butter you use is made of nuts or seeds only, i.e. with no additives. I used half tahini and half crunchy peanut butter. Almond butter would also be great in this recipe.
I used 4 tbsps. of birch xylitol and 30 liquid stevia drops to sweeten my carrot cake. 1 tbsp. of xylitol equals about 12 liquid stevia drops.
If you don't have problem with Candida overgrowth or blood sugar spikes, use any sweetener you like, i.e. raw cane sugar, coconut sugar or nectar, date sugar or paste.
Any plant milk will do well in the recipe: almond milk, oat milk, rice milk, cashew milk, hemp milk, soymilk etc. Should you use naturally sweet plant milk (oat and rice), add about 1 tablespoon LESS of xylitol or 12 drops LESS of stevia.
Use any variety of carrots: purple, yellow or orange. I went for purple for its intense colour.
Disclaimer: this post contains affiliate links.