This vegan cream cheese frosting recipe is super quick and easy to make and it really tastes like the dairy cream cheese I remember from my childhood. You only need 4 ingredients + sweetener, 15 minutes of your time and a blender to whip up this lemony, smooth and creamy cashew cream cheese.
Make sure to watch the tutorial video below to see how easy it is!
Cream cheese frosting is one of those essential recipes that every vegan food blogger needs to have up their sleeve, I think! After all, it is so versatile and has so many uses.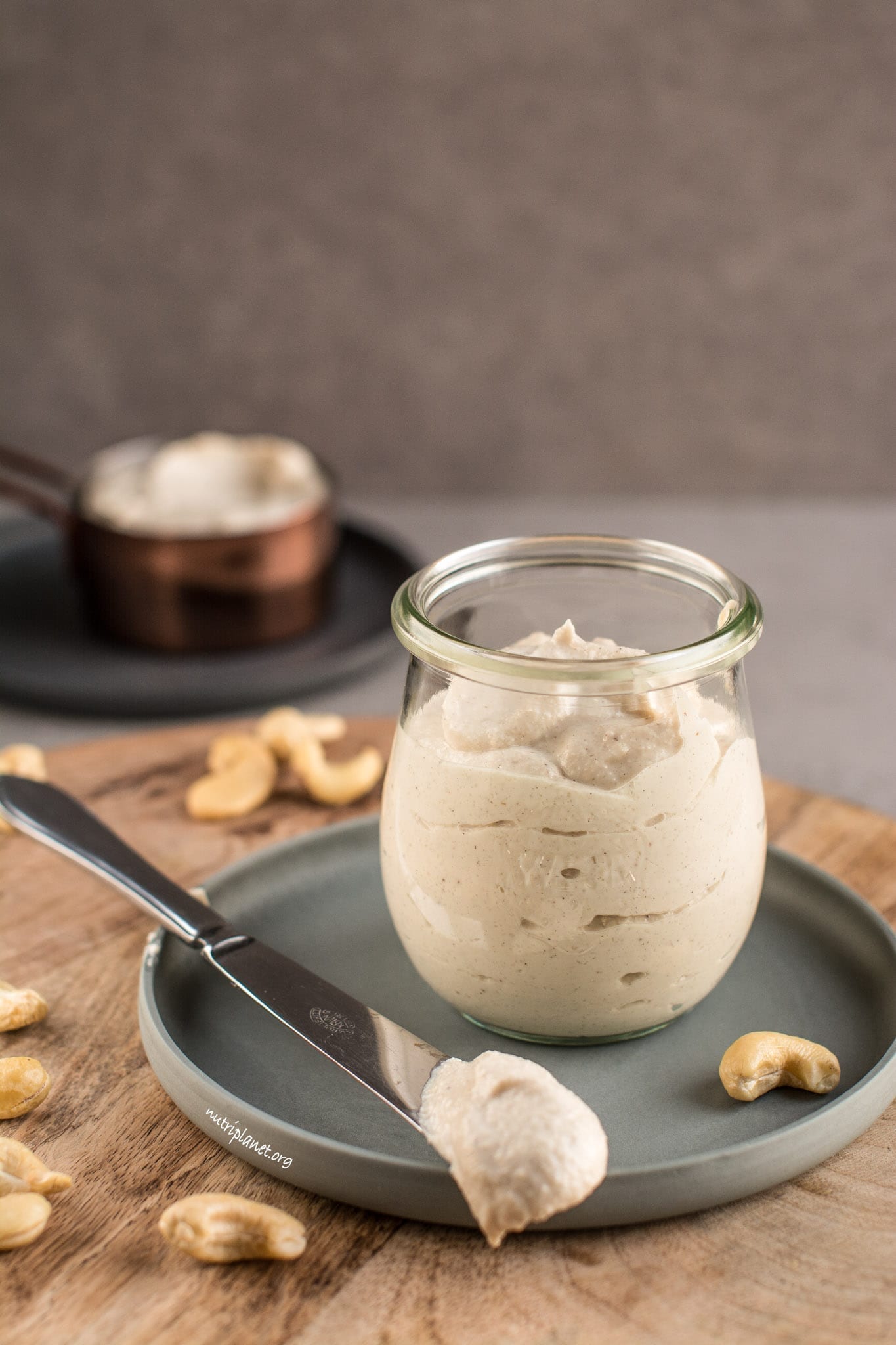 How to use my vegan cream cheese frosting: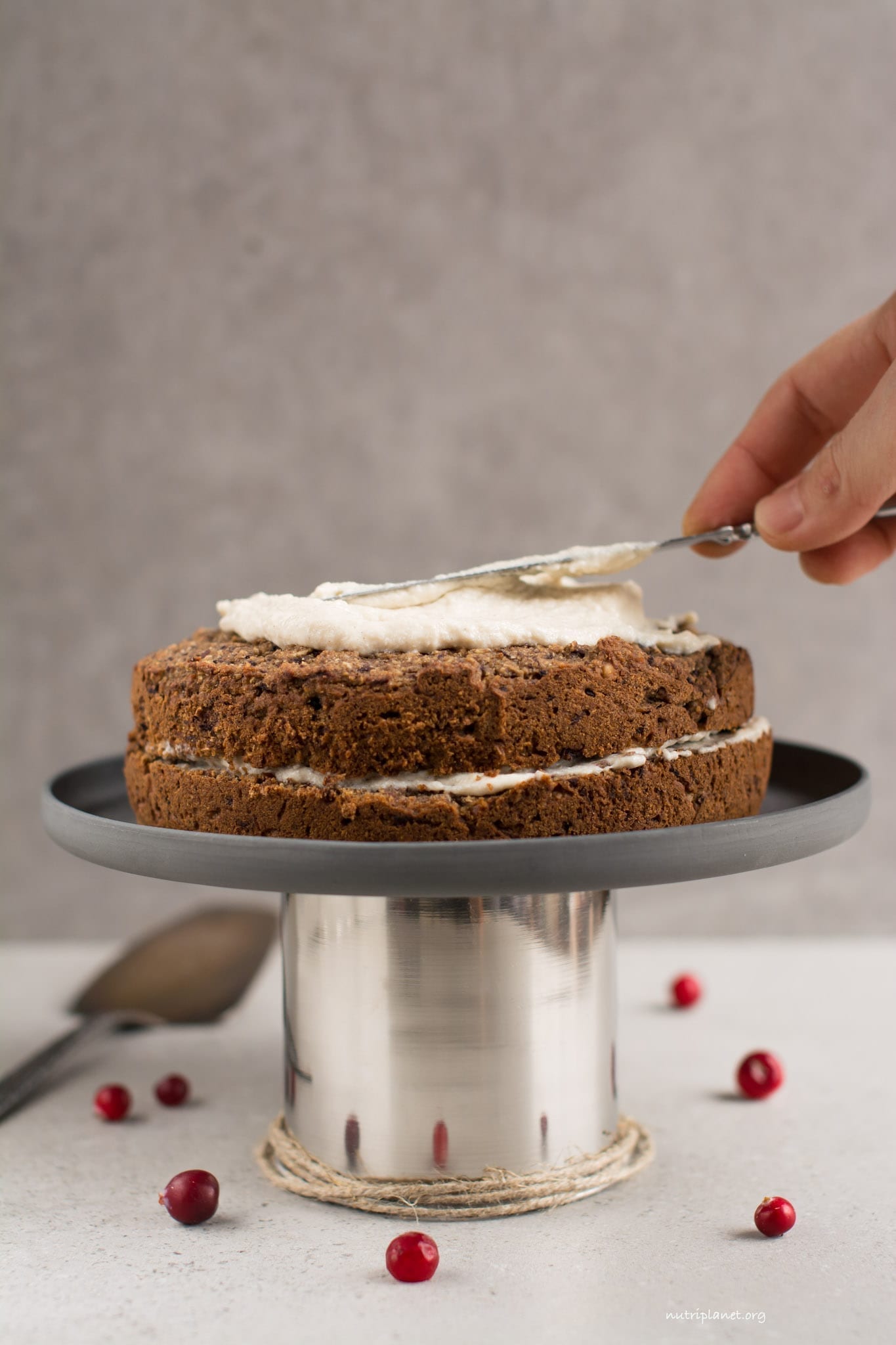 Here's another version of vegan frosting I made with soaked buckwheat – Ricotta Cheese. If you're looking for more vegan frosting recipes, check out Date-Chocolate Frosting, Vegan Caramel Sauce and Healthy Chocolate Sauce.
What I love about my vegan recipe is that all the fats come from whole food ingredients, whereas regular cream cheese recipes use oils such as coconut oil or room temperature vegan butter/margarine.
What's more is that my vegan cream cheese frosting is:
Gluten-free
Dairy-free
Oil-free
Low glycemic
Candida diet friendly
Peanut-free
Grain-free
Finally, I'd love to hear from you when you try my cashew cream cheese frosting! Please leave a comment below and/or tag me in social media!
Enjoy!
Vegan Cream Cheese Frosting Recipe
Ingredients
200g (7oz) of silken tofu or plain plant yogurt (see tips)
100g (3.5oz) of cashews, soak
2 tbsps. of lemon juice (about half a lemon)
⅛ tsp. vanilla
2 tbsps. birch xylitol (or date sugar for Plantricious version)
A pinch of Himalayan salt
¼-½ tsp. of psyllium powder (ditch for Plantricious version)
Directions
Start with soaking the cashews for a few hours. If you're in a hurry, pour boiling water over the cashews and let soak for 15 minutes. Then drain.
Next, blend all ingredients (except psyllium powder) into a smooth cream. You may use regular or immersion blender.
Finally, if your cream cheese needs thickening, add ¼-½ tsp. of psyllium powder. 

In case of any leftovers, store it in fridge in an airtight container.
Nutritional info (⅛ of recipe): 93.2 kcal, 5.67g carbohydrates (28% of kcal), 6.1g fats (56.6% of kcal), 3.6g protein (15.5% of kcal), 0.7g fibre, 8.38mg sodium, and 2.2 GL points.
Nutritional info with date sugar (⅛ of recipe): 97.9 kcal, 6.61g carbohydrates (230.4% of kcal), 6.15g fats (58.7% of kcal), 3.68g protein (15% of kcal), 0.7g fibre, and 8.38mg sodium.
Tips for my vegan cream cheese frosting recipe:
Feel free to use half tofu and half yogurt in this recipe. This is what I did – I took 100 grams of silken tofu and the same amount of plain soy yogurt.
Plant yogurts that would work great in this recipe are almond yogurt, coconut yogurt, soy yogurt, and cashew yogurt.
Should you be allergic to cashews, use soaked and peeled almonds instead. Even soaked sunflower seeds would work.
Add any sweetener you like, if you don't suffer from Candida overgrowth and/or blood sugar spikes. I like to use combination of xylitol and liquid stevia – 1 tablespoon + 12 drops.
Disclaimer: this post contains affiliate links.