This easy veggie stir fry with mushrooms is a perfect quick fix for healthy lunch or dinner. You'll need 15 minutes and a large skillet for my vegetable stir-fry recipe.
The behind-the-scenes story of my vegetable stir fry begins with my kid. One afternoon after school when he was hungry, he'd ask for veggie stir-fry with spaghetti. He'd then name the list of ingredients he had in mind, i.e. zucchini, carrots and mushrooms 🙂 He'd agree that I also added some onion and garlic for extra flavour and an easy veggie stir fry recipe was born. Needless to say he was super happy with the result and has been asking for it ever since.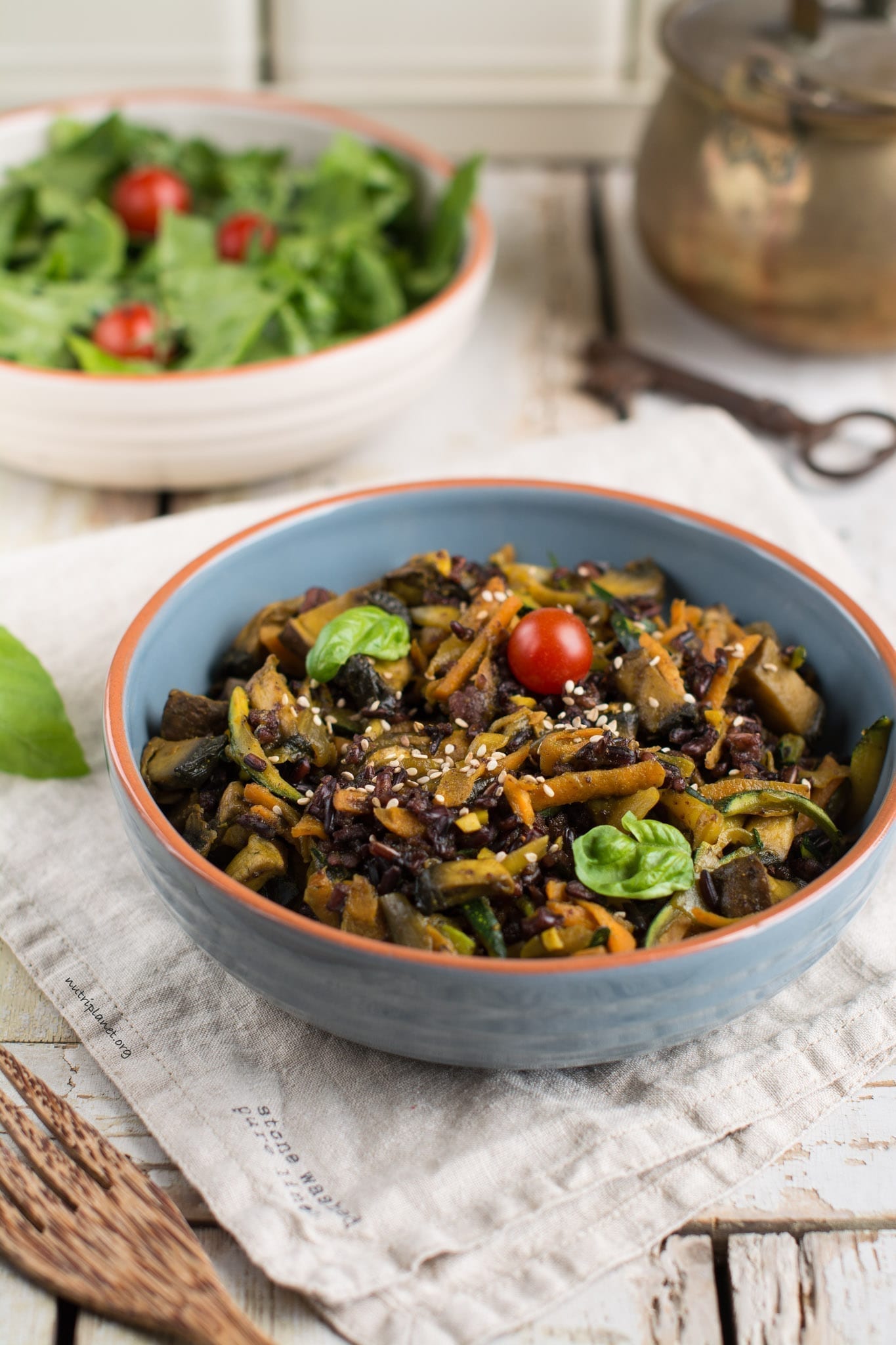 To me, mushrooms are the ones that make this veggie stir fry complete. Should you not be into mushrooms at all, use only veggies, maybe adding a bit more or bringing in another ingredient, such as red bell pepper.
My recipe calls for Portobello mushrooms, but you can use any kinds of mushrooms you like or have in hand, such as chanterelles, white or brown or champignon mushrooms (also called button mushrooms), shiitake, maitake, enoki, porcini, shimeji, (king) oyster mushrooms, or even truffels.
Tips for cooking mushrooms without oil or butter:
Use a large skillet or sauté pan.
Add a few tablespoons of water onto hot skillet. Once it starts to sizzle, add cut mushrooms, give them a stir and cook covered until you see that water starts to separate. Then, remove lid and let the water evaporate.
Spread the mushrooms out in a single layer to maximize their contact with the hot pan and allow moisture to evaporate quickly.
Add salt only at the end when the mushrooms have already shrunk.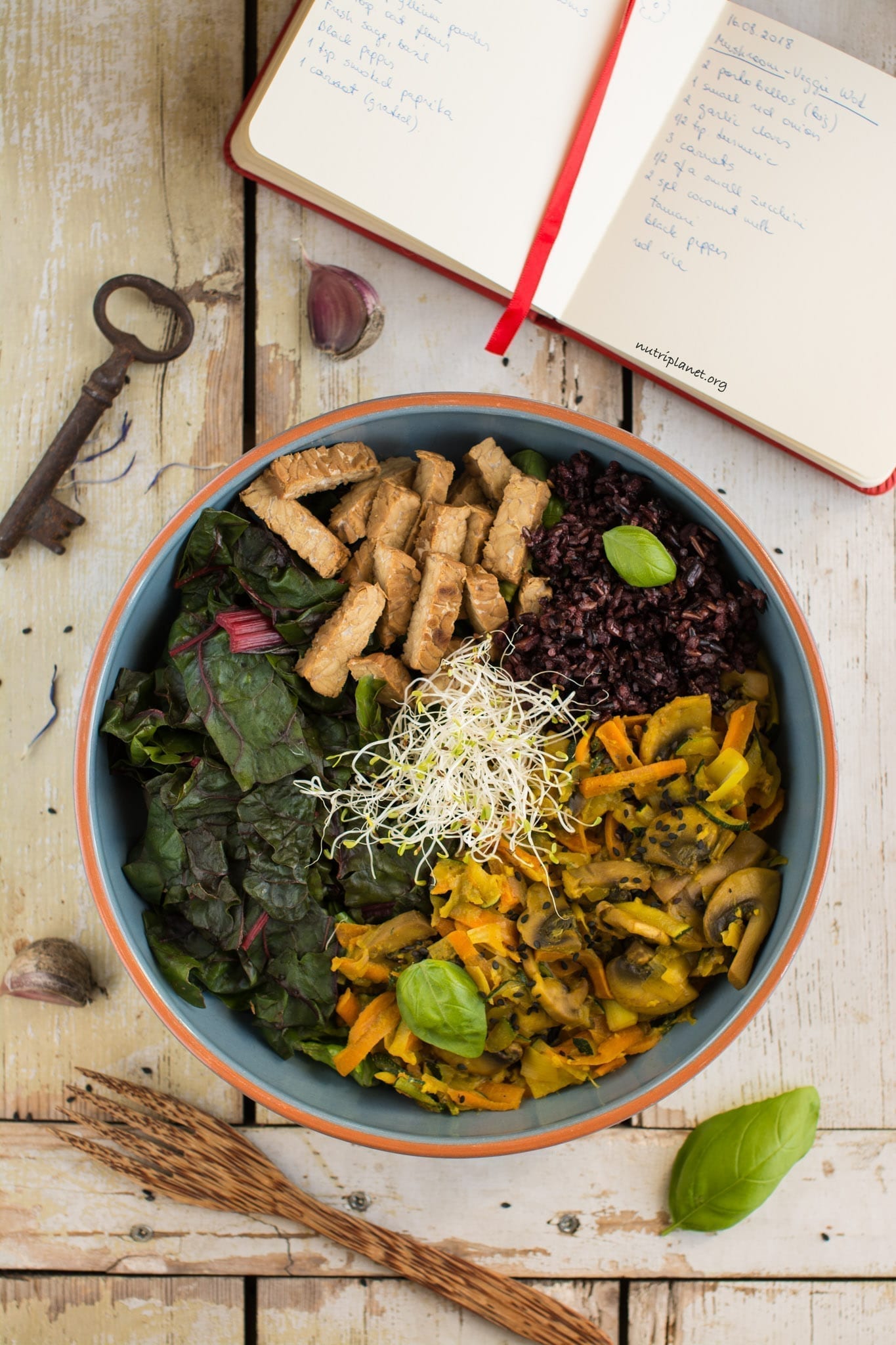 I love this veggie stir fry so much because it's:
A one-pot recipe
Easy to make
Super quick and yet so healthy
Spreading the heavenly flavours of mushrooms, onion and garlic all over your kitchen
Should you follow any dietary restrictions, read this! My veggie stir fry recipe is almost everything-free 🙂
Vegan
Gluten-free
Oil-free
Peanut-free and nut-free
Soy-free
Low glycemic and diabetic friendly
Candida diet friendly
Grain-free
Paleo vegan
Finally, I'd love to hear from you! Are you into vegetable stirs? Let me know what your favourite is!
Enjoy!
Simple Veggie Stir Fry with Mushrooms
Ingredients:2 servings
2 big Portobello mushrooms (or about 170g, 6oz of other kinds)
1 small red or yellow onion
2 garlic cloves
½ tsp. turmeric
3 medium carrots
½ of a smaller zucchini
2 tbsps. coconut milk
Low-sodium tamari sauce and black pepper to taste
Directions
Begin with coarsely grating the carrots and zucchini and chopping the mushrooms, onion and garlic.
Then, heat a large skillet over medium-high heat. Next, sauté mushrooms, onion and garlic for a few minutes, stirring occasionally. Then, reduce the heat to medium and continue cooking, stirring occasionally, until all the moisture has evaporated. It'll take 5 to 8 minutes more. Try to spread the mushrooms out in a single layer to maximize their contact with the hot pan. If you need to add water, do this tablespoon at a time as mushrooms absorb it very quickly.
Next, add turmeric and coconut milk and give it a good stir. After that, it's time to throw in grated carrots and zucchini. Stir-fry for a few more minutes until the veggies are thoroughly heated but still crunchy (al dente). Finish with Tamari or low-sodium soy sauce and black pepper.
Nutritional info (½ of the recipe): 91.5 kcal, 9.42g carbohydrates (67.2% of kcal), 3.28g fats (32.3% of kcal), 3.35g protein (14.7% of kcal), 5.41g fibre, 29.5mg sodium (not including tamari), and 3.3 GL points.
Tips for my veggie stir fry:
Sprinkle some sesame seeds, black or regular, on top.
Have it an addition to salads and Buddha bowls.
Mix with brown rice noodles or other whole grain pasta.
Eat with cooked brown, red or wild rice, quinoa, millet or buckwheat.
Add some beans, chickpeas, edamame beans, peas, lentils or tofu/tempeh for a complete meal.
Make it low in fat by reducing or ditching coconut milk. Use any other additive-free plant-based milk instead.
Disclaimer: this post contains affiliate links.