I don't make cakes very often – I'm more of a bread and muffin person, because they are easier to divide into portions and freeze. However, sometimes I come out of my comfort zone and make the effort to create festive bakes. This vegan chocolaty chocolate cake is definitely something you could bring as a gift to a birthday party or surprise your guests with.
What makes it so chocolaty is that the batter has raw cacao and chopped dark chocolate in it + the frosting includes plenty of raw cacao powder as well.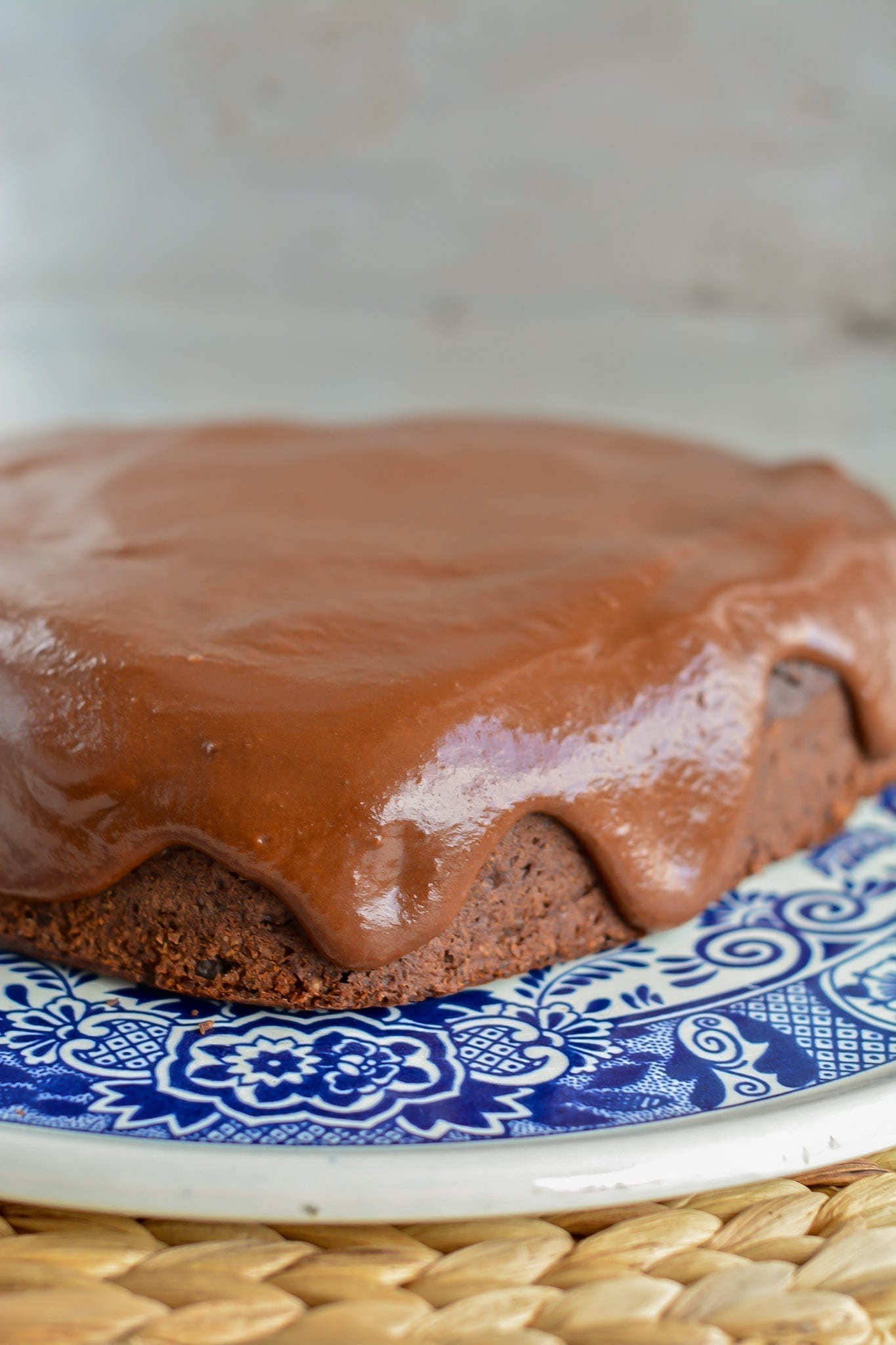 Now, you can make the cake any shape you like. I just happened to find a heart shaped cake tin and wanted to try it out – it'd make a nice surprise to your loved one for birthday, Valentine's Day or just as a reminder of affection.
Needless to say, my chocolaty chocolate cake is whole food plant-based containing no oils or refined sugar, but at the same time not compromising with the taste or enjoyment. The moistness comes from bananas, peanut butter, coconut milk and applesauce instead of oil. This time I used Turkish figs as sweetener as I've also done with my muffins lately and the outcome was very enjoyable indeed.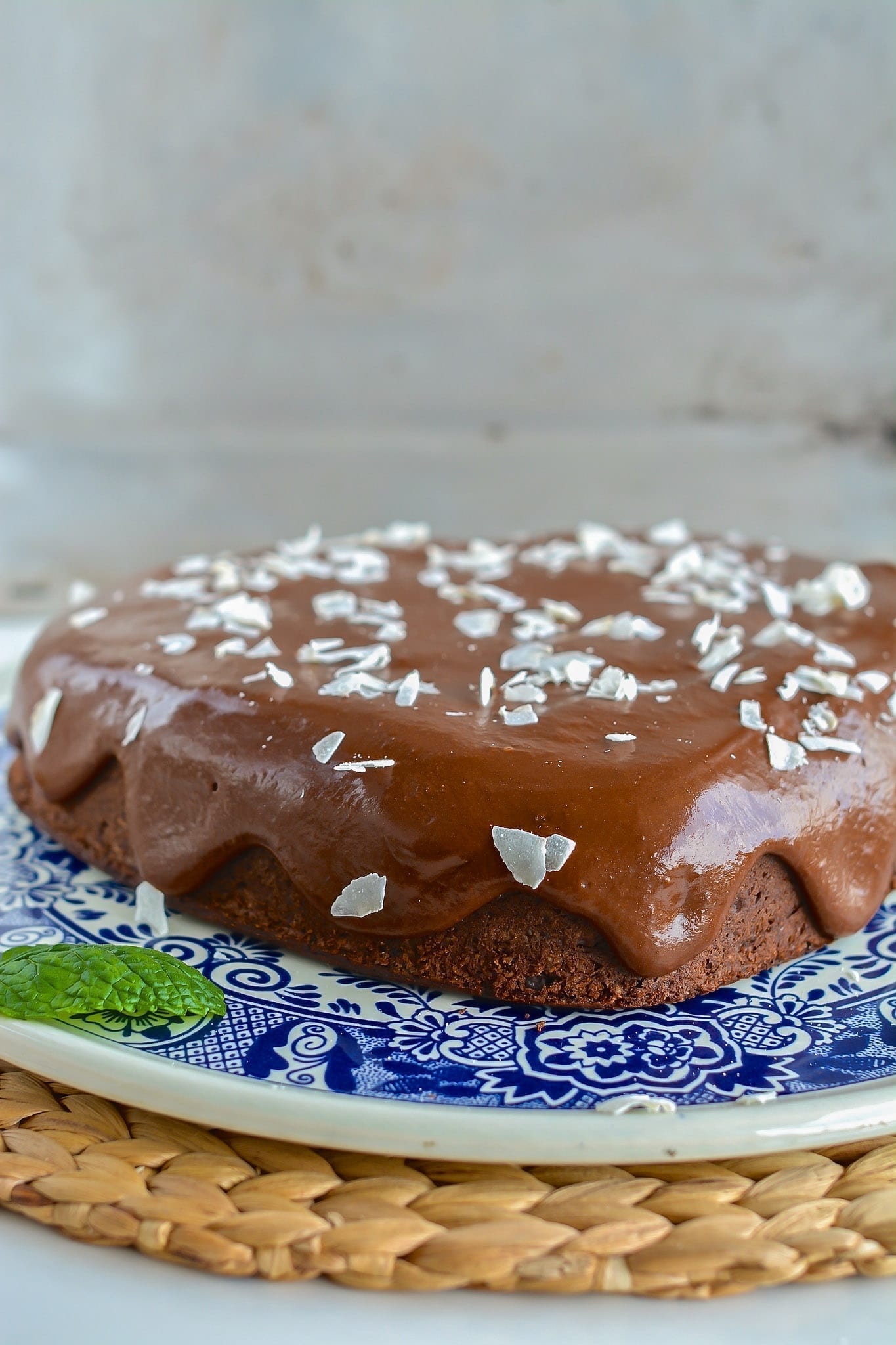 I also decided to make the cake gluten-free by using buckwheat flour for the batter. I find it much cheaper to grind my own buckwheat flour from groats as here in Barcelona, for some reason, buckwheat flour costs much more than the buckwheat itself, which is very reasonably priced.
Heat your piece of cake in microwave oven for a short bit for extra softness and moistness as the chocolate inside melts. It's oh-so-gooey! And no worries – the frosting stays as it is without melting off.
Again I feel I must pass the compliments of my soon-to-be-six-year-old on to you: "Mummy, I'm so happy that you create those delicious and healthy sweet treats!"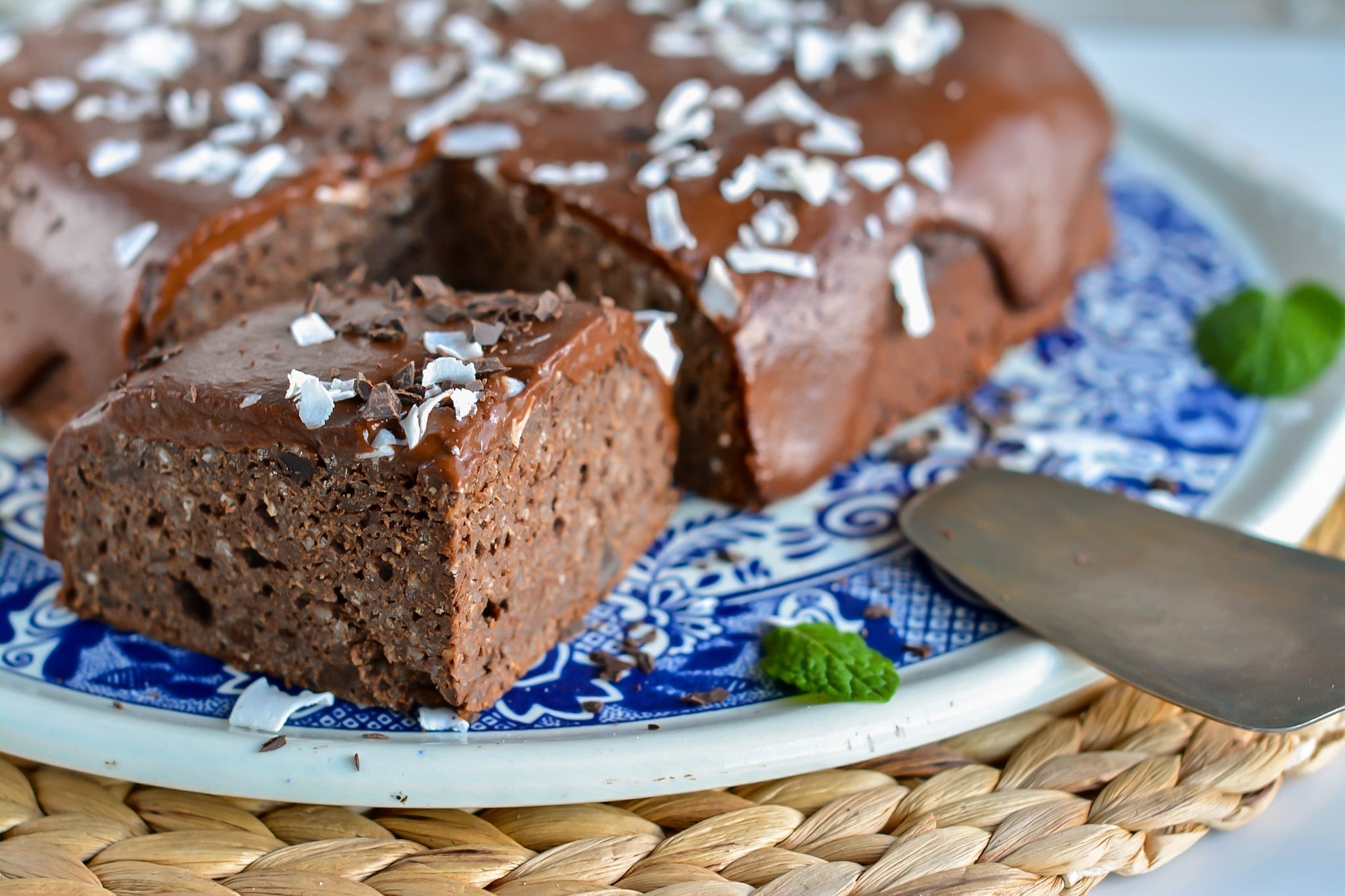 Vegan Chocolaty Chocolate Cake Recipe
Ingredients:The cake's wet mixture
8 extra large Turkish figs (about 25g, 0.88oz each), chopped
200ml coconut milk + 100ml water
2 big ripe bananas
200ml applesauce (about 6 tbsps.)
1 heaped tbsp. peanut butter
Pinch of sea salt
Ingredients:The cake's dry mixture
240g (8.5oz) raw buckwheat flour
4 tbsps. raw cacao powder
2 tsps. baking powder
1 tsp. vanilla
80g (2.8oz) dark (at least 70%) chocolate, chopped (mix in at the end)
Directions:the cake
In a small bowl, cover the chopped figs with water-coconut milk mixture and let soak for at least 15 minutes.
Heat oven to 175 C (350 F).
In a big bowl, mix together the flours, baking powder, vanilla and cacao powder. If you are using vanilla extract, add it to wet mixture.
Place the figs with the soak liquid, bananas, peanut butter, applesauce and coconut milk into a blender and blend until smooth.
Add the wet mixture to the bowl of dry ingredients, and mix with spoon until all the dry ingredients have disappeared.
Now mix chopped dark chocolate into the batter.
Spoon the batter into a round or square or whatever shaped baking tin (bottom lined with parchment paper and sides greased with a bit of coconut oil).
Bake for 30-35 minutes. Let cool in the tin for at least 15 to 20 minutes before removing.
Ingredients:date-chocolate frosting
1 cup dates, chopped
¾ cup (188g, 6.6oz) water
2 tbsps. coconut milk
4 tbsps. raw cacao powder
Directions:date-chocolate frosting
Cut dates into smaller pieces and let soak in ¾ cup of water for at least 30 minutes.
Blend dates, the soak water, coconut milk, salt and cacao into smooth cream. You'll need to scoop with spoon in between.
Directions:decorating the cake
When the cake is cooled, spoon the frosting onto its surface and carefully start spreading it. Let it flow a bit over the edges.
Should you want to spread the sides with knife, cool the frosting in fridge where it thickens.
Sprinkle some shredded coconut and chopped chocolate on top. You may also add some fresh berries, e.g. blueberries and wild strawberries.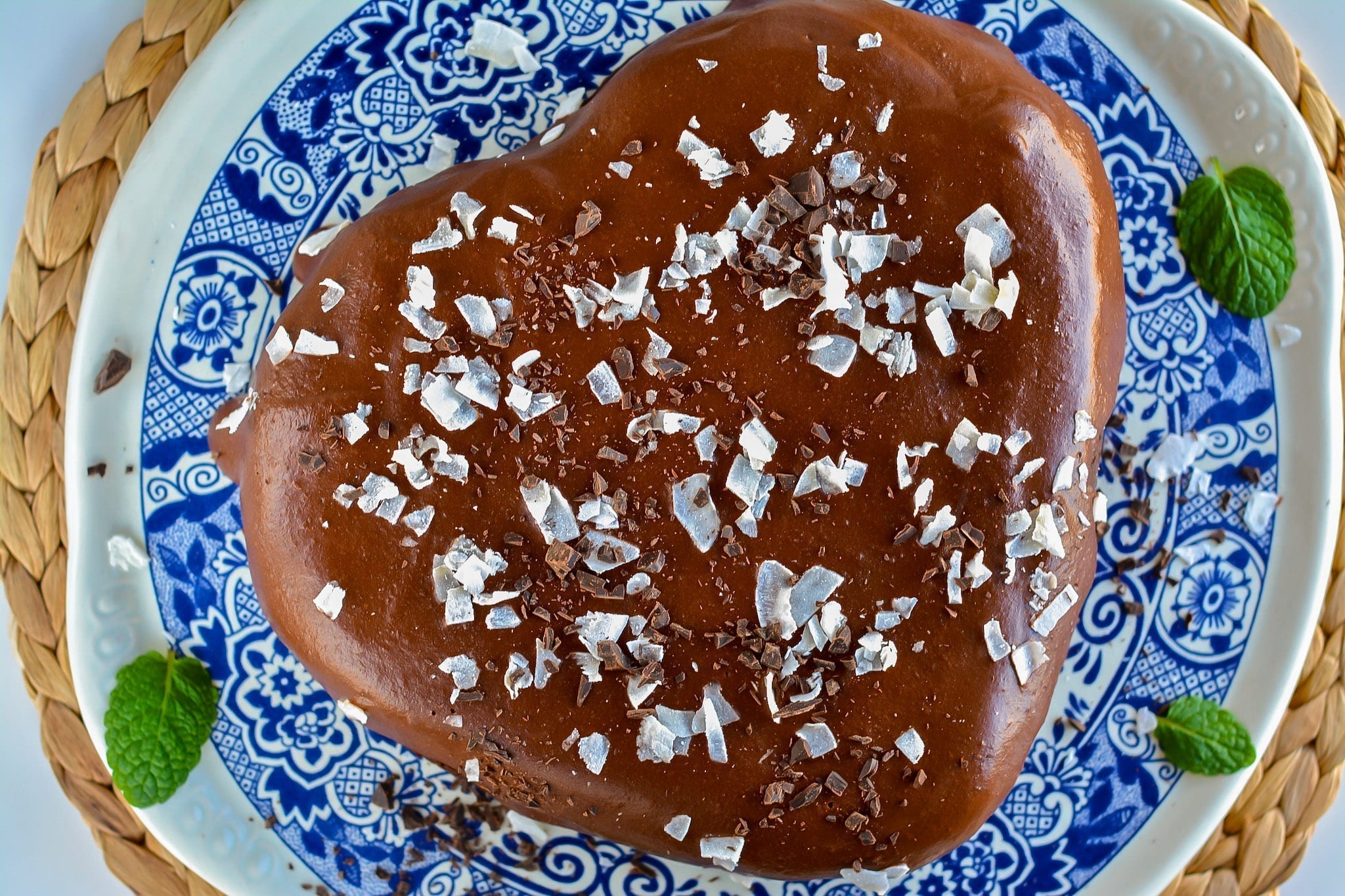 Tips:
If you feel that's too much cacao for you, substitute some of it with carob powder.
If you use tartrate baking powder (like I did), add 10g (0.4oz) to the dry ingredients.
Make your own applesauce – peal and chop apples and boil in a bit of water for 5 minutes. Let cool and puree. Store leftovers in a glass jar in fridge.
Grind your own buckwheat flour by measuring the same amount of buckwheat groats.
I repeat it here under tips (just in case you didn't read the text above) – heat your piece of cake in microwave oven for a bit for extra softness and moistness as the chocolate inside melts.
If you can't find Turkish figs, any figs work. Just weight the same amount, i.e. about 200g (7oz).