It's Valentine's Day on Sunday – I think you've noticed all the heart-shaped food, decorations and much more in shops, supermarkets, cafés etc. In my version, I will deserve chocolaty valentine's day oat-banana cookies.
I guess people usually don't reflect on history of Valentine's Day – sadly, it has turned into a commercial event, often making people feel forced to buy those hearts – again! However, preparing the presents or treats yourself makes the day most certainly special and different. I guess the gift must come from the heart, if one is prepared to spend time on preparing it, don't you think?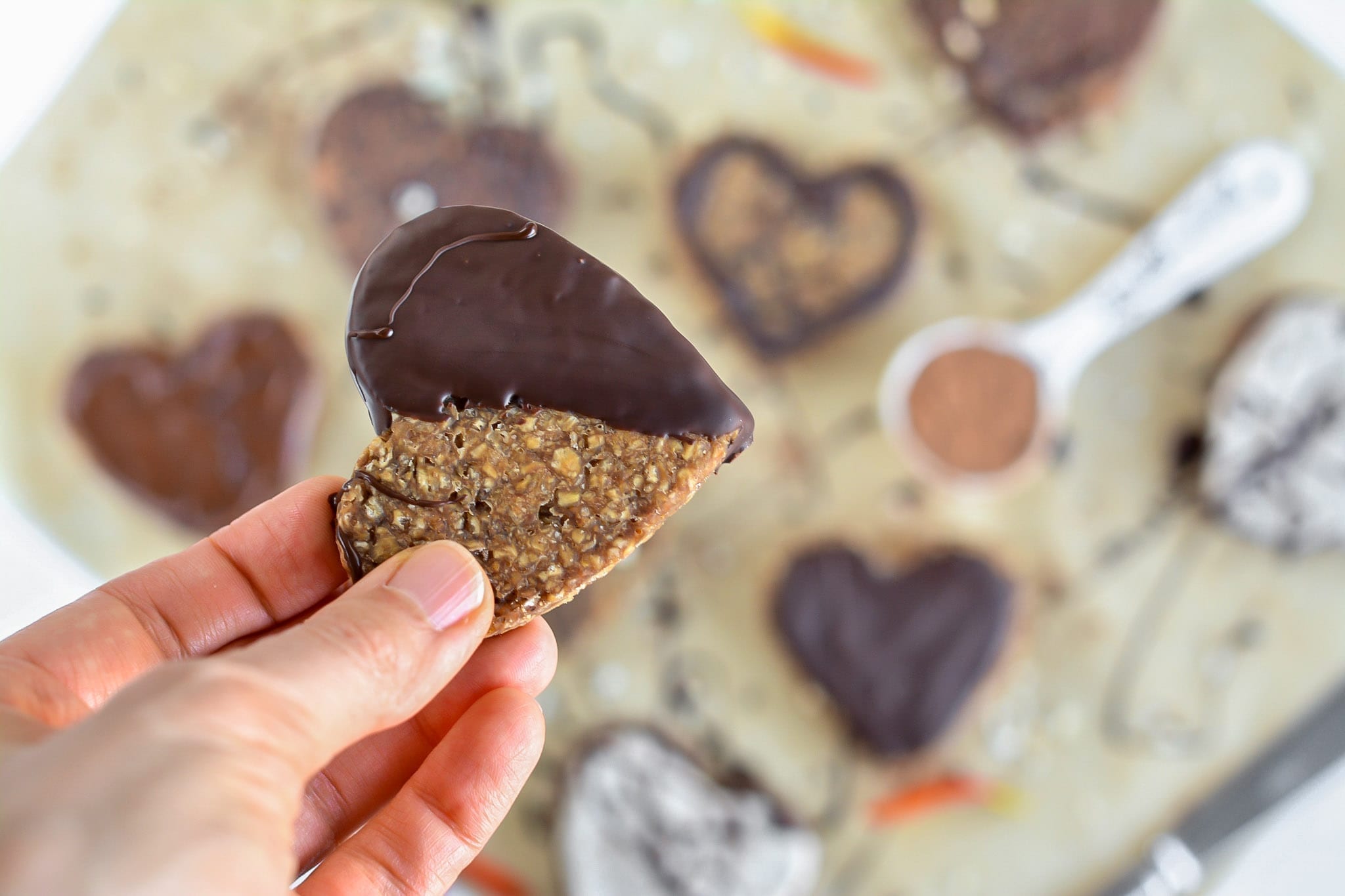 Valentine's Day
One legend goes that Valentine was a Roman priest who lived during the third century. When Emperor Claudius II decided that single men made better soldiers than those with families, he put marriage under a ban for young men. Valentine, realizing the injustice, defied Claudius and continued to perform marriages secretly. When Valentine's actions were exposed, Claudius ordered that he be put to death.
Other legend suggests that Valentine may have been killed for attempting to help Christians escape Roman prisons. According to one legend, an imprisoned Valentine actually sent the first "valentine" greeting himself after he fell in love with a young girl who visited him during his imprisonment. Before his death, it is claimed that he wrote her a letter signed "From your Valentine," an expression that is still in use today.
Some believe that Valentine's Day is celebrated in the middle of February to commemorate the anniversary of Valentine's death around A.D. 270. Others allege that the Christian church may have decided to place St. Valentine's feast day in the middle of February in an effort to "Christianize" the pagan celebration of Lupercalia. Celebrated on February 15, Lupercalia was a fertility festival dedicated to Faunus, the Roman god of agriculture, as well as to the Roman founders Romulus and Remus.
Lupercalia was put under a ban at the end of the 5th century and Pope Gelasius declared February 14 as St. Valentine's Day. It was not until much later when the day became associated with love. During the Middle Ages, it was believed in France and England that February 14 was the beginning of birds' mating season, which added to the idea that Valentine's Day should be a day for romance.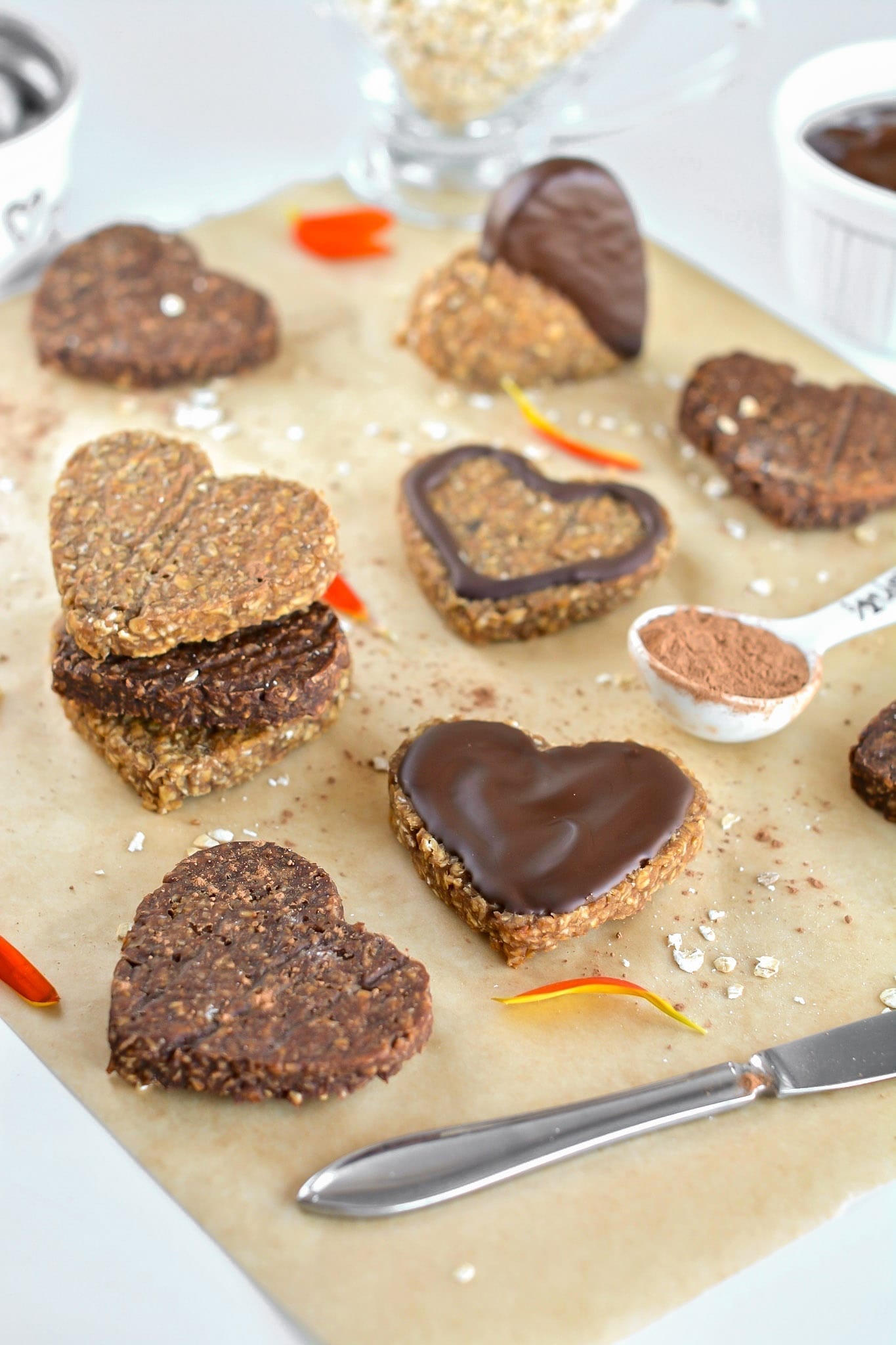 While Valentine greetings were already popular during the Middle Ages, written cards didn't appear until after 1400. The oldest known valentine that still exists today was a poem written in 1415 by Charles, Duke of Orleans, to his wife while he was confined in the Tower of London.
In Great Britain, Valentine's Day began to be popular around the 17th century. By the middle of the 18th, it was common for friends and lovers of all social classes to exchange small tokens of affection or handwritten notes, which were replaced by printed cards by 1900.
Americans probably began exchanging hand-made valentines in the early 1700s. In the 1840s, Esther A. Howland began selling the first mass-produced valentines in America.
Today there are several ways people celebrate St. Valentine's Day – hand-made or store-bought cards, bouquets, chocolate, cake, cookies etc. At the same time I know people who choose to avoid the day entirely just because of its commercialization and remember their friends and loved ones on another day when they're not supposed to do it, thus making the gift more meaningful.
I find it quite sad when holidays that originally have a sweet meaning get turned into a stressful period when people feel obligated to behave in a certain manner forgetting the true meaning of the tradition altogether; Christmas being the best example.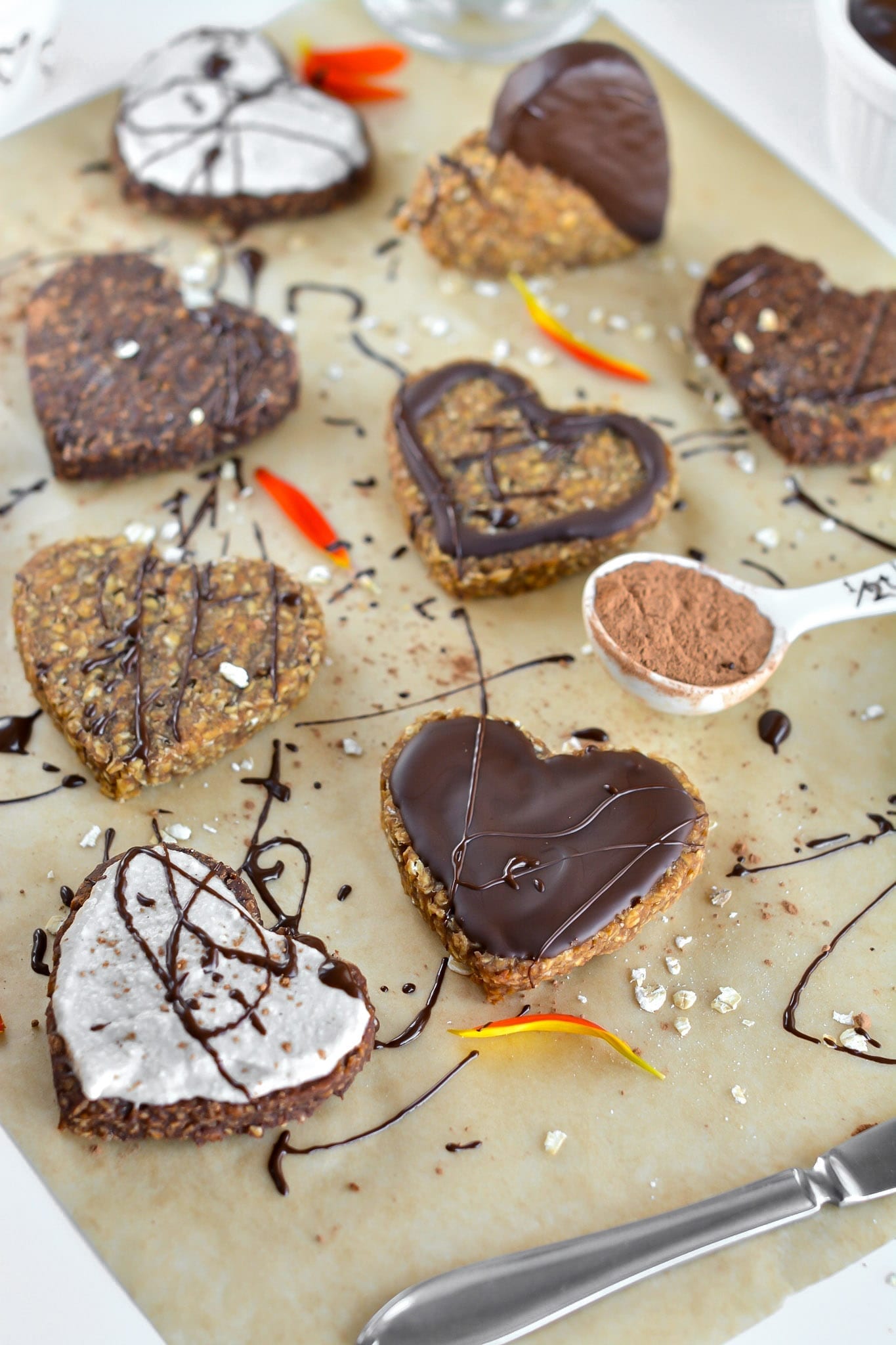 However, I still decided to bake heart-shaped cookies because Valentine's Day is so very popular and because I want to make something delicious and nice-looking to my dear ones.
My whole food plant-based, oil-free, sugar-free and even gluten-free (if you use gluten-free oats) Valentine cookies are so simple, delicious and easy to make that no one should find an excuse to go to a store to search for a treat or gift when you can so easily make your own.
And finally, please let me know in the comments below if you love this chocolaty oat-banana cookies. Please tag me in social media whenever you try one of my recipes! I'd love to see your creations! Instagram @thenutriplanet and Facebook @nutriplanet.health.hub
Print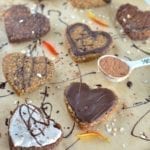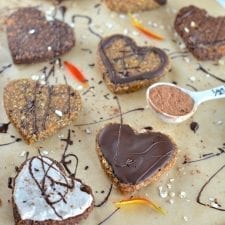 Chocolaty Valentine's Day Oat Cookies' Recipe
---
Description
It's Valentine's Day on Sunday – I think you've noticed all the heart-shaped food, decorations and much more in shops, supermarkets, cafés etc.
---
OAT COOKIES
CASHEW CREAM
½ cup

cashews, soaked

½

banana

1 tsp

. vanilla extract
pinch of sea salt
juice from

half of a

small lemon
enough water or plant-based milk to make it blendable, but not too liquid
DATE-CHOCOLATE CREAM
1 cup

dates

¾ cup

(

188g

,

6.6oz

) water

3

tbsps. cacao powder (or half cacao + half carob)
pinch of sea salt
---
Instructions
OAT COOKIES
In a blender puree bananas and peanut butter with sea salt (or use immerse blender).
In a bowl, mix together banana-peanut puree and rolled oats.
Heat oven to 175 C (350 F).
Line a baking sheet with parchment paper. Take heart-shaped (or any shape you like) gingerbread form(s) and place it on baking sheet.
Take about 35 grams (1.2oz) of cookie batter and press it evenly into gingerbread form. Remove the form helping with the spoon. Repeat until you have 8 cookies on the sheet.
Add 2 tsps. raw cacao powder to the remaining batter. Also, add a few splashes of plant-based milk to help with the mixing.
Repeat step 5 until the batter is finished.
Bake in the middle rack for 16 minutes, and let cool.
CASHEW CREAM
Soak cashews for at least 2 hours. Drain and rinse.
Combine all ingredients in a blender (as it is quite small portion, I used grinder) and blend until thick cream forms. You'll need to help with a spoon. Add the liquid gradually and only as much as needed to combine all ingredients well.
Transfer into a bowl and set aside.
DATE-CHOCOLATE CREAM
Cut dates into smaller pieces and let soak in ¾ cup of water for at least 30 minutes.
Blend dates, the soak water, salt and cacao into smooth cream. You'll need to scoop with spoon in between.
Keywords: chocolaty oat cookies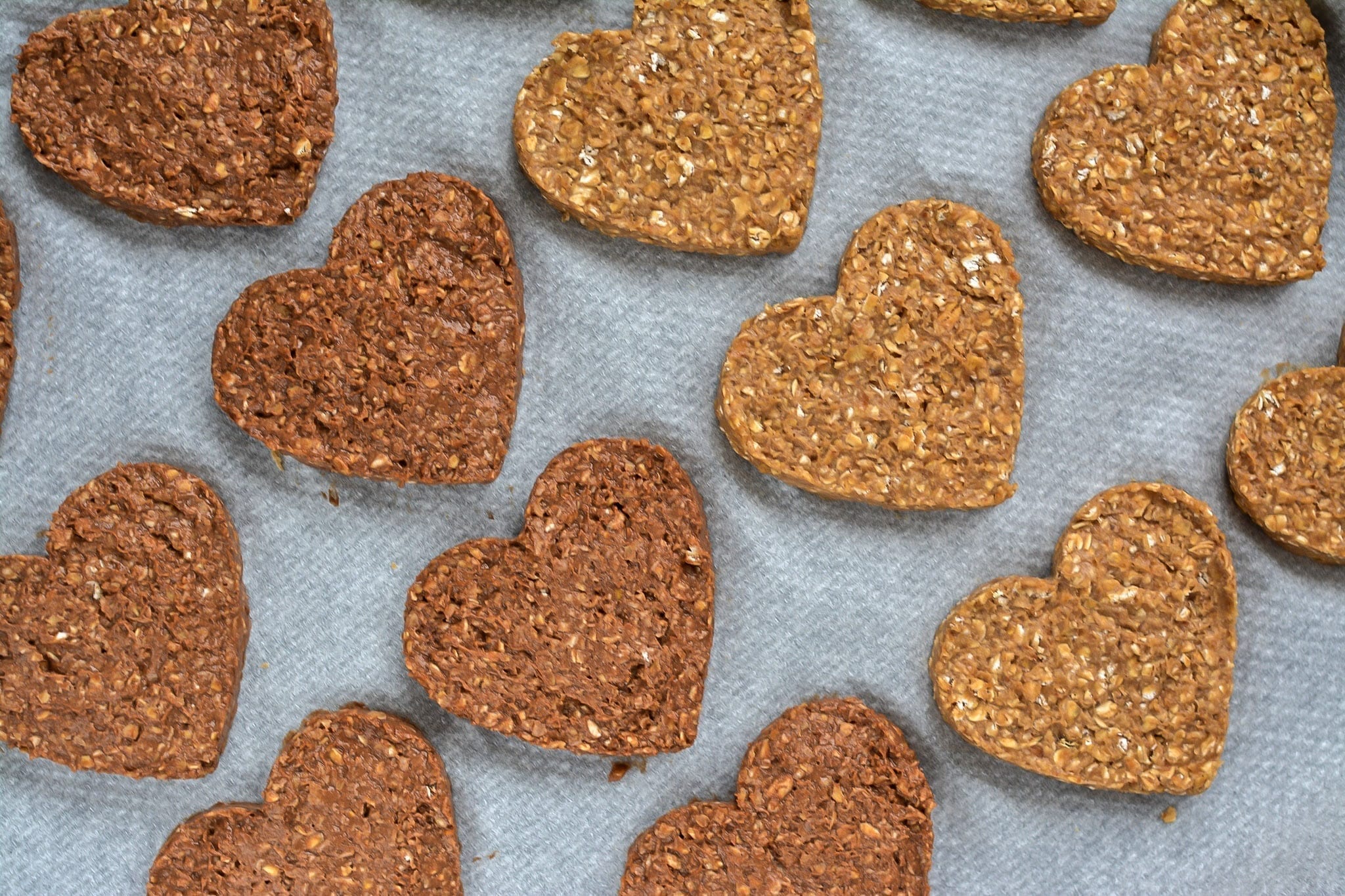 Tips for my chocolaty oat-banana cookies:
Decorate the cookies in any way you like. You may also use melted dark chocolate like I did.
Store the leftover creams and cookies decorated with cream in fridge.
Possible use for leftover creams – add to your morning oatmeal or smoothie, spread on pancakes, use as brownie or muffin topping or eat as is.
You can also make only light cookies by not adding the cacao.
You may prepare only cacao cookies by adding 2 tbsps. (or more) cacao and a bit of plant-based milk or 2 tbsps. of applesauce to the batter.
Should you be in a hurry or just don't feel like messing with the coatings, cut the creams and chocolate and enjoy the cookies as they are.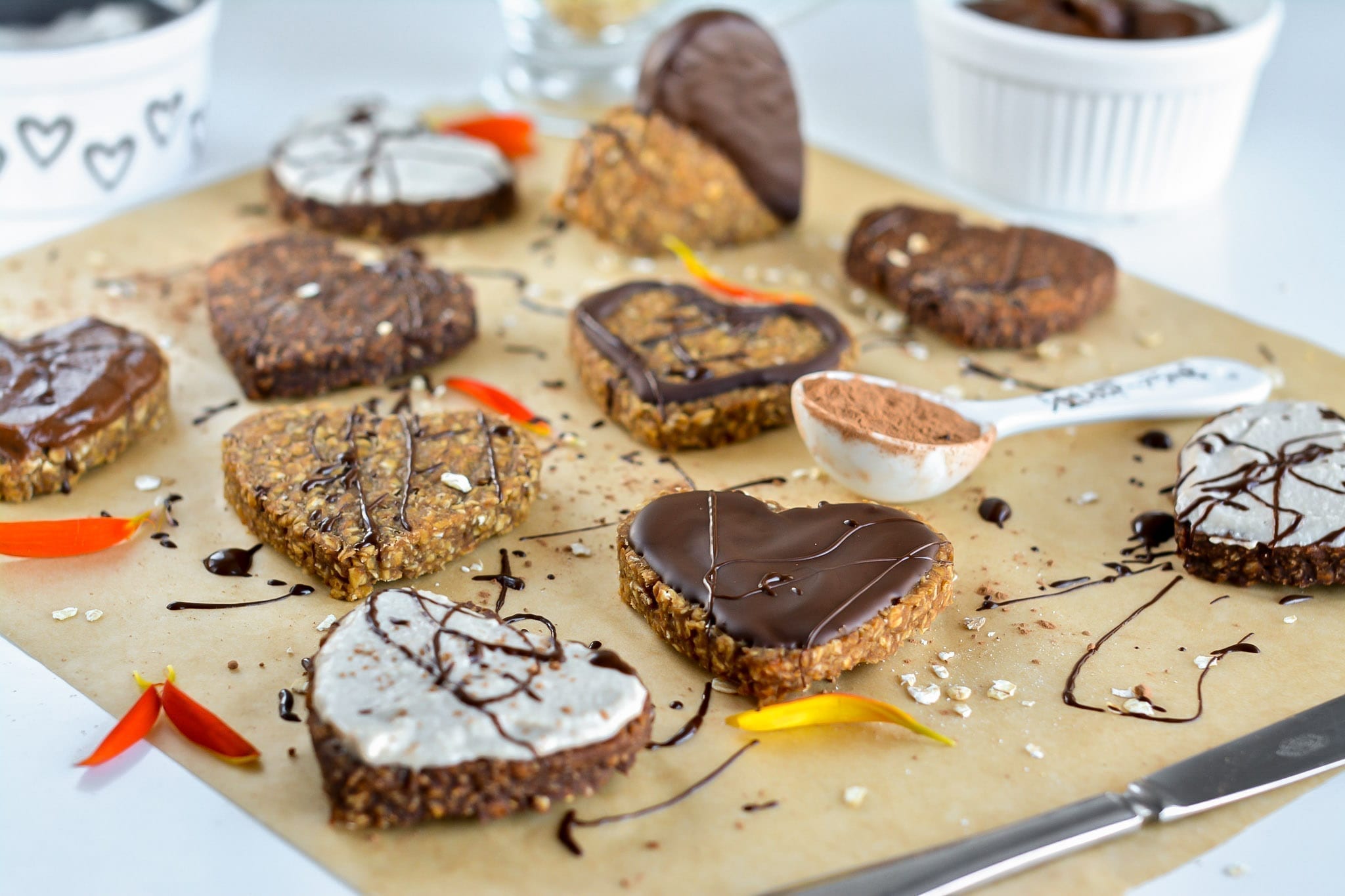 Valentine's Day source: http://www.history.com/topics/valentines-day/history-of-valentines-day