I've made pumpkin stew with chickpeas, cauliflower, tomato sauce and spinach before, but never tried with just two main ingredients. I actually got inspired by the best vegan buffet I've ever encountered – Miobio Vegan Buffet in Valencia where we had several great lunches. On one occasion a deliciously sweet and hearty pumpkin-chickpea stew was served. I decided to recreate the dish at home, also making it oil-free.
My organic butternut squash was so delicious and sweet that I didn't even need any herbs or spices for extra flavour – the sweetness of the squash and onion, the spice of garlic and the heartiness of chickpeas and coconut milk was just perfect combination for comfort food.
The qualities of butternut squash
Butternut squash is low in calories, but high in dietary fibre, vitamin A as well as ß-carotenes, cryptoxanthin-ß, and lutein, which convert into vitamin A inside the body. 100 grams cooked squash contains 223% of RDA (recommended daily allowance) of vitamin A.
Vitamin A strengthens your immune system, helps with vision in dim light and keeps your skin and the linings of some parts of the body, such as nose, healthy.
Butternut squash also contains B group vitamins, such as thiamine (B1), riboflavin (B2), niacin (B3), panthothenic acid, pyridoxine (B6), and folic acid.
B1 helps break down and release energy from food and keeps the nervous system healthy.
B2 is the vitamin for healthy skin, eyes and nervous system. It also helps to release energy from food, as does panthothenic acid.
B3, besides helping to release energy from food, keeps our nervous system and skin healthy.
B6 allows the body to use and store energy from protein and carbohydrates in food and helps to form haemoglobin.
Folic acid is folate in its natural form and it collaborates with B12 to form red blood cells and helps to reduce the risk of central nervous system defects in unborn babies.
The mineral content goes as follows: calcium, copper, iron, magnesium, manganese, phosphorus, selenium, zinc.
So, we really have a nutrient-dense food here!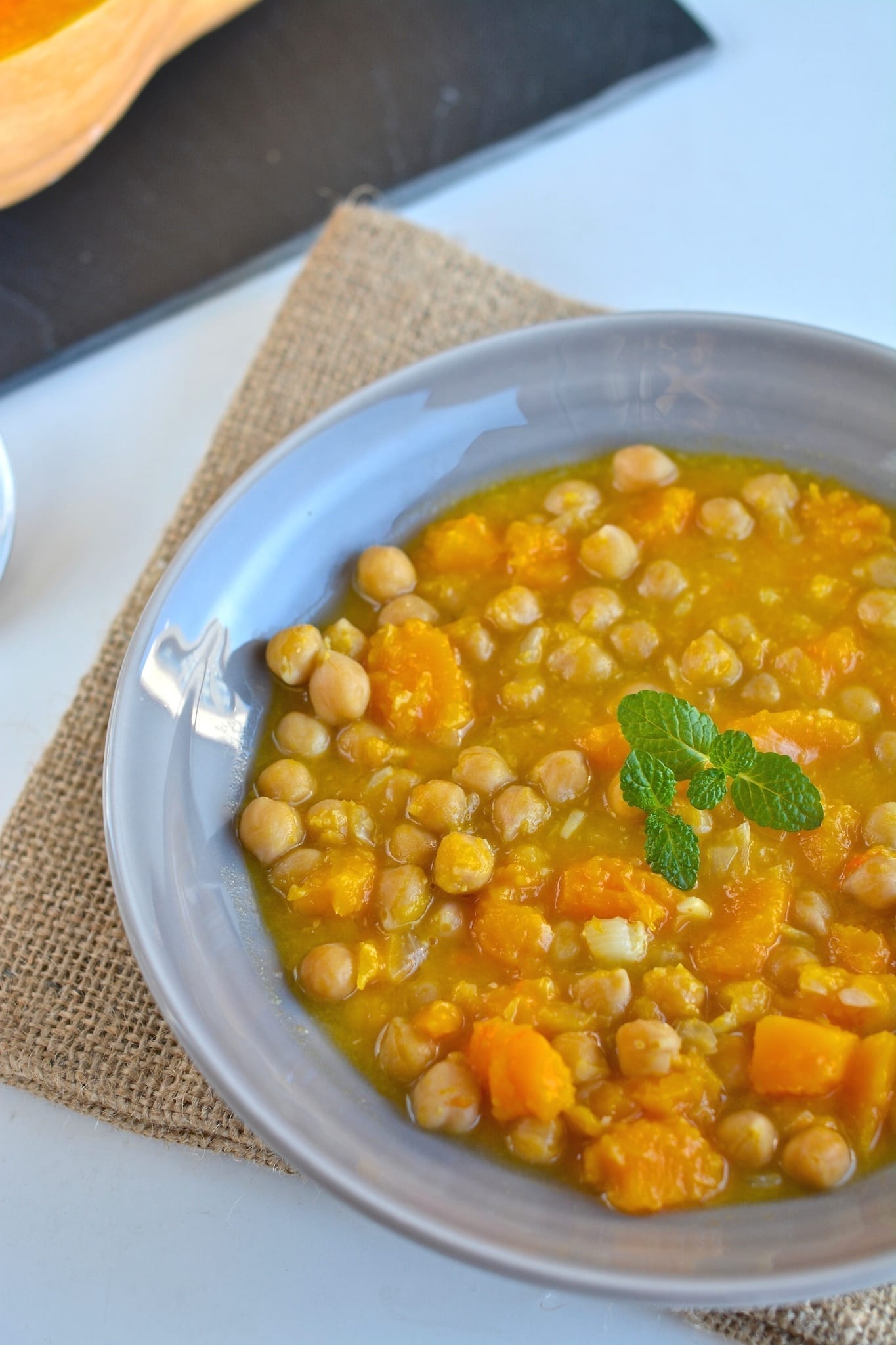 This squash-chickpea stew is plant-based, oil-free, gluten-free and sugar-free. The stew recipe is also very easy and quick making it suitable for beginners. I myself like to fix it for lunch when I have less time for cooking.
Squash-Chickpea Stew Recipe |3-4 servings|
Ingredients
½ of a big or one small onion, chopped
2 big garlic cloves, minced
½ butternut squash, which is about 3 cups of cubes (about 135g, 4.8oz a cup)
2 cans unsalted chickpeas, drained and rinsed
A splash of coconut milk
Sea salt or Himalayan salt to taste
Directions
Sauté onion and garlic with a few tbsps. of water for 3 minutes.
Add butternut squash cubes and chickpeas and enough water to cover the ingredients by ⅓ of the way up.
Bring to boil and simmer covered for 15 minutes. Stir occasionally.
With an immerse blender, blend a few times directly in the pot to give the stew more thickness. You can also use potato smasher.
Add a splash of coconut milk and salt to taste, stir and serve.
Tips:
Use any squash suitable for soups and stews – hubbard, kabocha, or pumpkin. Remember, the sweetness of the dish depends on the squash you use.
You can add some spices should you want to – curry and any kind of pepper.
Green the stew up buy adding some chopped kale, chard or spinach 3-7 minutes (depending on what you use) before the stew is done.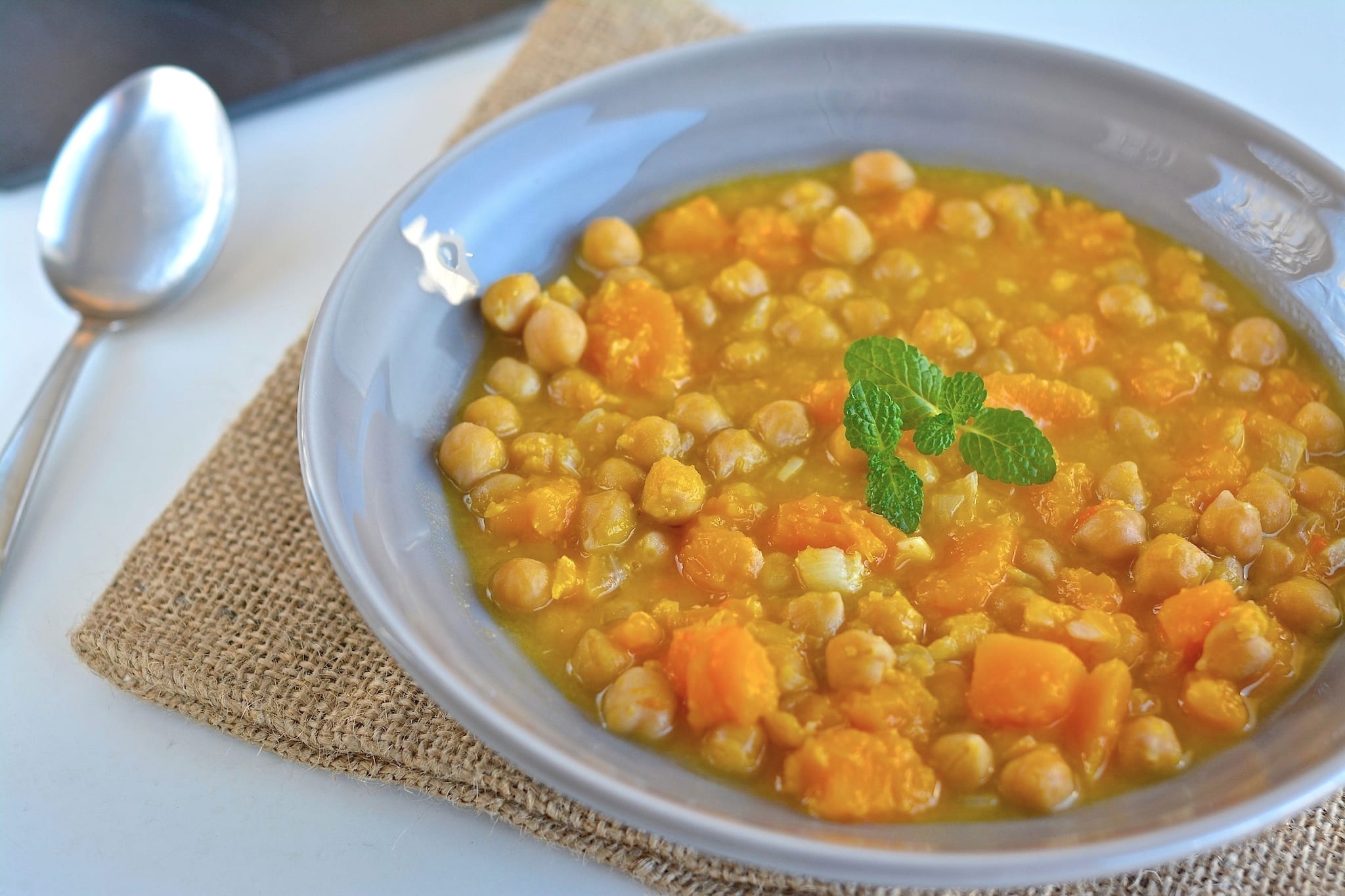 References:
http://www.nhs.uk/Conditions/vitamins-minerals/Pages/Vitamin-A.aspx
http://www.nhs.uk/Conditions/vitamins-minerals/Pages/Vitamin-B.aspx