Every year when the pumpkin season begins I start cooking it in any way I can – I make pumpkin puree to add to muffins, cakes and cookies, cook stews and curries, make soup and risottos, add to pancake batter or just oven-bake and add to salads or use as sides.
Back home I get huge pumpkins from my grandmother's garden and we are usually set until spring. However, here in Barcelona I started using butternut squash, as this is what our organic farm is delivering and I love it!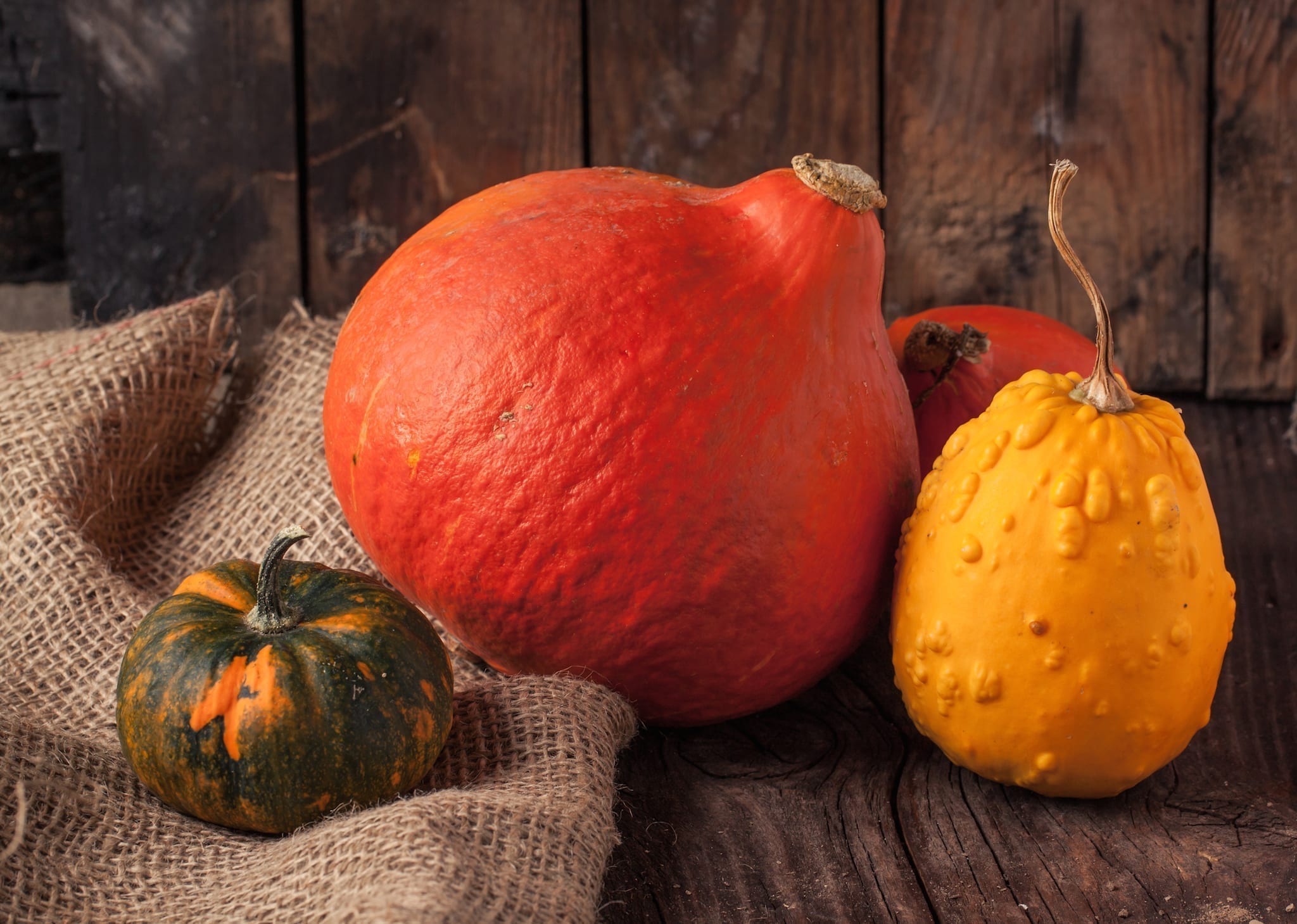 The winter squash family
There are many different types of winter squashes – some better for soups and some for baking. Now, let's see…
Acorn is great for roasting. It is difficult to peel it, but the skin is edible.
Butternut squash is dense and creamy and contains a lot of Vitamin A. It is great for roasting and soups. Read more about butternut squash from my previous post Squash-Chickpea Stew.
Calabaza is similar to butternut squash in taste and texture and it is great for baking.
Delicata or sweet potato squash tastes similar to sweet potato and butternut squash. It is great for roasting and stuffing.
Hubbard's flesh is savoury and sweet at the same time. It is great for mashes, purees and fillings.
Kabocha is sweet and has a smooth texture. It is great for baking, steaming and soups.
Pumpkin is the most common winter squash, at least in Northern Europe. It is great for almost everything – quick breads, pancakes, muffins, pies, risottos. Prepare it baked and steamed, as you prefer.
Spaghetti's flesh separates into spaghetti-like strands. Just bake it, then scrape out the strands and add a sauce of choice.
So, the choice is yours!
This time it's a lazy soup as I used onion flakes, granulated garlic and ginger powder instead of fresh, but the outcome is delicious nevertheless.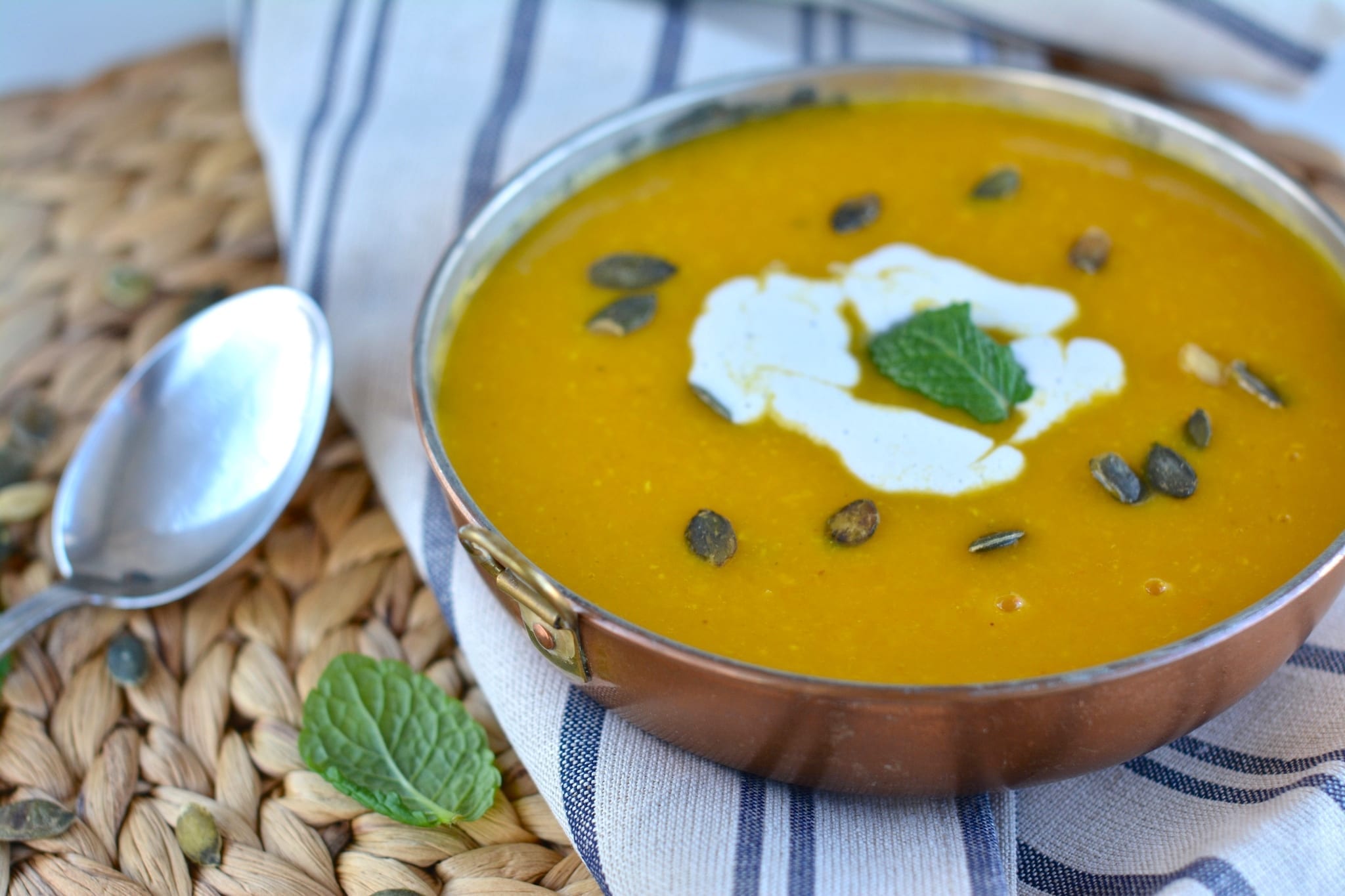 Butternut Squash-Lentil Soup Recipe
Ingredients |2-3 servings|
2 tbsps. onion flakes
1 tsp. granulated garlic
½ tsp. ginger powder
½ tsp. turmeric
½ butternut squash (about 3 cups of cubes)
½ sweet potato
1 small potato
50g (1.8oz) red lentils
Sea salt and black pepper to taste
¼ cup coconut cream
Directions
Throw onion, garlic, ginger and turmeric into a pot.
Peel and chop butternut squash, potato and sweet potato and add to pot.
Rinse and drain red lentils and add to pot as well.
Fill the pot with water – just a bit above the veggies.
Bring to boil and simmer for 15-17 minutes until the lentils are soft.
Puree with immerse blender and add boiled water if the soup is too thick.
Finally add coconut cream and salt/pepper to taste.
Tips:
If you want to use fresh onion, garlic and ginger, chop one small onion, and mince 2 garlic cloves and a 1-cm piece of ginger root. Sauté for 5 minutes and then add all the other ingredients.
Have a slice or two of fermented buckwheat bread or any other whole grain bread with the soup.