I can't but repeat how much I enjoy this time of the year! All this fresh produce full of nutrients is abundantly available. Furthermore, the markets look so adorable that I choose to go there almost every day! So, when I laid my eyes on those juicy sweet cherries I immediately knew I was going to make gluten free vegan cherry muffins. And not just – they were also going to be chocolaty yet low fat!
Don't forget the tutorial video below!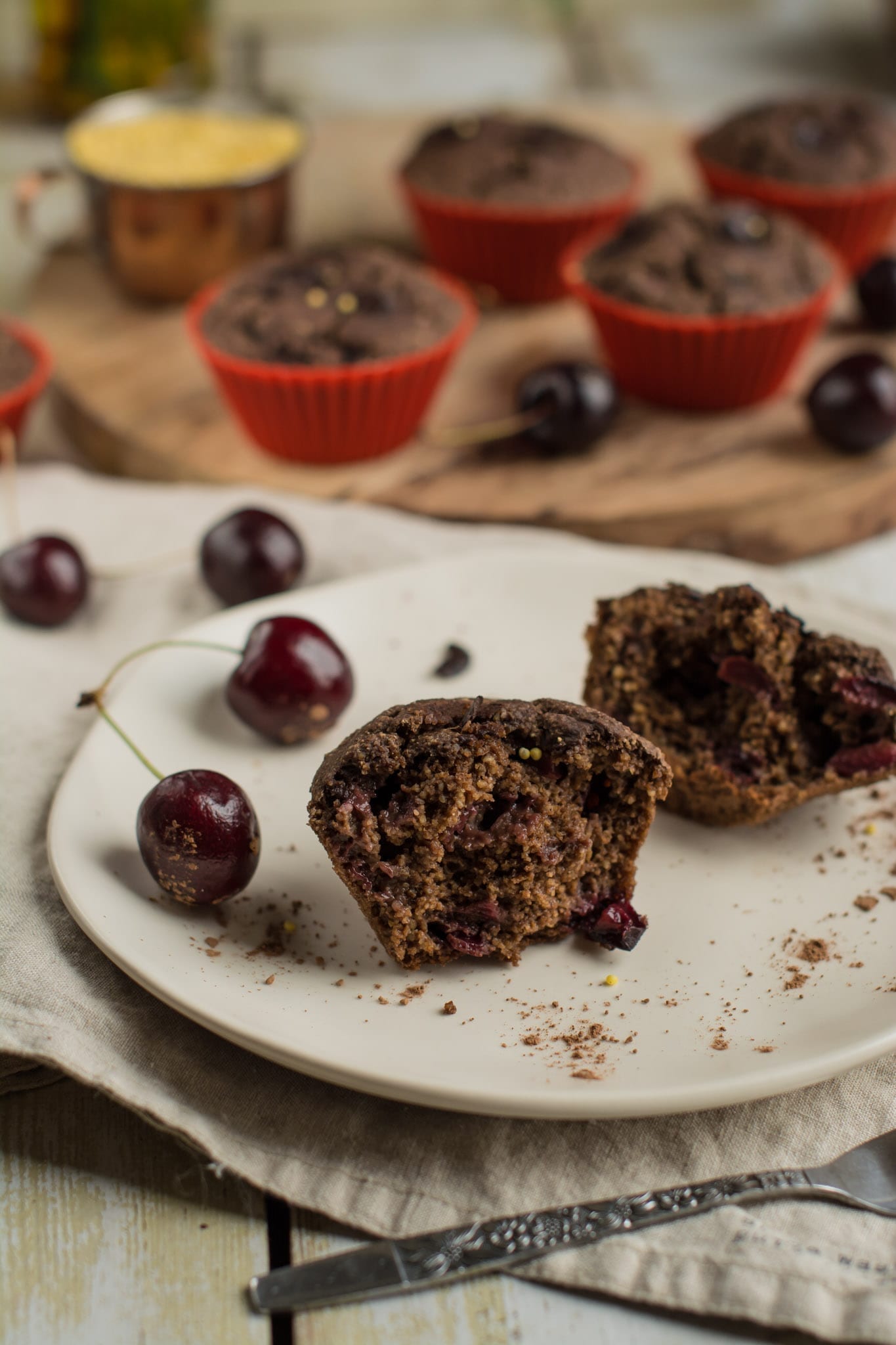 As I had a whole package of organic millet that needed to be consumed, I decided to use it in this recipe for gluten free vegan cherry muffins. If you are familiar with my healthy muffin recipes, you know that I use soaked grains rather than flours. In fact, my first muffin recipe that used soak-and-blend method contained millet as well – Subtly Sweet Blueberry Muffins. If you already didn't know then soaking makes the grains more digestible and enhances mineral absorption by reducing the amount of phytates.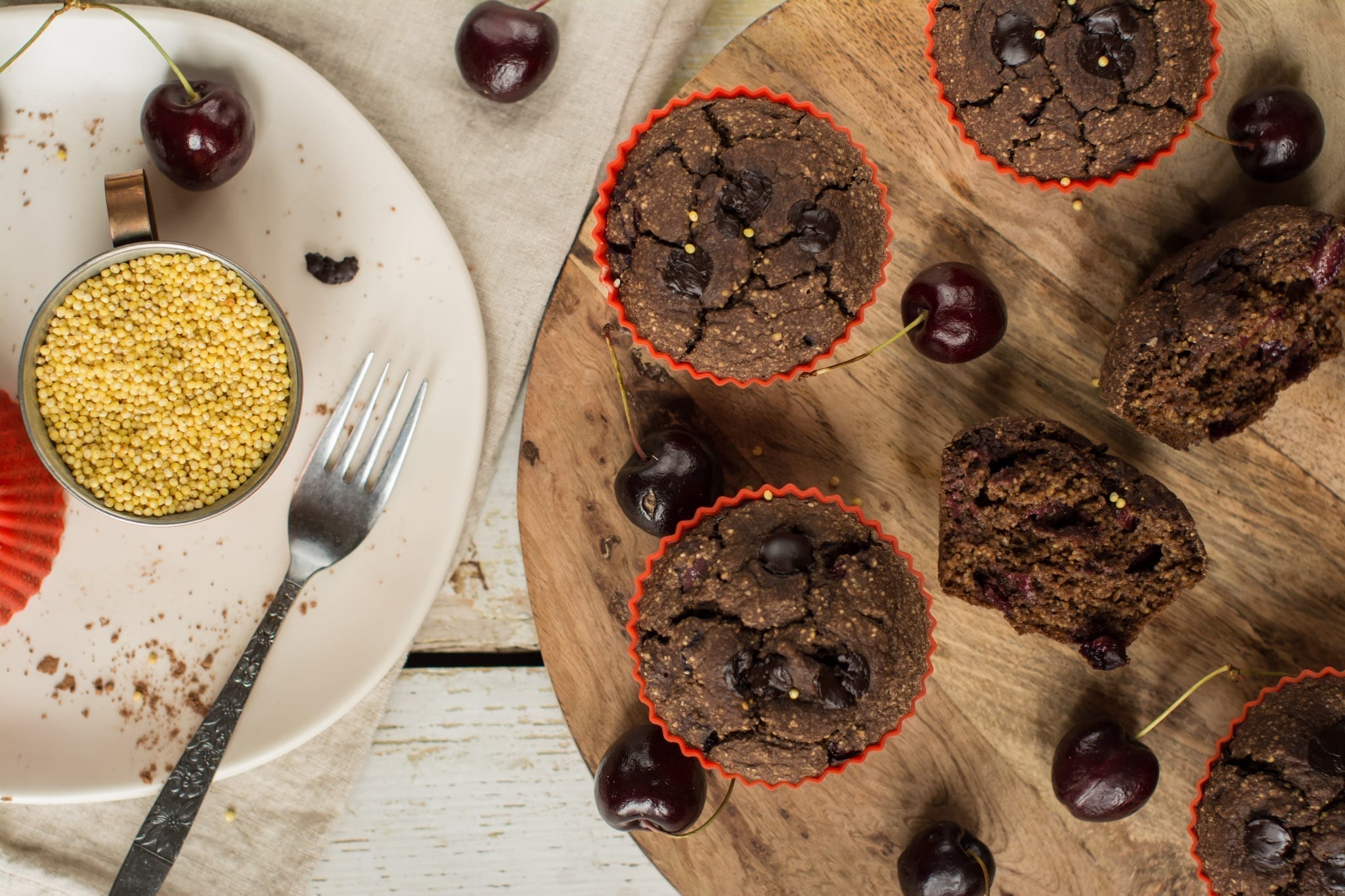 I love millet because of its crunchiness. I'm one of those people who enjoy chewing on their food. Drinking my calories could never satiate me. So, thanks to millet my gluten free vegan cherry muffins have a very nice chewy texture. Moreover, those muffins are only subtly sweet. However, the longer you chew on your mouthful, the sweeter it gets.
Now, how come chocolaty yet low fat?! Only 12.8% of calories come from fat. Well, basically all my recipes are low in fat because I do not use oils or cooking creams. Furthermore, I also consume nuts and seeds sparingly – I only eat as much as needed rather than adding nut butters mindlessly into every recipe. I wrote about calories-from-fat percentage in one of my recent posts Vegan Candida Diet – Living Candida Free After The Cleanse.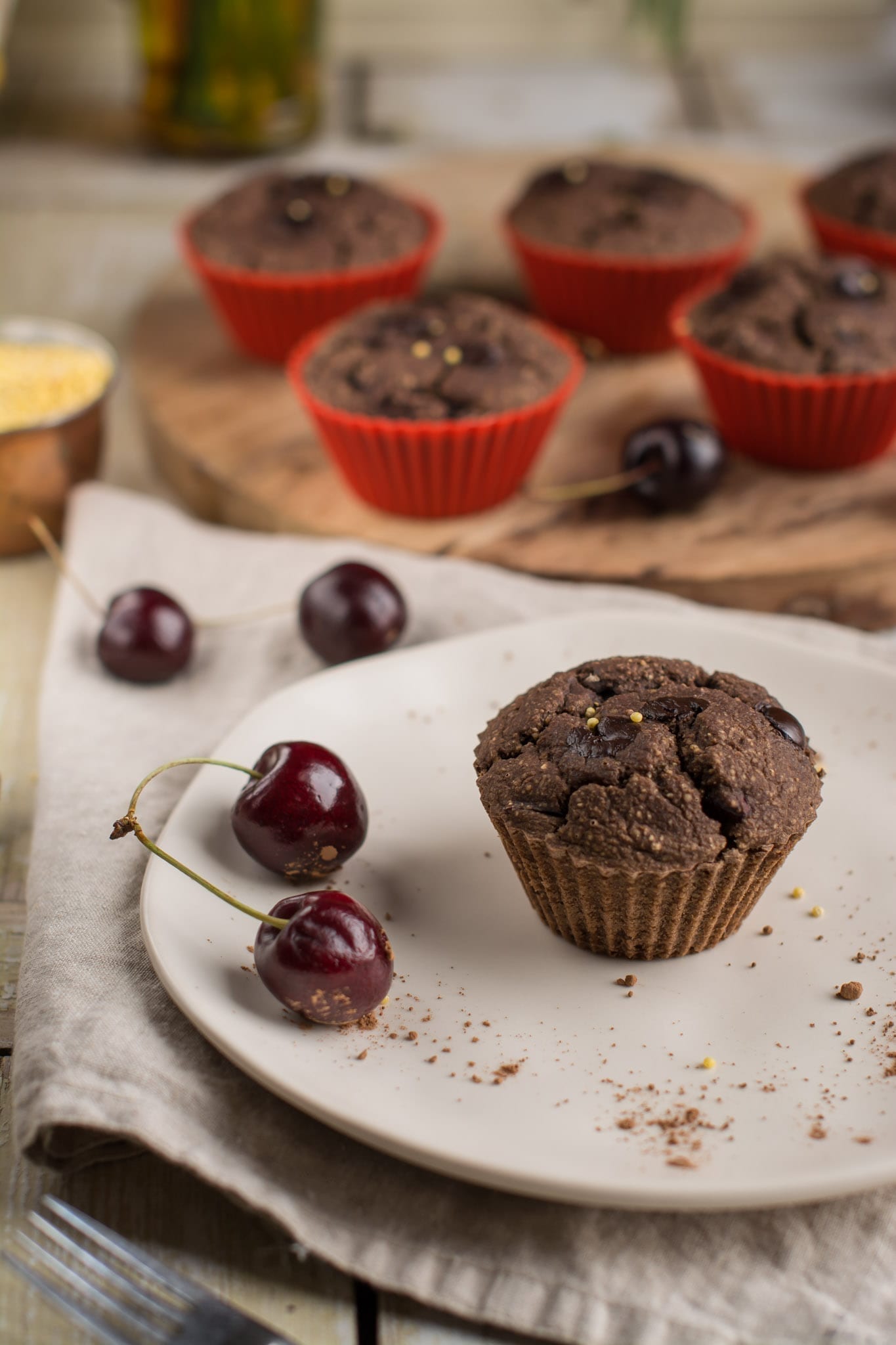 I've discovered that the taste and texture does not suffer at all from being low fat! As you can imagine, my gluten free vegan cherry muffins get their chocolaty flavour from cocoa and carob powder. They remain low fat because I do not add any nut/seed butters or oils to this recipe.
As repetition is the mother of all learning, my gluten free vegan cherry muffins with millet are low fat, oil-free and Candida diet friendly.
Please tag me in social media whenever you try one of my recipes and leave me a comment bellow if you have any questions! I'd love to see your creations! Instagram @thenutriplanet and Facebook @nutriplanet.health.hub
Print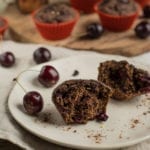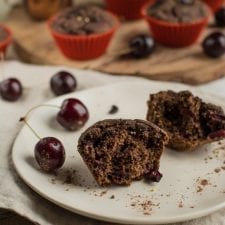 Gluten Free Vegan Cherry Muffins with Millet
---
Description
As repetition is the mother of all learning, my gluten free vegan cherry muffins with millet are low fat, oil-free and Candida diet friendly.
---
---
Instructions
First, soak millet overnight (or all day). Wash and drain. It soaks in about 30g (1oz) of water.
Heat oven to 175°C (350°F).
Put all ingredients except baking powder and cherries in blender and blend until smooth batter is formed.
Now, blend in baking powder. Finally mix in (DON'T BLEND) chopped cherries.
Divide the batter between 6 muffin moulds, sprinkle on a few dark chocolate chips or chopped dark chocolate and bake for 33 minutes until the muffins are done.
Notes
These muffins make a delightful breakfast or mid-morning/afternoon snack with tea or coffee.
One muffin has 14.47 GL (glycemic load) points.
Cook Time:

33 minutes

Method:

Baking
Nutrition
Serving Size:

⅙ of recipe (calculated with 100g rice-coconut milk, 100g almond milk and 4g of chocolate chips)

Calories:

146 kcal

Fat:

2.28g

Carbohydrates:

21.9g

Fiber:

3.24g

Protein:

4.21g
Keywords: vegan cherry muffins
Tips on my gluten free vegan cherry muffins recipe:
I used half rice-coconut milk and half almond milk. However, you can choose any unsweetened plant milk.
You might want to add another tablespoon of xylitol, if you add unsweetened and naturally NOT sweet plant milks.
Carob can be substituted with cocoa and vice versa. Remember, that carob has a sweet taste whereas cocoa is bitter.
The muffins turn crispy on the outside quite quickly. Should you prefer them soft, put them in a container (while they are still a bit warm) and cover with lid until they soften. However, don't leave them like this for a long time as mould may develop.
Finally, store any leftover muffins in freezer and heat up in (micro)oven whenever needed.