It's Shrove or Carnival Tuesday / Pancake Day / Mardi Gras / Fat Tuesday again and many people will be making pancakes. In Estonia it's mostly about buns with whipped cream or ricotta, smoky pea soup, and of course sledging, if there's snow. Well, at least in Tallinn there isn't, so sledging is off this year.
I will make pancakes (as I do every week actually) and smoky pea soup, which I also hope to post very soon.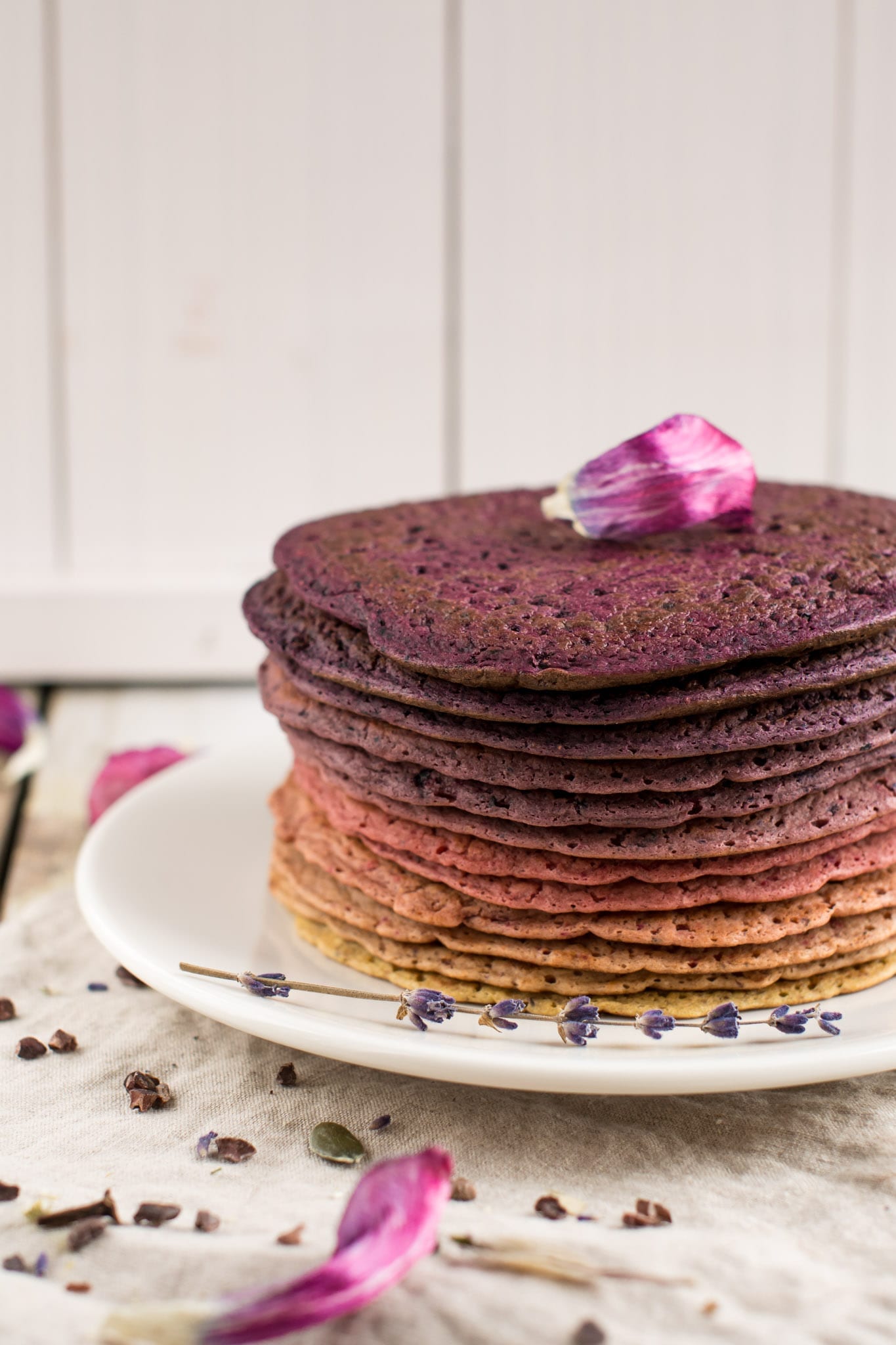 If you are interested in reading more about the history and traditions of Shrove Tuesday, head to my last years post Vegan Pancake Tart.
Should you care to know what those buns look like, you have a chance to take a peek and even try them out as I created a healthy vegan version two years ago – Shrove Tuesday Spelt Buns with Cashew-Raw Buckwheat Cream.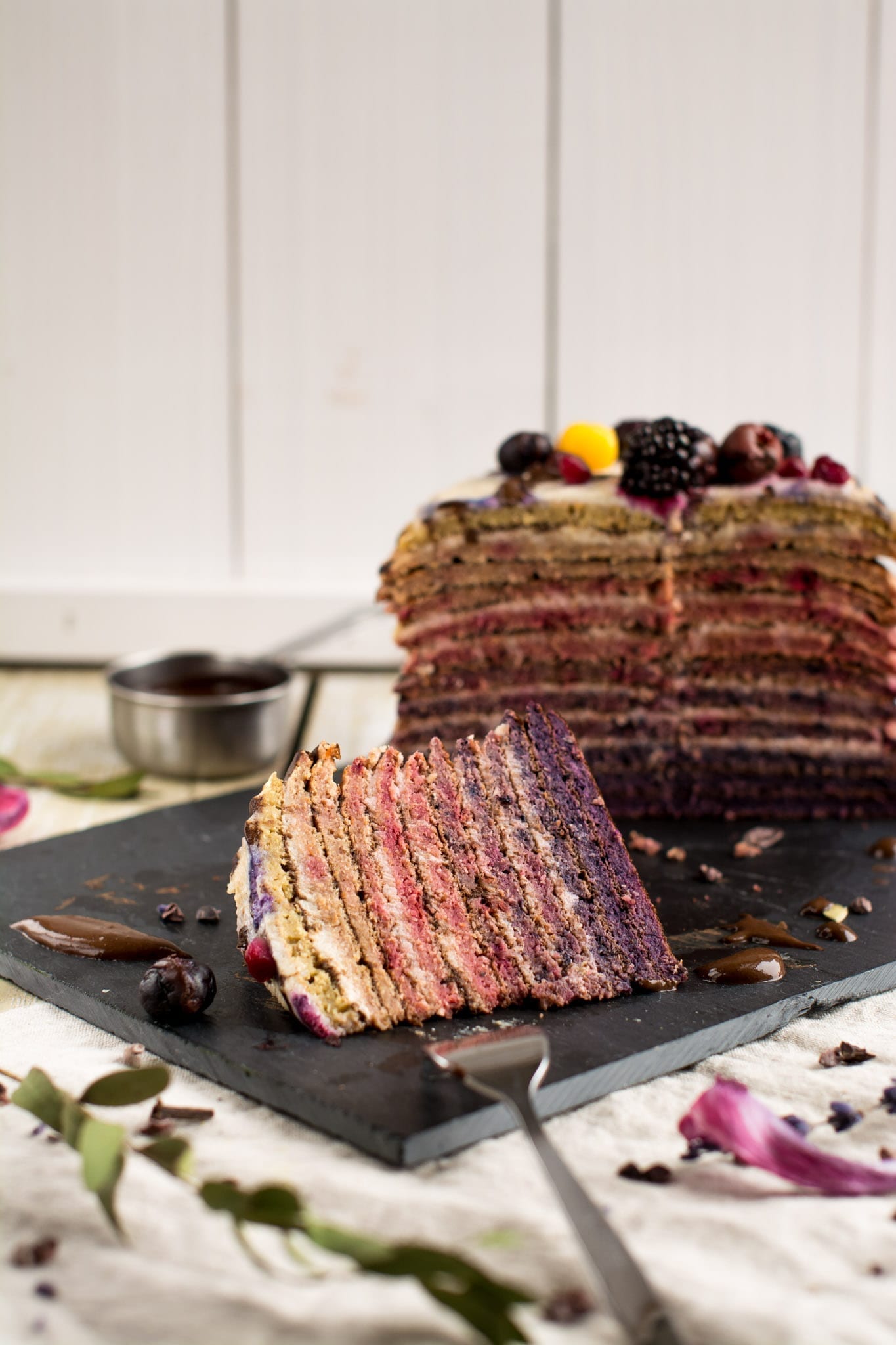 This year I decided to make a pancake tart again. Since I've been creating numerous stacks over the past few months, I wanted this tart to stick out and be quite special. So, I had the idea to create a tall stack of pancakes of different colours and layer them as a tart. Being on Candida diet (even if on a much looser regime now) I couldn't make use of the creams from last year for filling. So, I developed a buckwheat cream that contains no bananas and used the Chocolate Sauce I had created a short while ago.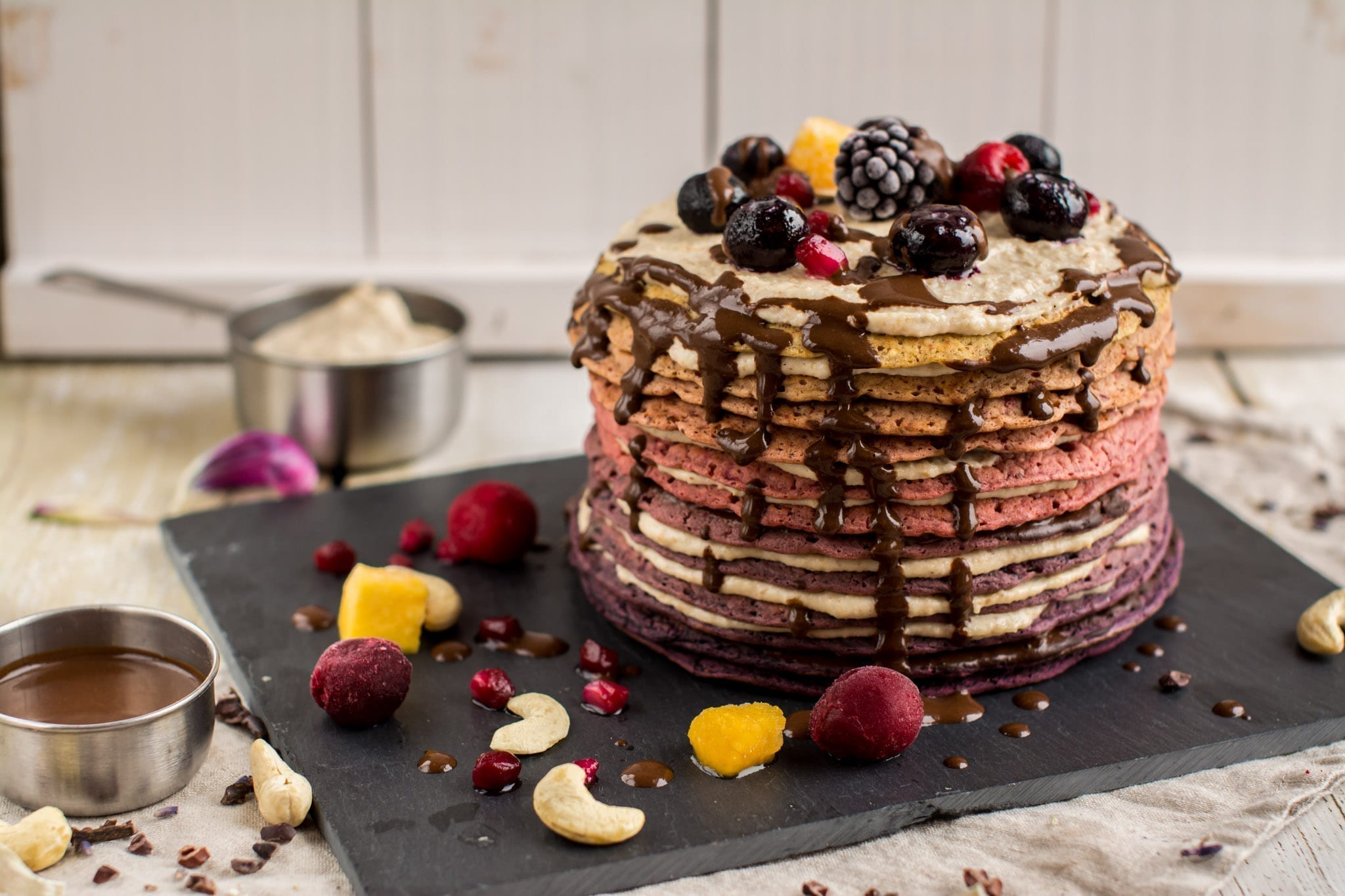 My Shrove Tuesday Pancake Tart is vegan, plant-based, gluten-free, oil-free and Candida diet friendly.
Blueberry-Beet Pancake Tart Recipe
Ingredients:Buckwheat-Oat Pancakes |12 pancakes|
150g (5.3oz) raw buckwheat, soaked
100g (3.5oz) gluten-free rolled oats
2 tbsps. ground flax seeds
50g (19.4oz) plant-based milk
½ tsp. Himalayan salt
Directions
Soak buckwheat overnight or at least for 6 hours. Drain and rinse.
Combine all ingredients in a blender and blend until smooth batter forms. You'll get twelve 20cm (7.9 inches) pancakes from this batter.
How to get different colours?
Bake the first pancake following the recipe above.
Now blend in some raw beetroot – enough to achieve a subtle pink colour.
Add a bit more beet for the third pancake. Continue until you have 6 pancakes.
Now add a bit of wild blueberries. Continue adding more after every pancake. The last one will be quite dark purple.
If you see that the batter becomes too runny from all the blueberries, add some rolled oats to balance it out.
Ingredients:Cashew-Buckwheat Ricotta Cream
50g (1.8oz) raw buckwheat, soaked
½ cup (60g) cashews, soaked
¼ tsp. vanilla extract
⅛ tsp. Himalayan salt
½ tbsp. xylitol
1 tbsp. lemon juice
50g (1.8oz) oat milk
Directions
Soak buckwheat overnight or all day and cashews for at least 2 hours. Drain and rinse.
Combine all ingredients in a blender and blend until thick ricotta cream forms. You'll need to help with a spoon. Add the liquid gradually and only as much as needed to combine all ingredients well.
Transfer into a bowl and set aside.
Tips:
If you are on Candida diet and still can't have cashews replace them with almonds.
I took my cashews out of the freezer and soaked them in hot water for about 25 minutes.
Ingredients:Chocolate Sauce
1 heaped tsp. unsalted tahini
2 tbsps. carob powder
1 tsp. raw cacao powder
Pinch of Himalayan salt
1 tbsp. coconut milk
3 tbsps. naturally sweet plant milk (oat or rice)
Directions
In a small bowl whisk together the solid ingredients with coconut milk and 1 tbsp. of plant milk.
Add 2nd tbsp. of plant milk and mix well again until well incorporated. Avoid any lumps.
Finally add the 3rd tbsp. of plant milk and mix until you have a creamy sauce.
Should you want it sweeter, add a sweetener of choice – date paste, stevia, xylitol, agave.
Watch the video below to see how I assembled the tart!