Carnival/Shrove Tuesday, Pancake Day, Fat Tuesday or Mardi Gras – beloved child has many names and is observed in many ways worldwide. No matter what its name is, the day before Ash Wednesday has long been a time for eating and merry making.
Shrove Tuesday is the last day before the long fast for the Lent period in many Christian churches. The day is the day before Ash Wednesday when the long fast begins.
Mardi Gras (Fat Tuesday) festivities are particularly colourful in French cities such as Cannes, Grasse, and Nice. Celebrations feature grand parades of flower covered floats with giant figures.
It is also traditional in many parts of France to eat a large meal that includes crepes or waffles. Some people in the United Kingdom celebrate the day, known as Pancake Day, with games and races that involve tossing pancakes in the air.

Shrove Tuesday in Lithuania is a folk celebration to rejoice end of winter. During this celebration attention is concentrated on chasing away winter with all its "evils". It is also observed in other European countries such as the Czech Republic, Shrovetide processions are still part of folklore celebrations. Children in countries such as Estonia and Finland enjoy the day outdoors on Shrove Tuesday, mainly engaging in activities such as sledding. A typical Finnish meal on this day may include pea soup and blini, or rich pancakes.
Like the Finnish, also Estonians traditionally make pea soup on Shrove Tuesday. In addition, almost everybody prepares or at least eats buns with whipped cream.
I created these delicious plant-based spelt buns with cashew-raw buckwheat cream. My husband and kid were just humming and munching.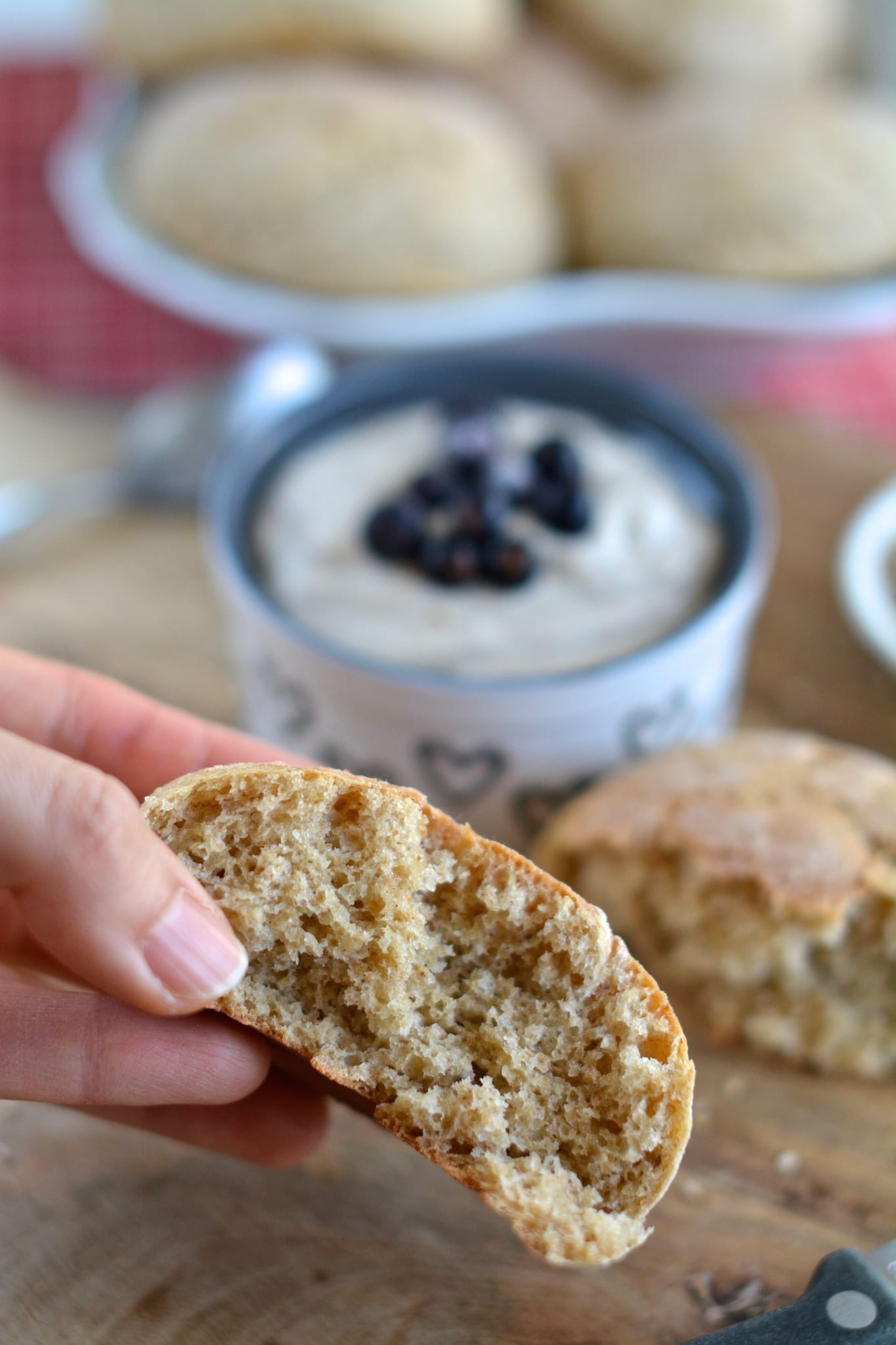 Recipe for Spelt Buns
Ingredients:10 buns
250g (8.82oz) whole grain spelt flour
250g (8.82oz) finely ground spelt flour
Pinch of sea salt (2g, 0.07oz)
1 package dry yeast
2 handfuls of sesame seeds
280ml (1.18 cup) warm water
2 tbsps. agave syrup
2 tbsps. plant milk
Directions
Put all dry ingredients into a bigger bowl and mix well. In a small bowl mix together hand-warm water, agave syrup and plant milk. The water should be warm to the touch but not too hot (water that is too hot will kill the yeast; and water that is too cold will not activate it). Stir with a spoon. Pour the wet mixture on dry ingredients and using your hand mix well. Knead the batter until the dough is silky and elastic (about 10 minutes). Too much kneading overdevelops the gluten in the flour and results in a tough crust.
Heat oven to 35°C (95°F). Cover the bowl with clean cloth and put it into warm oven until it has doubled in size. It'll take about an hour.
Put a little bit of finely ground flour in a small bowl and make your hands floury. Knead the batter briefly. Now, start forming small buns. This batter makes 10 about 79-gram buns (raw weight). I put the bowl on a kitchen scale and weigh each bun to get them even sized. Knead each bun a bit between your palms and place them on a baking sheet lined with parchment paper.
Cover the buns with cloth and let rise for another half an hour.
Heat oven to 210°C (410°F) and bake for 10-15 minutes. Sprinkle with a bit of water and cover with kitchen cloth to let them cool a bit.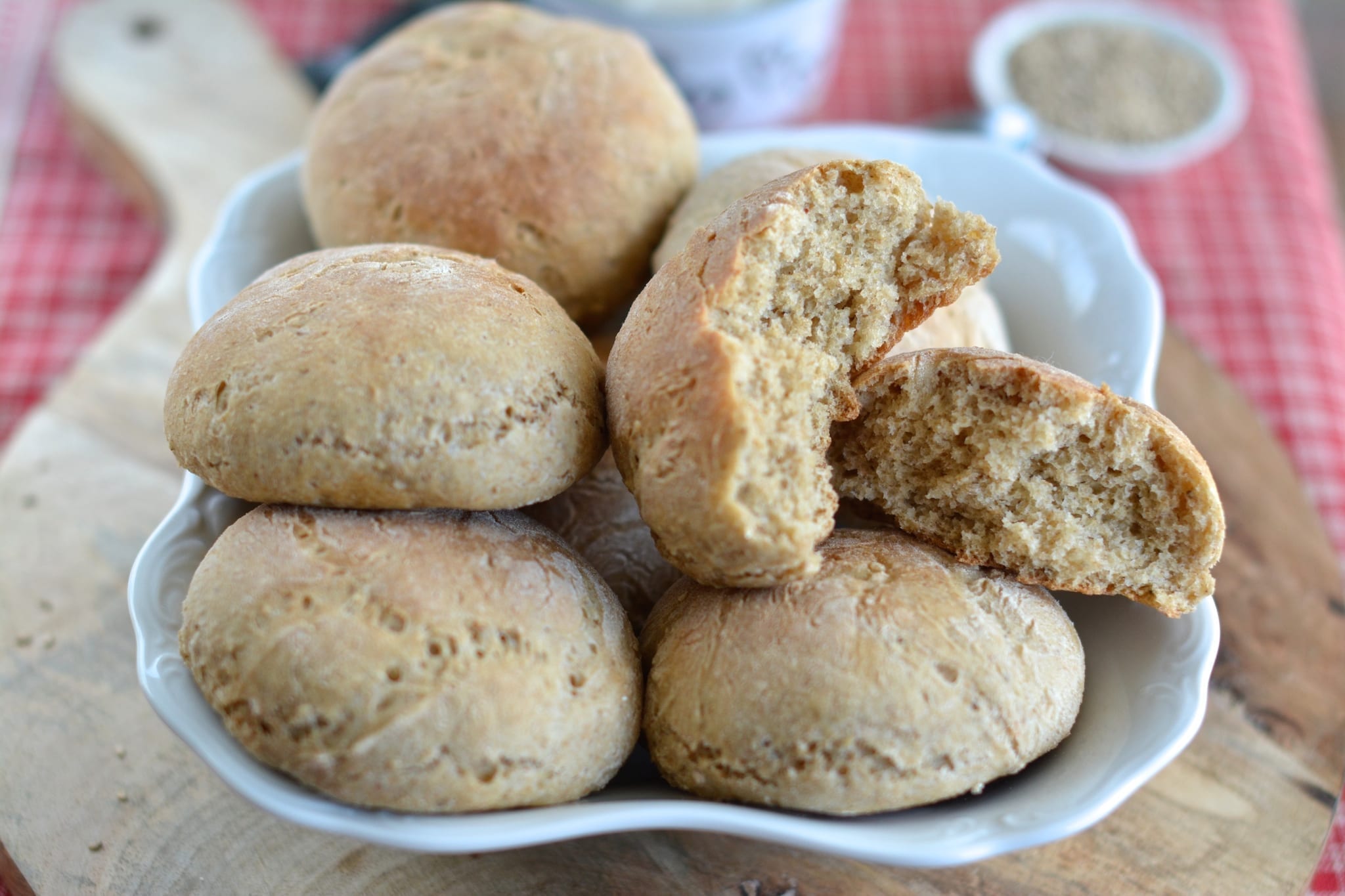 Cashew-Raw Buckwheat Cream Recipe
Ingredients
⅔ cup (120g, 4.23oz) raw buckwheat groats, soaked and rinsed
⅔ cup (100g, 3.53oz) cashews, soaked and rinsed
2 bananas
4 tbsps. water
2 pinches of sea salt
2 tbsps. agave syrup
Juice of a lemon
Directions
Soak cashews and buckwheat groats separately overnight. Rinse and drain them.
Put all ingredients into blender and process until smooth and creamy. Store in fridge.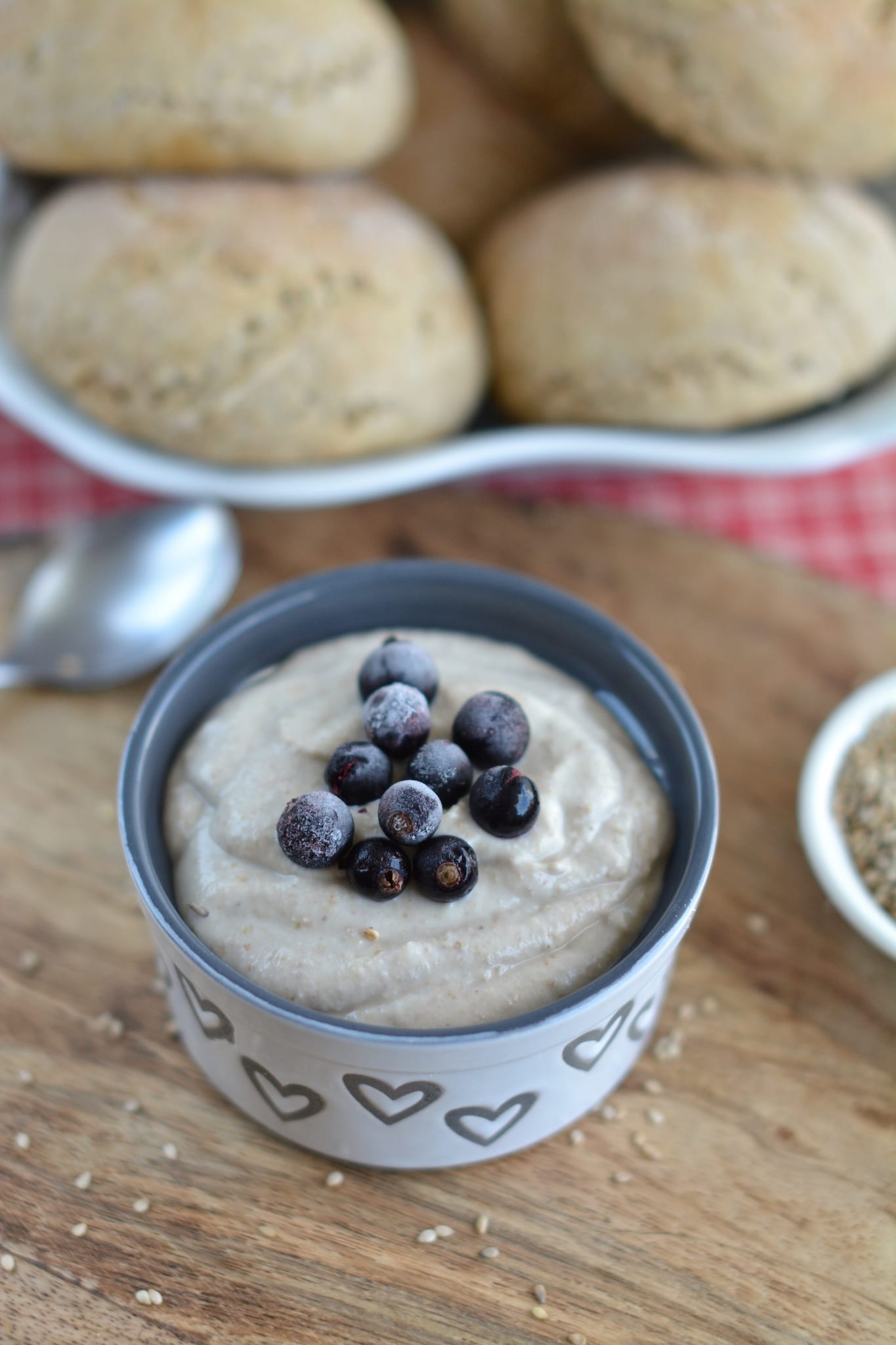 Tips:
Sesame seeds are optional. You may add any seeds that you like or discard them at all.
You can enjoy the buns also plain with coffee or have them with some nut or avocado spread.
Add less agave syrup or discard the syrup at all, if you do not like you buns sweet.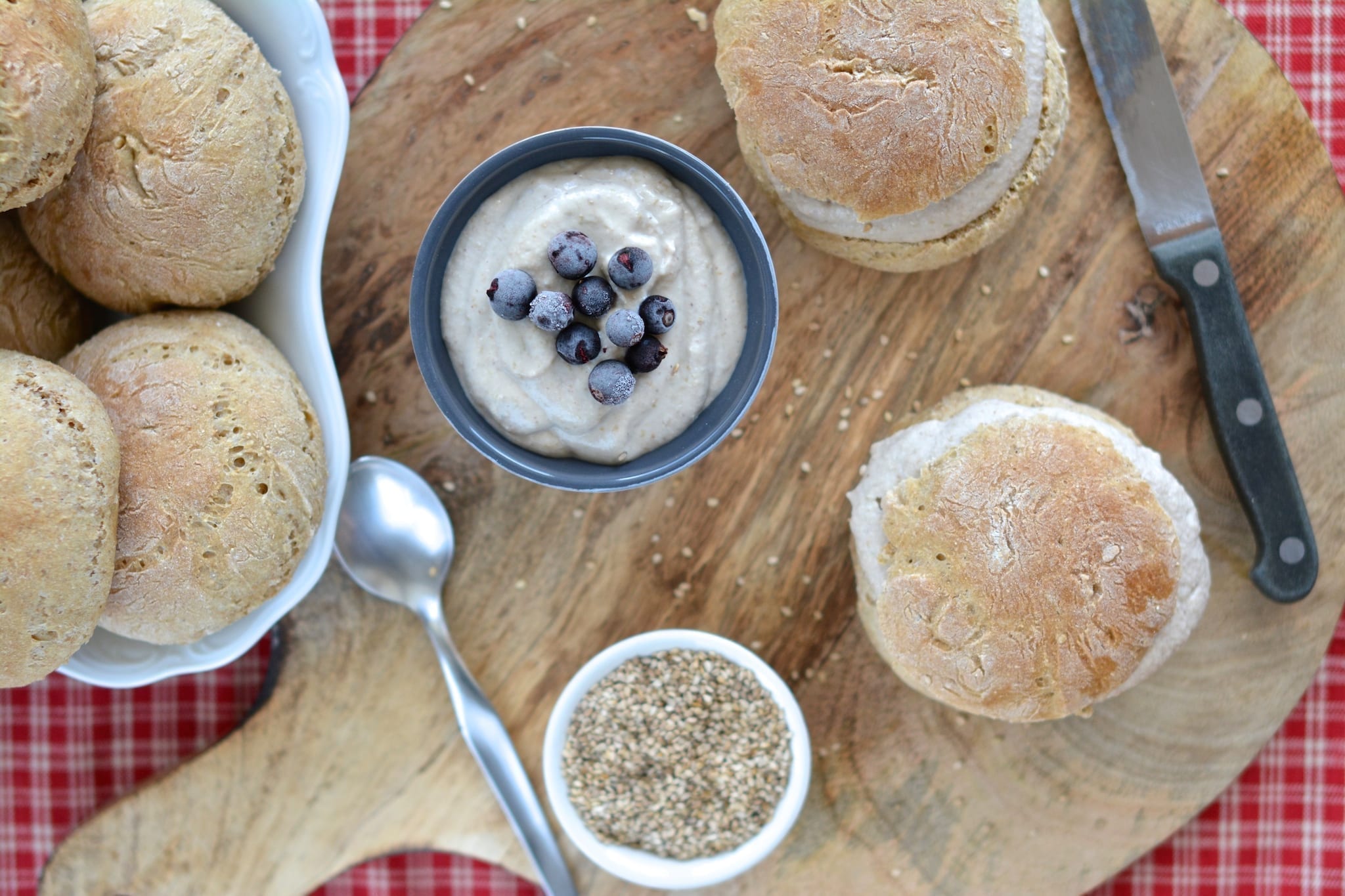 Information on Shrove Tuesday: http://www.timeanddate.com/holidays/common/carnival-tuesday