Since the flu season is still on going and there are always plenty of people struggling with Candida infection or inflammation I thought I'd dedicate a whole blog post to my antifungal and anti-inflammatory cold/flu "hot shot" – well, this is how I call it as it's quite spicy!
I started consuming my hot shots 2-3 years ago and I do it regularly since then, at least during the flu seasons. I've developed it even further since I started my vegan Candida diet adding a few bits and pieces.
Watch the tutorial video further down!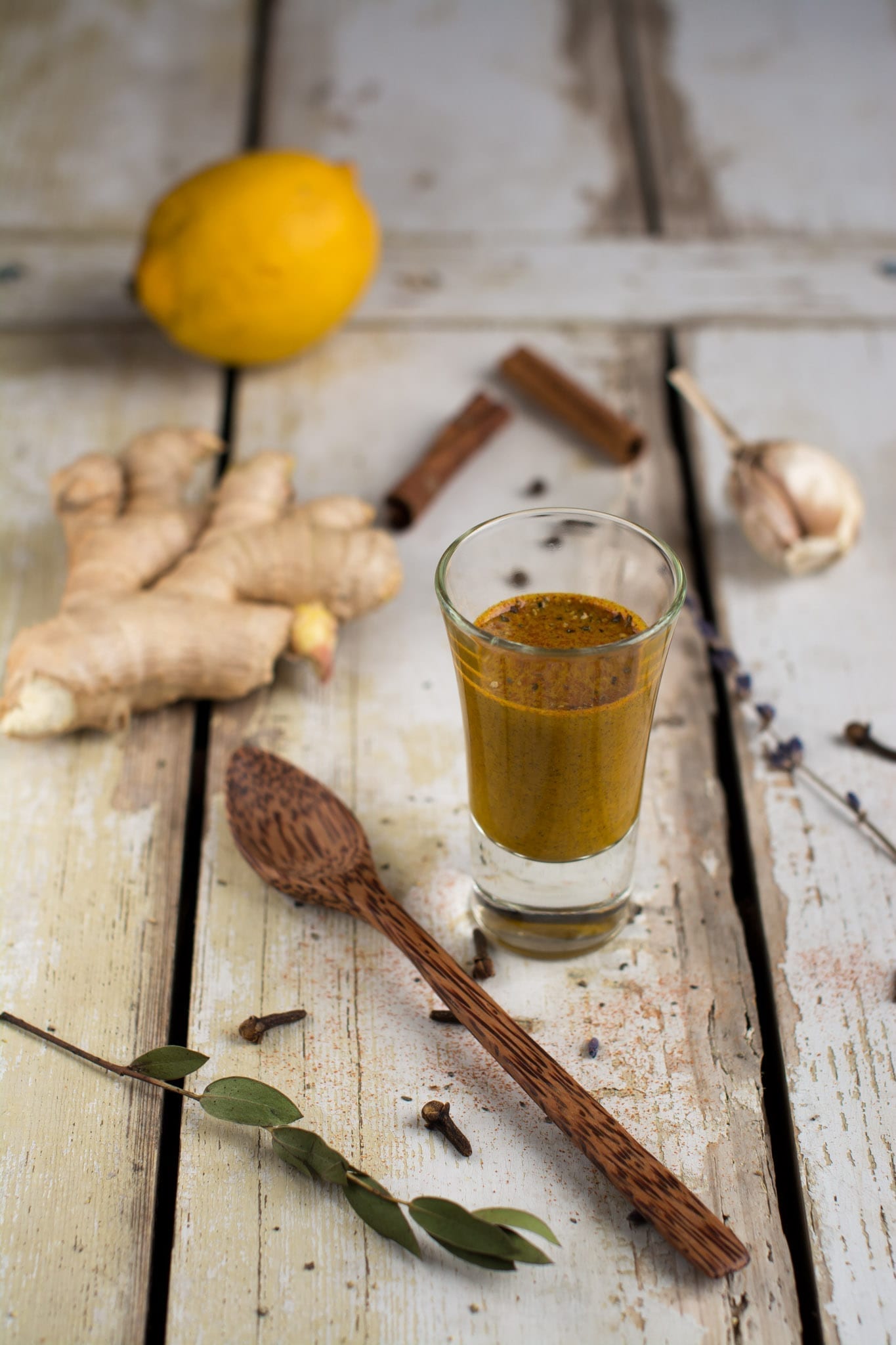 What's in my antifungal and anti-inflammatory cold/flu hot shot?
Turmeric
Turmeric is known as natural remedy for cough and the snuffles. Also, studies show that it might be helpful when fighting infections, reduces inflammation and treats digestive problems. (1) Curcumin in turmeric is also known to have antifungal properties.
How to enhance curcumin absorption
As the curcumin in turmeric is fat-soluble, i.e. it needs some fat to get absorbed; I also add coconut milk to the recipe. To maximize the absorption, consume it with black pepper. Should you want to enhance the absorption even further, mix it with foods that contain quercetin, a flavonoid that inhibits a certain enzyme that deactivates curcumin. Such foods include fruits and berries with a dark red or blue color, e.g. red grapes (also red wine), blueberries, cranberries and black plums. (2)
One study also found that vitamin C made curcumin much more effective, hence the lemon juice. (3)
Cinnamon
Studies have shown that cinnamon has powerful antifungal properties. Furthermore, the antioxidants in cinnamon have anti-inflammatory effects. (4)
Ginger
Ginger helps with digestion, inflammation, and immunity. Furthermore, it can be used as antifungal medicine. (5)
Cloves
Cloves have powerful anti-fungal properties.
NB! Cloves are a powerful spice and should not be taken in large quantities. If consumed in excessive amounts, especially in undiluted oil, the following side effects may be experienced: vomiting, sore throat, seizure, sedation, difficulty breathing, hematemesis, kidney failure, liver damage, erectile dysfunction, problems with ejaculation, stomach irritation. (6)
Lemon juice, coconut milk and black pepper
Those are added mostly to enhance curcumin absorption. However, coconut alone is also effective against Candida yeast as it contains 3 different fatty acids (Caprylic Acid, Capric Acid, Lauric Acid). (7)
Garlic
Can boost immune function and prevent colds and the flu. (8) Furthermore, garlic also has antifungal properties.
Warning:
Concentrated garlic can interact with other medicines, so consult a health professional before taking any supplements. Garlic has a blood-thinning property that can be a danger to sufferers of hemophilia or platelet disorders, as well as pregnant women or patients about to undergo surgery.
Other side effects from garlic: upset stomach, bloating, bad breath, body odor, and a stinging sensation on the skin from handling too much fresh or dried garlic.
Side effects of garlic supplements: headache, fatigue, loss of appetite, muscle aches, dizziness described as vertigo (namely, the room spinning), and allergies such as an asthmatic reaction or contact dermatitis (skin rash). (9)
How often do I take it?
I personally take this shot three times a day if I'm doing antifungal treatment or if I'm feeling that I might go down with something or already am sick. At other times I mix the shot once a day as preventive measure.
How does it taste?
I find it very palatable, as it's spicy and sweet at the same time. When I mix in some carob, it can replace a small dessert. If you make it thicker, it might as well be something like a bliss ball or a raw candy (without the garlic of course).
Antifungal and Anti-Inflammatory Cold/Flu Hot Shot Recipe
Ingredients:1 shot
2 tsps. turmeric
1 tsp. cinnamon
1 tsp. dried ginger or a few slices of fresh ginger root, chopped
⅛ tsp. ground cloves
Dash of black pepper
1 tbsp. coconut milk
About 1 tbsp. freshly squeezed lemon juice
Sweetener of choice (stevia, agave, honey, xylitol or even carob)
1 small garlic clove, minced
Some blueberries (if you are not on Candida cleanse)
Tips:
Leave the garlic out, if you need to go out after having the shot. Put the garlic into your evening mixture.
You can regulate the thickness of your shot by adding more/less liquids (lemon juice and plant milk) – either drink it or eat with a spoon.
Add a dash of cayenne pepper if you have upper respiratory infection.