I've used all the imaginable veggies in my pancake recipes – carrots (plain and colourful), summer squash, butternut squash, parsnip, beetroot, and purple yams; in raw, baked, powdered and grated form. Somehow I hadn't thought about sweet potatoes and I'm so grateful to Antje Behrendt for inspiring me to use this amazing veggie in pancakes. Check out Antje's Instagram account for amazing food and recipes!
This recipe might as well be my Chocolaty Sweet Potato Muffins in the form of pancakes as it uses the same base – sweet potato, carob, cacao, buckwheat and oats.
I usually soak my groats before using in recipes this time being an exception though as I just forgot to do that. Well, it happens! However, it worked out really well, I just needed to add a bit more liquid. Of course, it is healthier to soak them, so you are most welcome to go through with it. See under tips about how much less milk you need to use in case you decide to soak the groats first.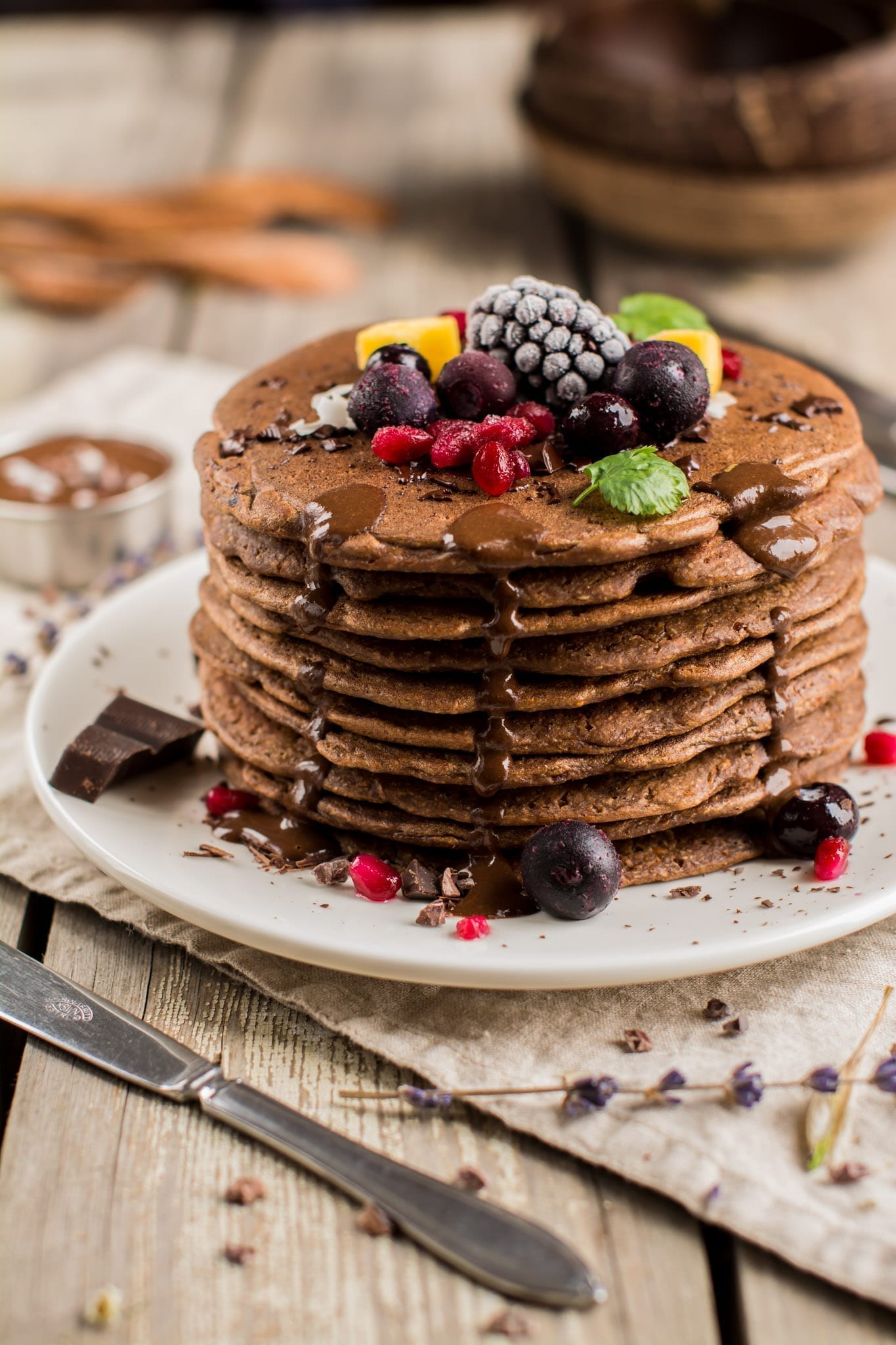 I can honestly say that those sweet potato pancakes are beyond amazing – hearty, soft and moist with chocolaty flavour and they are a match made in heaven with my healthy chocolate sauce (see recipe below) and homemade or store bought unsweetened applesauce.
I like them even better the next day when taken out of fridge and heated up in the oven. They'll be soft inside and so scrumptiously crispy outside.
Benefits of Sweet Potato
Good source of bioavailable beta-carotene
Anti-inflammatory properties
Potential improvement of blood-sugar regulation in spite of their glycemic index (GI) rating of medium.
Excellent source of vitamin A
Very good source of vitamin C, manganese, copper, pantothenic acid and vitamin B6
Good source of biotin, potassium, fibre, vitamins B3, B1 and B2; and phosphorus.
Selecting and Storing Sweet Potatoes
Choose sweet potatoes that aren't soft and that are without any cracks, bruises or soft spots. Since cold temperature changes their taste, avoid those that are placed in the refrigerated section.
Store sweet potatoes in a cool (ideally not above 60°F /15°C), dark and well-ventilated place, where they will stay fresh for up to ten days. Yet since most people don't have such conditions, it's suggested to keep them loose (not in a plastic bag, but in a brown paper bag with multiple air holes) Avoid sources of excess heat (like the stove).
My Chocolaty Sweet Potato Pancakes are vegan, plant-based, oil-free, sugar-free, gluten-free (if you tolerate avenin in oats) and also Candida diet friendly.
Chocolaty Sweet Potato Pancakes
Ingredients:10 pancakes
150g (5.3oz) raw buckwheat groats, rinsed and drained
100g (3.5oz) gluten-free jumbo oats
650g (23oz) naturally sweet plant-based milk (oat or brown rice)
2 tbsps. carob powder
1 tbsp. raw cacao powder
2 tbsps. ground flax seeds
½ tsp. Himalayan salt
40g (1.4oz) raw sweet potato to blend into batter
1 cup (95g, 3.3oz) finely grated raw sweet potato (add later)
Directions
Rinse and drain buckwheat groats thoroughly.
Add the rinsed groats along with other ingredients (except grated sweet potato) into blender and blend until smooth and homogeneous batter forms.
Mix in (don't blend) the grated sweet potato.
Take a good quality non-toxic non-stick pan. Add a few drops of oil onto the pan and swipe it off with folded kitchen paper. Let all the oil absorb into the paper and use it to swipe the pan clean between pancakes.
Put a ladleful of batter onto the pan and even it out with a spoon/ladle or by shaking and/or tilting the pan to get the exact shape of your pan bottom. The frying time greatly depends on your stove. I flip it around when it is almost dry on top and also check the colour of the bottom side.
Tips:
Unsweetened applesauce goes very well with those pancakes.
They are also excellent with my chocolate sauce (see recipe below).
You can substitute jumbo oats with gluten-free oat flour, also 100 grams.
The pancakes are also very tasty just plain.
If you prefer to soak (6-8 hours) the groats first, add 100 grams LESS milk to the batter.
Should you have any leftovers, store them in a sealed container in fridge and heat them up in the oven whenever needed (5 min, 175°C or 350°F). They'll be crispy outside and soft inside.
For a healthy Chocolate Sauce just combine together:
1 heaped tsp. tahini
1 tbsp. coconut milk
3 tbsps. oat or rice milk
2 tbsps. carob powder
1 tsp. cacao powder
½ tsp. cinnamon
It was sweet enough for me without any extra sweeteners, but feel free to add some if necessary.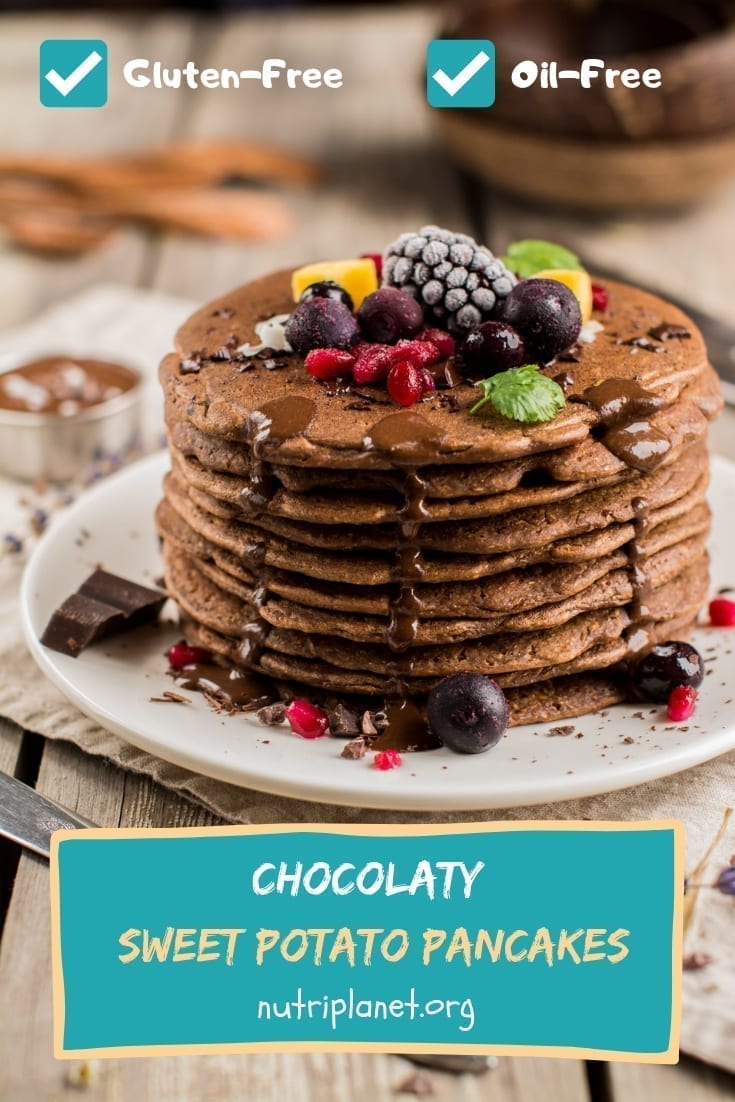 More on sweet potato: http://www.whfoods.com/genpage.php?tname=foodspice&dbid=64