It's really easy to make rich and creamy 3-ingredient homemade cashew yogurt without yogurt maker. You can forget about store bought vegan yogurt that usually contains unwanted additives.
I remember dairy yogurt being one of the hardest things to give up when I went plant-based back in 2012. However, I got used to my new regime very quickly and went with no yogurt for years. Nevertheless, I was really happy when dairy-free yogurts started to pop out and I could enjoy the texture and probiotic benefits once again.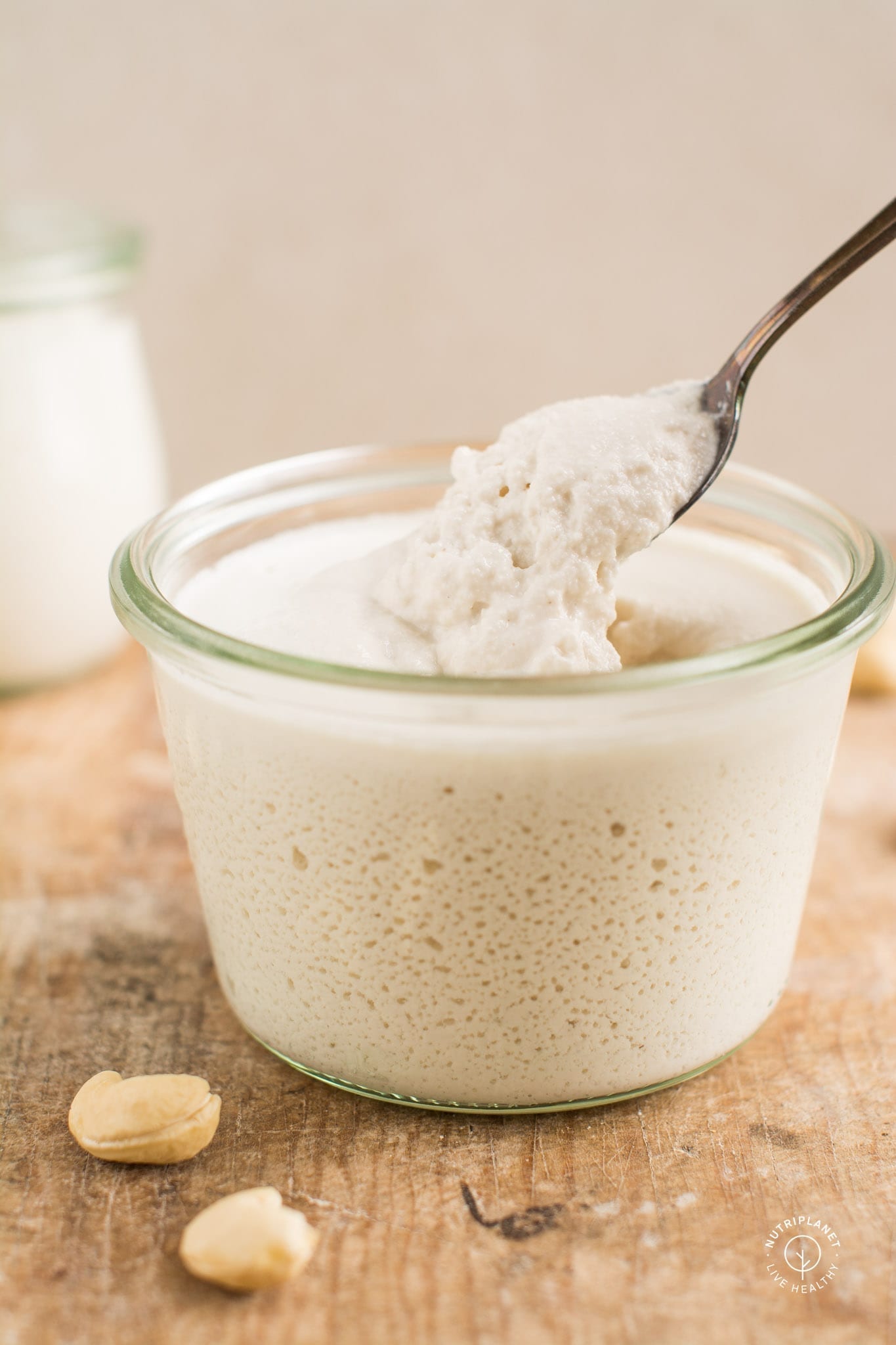 However, ever since I discovered how easy it actually is to make homemade yogurt, I've been eating less and less regular yogurt from store. Instead, I've been making homemade oat yogurt and coconut yogurt in addition to this cashew version. You can utilise the same recipe for coconut yogurt; just be sure to use thick coconut cream for rich and creamy result.
So, in order to make delicious homemade cashew yogurt, you only need 3 ingredients – raw cashews, filtered water and a probiotic and that's it! Feel free to add anything you like, when the yogurt is done:
fruit puree or pieces of fruit or berries,
lemon juice,
Himalayan salt,
superfood powders, i.e. pitaya powder, beetroot powder, turmeric, ginger, matcha powder, barley/wheat grass powder etc.
Benefits of Fermented Foods and Cashews
The benefits of cashew yogurt come from friendly probiotic bacteria and the cashews themselves:
Probiotics help balance the friendly bacteria in your digestive tract and boost your immune system.
Cashews are high in magnesium, zinc, copper, phosphorus, and manganese.
Monounsaturated fatty acids in cashews help promote healthy levels of good cholesterol (HDL).
Did you know that during food fermentation, a number of chemical changes occur, which thus results in foods with improved nutritional properties and healthy effects? In fact, fermented foods can also influence our well being. Furthermore, the intake of fermented foods and probiotics and the subsequent enhancement of the gut microbiome may have a modulatory effect on the brain and the central nervous system. That being said, fermented foods should be recommended for regular consumption and inclusion in worldwide dietary guidelines. [1]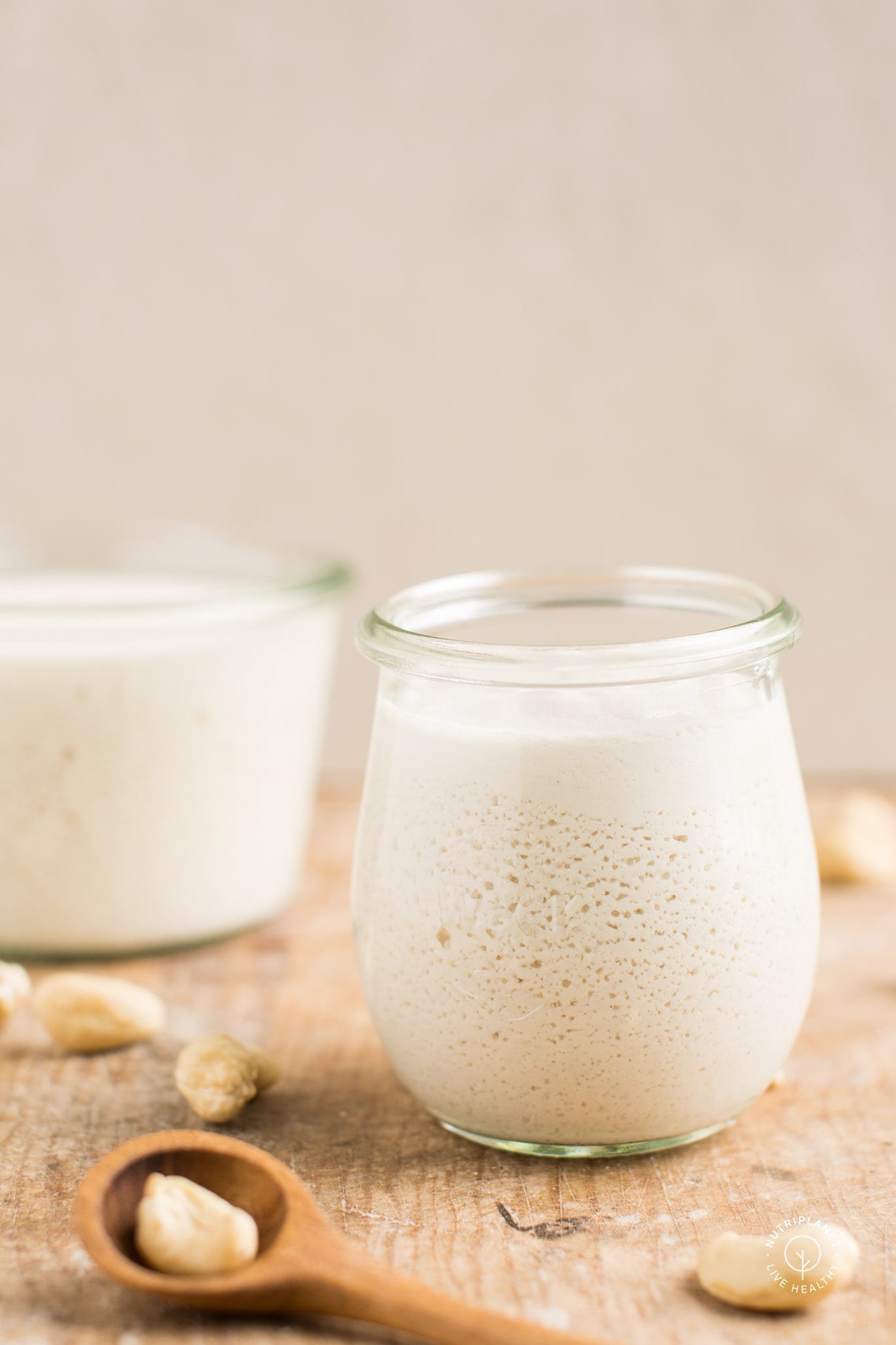 How to Use Homemade Cashew Yogurt
Top your porridge (sweet or savoury) with it.
Use cashew yogurt as dressing on top of your salad bowls. You may mix it with herbs and spices, i.e. turmeric, smoked paprika, thyme, basil, black pepper); as well as tamari or soy sauce, nutritional yeast and lemon juice.
Have some homemade cashew yogurt with fresh or frozen berries, homemade applesauce and other fruits.
Spread on homemade buckwheat crackers.
Or, use it as you would use any yogurt or regular sour cream.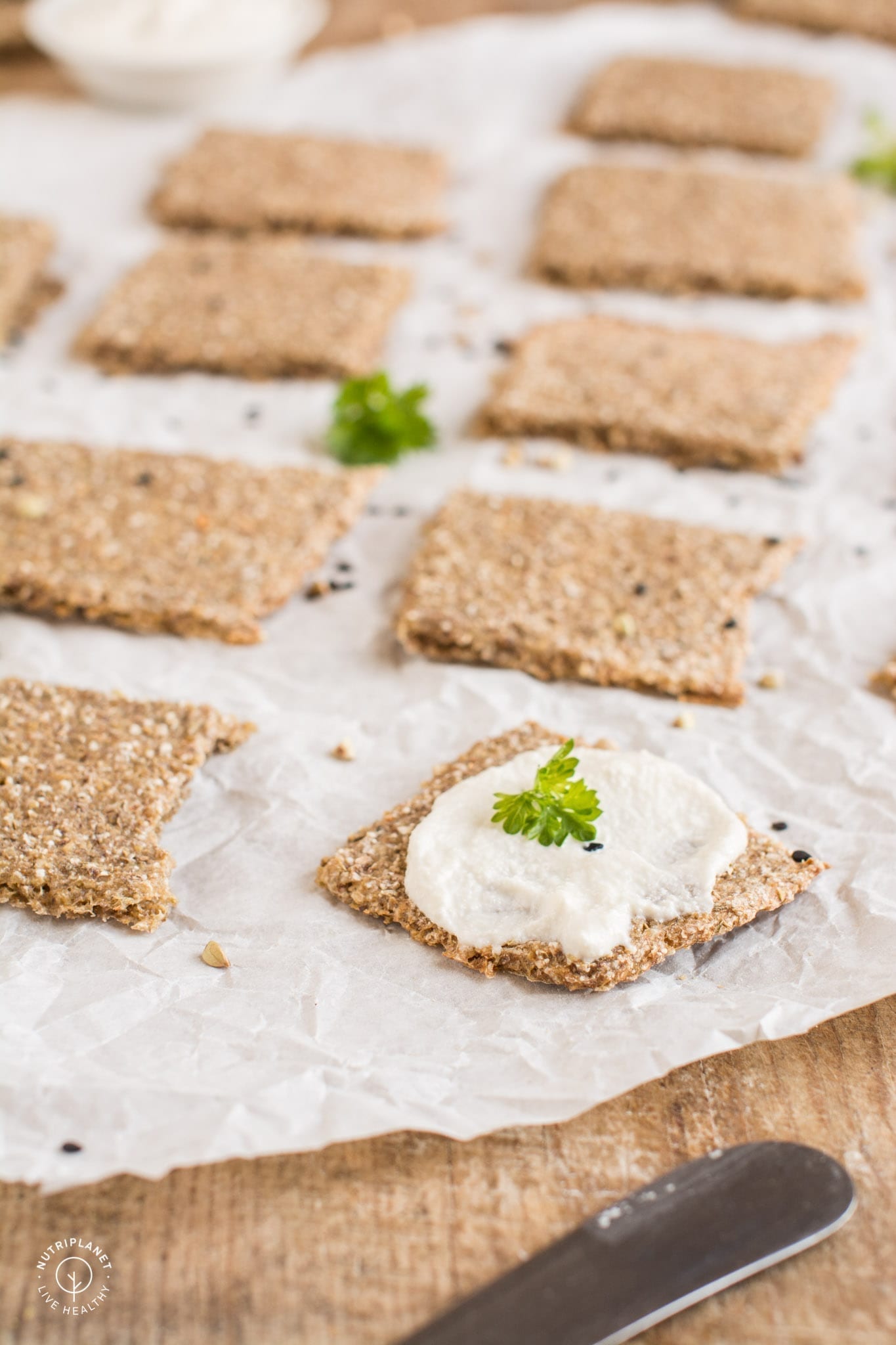 My homemade cashew yogurt is:
Finally, please let me know whether you have ever made homemade yogurt Please tag me in social media Instagram @thenutriplanet and Facebook @nutriplanet.health.hub! What's your favorite kind? Would you try to make it, even if you have no experience so far? Leave a comment below!
Print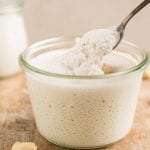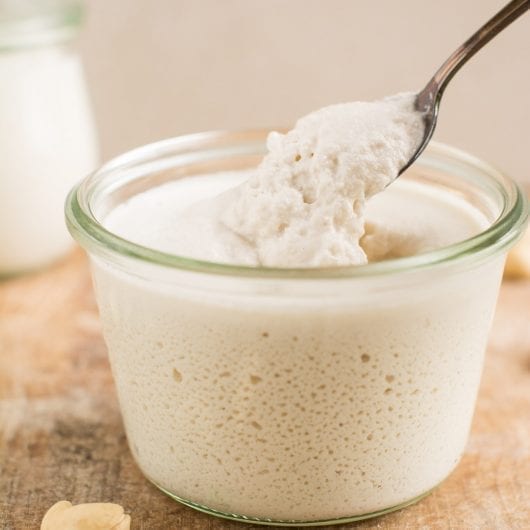 Homemade Cashew Yogurt
---
Description
Soaking time: 2-3 hours
Rich and creamy homemade cashew yogurt without yogurt maker.    
---
---
Instructions
First, soak the cashews for 2-3 hours. Feel free to soak them overnight, just be sure to place them in the fridge. Over soaking cashews can lead to bitterness, slimy water and a leaching of their flavour. For quick soaking, pour hot water over cashews and let sit for 15 minutes.
Next, rinse and drain the soaked cashews, place them in blender or mixing beaker and pour lukewarm or slightly warm filtered water over them. Then, process until you have smooth mixture.
Now, take a capsule with probiotic powder, empty it into the cashew cream and blend until the powder is well incorporated.
Finally, transfer the cashew cream into clean 500ml jar and close the lid loosely. Alternatively, cover with clean cloth and fix with a rubber band. You'll have some space in the jar for yogurt to rise as it ferments. Let it sit on countertop for 24 hours and then refrigerate. You'll already see bubbles forming after 12 hours.
Notes
Storage: 5-7 days in fridge. If you know that you're not going to eat the yogurt in a couple of days, I'd recommend fermenting for about 12 hours instead of 24. Basically, refrigerate as soon as you see the bubbles forming. The reason is that, in my experience, the yogurt continues to ferment to some extent even in the fridge.
Check how potent your probiotic is to see whether you need 1 or 2 capsules. Use 40-50 billion in total.
You can use the same recipe with coconut milk (needs to be thick one).
In case you have a small household and you don't consume tons of yogurts, make half of the recipe – simply divide all quantities in half and use one 500ml jar or container.
Prep Time:

5 minutes

Cook Time:

24 hours

Category:

Side

Method:

Raw

Cuisine:

International
Nutrition
Serving Size:

2 tbsps. (1/20 of recipe)

Calories:

83

Sugar:

0.9

Sodium:

1.8

Fat:

6.6

Saturated Fat:

1.2

Unsaturated Fat:

5.4

Carbohydrates:

4

Fiber:

0.5

Protein:

2.7
P.S. The nutritional info is basically of cashews. However, the acids in fermented foods – lactic and acetic acid – interfere with carbohydrates' turning into blood sugar, thereby reducing spikes. The good bacteria in fermented foods break down carbohydrates into acids and promote the growth of more friendly bacteria. [2]
Disclaimer: this post contains affiliate links. As an Amazon Associate I earn from qualifying purchases