Try these homemade gluten-free vegan pizza rolls if you need a healthy savoury bite sized snack for busy weekdays. Furthermore, they are yeast-free and oil-free for maximum benefits.
As I've tested those pizza rolls on my 9-year-old, I can tell you that your kids will love this recipe. Moreover, those pizza rolls are such a great addition to your recipe arsenal, because of the following qualities:
Simple ingredients
Relatively easy to make
Perfect for batch cooking
Great for freezing
Full of flavour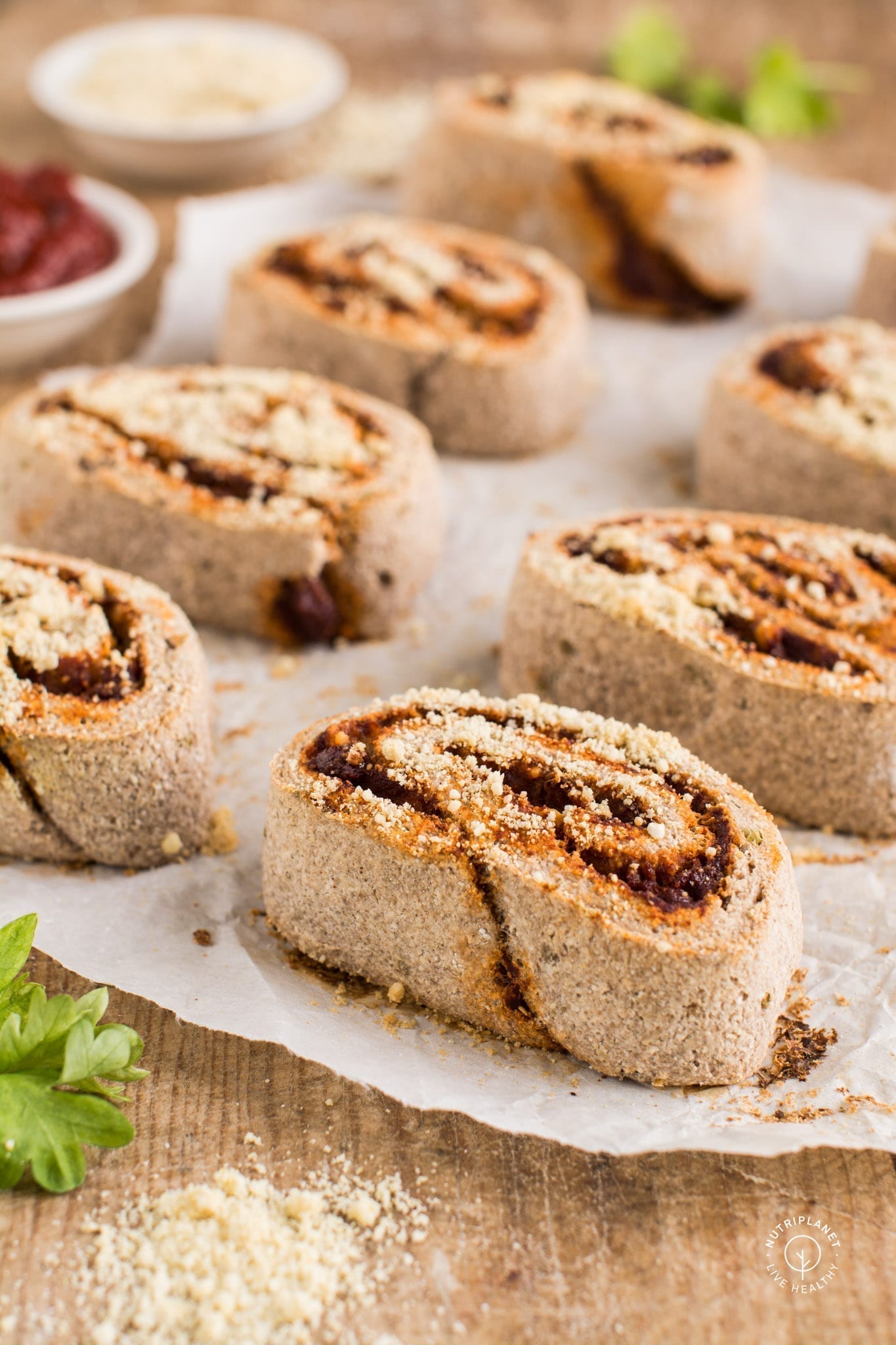 The ingredients in my pizza rolls
I bet it's quite unconventional to use coconut flour in a homemade pizza recipe, but this is how I am – always tweaking plant-based recipes to make them suitable for as many people as possible. The reason behind using half buckwheat flour and half coconut flour is to decrease the glycemic load (indicator of how eating those rolls will affect your blood sugar) of my homemade pizza rolls. This is especially important for those struggling with Candida overgrowth and/or blood sugar balance.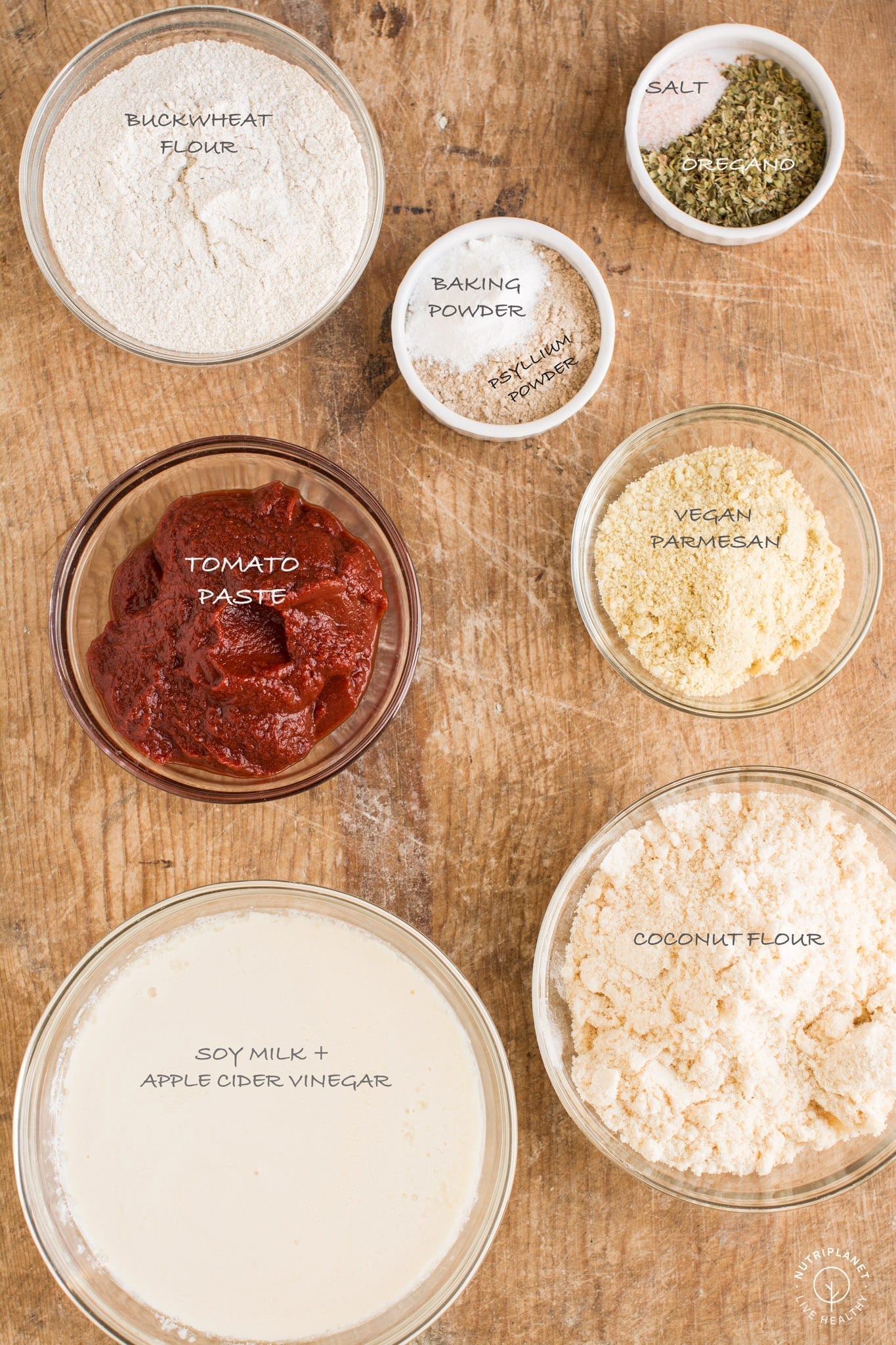 Since gluten-free flours don't bind well, I bring in psyllium powder. In case of psyllium a little goes a long way – only 12 grams is needed for the recipe to get the job done.
Evidently I don't use any oils, not even olive oil in my vegan pizza rolls as extracted fats are simply not needed – not in this recipe or in any other 🙂
In my opinion, oregano is one of the most distinguishable Mediterranean flavours, thus being on spot for pizza rolls.
As far as the filling is concerned, I decided to go for the simplest solution, i.e. tomato paste. Not to be confused with tomato sauce or tomato puree though! Tomato paste is a thick paste made by cooking tomatoes for several hours to reduce the water content. Then, the seeds and skins are strained out, and the liquid is cooked again to reduce the base to a thick and rich concentrate. Now, in my opinion, additive-free tomato paste is so full of flavour per se that a touch of oregano and vegan Parmesan is enough to result in delicious pizza rolls. And finally, vegan Parmesan is so easy to make given that you have the ingredients – cashews, nutritional yeast and Himalayan salt. Well, everyone I know have at least those foods at home!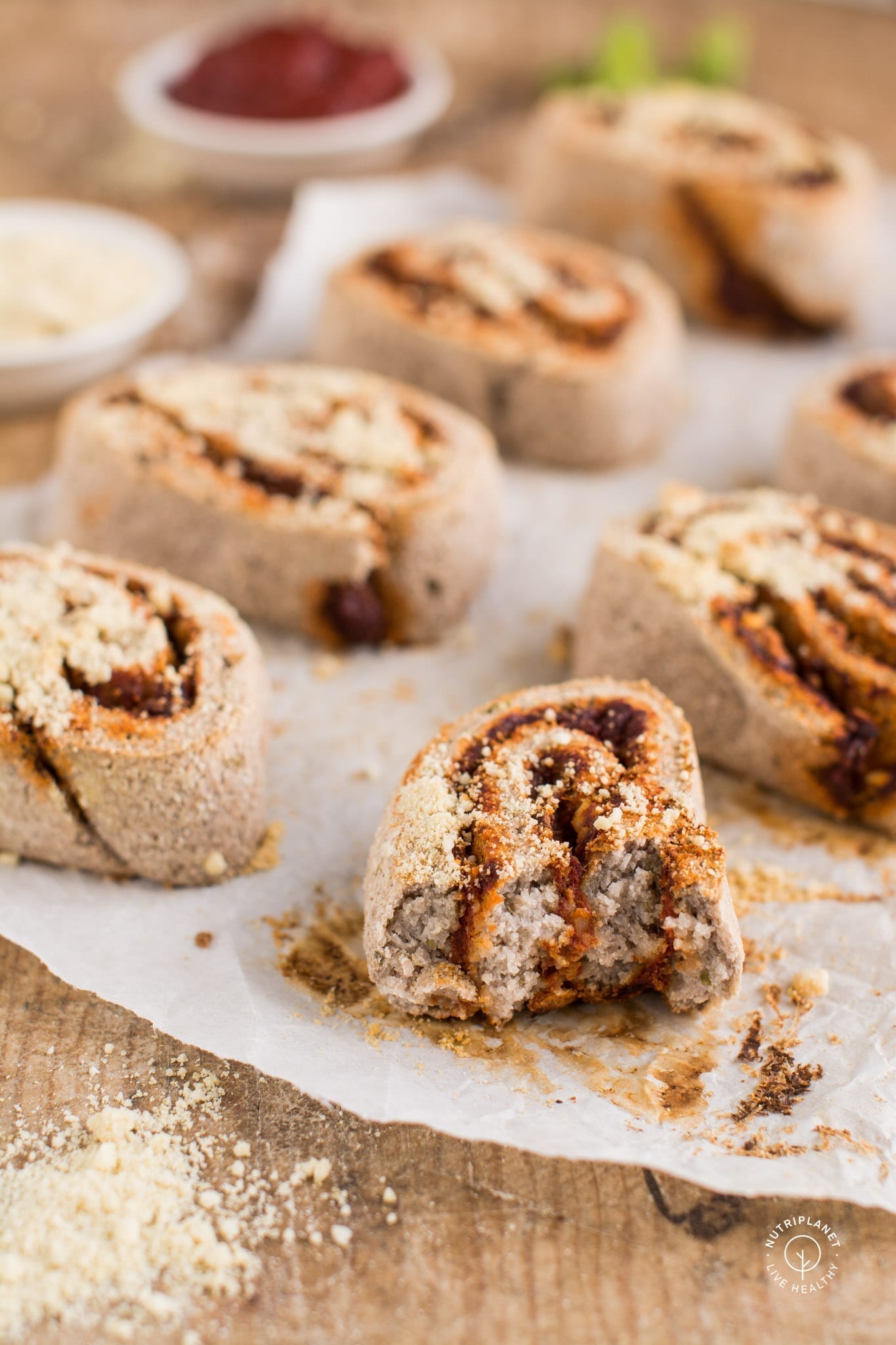 What Are Psyllium Husks?
Psyllium is a form of fibre made from the husks of the Plantago ovata plant's seeds. It is heaven sent when it comes to gluten-free baking as it's a great binding agent.
However, as it's not a whole food, you should treat it with caution. If you've never had it before, try with a small quantity first to see how you react. Some people can experience abdominal pain, cramps, gas, loose stool, or even nausea and vomiting. That being said, you shouldn't be afraid of my pizza rolls though 🙂 That's because one roll only contains 1.3 grams of psyllium, whereas a safe dosage should be around 1 tablespoon, i.e. 8 grams per day.
You can buy psyllium husk powder online or from health food store. Also, many supermarkets have psyllium in their product list.
To sum it up, my homemade gluten-free pizza rolls are yet again one of those everything free recipes:
Plant-based
Dairy-free
Candida diet friendly (including the Candida cleanse phase)
Peanut-free
Can be made soy-free
Low glycemic
Yeast-free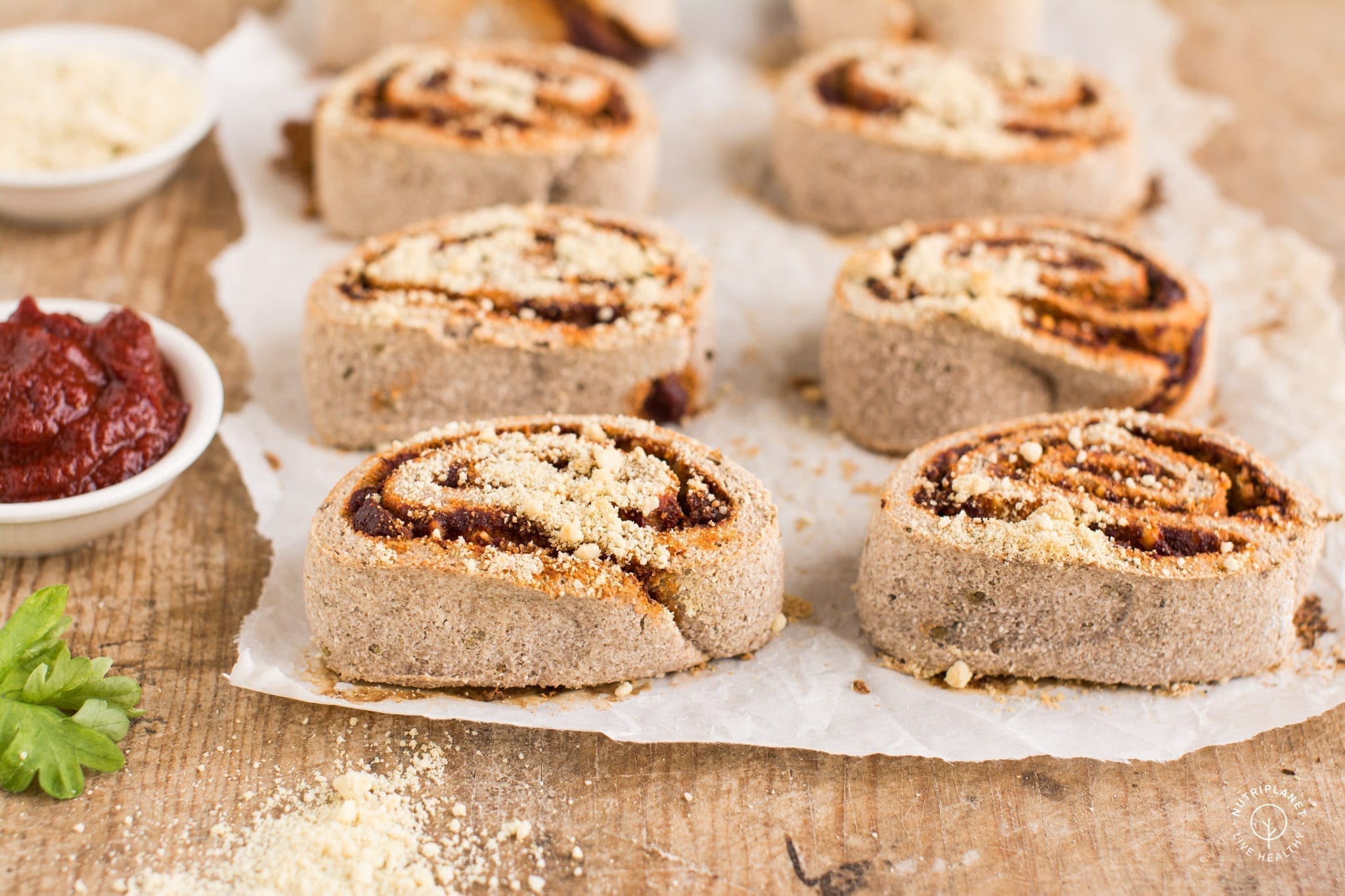 And finally, please let me know in the comments below whether you're a fan of vegan pizza rolls or prefer good old pizza. Please tag me in social media whenever you try one of my recipes! I'd love to see your creations! Instagram @thenutriplanet and Facebook @nutriplanet.health.hub
Print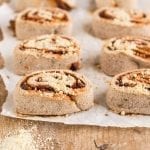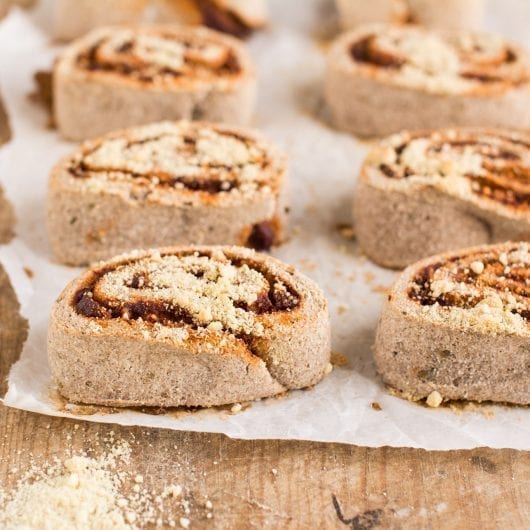 Gluten-Free Vegan Pizza Rolls [Yeast-Free]
---
Description
Try these homemade gluten-free vegan pizza rolls if you need a healthy savory bite sized snack for busy weekdays. Furthermore, they are yeast-free and oil-free for maximum benefits.
---
---
Instructions
Dough
Start by mixing together soy milk and apple cider vinegar in a small bowl. Let sit until you prepare the other ingredients.
In a large bowl, mix together the dry ingredients: flours, salt, oregano, psyllium powder and baking powder.
Next, add water and curdled soy milk to dry ingredients and mix until well incorporated. Cover the bowl with a lid or plastic wrap and refrigerate for 30 minutes.
Vegan Parmesan Cheese
While the pizza dough is cooling, prepare vegan Parmesan cheese by grinding 50g (1.8oz) of fry cashews, 3 tbsps. of nutritional yeast and ¼ tsp. of Himalayan salt. I used the small grinder that came with my food processor. You'll use about half of it. Store the rest in a sealed container or jar in fridge.
Rolling
Take a silicon baking mat, wax paper or non-stick parchment paper and sprinkle it with some buckwheat flour. Then, place your dough ball in the middle. Now, put another piece of parchment or wax paper on top of the dough and start rolling.
Roll the dough out into about 28×35 cm (11×13.8 inch) rectangle and remove the parchment paper.
Next, spread tomato paste on the rolled out pizza dough, sprinkle 1 tsp. of dried oregano and finish with vegan Parmesan cheese. Leave some cheese to top the rolls later.
Then, slowly roll the dough into a tight spiral releasing the silicone mat as you progress. Check the video!
Using a sharp knife, slice the dough log into 9-10 bite sized rolls and place them on baking sheet lined with parchment paper or use the same silicone mat you rolled the dough on. Shape them a bit if needed and sprinkle with Parmesan.
Finally, preheat oven to 190°C (375°F) and bake the rolls for 30 minutes until golden brown. Let cool a bit before eating.
Notes
Tomato paste makes a great sauce for dipping those vegan pizza rolls (should you feel the need to).
One pizza roll has 6 GL points.
Prep Time:

30 minutes

Cook Time:

30 minutes

Method:

Baking
Nutrition
Serving Size:

1/9 of recipe

Calories:

124

Sodium:

121

Fat:

3.9

Carbohydrates:

12.7

Fiber:

7.58

Protein:

5.6
Keywords: vegan pizza rolls
Tips on my homemade vegan pizza rolls:
In case you're allergic to soy, use almond milk instead of soy milk.
Teff flour would be a great gluten-free flour to substitute buckwheat flour.
Feel free to use psyllium husks instead of powder – take ⅛ cup (12g, 0.42oz) of husks.
If you prefer, coat the pizza crust with store bought pizza sauce or marinara sauce or any other favourite pizza sauce.
You may use any Italian seasoning instead of oregano.
Should you be in Candida cleanse phase, use almonds instead of cashews.
In case you don't have time to make your own vegan Parmesan, use store bought Parmesan instead. Also vegan mozzarella cheese (cashew based) would work wonders in this recipe. I wouldn't recommend the overly processed starch and oil based (potato starch, corn starch, coconut oil etc.) vegan cheeses as those fall very far from whole foods.
Storage:
Store in a sealed container in fridge for up to 4 days.
For longer keeping, freeze the rolls and heat up in oven (for crispy result) or microwave oven (for soft rolls) whenever needed.
Disclaimer: this post contains affiliate links. As an Amazon Associate I earn from qualifying purchases