Enjoy life with those vegan gluten-free chocolate chip cookies that are oil-free yet so hearty and chewy. You'll only need 7 ingredients and about 10 minutes of your time to make my easy oil-free vegan chocolate chip cookies.
Those vegan gluten-free chocolate chip cookies make a great:
Go-to power snack.
Chocolaty breakfast bite.
Small but satiating dessert.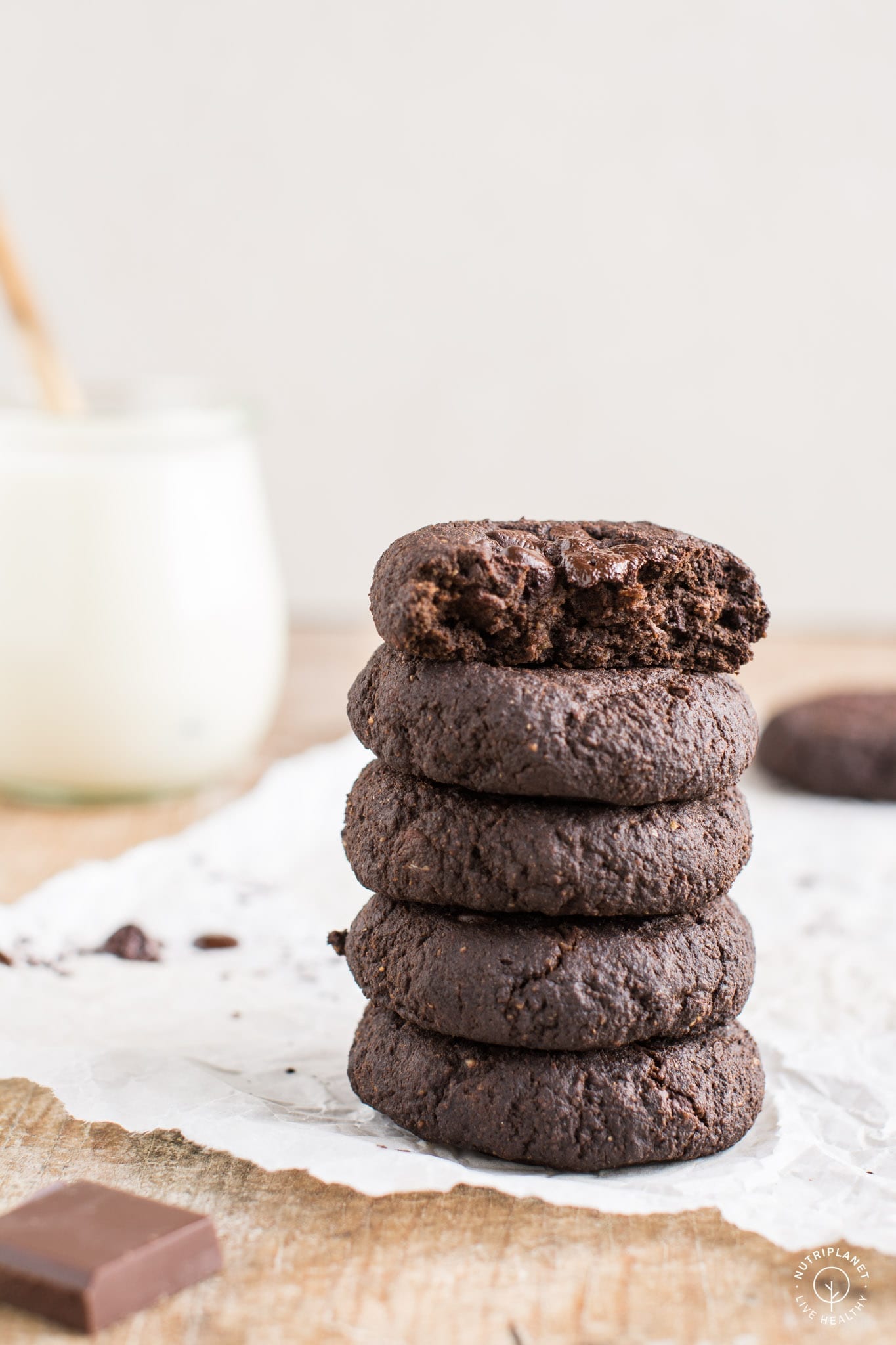 It must be noted that I absolutely love my vegan gluten-free chocolate chip cookies, because they're:
Oh-so-chocolaty!
Easy to make.
Going to make your kitchen smell heavenly!
Perfect for batch cooking and freezing.
Delightful afternoon treat.
Besides all those delightful qualities mentioned above, let's talk about what those cookies are actually made of.
The Ingredients in My Vegan Gluten-Free Chocolate Chip Cookies
As you might guess, I always opt for whole food ingredients, i.e. no refined foods like white flours, extracted oils or refined sugars. The only exceptions being dark chocolate that has cacao butter as ingredient and vegan Candida diet sweeteners xylitol, stevia and coconut palm sugar. I used to sweeten my vegan treats with dried fruit, but all this fruit combined with nuts and seeds probably caused the Candida overgrowth in the first place. So, I need to make some compromises when it comes to sweet recipes.
Sweetener
That being said, I decided to sweeten those vegan chocolate chip cookies with birch xylitol. I sometimes like to use half xylitol and half liquid stevia – 1 tablespoon of xylitol equals 12 drops of liquid stevia. In case you're lucky not to suffer from Candida overgrowth and prefer other sweeteners, check the substitution tips below recipe.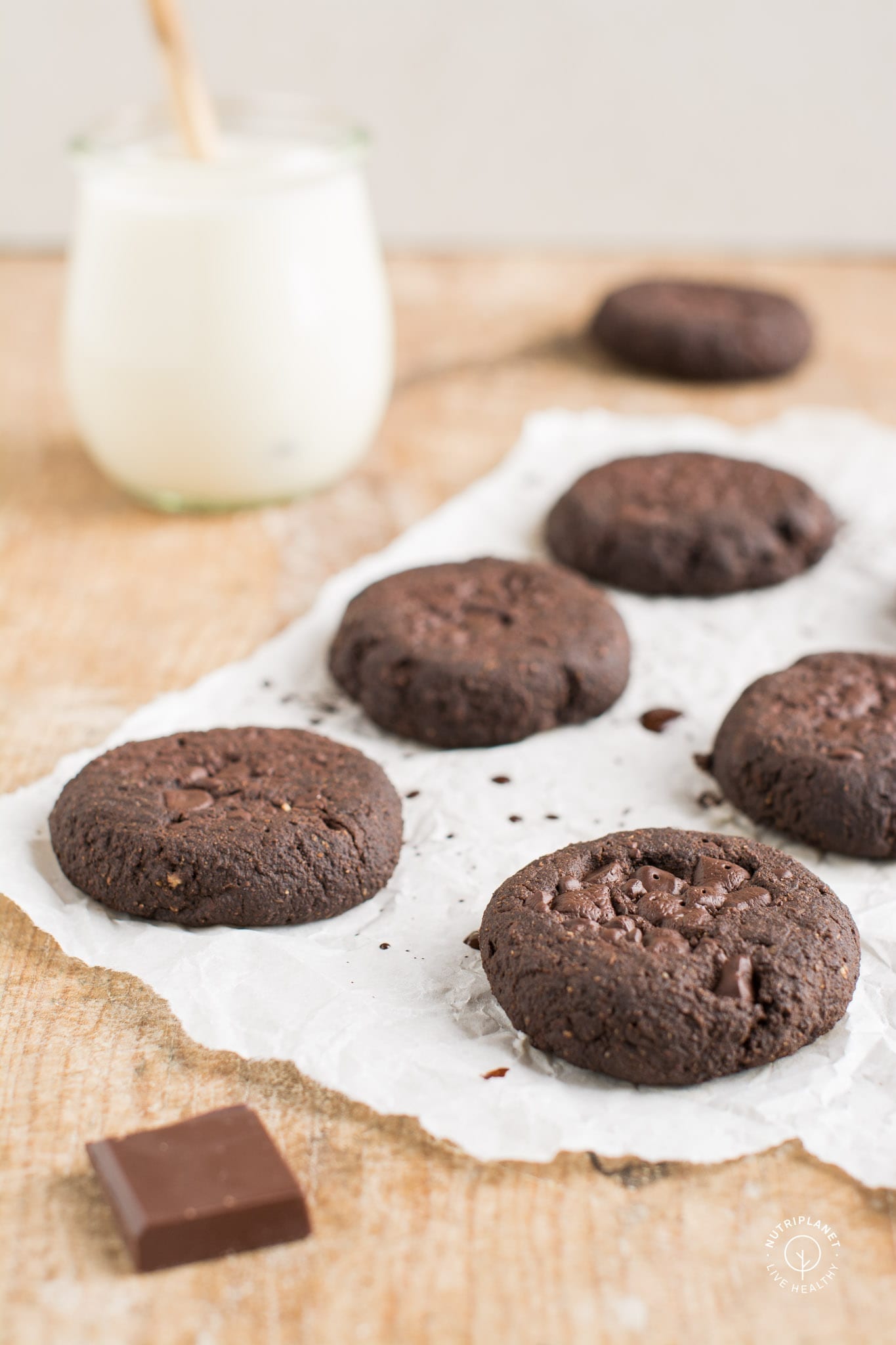 Absorbent ingredients
What's noteworthy is that I don't use any grain flour mixture, not even gluten-free one in my vegan chocolate chip cookie recipe. Instead, I let gluten-free rolled oats soak in oat milk with other dry ingredients until almost fully dissolved before I stir in melted chocolate or cacao liquor and chips.
In addition to rolled oats I added coconut flour to this recipe to bring down the glycemic load. I love coconut flour for its low sugar content, flavour and high absorbability making it a versatile component in gluten-free vegan baking.
And finally, chocolate chip cookies need to be chocolaty and brown in colour, right? This is where carob powder and cocoa powder come in handy. I love to use the combination of those two – carob powder being sweet and cocoa powder bitter makes this duo perfect for my taste buds. By the way, carob and cocoa are interchangeable! So, you can easily adjust their ratio to your liking (see more tips below recipe).
Fats from whole foods
Usually there's tons of coconut oil or vegan butter in conventional chocolate chip cookies. I prefer to get all the fats from whole food sources, i.e. nuts, seeds, avocados and olives. In this chocolate chip cookie recipe the fats come from raw cacao liquor and tahini. The latter can be easily substituted with any preferred additive-free nut or seed butter (see more under tips below).
To emphasize, my vegan gluten-free chocolate chip cookies DON'T contain extracted oils, refined sugar, wheat flour (or any other grain-based flour), or baking powder.
Let's go once more about the good qualities of those vegan chocolate chip cookies:
Gluten-free
Dairy-free
Oil-free
Soy-free
Low glycemic
Candida diet friendly
Peanut-free and nut-free
Refined sugar free
Why I use Goodio dark chocolate in my chocolate chip cookie recipe
Being a former Candida overgrowth sufferer and now living Candida-free, it's not easy for me to find chocolate that I can actually eat. It's because the majority of even the good quality organic brands use brown sugar, raw cane sugar, some kind of syrups or other sweeteners that I cannot have if I want to stay symptom free.
That being said, I was so happy to discover that Goodio uses only coconut palm sugar or birch xylitol in their products. What's more is that they actually have a few chocolates that have coconut sugar as one of the last ingredients! For your information, the ingredients are always listed in descending order. For example, the ChocOat Series – Wild Blueberry, Mint, Original Blond and Sweet Licorice. So, Goodio's dark chocolates are my first choice when it comes to choosing chocolate for vegan gluten-free chocolate chip cookies. You can choose between Sea Salt, Arriba, and Pure Nacional, the latter being my absolute favourite.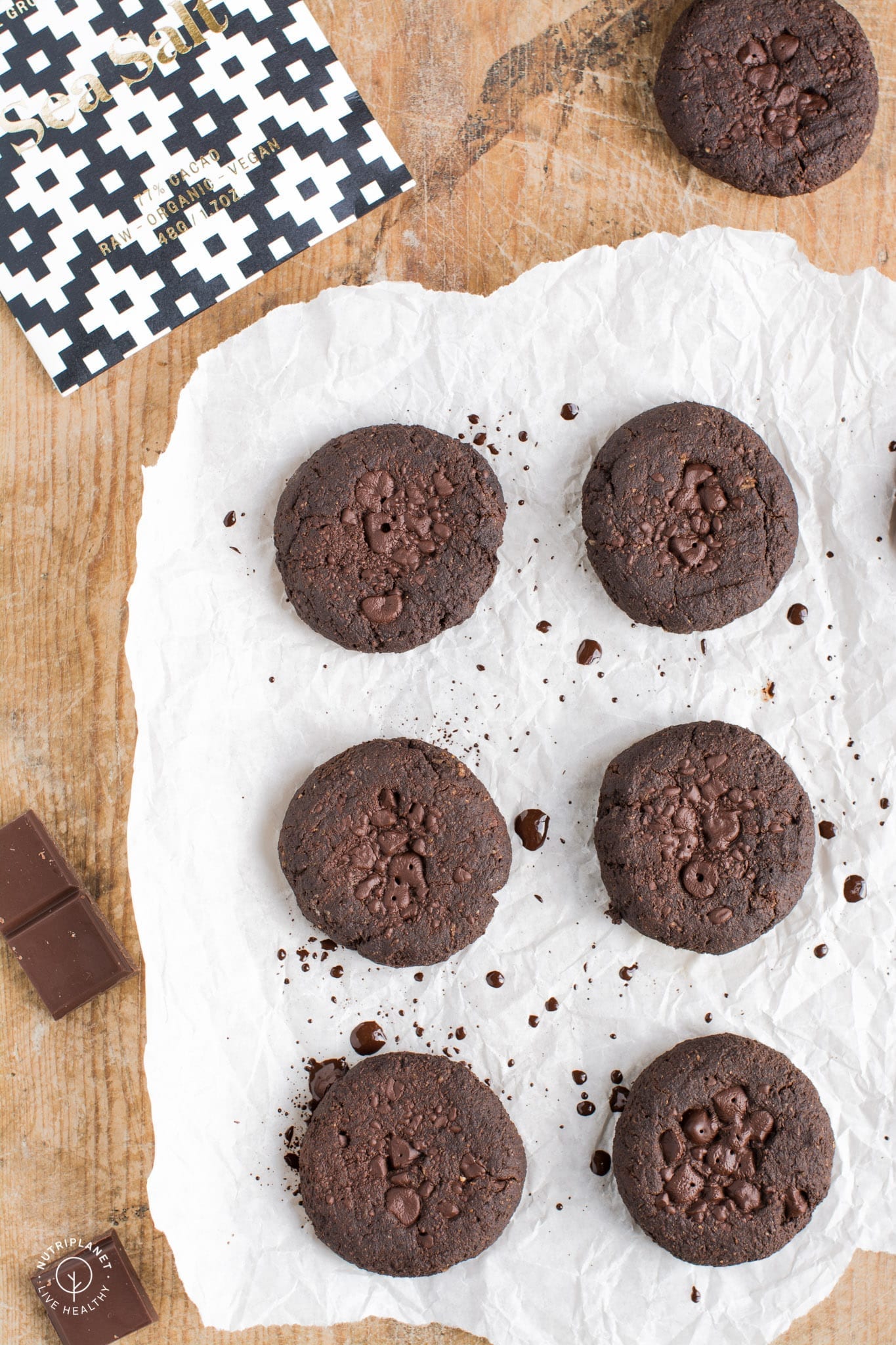 To sum it up, the reasons I love Goodio's chocolates so much are:
Bean-to-bar chocolate made of organic, wild and primarily raw ingredients.
Chocolate with unique flavours, such as spruce powder, coffee, wild blueberry, sea buckthorn, mint, rosemary, and cranberries.
Sweetened with coconut palm sugar and birch sugar.
Made of raw cacao beans from organic, non-GMO farms in Peru, Ecuador, and Congo and are stone ground for 3 days to preserve the nutrients.
Packaged in biodegradable wrapper and an envelope with a message.
Goodio especially appeals to me because there is a personal transformation story behind it. Also, they take sustainability, well-being and transparency seriously, so that people can have trust in them!
Now, should you wish to try out some of Goodio's chocolates, go to their e-shop and don't forget to use my code nutriplanet for 15% off! By the way, they deliver worldwide, so you can get those chocolates wherever you are.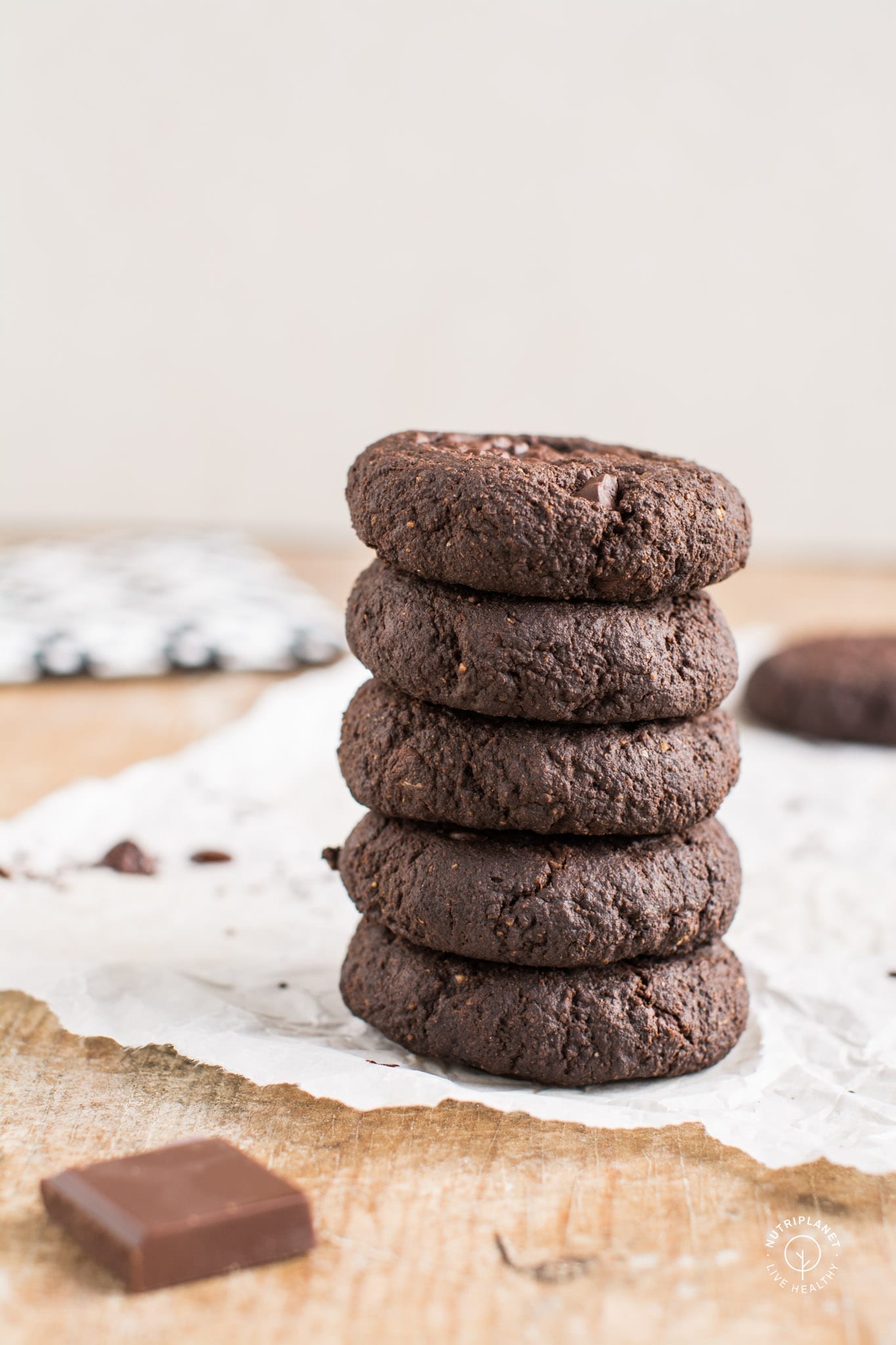 You're welcome to check out my other vegan chocolate chip cookie recipes: Grain-Free Chocolate Chip cookies without Cocoa and GF Chocolate Chip Cookies.
Finally, let me know whether you also (like me!) go crazy about chocolate chip cookies and organic dark chocolate and what are your favourite ingredients and brands. Leave me a comment below! Please also tag me in social media whenever you make and share my recipe. Instagram @thenutriplanet and Facebook @nutriplanet.health.hub
Print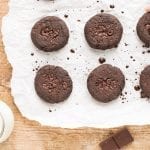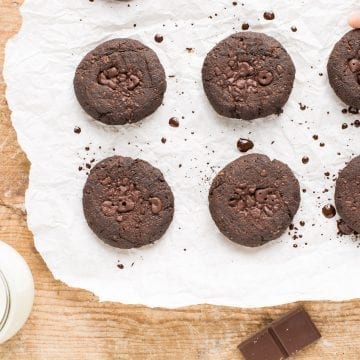 Vegan Gluten-Free Chocolate Chip Cookies
---
Author:

Nele Liivlaid

Total Time:

28 minutes

Yield:

8

servings

1

x
Description
Enjoy life with those vegan gluten-free chocolate chip cookies that are oil-free yet so hearty and chewy. You'll only need 7 ingredients and about 10 minutes of your time to make my easy oil-free vegan chocolate chip cookies.
Soak time: 30 minutes – 1 hour
---
---
Instructions
In a large bowl, mix together all the dry ingredients (except cacao liquor/chocolate and tahini). Then add oat milk and mix well. Let the batter sit for 30 minutes to an hour stirring occasionally. The batter has soaked enough when the rolled oats have almost dissolved.
Next, in a double boiler or in microwave oven, melt half of the cacao liquor or dark chocolate and all of the tahini (in case you take it out of fridge and it's not runny). Chop the reminder of chocolate/cacao liquor or use ready chocolate chips instead.
Now, stir the melted cacao liquor/tahini mixture into the batter. Add also chopped dark chocolate or chips leaving some to add on top of the cookies later.
Refrigerate the dough for at least 30 minutes.
Once you've chilled the dough, form 8 round cookies – form a ball between your palms and then press it down just a bit. Place the cookies on baking sheet lined with parchment paper or silicone baking mat. Leave enough space between cookies to be able to press them down a bit. Each cookie will weight about 45 grams (1.6oz). Now, sprinkle the reminder of chopped dark chocolate or chips onto cookies. Then, take a dessert fork and press the cookies down a bit, so that they're about 1.5cm (0.59") thick with a diameter of about 6cm (2.4").
Finally, bake the cookies at 175°C (350°F) for 16-18 minutes (if you're after softer result, bake the cookies for less time, but if you prefer them denser, leave them into oven for longer). Transfer the cookies onto cooling rack and let cool a bit before eating.
Notes
Use my code nutriplanet to get 15% off when buying Goodio chocolates. They deliver worldwide.
See substitution tips for tahini, oat milk and xylitol below.
Store the cooled cookies in an airtight container in fridge for 3-4 days or in freezer for up to a month. Heat the cookies up in oven (for crisp edges) or in microwave oven (for soft result). I'd suggest heating them up a bit even when taken from fridge as both cacao liquor and chocolate harden a lot when chilled.
One cookie has 5.7 GL points.
Feel free to make smaller cookies if you prefer to have tiny bites to take with you on the go!
Prep Time:

10 minutes

Cook Time:

18 minutes

Method:

Baking
Nutrition
Serving Size:

⅛ of the recipe, 1 cookie

Calories:

137 kcal

Sodium:

57.5mg

Fat:

6.54g

Carbohydrates:

10.5g

Fiber:

7.65g

Protein:

3.93g
Keywords: chocolate chip cookies
Tips on my vegan gluten-free chocolate chip cookies recipe:
Feel free to use only cacao liquor or only dark chocolate. Alternatively, use half and half, i.e. 25 grams of cacao liquor and 25 grams of chopped dark chocolate. This is exactly what I did – I melted 25 grams of cacao liquor and chopped up the same weight of Goodio's Sea Salt chocolate.
You can use any nut or seed butter instead of tahini: almond butter, peanut butter, cashew butter, hazelnut butter, sunflower seed butter or even coconut puree (manna).
Carob power and cocoa powder are interchangeable, i.e. you can replace one with the other. However, remember that carob is sweet and cocoa bitter. In case you decide to go for more cocoa, you might want to add a bit more sweetener.
Any plant milk can be used instead of oat milk, i.e. almond milk, soy milk, hemp milk, rice milk etc. Should you use plant milk that is not naturally sweet (oat and rice milk are sweet per se), be ready to add a bit more of sweetener.
And finally, feel free to use any preferred sweetener such as date sugar, coconut sugar, or raw cane sugar. If you're struggling with Candida overgrowth, stick to xylitol or use 36 drops of liquid stevia instead.
Disclaimer: this post contains affiliate links. As an Amazon Associate and Goodio affiliate I earn from qualifying purchases.
Watch how I make very similar chocolate chip cookies in the below video (the cookies start at 6:14):