My vegan paleo chocolate chip cookies without cocoa make a delicious paleo dessert, breakfast or snack to everyone looking for grain-free baked goods. This great recipe proves that it's possible to enjoy chocolaty treats even when intolerant to cacao.
Conventional chocolate chip cookie recipes use vegan butter or coconut oil, refined sugar or brown sugar and cocoa. Now, you must already guess that I aim to differ! Yes, again 🙂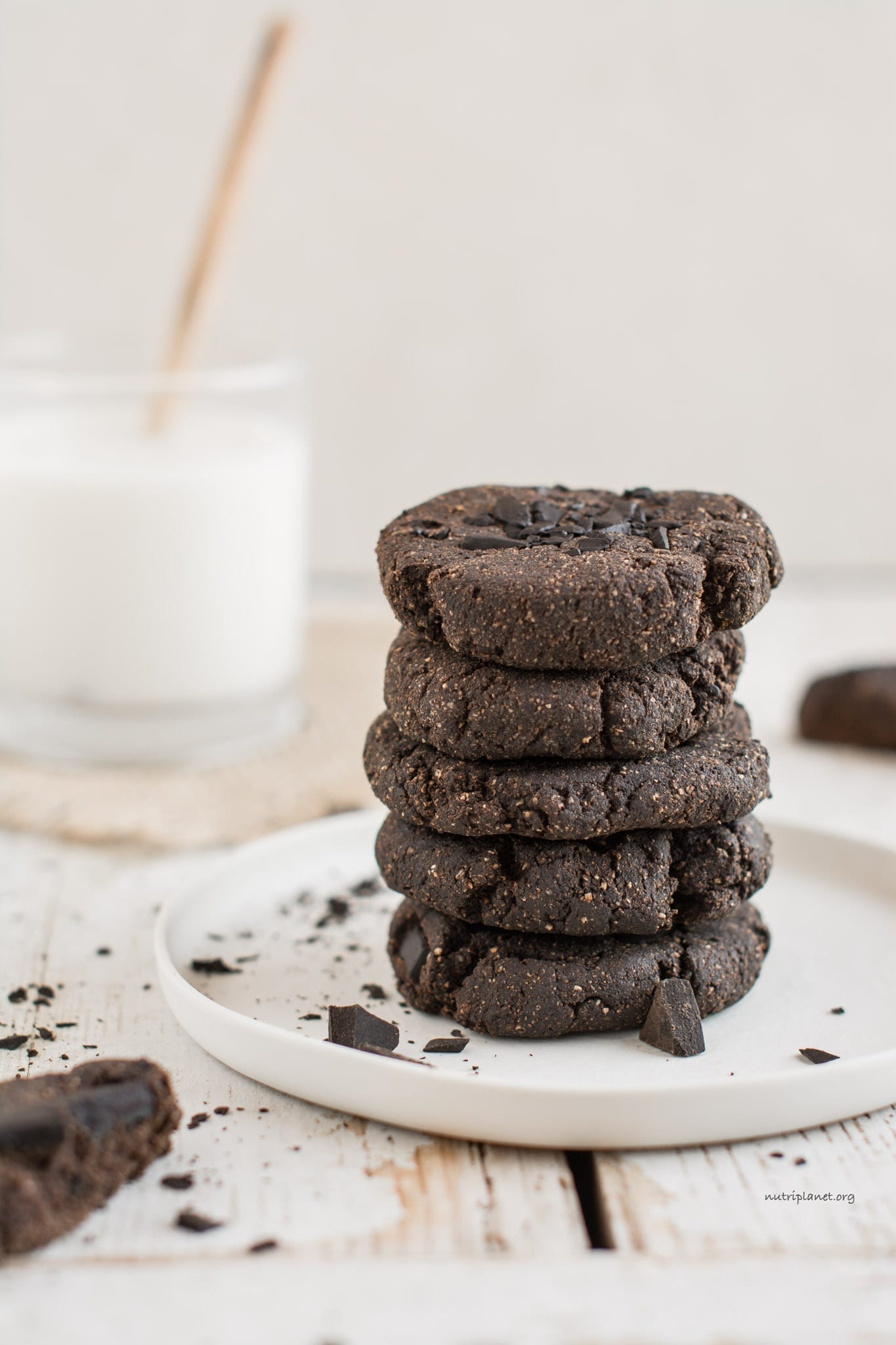 The story behind my vegan paleo chocolate chip cookies.
I must thank my dear vegan Candida diet meal plan clients for those delicious paleo chocolate cookies.
One very lovely client specifically asked for grain-free chocolate chip cookies without cacao as the latter is in the avoid list in Candida cleanse phase. So, I took her request seriously and started experimenting. I wish I could say that this was one of those recipes that just happen effortlessly!
Instead, I tested the recipe for about 5 times before I got it right. Needless to say, my taste testers (hubby and kid) were happy 🙂 All the batches were yummy, I just needed to get everything right – consistency, taste, sweetness etc.
I even paid attention to the fat content! As I didn't want those cookies to be overly greasy or heavy, I actually decreased the amount of coconut puree in the recipe. Don't worry, they are still super filling and hearty!
What are my paleo chocolate chip cookies made of?
Firstly, being grain-free, my recipe uses almond protein powder and coconut flour instead of grain based varieties.
Secondly, carob is a great substitute to cacao. I find the combination of raw and roasted carob irresistible!
Thirdly, you need a binder – I chose ground chia seeds and they do a fine job.
Then, to enhance the flavours, I added cinnamon or Himalayan salt. However, you could also try some vanilla powder.
Instead of oil or butter I used coconut puree (basically pureed coconut flesh).
And finally, chocolate chip cookies can't go without the chips, right? So, I made carob chips using cocoa butter and carob powder (I took 60 grams of cocoa butter and 40 grams of carob per 100 grams of chips).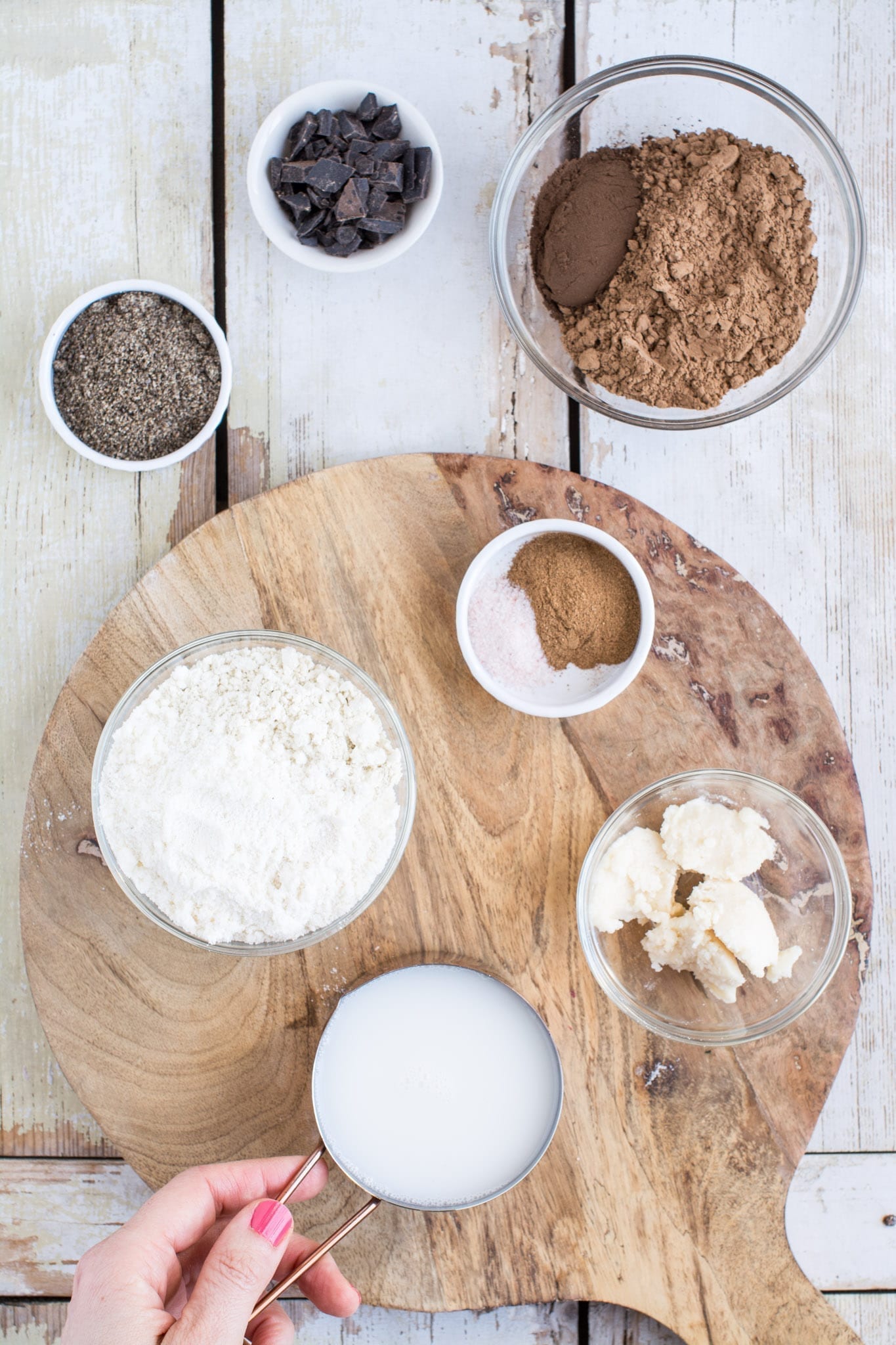 My vegan paleo chocolate chip cookies are:
Gluten-free
Sugar-free
Grain-free
Candida cleanse diet friendly
Low glycemic
Rich in fibre
Peanut-free
Soy-free
Protein-rich
Now, tell me whether you're also into vegan paleo treats! Furthermore, let me know if you'd like to see more grain-free options on my blog. Give me your thoughts in the comments below!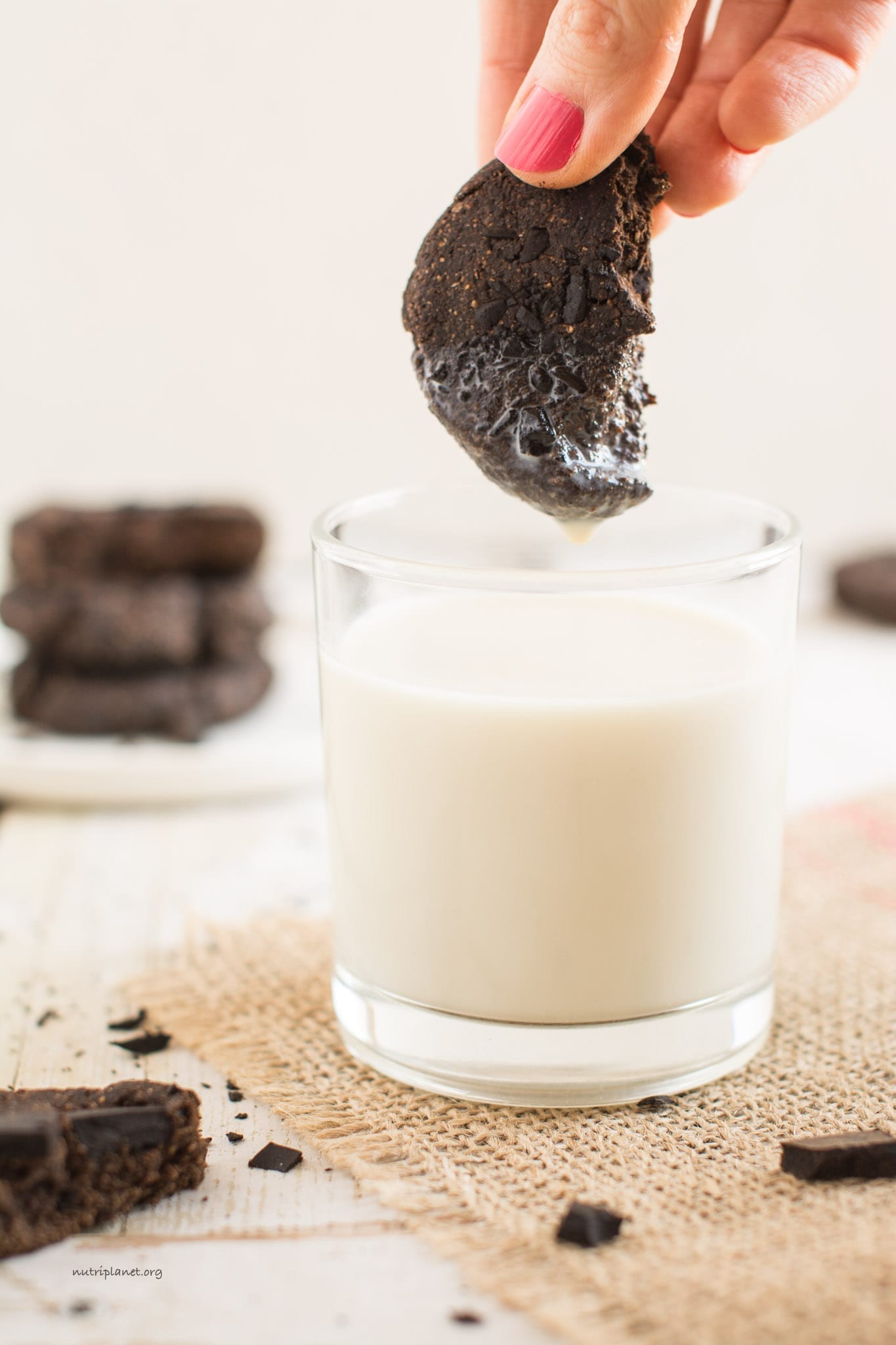 Vegan Paleo Chocolate Chip Cookies without Cocoa
Makes: 8 cookies
Prep time: 10 minutes
Cook time: 15 minutes
Cooling time: 15 minutes
Directions
Start by weighing 30 grams of coconut puree and warm it up in microwave oven or in double boiler (until it is liquid).
Then, mix together coconut puree and oat milk. Add the milk gradually and stir.
In a large bowl, mix together all the dry ingredients (except carob chips).
Next, pour the liquids over dry ingredients and mix until you have homogeneous batter. Finally, fold in the carob chips. Cover the bowl and refrigerate for 15 minutes.
Then, divide the batter into 8 portions (or make smaller or bigger cookies), form round-shaped cookies with your hands and place them on a baking sheet lined with parchment paper. Bake the cookies at 175°C (350°F) for 16 minutes. Let cool for about 15 minutes before eating.
How to make carob chips at home:
In a double boiler (or in microwave) melt 60 grams (2.1oz) of cocoa butter.
Then, whisk 40 grams (1.4oz) of carob powder into the melted cocoa butter.
Next, pour the liquid mass into a small cake tin or bread loaf lined with parchment paper and refrigerate until firm.
Finally, place the firmed carob chocolate onto chopping board and using a sharp knife, chop it into as small pieces as you like. Store in a glass jar in fridge.
Nutritional info per one cookie (⅛ of the recipe): 115 kcal, 4.67g carbohydrates (44.5% of kcal), 6.8g fats (53.2% of kcal), 5.26g of protein (18.3% of kcal), 7.06g fibre, 81mg sodium, and 4.2 GL points.
Tips on my vegan paleo chocolate chip cookies:
By all means, if you don't need to avoid cacao, replace carob chips with regular dark chocolate chips and roasted carob with raw cacao powder.
In case you only have raw carob powder, use only that and ditch the roasted carob. The latter adds a bit of bitter taste to remind more of dark chocolate chip cookies.
Coconut puree may be substituted with any additive-free nut or seed butter: almond butter, peanut butter, tahini, cashew butter etc. In case you go for more bitter-tasting butter (like tahini), you might want to add a bit of sweetener, e.g. xylitol, stevia, coconut nectar or coconut sugar.
Also, throw in a bit of sweetener; in case you substitute oat milk with any other plant milk that is not naturally sweet, e.g. almond milk, soymilk, hemp milk etc.
In my opinion those cookies get enough sweetness from carob, coconut puree and oat milk. However, should you be a real sweet tooth, feel free to add a bit of sweetener.
Instead of making your own carob chips, you can also opt for store bought varieties. Make sure they contain no added sugars or other unwanted additives, especially if you suffer from Candida overgrowth or unstable blood sugar.
How to store those paleo chocolate chip cookies:
On kitchen counter – in a loosely closed jar or container for a day.
In fridge – also in a loosely closed jar or container for up to 4 days.
For longer storage, keep them in freezer and warm up in oven (for crisp result) or in microwave oven (for soft and moist cookies).
Disclaimer: this post contains affiliate links. As an Amazon Associate I earn from qualifying purchases.