Unsweetened carob chips that are as delicious as chocolate chips, but without the adverse effects of cocoa. Just 2 ingredients, 1 bowl and 10 minutes of your time!
Should you be one of those people intolerant to cocoa, but still wish to enjoy your chocolate chip cookies, then homemade carob chips are for you! My carob chips use no sweeteners or adverse additives and don't require any advanced cooking skills.
Furthermore, the same recipe can be used to make carob chocolate or carob bars to give you the possibility to enjoy that so-needed piece of chocolate in the afternoon!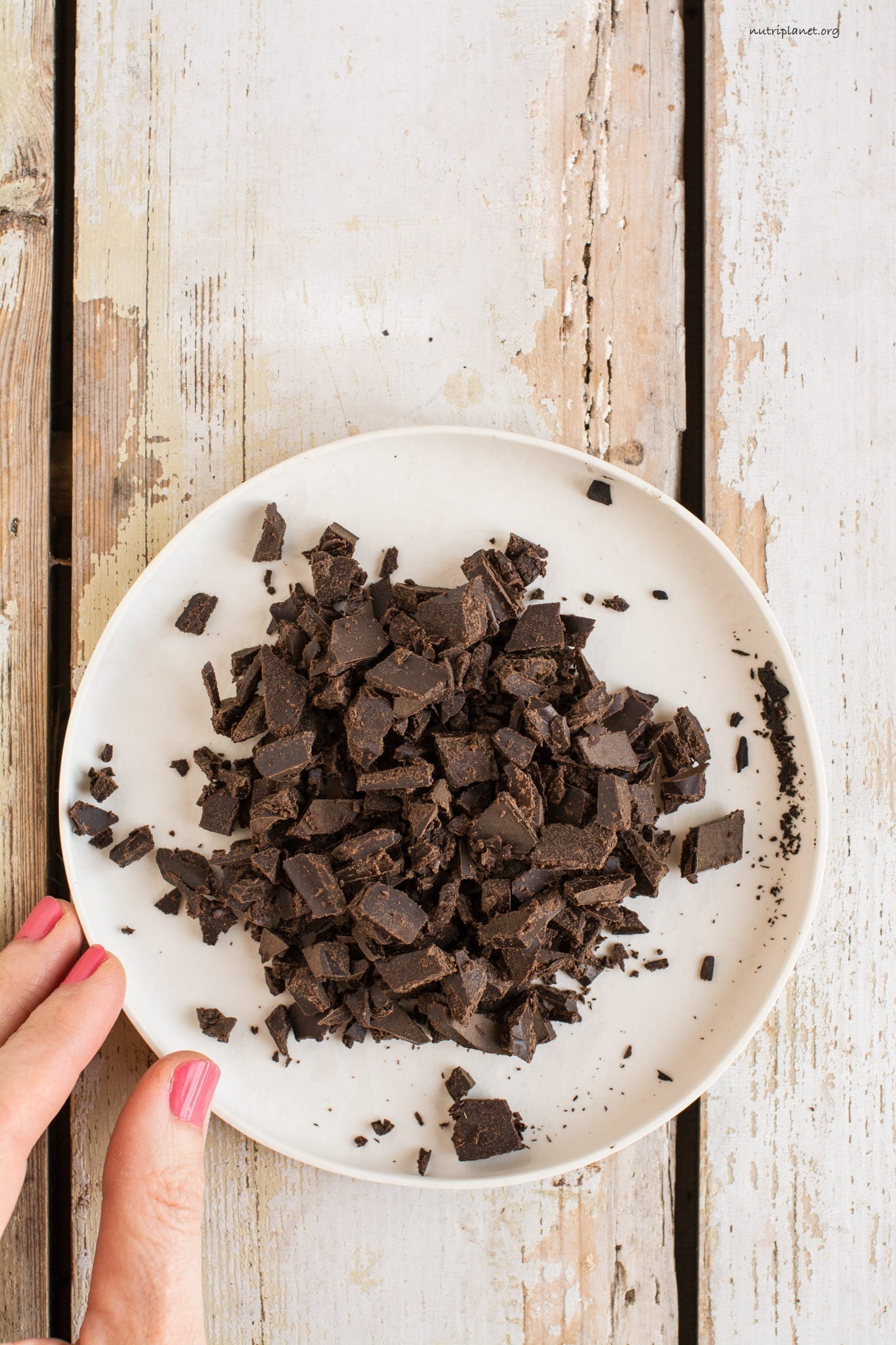 My homemade carob chips are:
Easy-peasy to make
Require no advanced cooking skills
Gluten-free
Soy-free
Nut-free
Peanut-free
Candida diet friendly
Low glycemic
Sweetener-free
So versatile!
The ingredients in my carob chips
Most recipes for carob chips use hydrogenated palm kernel oil or coconut oil. Now, the problem with carob chips made with coconut oil is that it'd not be possible to bake with them – they'd simply melt away! Of course, if you want to nibble on them raw, you might as well go for coconut oil, but it's a definite no-no if you need the chips to stay intact when heated.
Palm oil is an entirely different issue! The palm oil industry is linked to major issues such as deforestation, habitat degradation, climate change, animal cruelty and indigenous rights abuses in the countries where it is produced, as the land and forests must be cleared for the development of the oil palm plantations.[1] So, do you really want to support all that? Furthermore, while palm oil may have some health benefits, it may also increase certain heart disease risk factors.
Taking all that into consideration, I went for cacao butter, which contains only traces of caffeine and theobromine (more on that in post Carob: Benefits, Uses, Carob vs Cocoa).
Needless to say, the second ingredient in my carob chips recipe is carob.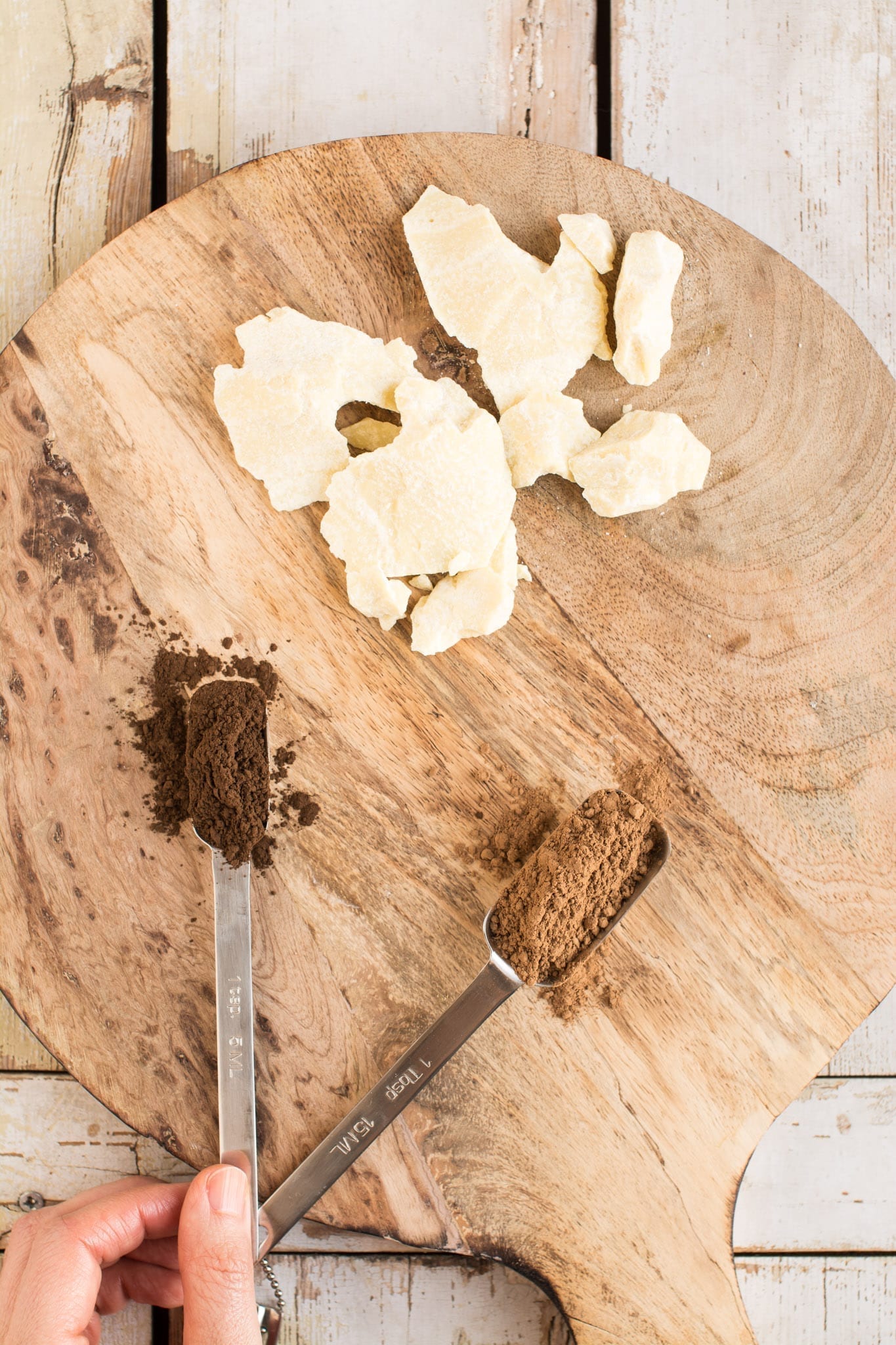 What is carob?
Ceratonia siliqua, known as carob is a flowering evergreen tree in the pea family. It is widely cultivated for its edible pods, and as an ornamental tree in gardens and landscapes.
The ripe, dried, and sometimes toasted, carob pods are ground into carob powder, which can be used to replace cocoa powder.[2]
As carob is naturally sweet, the powder can be used as sweetener in baked goods, candies, and desserts.
Read more on carob from Carob: Benefits, Uses, Carob vs Cocoa:
Carob benefits
Uses of carob
How to use carob powder in cooking
Carob vs cocoa
Adverse effects of cocoa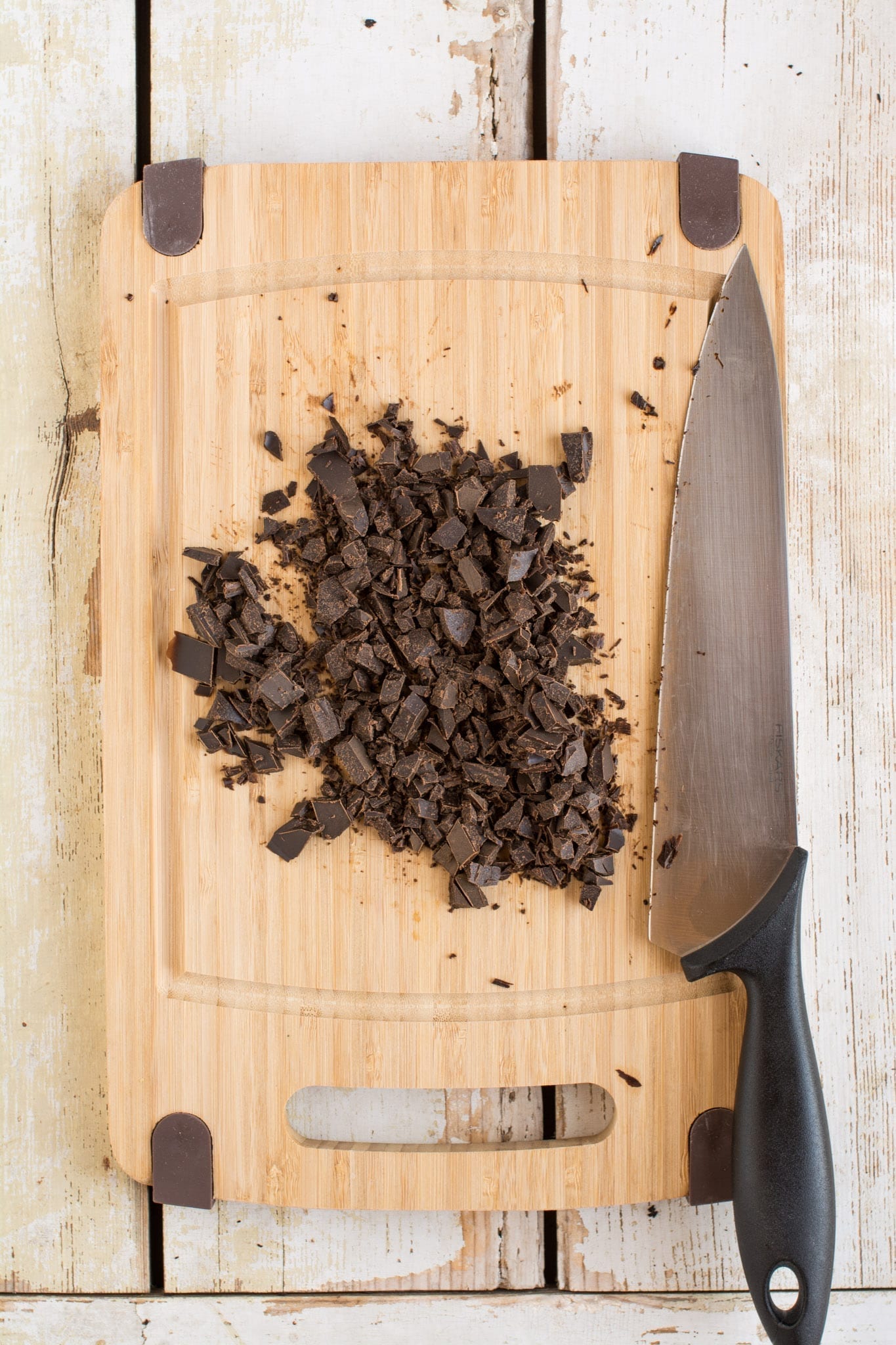 Raw vs roasted carob powder
There are three varieties of carob powder (in terms of roasting):
Raw carob powder – either no heat or under 47.7°C (118°F), of a light brown colour. Raw carob is subtly sweet and not at all bitter with a pleasant almost caramel-like taste.
Light roasted carob – heated to about 93°C (200°F) and of a lighter-dark brown colour. This variety has the sweetest taste.
Dark-roasted carob – high heat roasted up to 204°C (400°F) and of dark brown colour. Resembles cocoa the most as it becomes a bit bitter of taste.
I personally have tasted only the roasted varieties and I can tell you, that the dark-roasted carob is really intense! So, I like to combine the two or use only the light roasted carob.
Make sure to read how to use carob chips or carob chocolate further below!
Finally, I'd love to hear what you think of carob chips – would you give them a try instead of chocolate chips made of cocoa? Let me know in the comments below!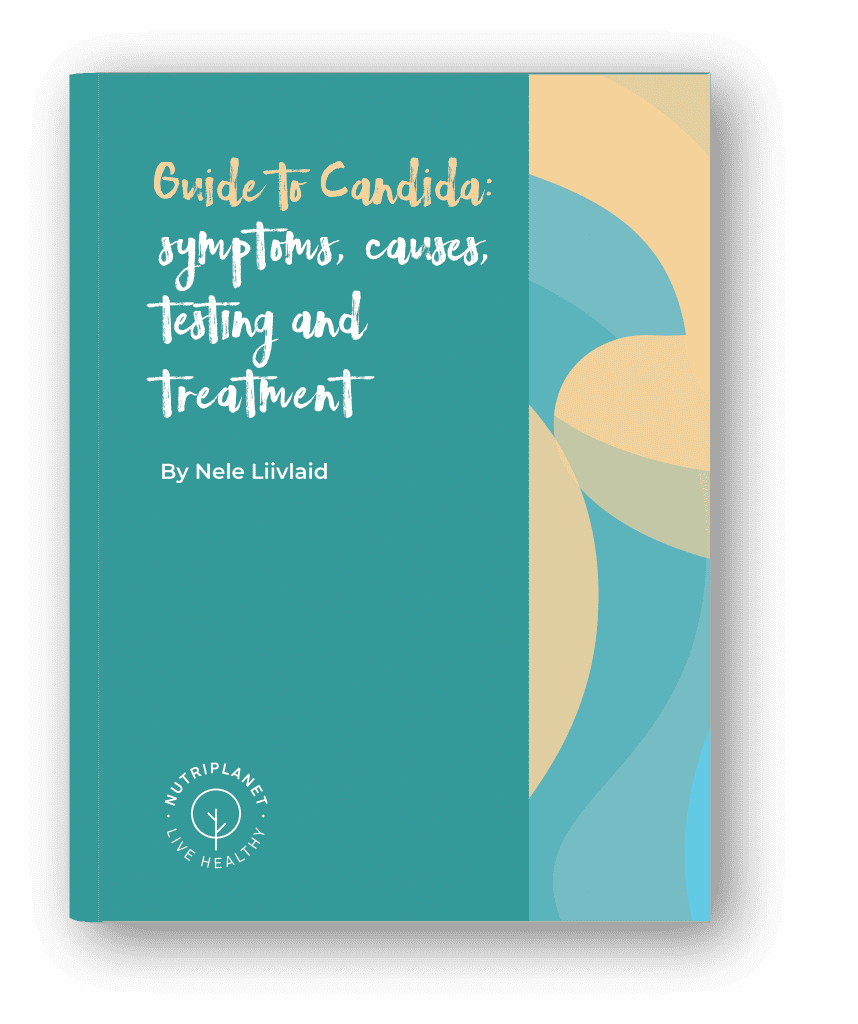 Print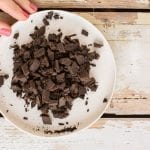 Unsweetened Carob Chips
---
Author:

Nele Liivlaid

Total Time:

1 hour 10 minutes

Yield:

100 grams

1

x
Description
Unsweetened carob chips that are as delicious as chocolate chips, but without the adverse effects of cocoa. Just 2 ingredients, 1 bowl and 10 minutes of your time!
---
---
Instructions
Start by melting cocoa butter in a double boiler (or in microwave).
Then, whisk carob powder into the melted cocoa butter. You may use only light roasted carob or a blend with dark-roasted carob. I'd suggest adding not more than a tablespoon though as dark-roasted carob is quite intense.
Next, pour the liquid mass into a small cake tin or bread loaf lined with parchment paper and refrigerate until firm.
Finally, place the firmed carob chocolate onto chopping board and using a sharp knife, chop it into as small pieces as you like. Store in a glass jar in fridge.
Prep Time:

10 min

Category:

Desserts
Nutrition
Serving Size:

100g / 3.5oz

Calories:

607.6 kCal

Sodium:

15.8mg

Fat:

55.3g (82% of kcal)

Carbohydrates:

40g (26% of kcal)

Fiber:

17.9g

Protein:

2.1g (1.4% of kcal)
How to use carob chips and carob chocolate:
You can use carob chips anywhere you'd use chocolate chips:
Disclaimer: this post contains affiliate links. As an Amazon Associate I earn from qualifying purchases.