Here's an absolutely delicious gluten-free plant-based dish for dinner tonight! Make a 30-minute hearty and creamy Indian flavoured vegan curry with chickpeas, potatoes and red beans.
I love this potato curry, because it's easy to prepare and makes a perfect recipe for batch cooking. So, cook a double batch and you're good to go for the next 3-4 days!
One of the reasons I love vegan curries so much is that I can come up with endless combinations of ingredients! Now, it may be intimidating to start cooking curry dishes if you're new to it! However, if you follow some easy steps and give it some practice, you'll forget your fear in no time. Read how to make a perfect vegan curry from Vegan Chickpea Curry with Tomatoes.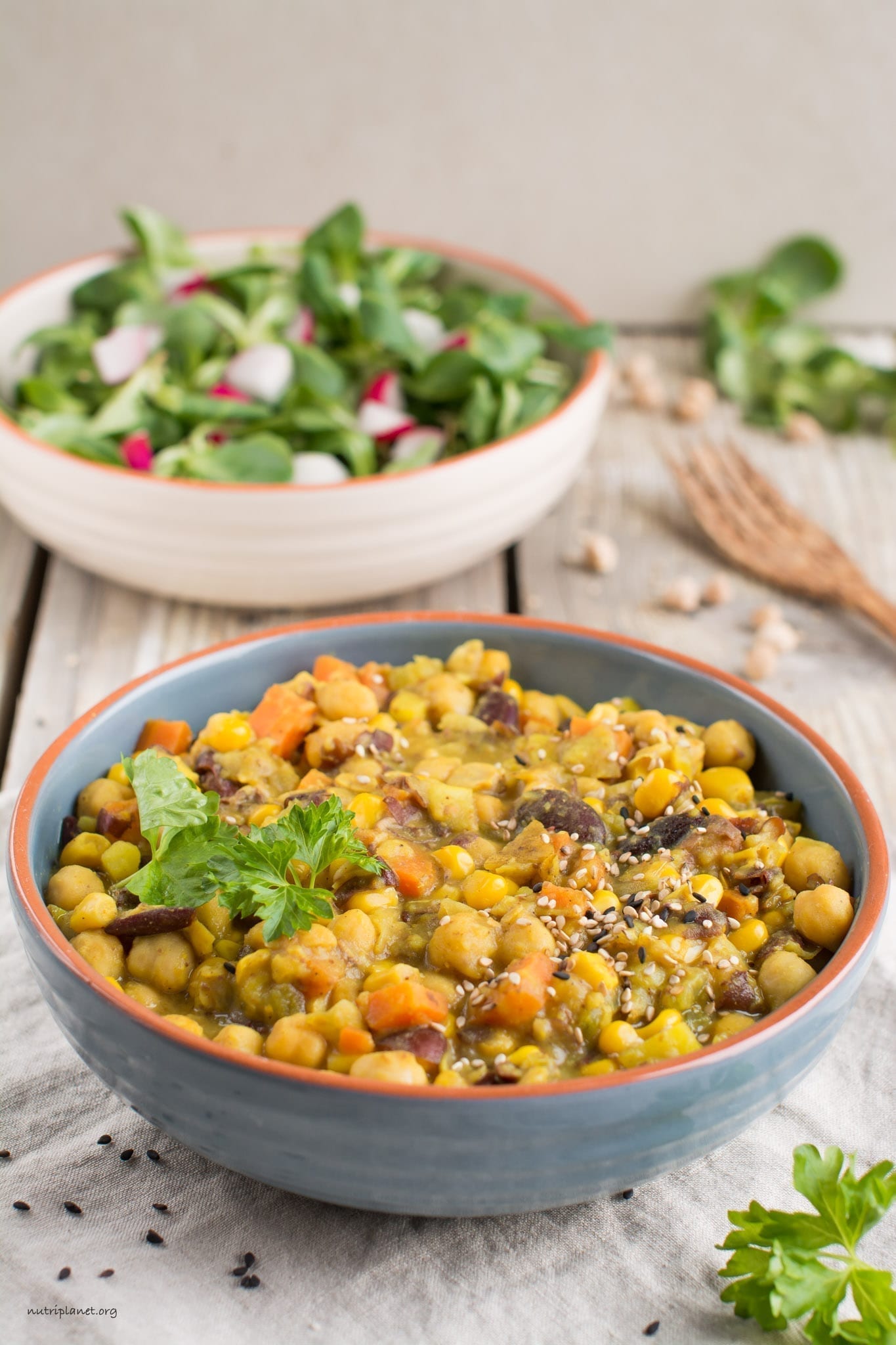 An easy vegan comfort food.
Needless to say, this vegan curry is a great recipe to start with, if you're looking for an easy vegan meal, that doesn't need expert cooking skills. You basically throw everything in a pot (following the order given in directions) and wait for this vegan curry to be ready. Moreover, it has all the comforting starches from chickpeas, red beans and potatoes as well as creaminess from coconut cream to make it a perfect comfort food.
I need to mention, that my coconut curry with chickpeas, beans and potatoes is one of those vegan recipes that you'll keep coming back to! Because it's just so easy to make and all the ingredients are readily available. Furthermore, my vegan curry is a total crowd pleaser! So, I'm sure you'll easily win the hearts of your guests and/or family.
What makes this hearty vegan curry so great?
Gluten-free
Oil-free
Low-fat
Soy-free
Grain-free
Nut-free
Peanut-free
Candida diet friendly (except cleanse)
To sum it up, my vegan curry is a perfect comfort food, if you're after a recipe that is:
ready in 30 minutes
easy to make
full of Indian flavours
perfect for batch-cooking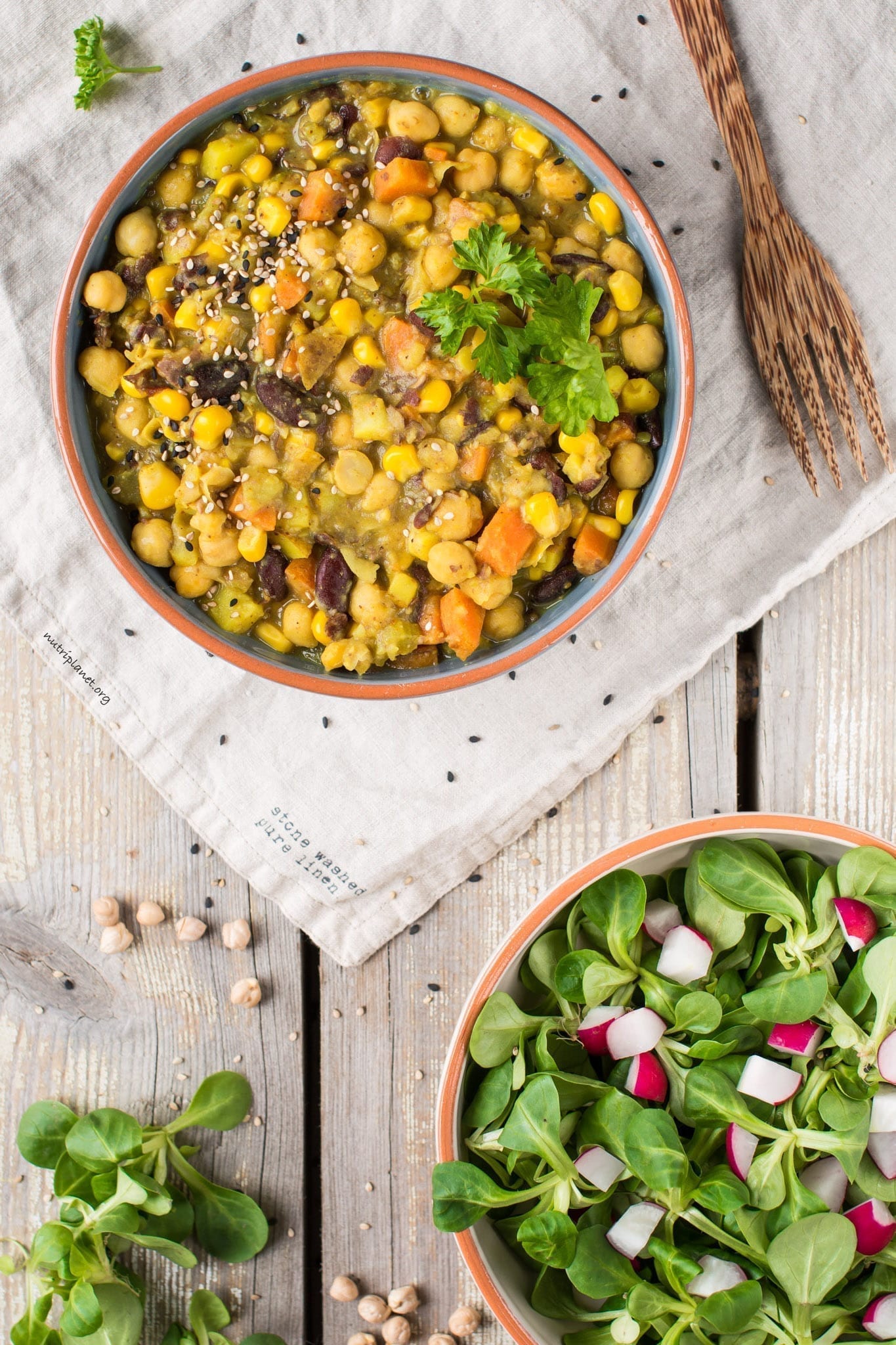 So, are you into hearty and comforting vegan curry? Let me know in the comments below! I'd love to learn your favourite curry ingredients! Please also tag me in social media whenever you make and share my recipe. Instagram @thenutriplanet and Facebook @nutriplanet.health.hub
Print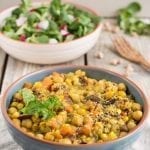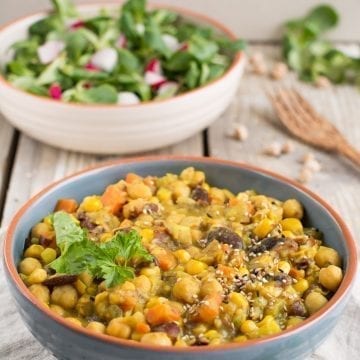 Hearty Vegan Curry with Chickpeas, Beans and Potato
---
Description
Here's an absolutely delicious gluten-free plant-based dish for dinner tonight! Make a 30-minute hearty and creamy Indian flavoured vegan curry with chickpeas, potatoes and red beans.
---
1

small yellow onion, minced

2

medium or

3

small garlic cloves, minced

1

large celery stalk, diced

1

large carrot, diced

1

medium potato, diced

1 tsp

. turmeric

1.5

tsps. crushed cumin seeds

1.5

tsps. crushed mustard seeds

140g

, 5oz (¾ +

⅛ cup

) unsalted sweet corn, rinsed and drained

240g

(

8.5oz

) unsalted chickpeas, rinsed and drained

240g

(

8.5oz

) unsalted red beans, rinsed and drained

2

tbsps. coconut cream (or cashew sour cream)

¾ tsp

. Himalayan salt (or less)
Black pepper to taste
---
Instructions
Start by preparing the spices – toast cumin seeds (from 30 seconds to 1 minute until your nose just gets a whiff of smoke and fragrance) and mustard seeds (2-5 minutes until fragrant and lightly browned, removing from heat when the seeds start to pop) on a dry pan, let cool and crush using mortar and pestle. Or make a bigger batch and grind in a spice grinder.
Next, heat up a few tablespoons of water in a skillet or large pan. After that, reduce heat; add onions and sauté them covered for 2-3 minutes stirring every now and then. Add water whenever necessary.
Then, add the carrots, celery, potato cubes and turmeric; give everything a good stir and sauté on a medium heat until the veggies are tender, about 8 minutes. If you didn't toast the spices, throw them (crushed) in along with turmeric. Again, add extra water if necessary.
When the veggies are cooked, add chickpeas, beans and corn. If the stew is too dry, add a bit of water. Then, bring to boil and turn off the heat. For a more mushy result, take potato masher or fork and mash the stew until it has thickened to desired consistency.
Finally, season with black pepper, Himalayan salt and fresh herbs like coriander, parsley and/or onion greens. Finish off with lemon juice or lime juice if you like to.
Prep Time:

15 min

Cook Time:

15 min

Category:

Savoury

Cuisine:

Indian
Nutrition
Serving Size:

1/5

Calories:

206 kCal

Fat:

3.6g (16% of kcal)

Carbohydrates:

36.8g (71.6% of kcal)

Fiber:

8.2g

Protein:

9.4g (18% of kcal)
For a complete balanced meal, add per serving:
2-3 cups of chopped Romain lettuce or 2 cups of steamed leafy greens (kale, chard, pak choi, collard greens). Measure raw leafy greens.
¼ cup cooked whole grain rice (brown, black, red or wild), millet, quinoa or buckwheat (max 3 level tablespoons, i.e. 45ml, if you're struggling with blood sugar fluctuations) or whole grain pasta.
NB! All those struggling with Candida overgrowth and/or unstable blood sugar, eat only cooled legumes, potatoes, rice and other grains. It's because those starches convert into resistant starches (a type of carbohydrate that our digestive enzymes cannot break down in the stomach or small intestine) once cooked and then cooled. Those foods can be reheated at low temperatures (less than 54°C, 130°F) and maintain the benefits of resistant starch.
However, heating at higher temperatures will convert the starch into a form that is digestible to us rather than "feeding" our gut bacteria.
Tips on my vegan curry recipe:
Any beans would work well in this stew – black beans, navy beans, pinto beans etc.
Next, you can easily use light coconut milk instead of coconut cream.
Use 1 tablespoon of my Indian Spice Mix instead of cumin and mustard seeds. Alternatively, replace turmeric, mustard and cumin seeds with ant preferred curry powder or garam masala mix.
Now, if you can't have corn, replace it with fresh or frozen peas. You can also use frozen corn instead of canned version. Throw it in a few minutes before the curry is done.
Finally, feel free to sprinkle some cayenne pepper or chilli pepper on the finished dish, if you're after spicy result.
How to store this vegan curry:
Store in an airtight container in fridge for up to 4 days.
For longer storage, divide the curry into smaller portions and store in freezer.
Disclaimer: this post contains affiliate links. As an Amazon Associate I earn from qualifying purchases.