This 8-ingredient vegan chickpea curry with tomatoes is the ultimate 30-minute comfort food that will make your meals complete. Besides being quick and easy to prepare, it is also gluten-free and dairy-free, making my curry a great recipe for those with dietary restrictions.
I must say my family absolutely loved this chickpea curry! And what's there not to like – you'll find it full of flavour, creamy and most importantly, so comforting. Moreover, this chickpea curry makes your life so much easier if you're into batch cooking as it keeps well in fridge or stored in portions in freezer.
What makes my chickpea curry stand out is that it is not overly greasy, as most coconut curry recipes tend to be. I included 2 tablespoons of coconut milk per serving, whereas I've seen many recipes with half a can of coconut milk per portion – that's a lot of coconut milk 🙂 In my opinion, those 2 tablespoons in addition to mashed chickpeas give just enough creaminess.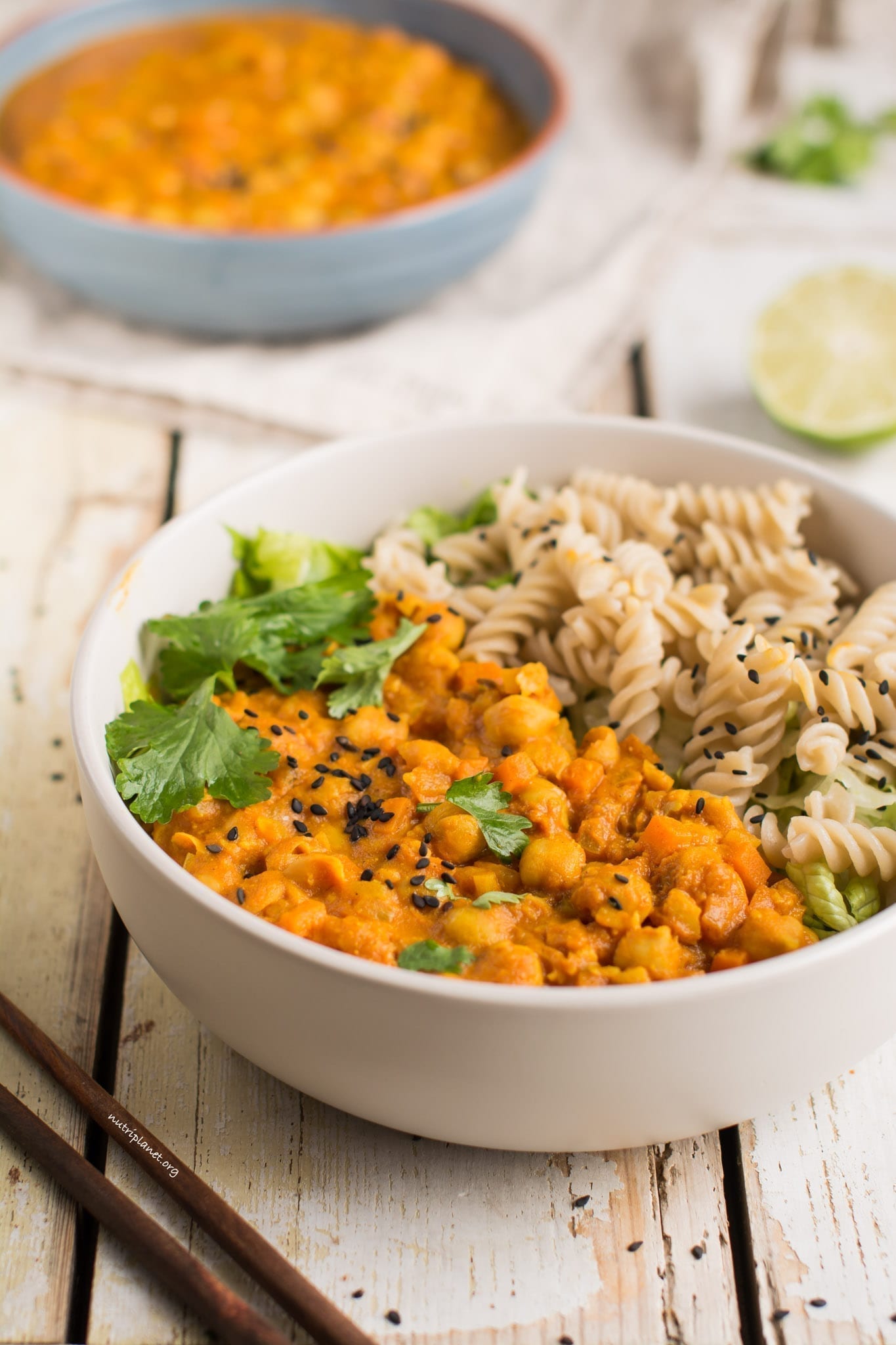 My vegan chickpea curry is not a typical Thai curry, as I don't use curry paste. Instead I swear by my dry-roasted Indian spice mix and turmeric. I don't know why, but I prefer to cook with curry powders rather than using pastes. Maybe it's because I can dry roast and grind my own fresh batches and therefore achieve the best flavour. Read my Indian spice mix post to find out why dry roasting is so important and how to do it.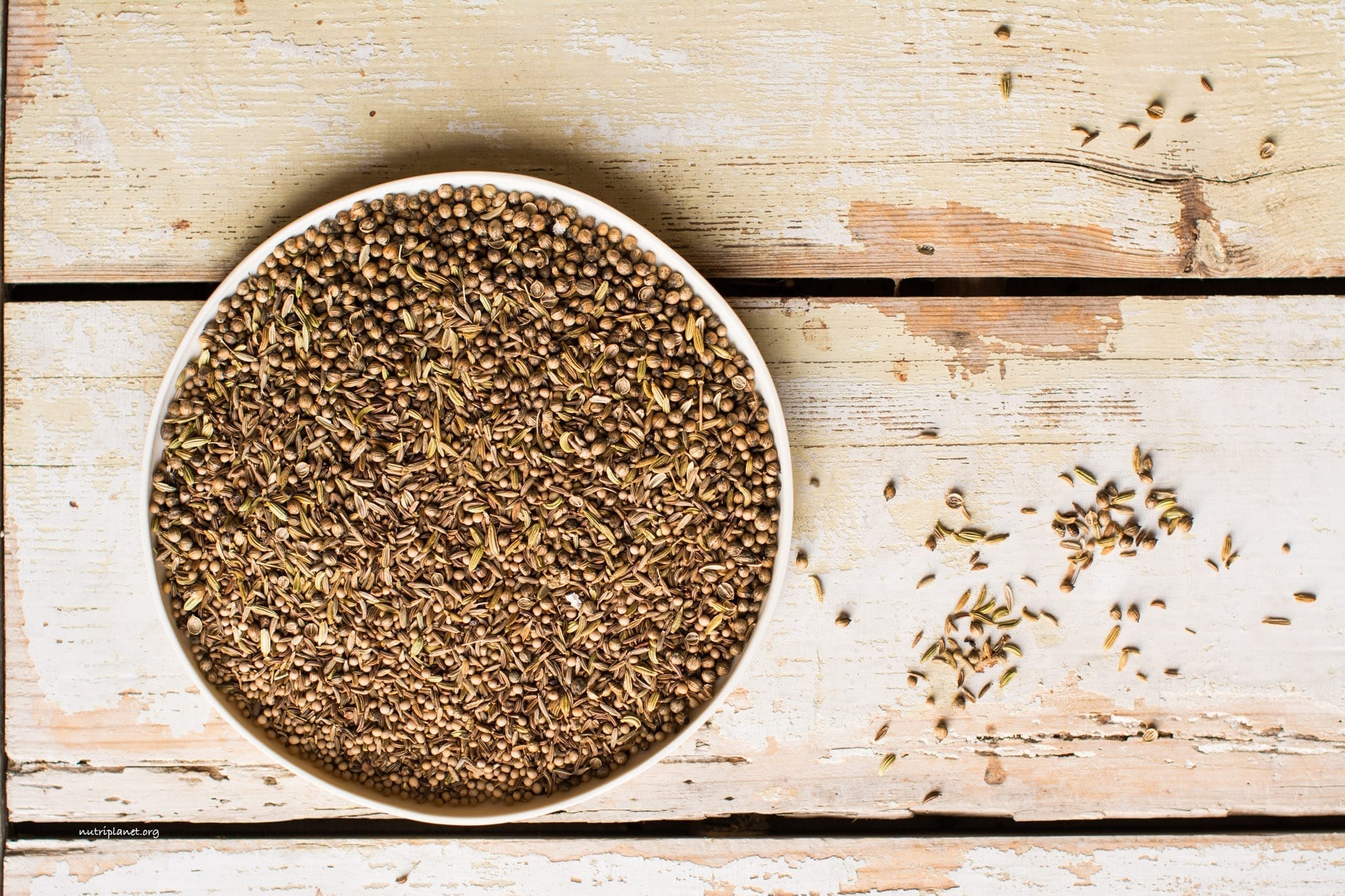 By all means, you don't need to make your own Indian spice mix for this chickpea curry, if you feel you're not up to it. Instead, use store-bought curry powder or garam masala mix. However, I suggest you try dry roasting and grinding your own curry mix at least once to smell and taste the difference. Who knows, maybe you won't look back!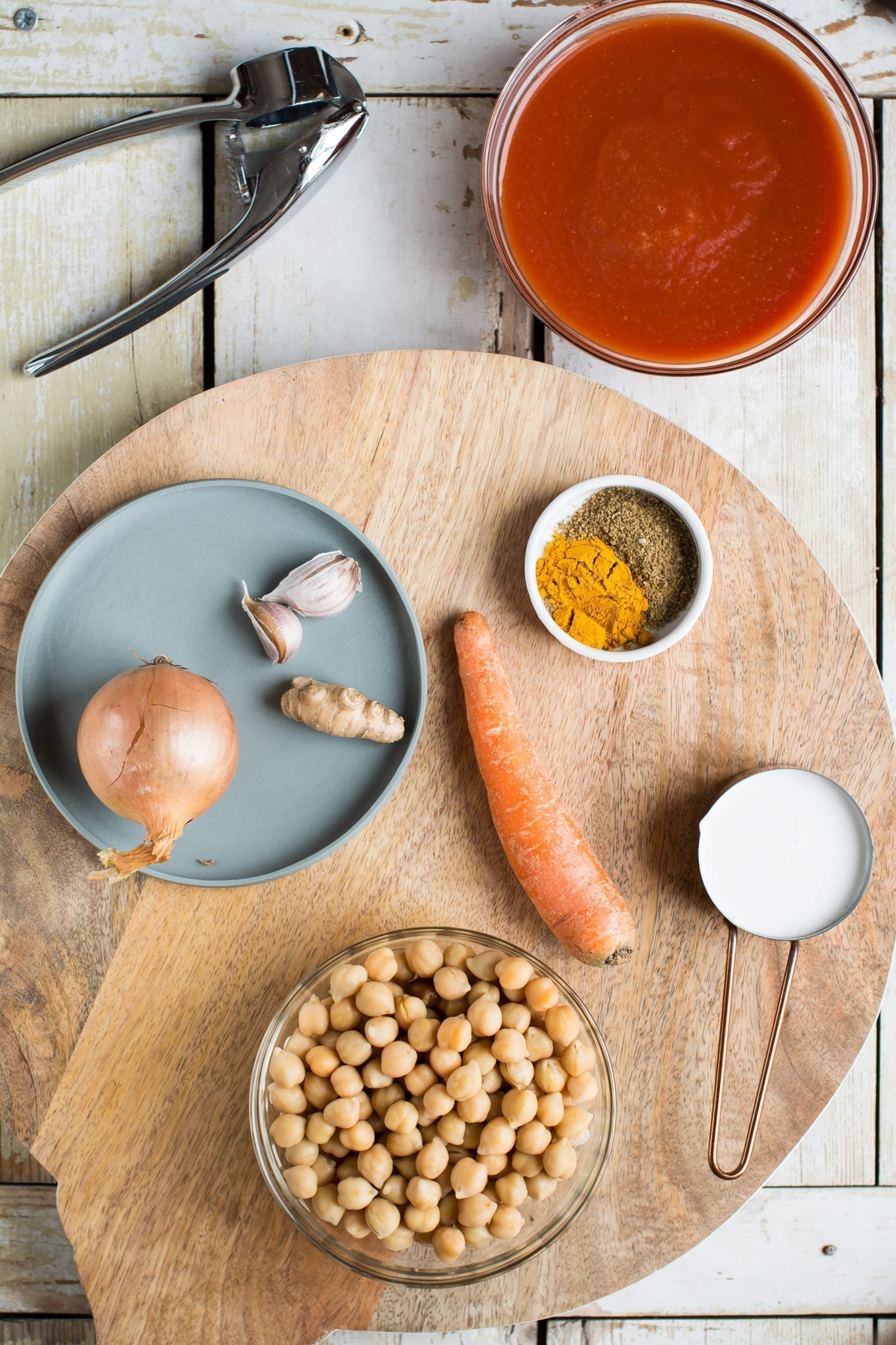 How to make a perfect vegan curry
It may be intimidating to start cooking curry dishes if you're new to it! I mean, all those different spices, the dry roasting etc. However, I have good news for you – follow those easy steps, give it some practice and you'll be astonished by your fear in no time.
The base to any curry usually is onions, ginger and garlic, the latter being optional.
The second important ingredient is the Indian spice mix, whether in the form of curry paste or curry powder that is usually a mixture of turmeric, chilli powder, coriander, cumin, ground ginger, pepper, caraway, fenugreek, cinnamon, clove, mustard seeds, sesame seeds. While there are numerous variations of curry powders out there, i.e. different spices in different proportions, I stick to this Indian spice mix. Of course it can change in the future and then I'll share a new blend with you.
Start playing around with the spices to find the combination that suits best for you. Alternatively, buy different organic ready curry powders to discover your favourite. However, you still get the best flavours by dry roasting and grinding your own spices. If you buy a blunt blend that is not at its freshest state, you won't get a flavourful curry either.
Next come the ingredient that gives body to your curry sauce. It can be tomato puree, coconut milk, pureed red peppers, plant yogurt or even spinach.
If you're making a simple veggie curry, decide which additional veggies to throw in – cauliflower, broccoli, sweet potato, fennel, eggplant, summer squash, butternut squash, mushrooms etc. For extra flavour, try oven roasting the veggies before adding them to curry pot. A side note – eggplant needs to be oven roasted or grilled to avoid gummy result.
Finally, to have the curry as main dish, some protein needs to be added. You may choose between lentils (red, green, black, brown), beans (black, red kidney, navy, butter, mung), split peas, chickpeas, tofu or tempeh.
Here you have it! Making a curry is as easy as bearing the above steps in mind and you'll have a delicious and nourishing vegan curry ready in no time.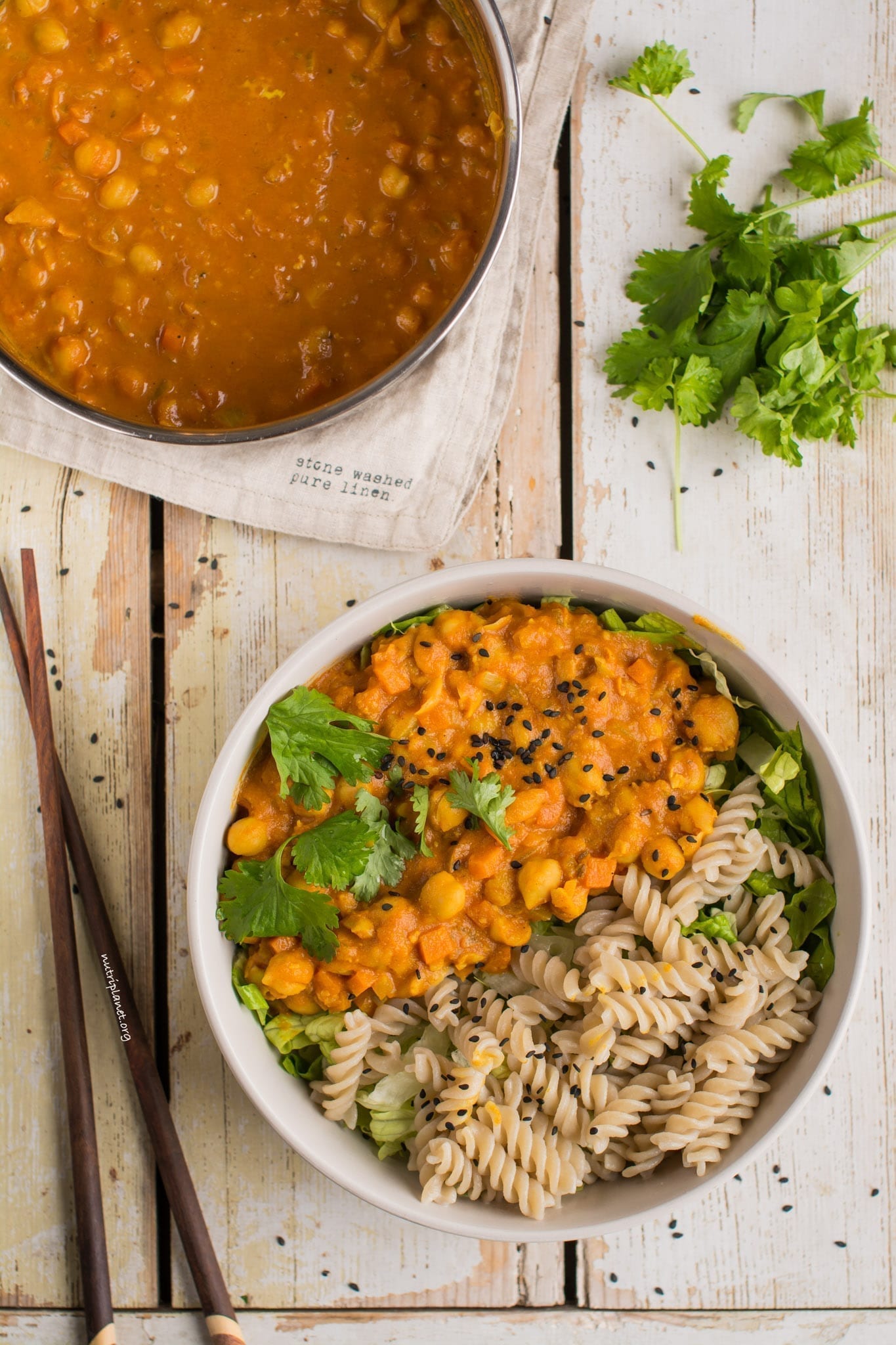 What makes my vegan chickpea curry recipe worth trying:
Easy and quick to make.
1-pot meal with 8 ingredients.
Full of Indian flavours.
Perfect for batch cooking.
Total comfort food so apt for cold months.
Besides being delicious and flavourful, my chickpea curry is suitable for most people with dietary restrictions as it's:
Vegan
Gluten-free
Relatively low-fat
Soy-free
Dairy-free
Nut-free and peanut-free
Sugar-free
Grain-free
Candida diet friendly
Finally, I'd love to hear from you! Do you like curries? What are your favourite Indian spices? Feel free to share your questions, thoughts, tips and experience below in comments! Please also tag me in social media whenever you make and share my recipe. Instagram @thenutriplanet and Facebook @nutriplanet.health.hub
Print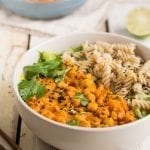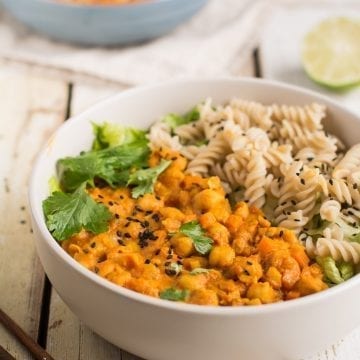 Vegan Chickpea Curry with Tomatoes [Gluten-Free]
---
Author:

Nele Liivlaid

Total Time:

30 minutes

Yield:

4

Servings

1

x
Description
This 8-ingredient vegan chickpea curry with tomatoes is the ultimate 30-minute comfort food that will make your meals complete. Besides being quick and easy to prepare, it is also gluten-free and dairy-free, making my curry a great recipe for those with dietary restrictions.
---
MAIN INGREDIENTS
2

small onions (or

one

bigger one)

8

thin ginger slices (

4g

,

0.14oz

)

2

small carrots or

1

bigger one

4

smaller garlic cloves (or

2

big ones)

2

tsps. Indian spice mix

2

tsps. turmeric

690g

(

24oz

) additive-free tomato puree

½ cup

(

120g

,

4.2oz

) 18% coconut milk

2

cans unsalted chickpeas aka garbanzo beans, rinse and drain

¾ tsp

. Himalayan salt
Black pepper to taste
FOR SERVING
Lettuce
Brown rice or whole grain pasta
Fresh coriander and/or parsley
Sesame seeds
Lemon or lime juice
---
Instructions
Start by making a batch of Indian Spice Mix (if you don't have it ready). Alternatively replace the spice mix and turmeric with any preferred curry powder or garam masala mix.
Then, finely dice onion and chop up carrot and ginger.
Next, heat up a few tablespoons of water or broth in a skillet or large pan. After that, add the onions, carrot and ginger. Sauté the veggies with the lid on until softened, about 3 minutes stirring every now and then.
Now, throw in crushed garlic cloves, the spice mix and turmeric (or ready curry powder), stir and cook for a few minutes. Add a few splashes of water as necessary.
Then, pour in tomato puree, mix and bring to boil. Reduce the heat and simmer for 10 minutes. Finally, add coconut milk and chickpeas. Bring to boil and turn off the heat. Season with black pepper and Himalayan salt. For a more mushy result, take potato masher or fork and mash the chickpeas until the curry has thickened to desired consistency.
Cook Time:

30 minutes

Method:

Sauté
Nutrition
Serving Size:

One serving

Calories:

320 kcal

Sodium:

259mg

Fat:

8.42g

Carbohydrates:

40.4g

Fiber:

12.8g

Protein:

14.4g
Keywords: vegan chickpea curry
For a complete balanced meal, add per serving:
2-3 cups of chopped Romain lettuce or 2 cups of steamed leafy greens (kale, chard, pak choi, collard greens). Measure raw leafy greens.
¼ cup cooked whole grain rice (brown, black, red or wild), millet, quinoa or buckwheat (max 3 level tablespoons, i.e. 45ml, if you're struggling with blood sugar fluctuations) or whole grain pasta.
Tips for my vegan chickpea curry recipe:
Feel free to use home cooked chickpeas – use the same weight.
You may use beans instead of chickpeas – kidney beans, black beans or butter beans would be well suited.
If you prefer not to dry roast and grind your own spice mix, feel free to use store-bought curry powder. However, make sure it is organic and as fresh as possible.
Following a diet even lower in fat? Add less coconut milk or leave it out altogether – after all, mashing the chickpeas will give the curry enough creaminess.
Don't care about the fats? Feel free to add as much coconut milk as you like. Be aware of not making your curry too runny though.
Should you not be able to find unsalted tomato puree, leave the extra salt out. However, your curry would be way too salty and high in sodium, if you were to use both unsalted tomato puree and chickpeas. All organic stores should have additive-free varieties available.
My chickpea curry recipe is perfect for batch cooking! Double the recipe, store leftovers in sealed containers in fridge (in freezer for longer storage) and have easy meals ready for the next 4-5 days.