Here's an aromatic mix of dry-roasted and ground Indian spices ready to be used in soups, stews, curries, rice dishes or even sprinkled on top of salads. Be ready for explosion of flavours!
I love Indian cuisine and its spice mixes to the extent that hardly a day goes by without Indian recipes. When I think of Indian dishes it's all about the herbs and spices blended together in perfect harmony that appeals to me. All those curry powders made of dry-roasted and ground spices simply lift me up as soon as I smell the flavours. A few of my favourite spices include fenugreek seeds, coriander, cumin, caraway, fennel, and mustard seeds.
In this article, besides the recipe of my favourite basic Indian spice mix, you'll be able to read about:
14 essential Indian spices in my pantry.
Why dry roast Indian spices.
How to dry roast Indian spices (process, tips and how long to toast each spice).
Storing Indian spices.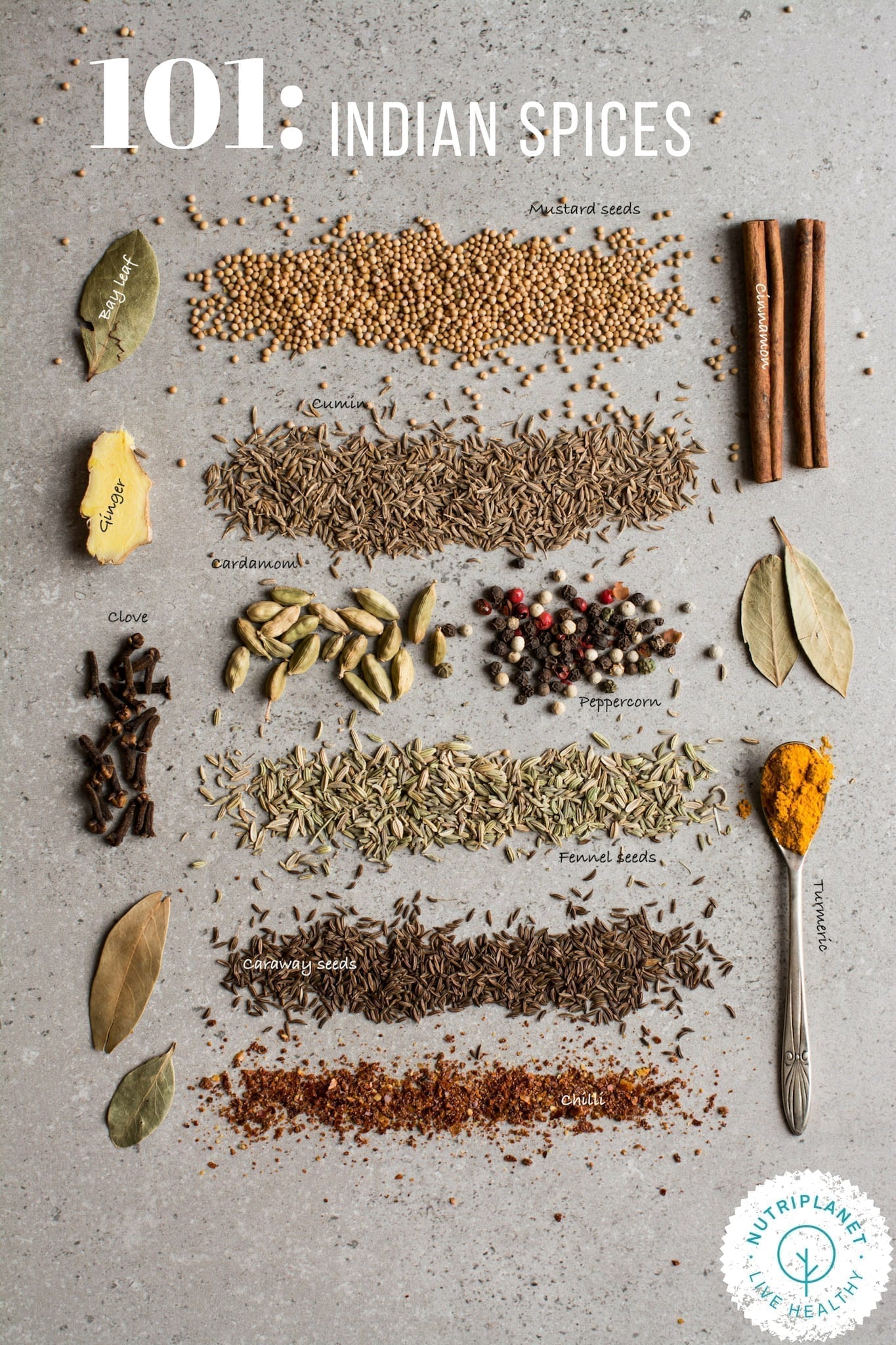 14 Essential Indian Spices
Let's move on to the six spices I use in my everyday mix + eight more that I like to add depending on the dish and… my mood really 🙂
1. Coriander seeds (daniya)
Those must-have seeds carry a warm flavour with slightly fruity citrus undertone. It's always better to toast coriander seeds to release the flavour. Should you be obsessed with garam masala blend, then know that coriander seed is a key element in the mix. Coriander is also believed to settle an upset stomach and be good for digestion.
Whole coriander is used as a base for many spice mixes, and ground coriander is one of the most commonly used ground spice in Indian cuisine.
2. Cumin seeds (jeera)
These flavourful seeds are earthy and nutty, with a slightly grassy undertone. Many Indian curries call for this strong and aromatic spice. Like most Indian spices, it plays well with others.
Cumin is best used freshly ground for the most intense flavour. One thing to keep in mind while dry roasting this spice is that it burns really easily, and burnt cumin tastes very bitter.
3. Caraway seeds (shahi Jeera)
The caraway fruits have a pungent, anise-like flavour and aroma. Also, they resemble cumin and it may happen that the two are often confused.
It is suggested to add seeds after a dish is cooked, as a long simmer may turn the flavour bitter. Caraway can also be used in cakes, cookies, soups, omelettes, rice and pasta dishes, cheese spreads and vegetable dishes. And lastly, it is also an important addition to Indian garam masala blend.
As far as storage is concerned, caraway seeds can hold their flavour for months if stored in airtight containers away from light.
4. Fennel seeds (saunf)
Those seeds have a warm and sweet aniseed-like flavour. The liquorice-like flavour is often used in the curry blends of Kashmir and Northwestern India. Furthermore, fennel seeds work wonders on easing the digestion.
5. Mustard seeds
Black mustard seeds are stronger in flavour than the yellow or white ones, which are used to make the yellow mustard that's common in Europe and America. There's also a brown mustard seed.
The flavour of mustard seeds is released when they are crushed. Their smoky, nutty flavour is a staple in curries and curry powders, and mustard oil is commonly used in the North of India.
6. Green or Black Cardamom
There is green and black cardamom. Black cardamom pods are larger and darker than green ones, with a peppery, smoky flavour.
It's important to note that cardamom is a "less is more" spice. So, use with caution, or it can mask milder flavours in your dish. This is one spice you should keep in the freezer—it loses freshness quickly. Alternatively, you can buy whole pods and grind them whenever needed.
7. Turmeric (haldi)
Here comes one of my favourites: turmeric! This common Indian spice is vivid and yellow giving many Indian dishes their characteristic colour. A relative of ginger, the spice is known for its anti-inflammatory properties as well as its flavour and colour in curries.
The flavour of fresh turmeric is slightly stronger than dried, and it stains very easily, so make sure you are careful with your clothes and utensils while using it. Check my Golden Latte recipe with fresh turmeric. Turmeric powder, however, is one of the key ingredients in my anti-inflammatory shot.
8. Ginger
Fresh ginger gives delicious, peppery flavour to recipes. However, you can also use dried and ground ginger in recipes as well as for tea. As fresh ginger spoils pretty quickly, wrap a chunk of peeled ginger root tightly and store it in the freezer. Then, you can grate what you need right into the pot.
9. Clove
Clove is a common spice in Indian cooking and its anise notes are easily recognisable in many Indian dishes. The strong flavour of clove comes from the concentration of essential oils. Cloves can be used whole or blended into spice mixes. They do need to be used with caution, however, as they can tend to overpower more delicate spices. Clove is also an important ingredient in my gingerbread spice mix.
10. Cinnamon
This heavenly spice adds a delicate sweetness to savoury recipes and desserts. Ceylon cinnamon is more expensive than cassia and is the real deal. If you buy supermarket ground cinnamon, you can't tell which type you're getting, so it's good to order from a source that distinguishes between the two.
Cassia has a stronger and spicier flavour, whereas Ceylon cinnamon is credited to being antioxidant-rich and good for reducing cholesterol and stabilising blood-sugar levels. If you use cinnamon a lot on daily basis, go for Ceylon. It's because Cassia variety contains significant amounts of a compound called coumarin, which is believed to be harmful in large doses.
11. Peppercorn
Black pepper is actually native to India, primarily from the Western Ghats and Malabar region. Like most spices, black pepper needs to be toasted before blending. However, fresh black pepper can also be ground directly into dishes.
Whether whole, crushed, or ground, peppercorns add a more subtle heat than you'd get with the chili de Arbol, (unlike spicy chillies, peppercorns don't contain capsaicin, the compound that gives that traditional chillies their heat).
12. Bay leaf
This leafy spice is an excellent source of minerals like copper, potassium, calcium, manganese, iron, selenium, zinc and magnesium as well as vitamin A. Store bay leaf in airtight jar or container and keep away from direct light. Since they lose flavour early, don't keep laurel leaves for longer than a year. Store them in the freezer and they'll last for years.
Finally, add bay leaves when you cook legumes and grains to add flavour and make them more digestible.
13. Fenugreek seeds
They taste bitter and sweet at the same time. Use ground fenugreek seeds in curry powder, spices blends, dry rubs, and tea blends. A pinch can also be sprinkled over yogurt, cooked greens, or sauce.
Just like cloves, fenugreek seeds are also strongly fragranced and you should use them with caution.
As for the health benefits, fenugreek seeds are believed to be anti-inflammatory, antioxidant, antimicrobial, and anti-diabetic, to name a few.
Some sources recommend soaking fenugreek seeds overnight before toasting.
Store whole and ground fenugreek in airtight container, in a cool, dry, and dark location for up to six months.
14. Chillies aka Chilli Peppers
And finally, to spice things up, there are thousands of varieties of chilli peppers. While Kashmiri chillies are good for colour and flavour with low levels of spiciness, the south Indian chilli peppers offer a real spice kick for chilli lovers.
A safe way to go while making Indian dishes would be to pick green/red Cayenne chilli pepper, Thai green chilli pepper or Serrano pepper. You can either use whole fresh, whole dried or dried and ground (a smooth powder) chilli peppers.
Why Dry-Roast Indian Spices?
Dry-roasting Indian spices before cooking and/or grinding is good for a number of reasons:
First, it helps get rid off excess moisture and makes the seeds and spices crispier, so they grind more easily, especially if you're using a mortar.
Secondly, dry roasting changes and enhances flavour. As whole spices heat, they release volatile compounds. These aromatics can then break down and recombine to form dozens of new compounds, adding complexity. For example, raw coriander seeds are floral and lemony while the roasted ones are intense, grassy and earthy.
Finally, there is also a very practical reason to toast the spices – to remove moisture and prevent mould and bugs. It's especially important for those struggling with Candida overgrowth and/or mould toxicity.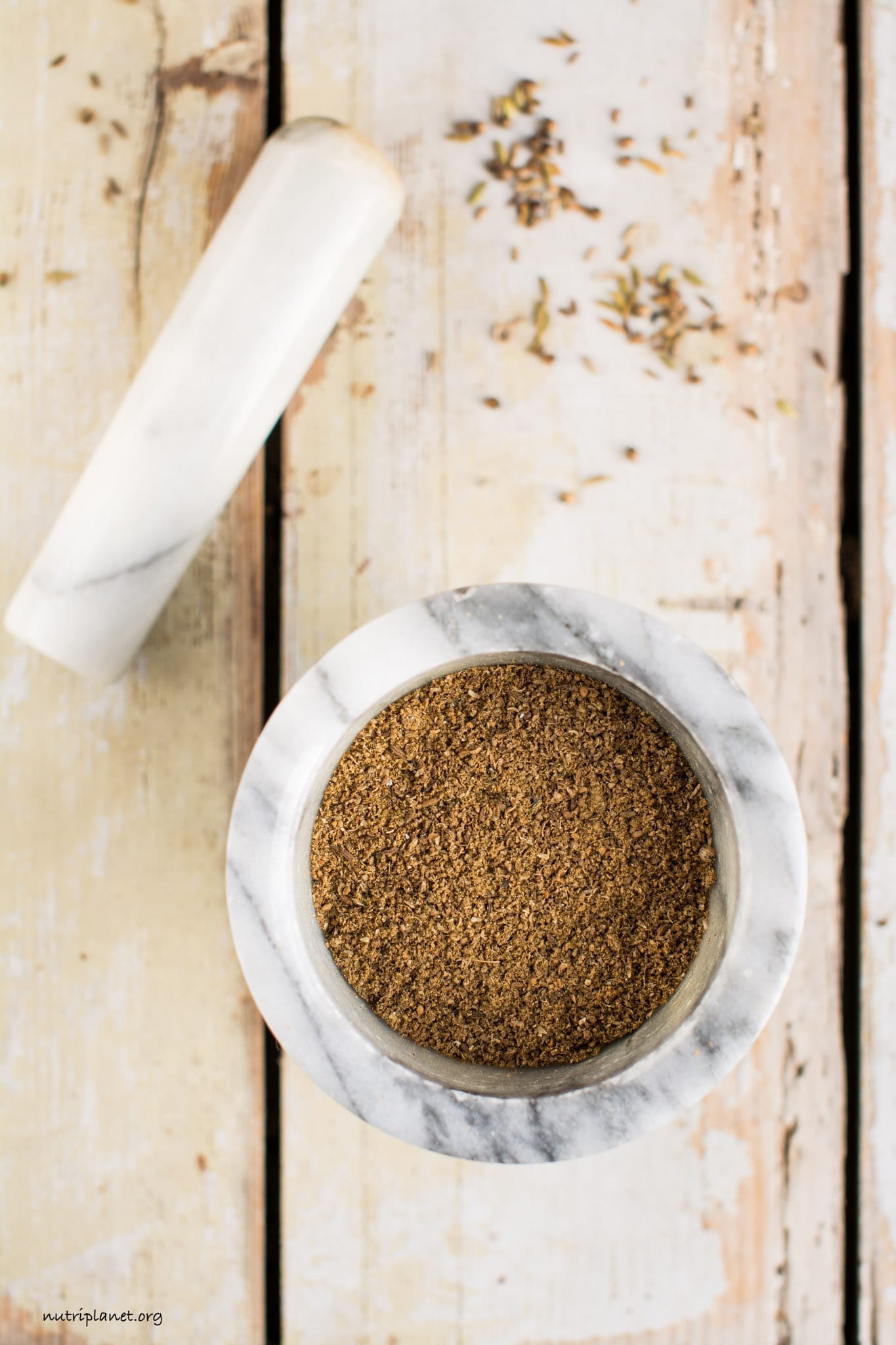 You can use my basic Indian spice mix in many types of dishes, e.g. soups, chowders, stews, curries, rice dishes, lentil loaves or even sprinkle on a salad.
I'd love to hear what you think of my Indian spice mix and which spices you'd add yourself! Let me know in the comments below! Also, I'd be thrilled to connect on Facebook, Instagram and/or Twitter. And don't forget that I have YouTube channel as well!
Enjoy your Indian dishes!
Print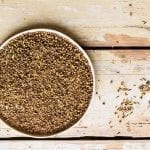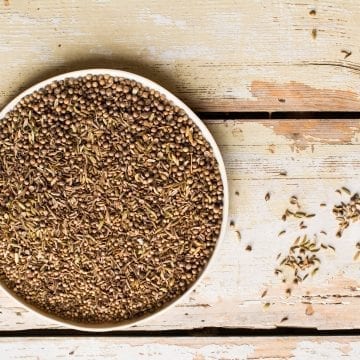 Basic Indian Spice Mix for Everyday Cooking
---
Author:

Nele Liivlaid

Total Time:

10 minutes

Yield:

6 tablespoons

1

x
Description
Here's an aromatic mix of dry-roasted and ground Indian spices ready to be used in soups, stews, curries, rice dishes or even sprinkled on top of salads. Be ready for explosion of flavours!
---
2 tbsp

. coriander seeds

1 tbsp

. cumin seeds

1 tbsp

. caraway seeds

1 tbsp

. fennel seeds

1 tbsp

. yellow mustard seeds
Seeds from

10

green cardamom pods or

½ tsp

. of ground cardamom
---
Instructions
Start by dry-toasting cumin seeds separately for about 30 seconds (see more below).
After that you can toast all the remaining spices together for 2-3 minutes until they start to brown and you can smell the fragrances. If you want to be meticulous, follow the time ranges below (how long to toast Indian spices) by adding mustard seeds first. Then, after a few minutes tossing in coriander and fennel seeds followed by cardamom and caraway seeds a minute later.
Finally, let the seeds cool completely before you grind them with mortar and pestle or with grinder.
Store the ground spices in airtight jar or container and consume in a few days.
How to dry-roast Indian spices
The best way is to toss whole spices in a dry skillet, stirring and tossing frequently over medium heat, until they begin to smell toasty and fragrant.
First, put your spices in a small skillet or dry (no oil) frying pan over medium-low heat (until it is almost too hot to touch), and shake the pan occasionally or stir with wooden spoon to prevent burning. They may pop and jump a bit. The spices are toasted when you can smell their aroma. Make sure not to overheat the skillet as the spices can burn easily. Burned spices will taste bitter.
Once the spices just start to darken, transfer them to a bowl and allow them to cool. Their residual heat will keep the cooking and toasting process going a little but longer – you'll here them sizzle in the bowl.
Finally, grind the cooled spices with a mortar and pestle or a dedicated spice grinder.
Tips on dry-roasting Indian spices:
It's easiest in a heavy-bottomed skillet, which won't get the hot/cold sections that can result in burning the spices. You don't necessarily need a non-stick pan, as the spices will not stick.
Usually it is ok to toast multiple spices together as long as they're all being added to the dish at the same time. Cumin seeds are exception, as they only require about 30 seconds of toasting. So, do them separately or add them to the pan at the end of toasting. Also, if the size of the spices is significantly different, then toast them in separate batches (similarly sized spices together).
Besides whole seeds, also good quality freshly ground spices will roast perfectly well.
How long to toast Indian spices:
Different spices need different time for toasting. Here are the time ranges of most common Indian spices.
Mustard seeds – 2-5 minutes until fragrant and lightly browned, removing from heat when the seeds start to pop.
Coriander seeds – 3-4 minutes until you can start seeing a light golden-brown tinge to the seeds and they start "dancing" and popping in the pan.
Fennel seeds – 3-4 minutes.
Caraway seeds – 2-3 minutes.
Cardamom seeds – 2-3 minutes (remove from pods first).
Cumin seeds – from 30 seconds to 1 minute until your nose just gets a whiff of smoke and fragrance.
Tips on my favourite basic Indian spices mix:
You definitely can use pre-ground spices and blend them together. However, you'll have much more fragrance when you dry-roast whole seeds and then grind them yourself.
Feel free to adjust the ratios of the spices. I've come to love this blend with the particular ratios.
Read why I prefer organic spices from my post Homemade Gingerbread Spice Mix.
What you can add to my basic Indian spice mix while cooking:
There'll always be turmeric – I add it to the dish in the beginning. Usually it's about one teaspoon per serving, i.e. if I make lunch just for myself, I add one teaspoon.
My next must-have spice is black peppercorn, which I like to add in ground form when the dish is ready. Alternatively, you could dry-roast whole peppercorn with the other spices and grind it into the spice blend.
Depending on the dish, I sometimes like to have some clove and cinnamon as well. As I don't have a dedicated spice grinder (just the one that comes with food processor), I prefer to buy those spices ground.
I almost always stick some whole bay leaves into the pot as well. Besides being a flavour enhancer, they also help with the digestion of legumes. BTW, cumin and fennel seeds have the same properties.
Finally, if I feel that I need a real spiciness kick, I also add some chilli powder (Cayenne or other) or dried chilli pepper tips. However, I usually add those onto my own serving as my kid is not overly excited about chilli peppers yet 🙂
How to store Indian spices:
First off, it's best to buy your spices whole. Whole spices lose flavour less rapidly than pre-ground spices, and give you the advantage of being able to roast them for more fragrance. Never leave herbs and spices in direct sunlight! Light and heat cause them to lose flavour faster.
For long-term storage, keep your whole spices in a sealed container in a cool, dark cabinet. This way you can expect them to last at least a few months before they slowly start to lose pungency.
If you buy your herbs and spices in bulk, store them in the fridge or the freezer. However, make sure to roast them more carefully than usual, because chilled spices will collect condensation from the air when you take them out of storage. In cold storage with well-sealed containers, spices can last for years.
Finally, use up your dry-roasted and ground spices within a few days, because after roasting, the volatile oils will oxidise more rapidly causing the flavour to deteriorate quickly.