You definitely need this homemade gingerbread spice mix recipe for the holiday season, if you're like myself and love gingerbread flavour. It's just so easy to have the spices already mixed together for recipes that call for gingerbread spice. Furthermore, it's so much better than any store bought variation.
Now, I've seen many different spice mixes online, but this is the one I stick to as, in my opinion, it has the best gingerbread flavour.
For my gingerbread spice mix I use equal parts of both cinnamon and ginger and ¼ part of all the other spices – clove, nutmeg, cardamom and allspice. Finally, few pinches of black pepper need to be added as well. Not all gingerbread spice mix recipes include black pepper, but for me it's a must. I'm sure it partly comes from tradition – in Estonian language gingerbread is actually "pepper cake" when translated directly. So, it turns out that in this part of the world pepper comes before ginger 🙂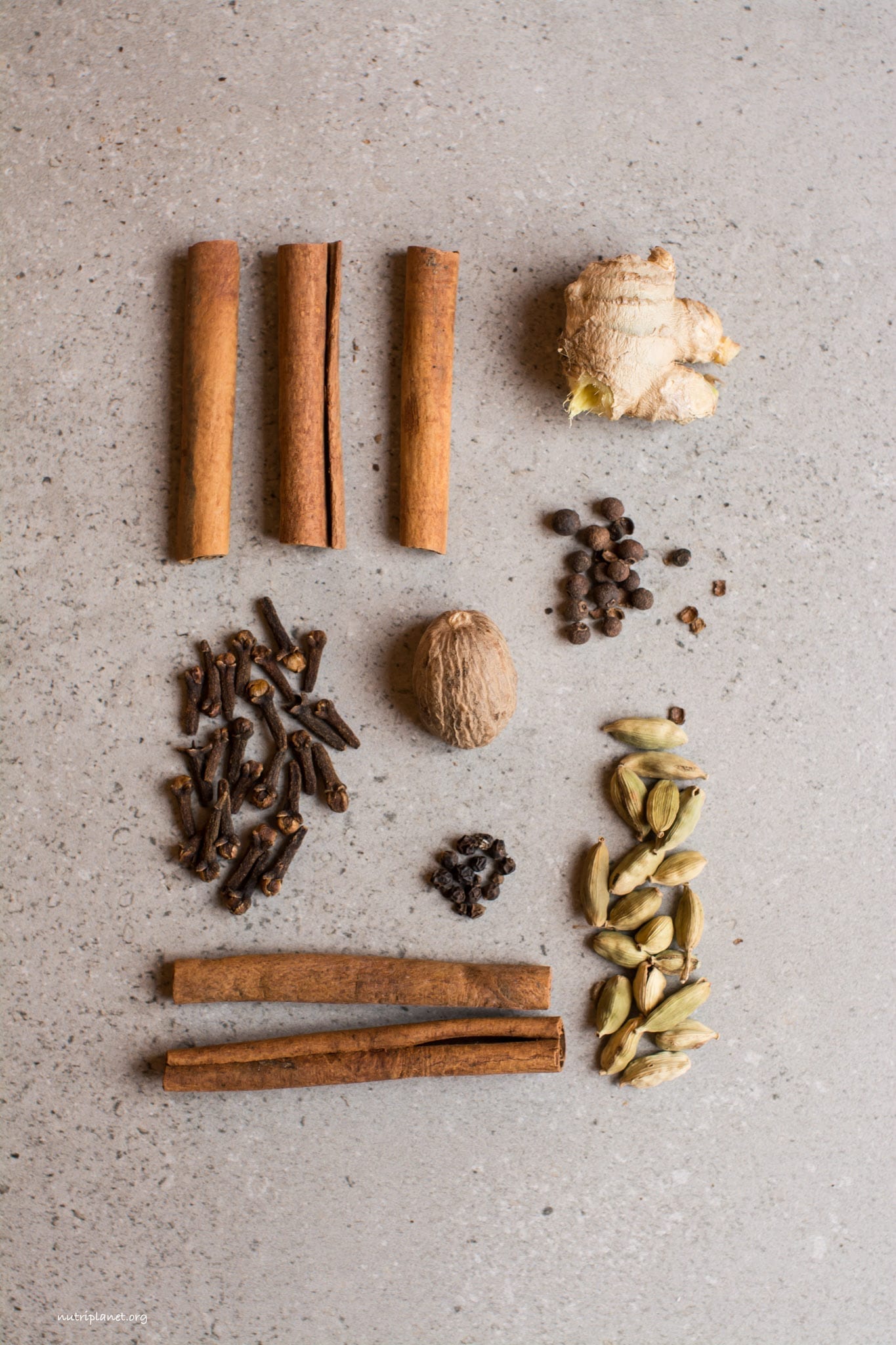 How to use homemade gingerbread spice mix
In all the recipes that call for gingerbread spice of course – baked goods like gingerbread cake, crispy gingerbread cookies, soft gingerbread cookies etc.
Gingerbread spice mix would also work great as substitution for pumpkin spice in pumpkin pies, lattes and all the other recipes that call for pumpkin spice.
You can even go as far as adding some gingerbread spice mix into your hot chocolate and make gingerbread spice latte or tea.
It would also work really well in porridges and chia pudding, or even pancakes and waffles.
Benefits of my gingerbread spice ingredients
Gingerbread spice is a true superfood mix that promotes your health in many ways as long as you don't ruin the benefits by making conventional baked goods high in refined sugar and saturated fat. So, stick to healthy whole food plant based recipes! For example, Gluten-Free Gingerbread Cookies (Candida diet friendly), Whole Food Plant-Based Gingerbread (they include dates), Soft Pumpkin Gingerbread Cookies.
Cinnamon benefits
Cinnamon loaded with antioxidants, promotes stable blood sugar, high in calcium, has anti-inflammatory, anti-bacterial and anti-fungal properties.
Ginger benefits
Ginger is effective against nausea, anti-inflammatory, anti-bacterial and anti-fungal, lowers blood sugar, aids digestion, may reduce menstrual pain, lowers cholesterol.
Clove benefits
Clove is high in antioxidants, fibre, manganese, vitamin K and C; anti-fungal and anti-bacterial, can kill off parasites, supports liver health, helps regulate blood sugar levels, may promote bone health.
Cardamom benefits
Cardamom may lower blood pressure, anti-inflammatory and anti-bacterial, helps with digestive ailments, may treat bad breath and prevent cavities, regulates blood sugar levels.
Nutmeg benefits
Relieves pain, promotes digestion, good for brain health, detoxifier, anti-bacterial and anti-inflammatory, natural remedy for insomnia, boosts digestive and bone health, regulates blood pressure.
Allspice benefits
Anti-inflammatory effects, boosts immunity and dental health, rich in antioxidants, aids digestion, helps to improve blood circulation, protects heart health. Caution – can exacerbate existing gastric ulcers or ulcerative colitis.
Black pepper benefits
It's rich in potassium, calcium, magnesium, phosphorus, and B vitamins; aids digestion and enhances bioavailability (especially of curcumin), relieves sinusitis, asthma and nasal congestion, helps fight infections, anti-inflammatory and anti-bacterial, aids in weight loss and cures vitiligo, reduces risk of cardiovascular and liver ailments.
Why I prefer organic spices for my homemade gingerbread spice recipe:
Whenever you can, opt for organic spices as for starters they have much stronger flavour.
In addition, conventional crops are being treated with various insecticides, fungicides and herbicides.
Furthermore, to eliminate bacteria, mould, insects, and other contaminants, manufacturers irradiate the seasonings with up to a million rads of ionizing radiation (the equivalent of one billion x-rays!) in order to sterilize and pasteurize them. This practice is known for potentially creating dangerous carcinogenic by-products.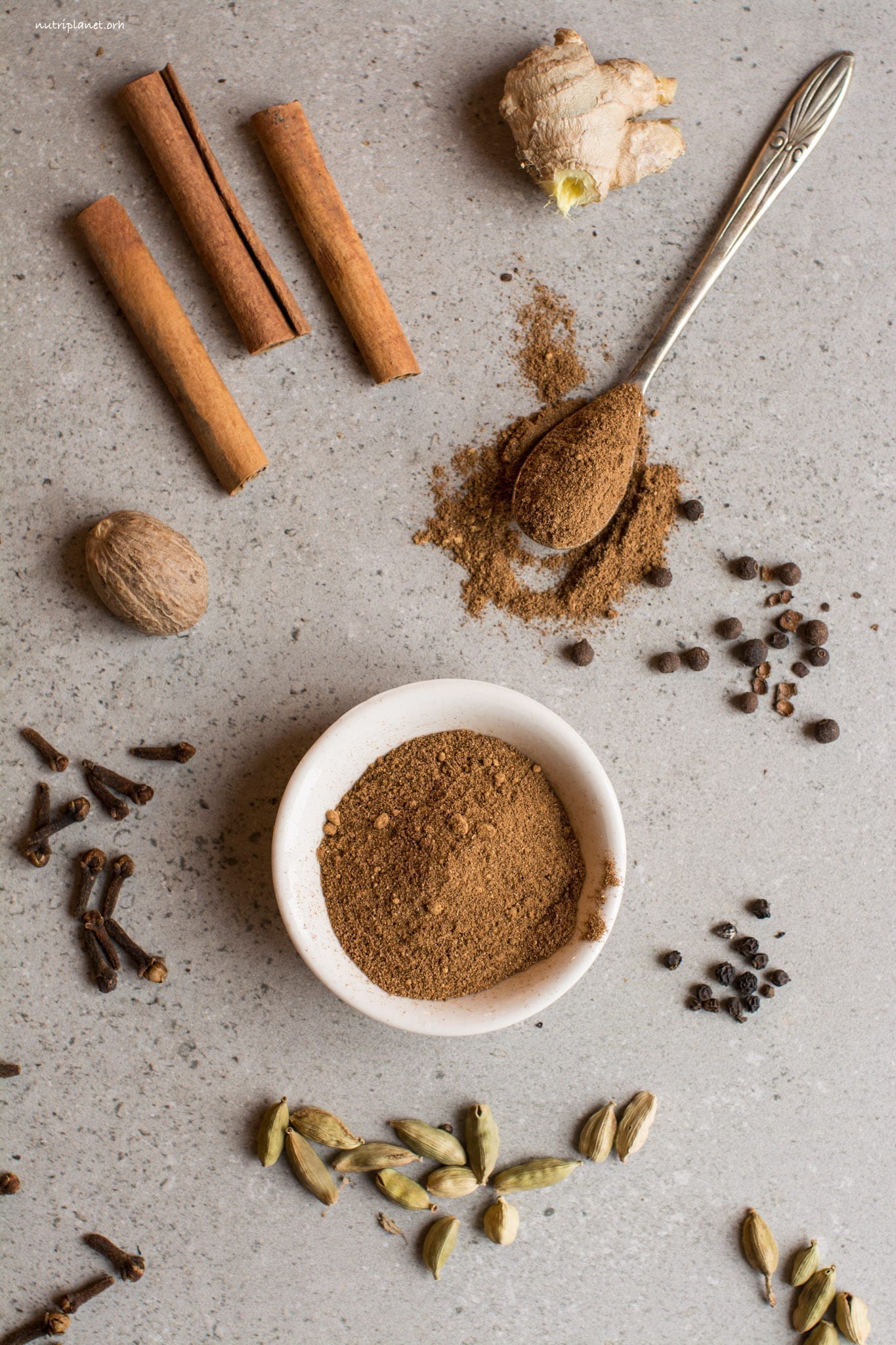 To sum it up, non-organic seasonings can contain many additives, such as artificial preservatives, food dyes, anti-caking agents (such as the man-made sodium aluminosilicate), filler ingredients, and flavour enhancers, such as sugar or MSG.
Have you ever made your own gingerbread spice mix or do you prefer to measure your spices every time you bake? Do you use different proportions of spices or include/exclude any ingredients? Let me know in comments! I'd love to know!
Homemade Gingerbread Spice Mix
Ingredients
Directions
First, remember that all the gingerbread spice ingredients need to be dried and ground.
Mix them all together and store in a jar or sealable container.
Nutritional info per teaspoon of gingerbread spice mix: 14.1g potassium, 11.2g calcium, 2.5g magnesium, and 2.4g phosphorus.
Should you prefer your gingerbread spice mix less spicy, try using less ginger – one tablespoon instead of two. Use ratio 2:1 when it comes to cinnamon and ginger (for less spicy variation), if you make a different quantity.
Disclaimer: this post contains affiliate links.