To me one of the things that create the best holiday feeling is the smell of freshly baked gingerbread.
I still remember from my childhood how my mother used to make an enormous batch of gingerbread batter every Christmas. She made it in a huge pot and placed the ready batter in the pantry, where my brother and me used to filch small (or bigger) bites every now and then (or a bit more often). Happy memories!
While I don't possess a pantry, I prefer to prepare smaller batches that I'd bake at one go. I've baked my oil-free gingerbread three times this holiday season. So little, some might think. Well, there's only the three of us, conscious eaters. We don't munch away like there's no tomorrow. You need to remember that cookies, plant-based or not, are not a food to fill your stomach with. Even whole food plant-based gingerbread contains nuts and dates, consumption of which is advised to keep to a minimum, especially if you are struggling with weight and/or blood sugar fluctuation. 2-4 cookies a day in addition to a mid-morning whole food plant-based muffin is a good number for me.
I've been developing my gingerbread recipe over the past two years. The first batch was made using coconut oil and agave syrup. Next, I substituted the syrup with dates. However, my Gingerbread Cookies' recipe still used coconut oil. This year I was determined to develop a recipe that contained only whole food plant-based ingredients. I was delighted to succeed without making any compromises with taste or structure. In addition, I decided to use not very traditional gluten-free grains (when you think of gingerbread), i.e. buckwheat and millet that have been my favourites for a while to make muffins and other bakes.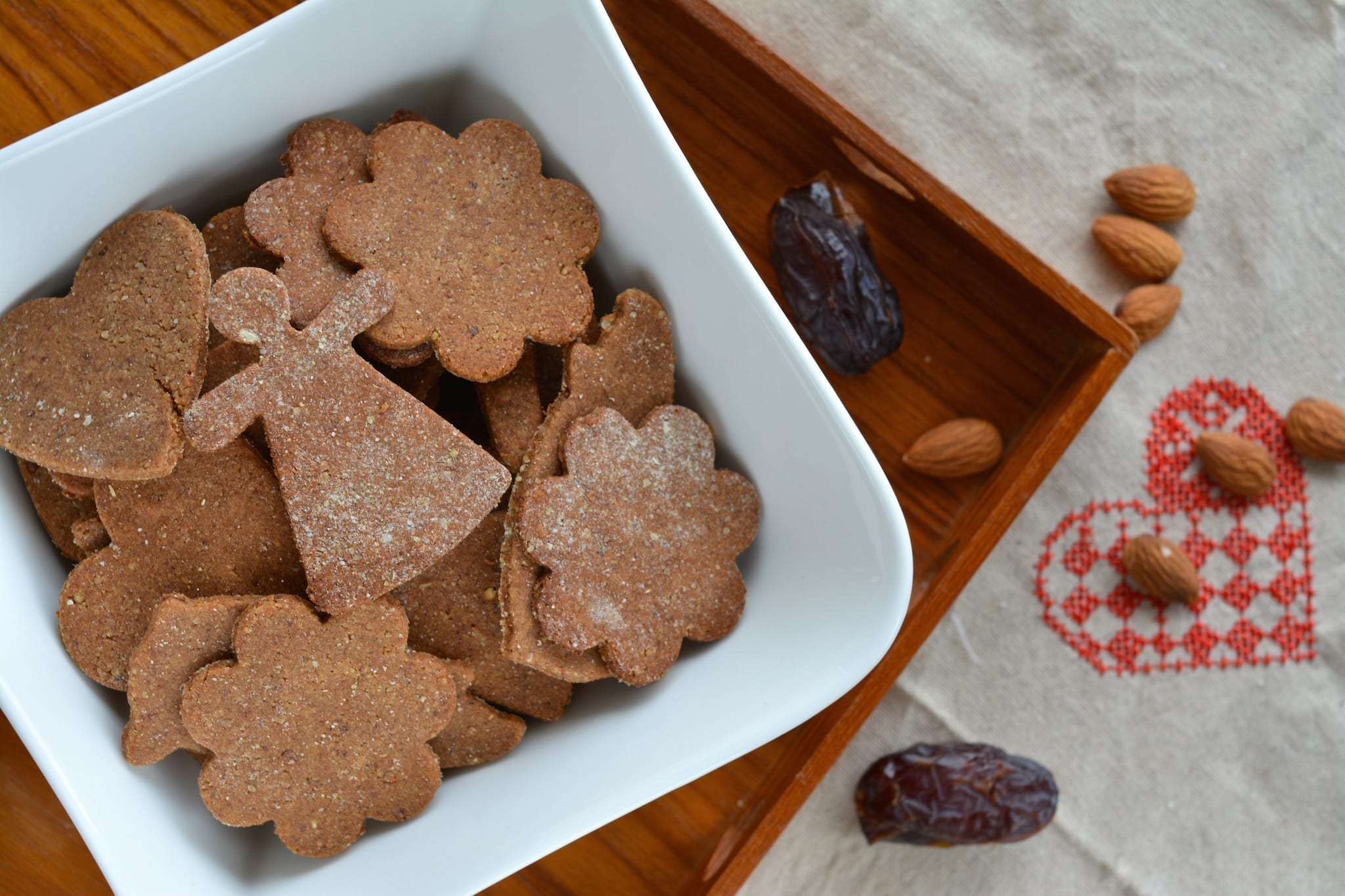 I think I haven't bought any flours for at least 3 months now – I grind them from scratch from buckwheat, oats or millet whenever I need some. Evidently I ground all the flours and nuts myself also for this gingerbread recipe.
Gingerbread spice is usually a blend of the following ground spices: ginger, black pepper, cardamom, cinnamon, nutmeg, allspice and cloves. Should you not find a ready blend from store, make your own! The recipes vary, but very often it is:
One part cinnamon
One part ginger
½ part nutmeg
½ part allspice
½ part cloves
a bit of cardamom and black pepper
As I don't like modern flashy Christmas decorations, I also saved some gingerbread to use as home-made tree adornments. I cut small holes into the cookies before baking and tied them to the tree with golden ribbons. Our other decorations include felted dwarfs and birds, cones, small bells of metal and recycled paper. Our tree is a small one in a pot. We got it near Valencia from a very nice garden shop Vivers Albogarden with very friendly staff and a cute cat. Getting there was quite an adventure as we got lost several times and drove between picturesque onion fields on very narrow roads. If the tree isn't too dry next week, we will return it to the shop so that they can plant it. We absolutely hate the idea of throwing a nice tree away in garbage.
Now, enough of story telling! Let's get to the recipe!
Finally, please let me know in the comments below whether you have any questions about my plant-based gingerbread. Please tag me in social media whenever you try one of my recipes! I'd love to see your creations! Instagram @thenutriplanet and Facebook @nutriplanet.health.hub
Print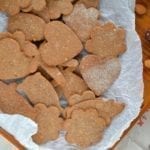 Whole Food Plant-Based Gingerbread Recipe
---
Description
To me one of the things that create the best holiday feeling is the smell of freshly baked gingerbread.
---
---
Instructions
Cut dates into smaller pieces and put them to soak with plant-based milk. Let them sit for at least 30 minutes.
Grind your nuts and grains, if you don't have ready flours. Remember to grind a few extra tbsps. of buckwheat grouts for rolling the dough.
In a large bowl, whisk together the dry ingredients.
In a blender, blend well all the ingredients of wet mixture. Help with a spoon.
Pour the wet mixture on dry ingredients and mix well until a well-incorporated batter forms. I find it the easiest to use my hand.
Put the dough ball into a sealed container and refrigerate overnight or all day or at least for 6 hours.
Divide the dough into 2-3 balls and place one at a time on a floured non-stick mat or on stone surface. Keep the dough you are not working with in fridge. Flour a rolling pin, sprinkle some flour on the dough and begin rolling it out until you have a rectangle or circle that is 2-3mm thick. I like to press it down with my hands first to ease rolling. When rolling the dough ball try moving it around the surface every now and then to make sure there's flour underneath and that it wouldn't stick to the surface. Add flour if it starts to stick.
Cut the gingerbread into the shapes of your choice and place on a baking sheet lined with parchment paper.
Bake for 10 minutes (175 degrees), and then remove from oven. Rotate the pan and return to oven for 6-7 minutes longer, until golden. Carefully, transfer crackers to a cooling rack for 5-10 minutes.
Notes
NB! If you grind your almonds, buckwheat and millet, weigh whole nuts and grains.
Tips
You can roll the dough thinner or thicker – it's up to you. Thicker dough will result in softer crackers. However, you won't be able to roll very thin dough like with conventional recipes, because my dough is mealier with tiny visible pieces of nuts in it.
Make round shaped cookies. Weigh 15g (0.53oz) pieces and shape them with your hands. You could also form a dough tube and then cut round pieces with sharp knife.
The baking time greatly depends on the oven. For example, in Valencia I had an oven that always had ventilator on making the cookies burn faster. So, I only baked them for the total of 12 minutes.
You can substitute almonds with other nuts. I've made half almonds and half hazelnuts and the cookies were as amazing.
My gingerbread is not overly sweet because I don't like very sweet things. So, feel free to add a couple of dates to the recipe should you be used to sweeter taste.