Who wouldn't crave for a nice and comfy meal like this whole roasted cauliflower at holidays? I know I do. Furthermore, I'm sure that many plant-based eaters host omnivores during the holiday season and vice versa, many omnivores host herbivores. In most cases, when trying to get conventional eaters to try your super-tasty plant-based meals, you'd need to make the food at least look like something they could relate to. Traditionally it's the meat that's always in the centre of any holiday feast, vegetables just being a garnish or a decoration on the table.
Besides preparing a loaf of lentils/beans and rice/oat/barley/buckwheat, you could also make whole roasted cauliflower, which reminds of a traditional roast. The comparison is worth it, if it gets people eating more vegetables.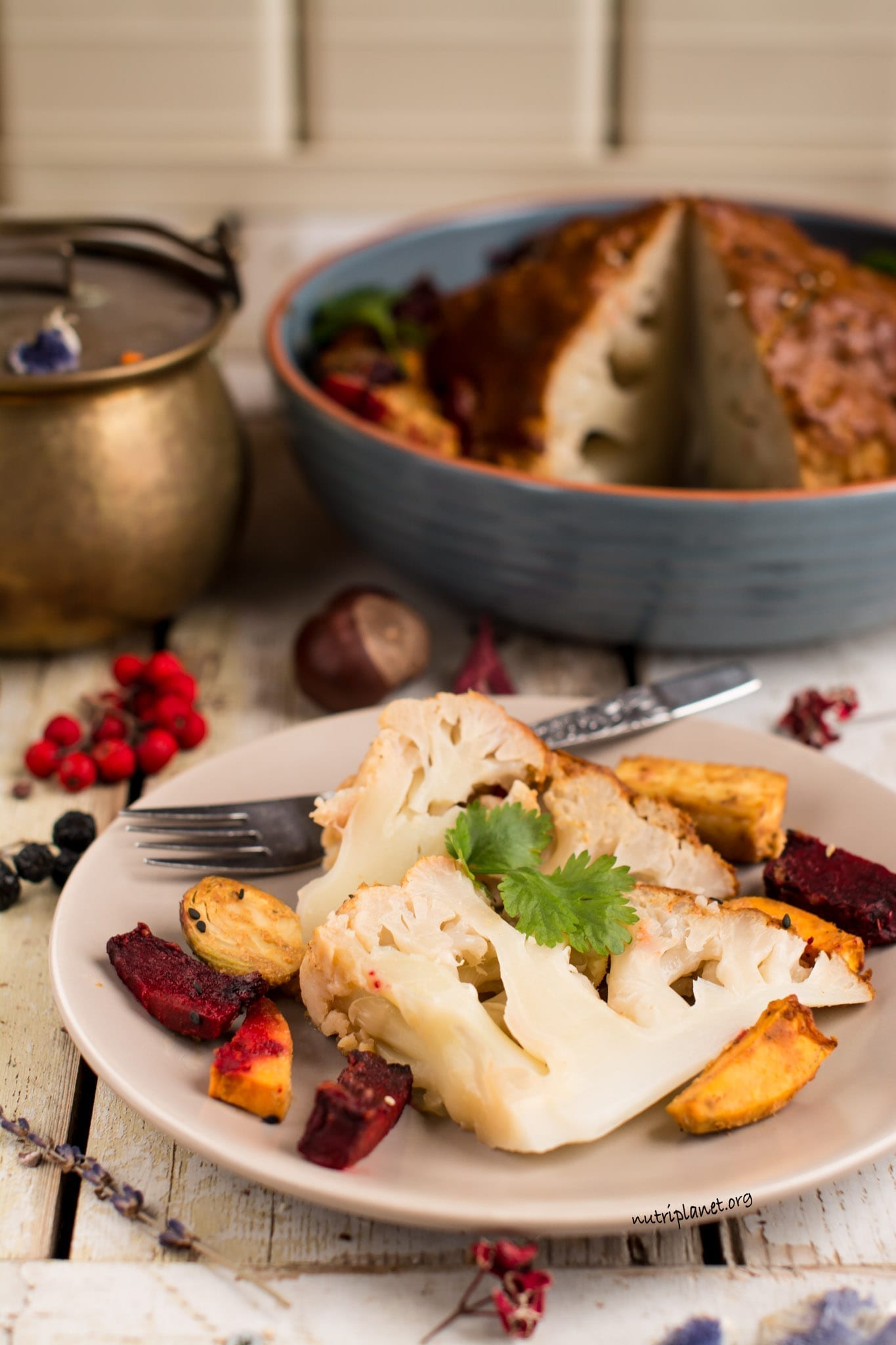 Whole roasted cauliflower has been popular for a while, but it's only a few months since I first tried it. And I'm glad I did – its appearance is really something special and of course it tastes great as well. Moreover, the cooking paid off because we ate the cauliflower for four days adding it to our evening salads. As an extra bonus, the health benefits of cauliflower are almost countless!
I wanted a really great and tangy sauce to rub it in with and I thought I'd experiment at least for several times to get it right, but to my great surprise it came out just perfect after the first attempt. I knew I wanted the sauce to be spicy, smoky and red, so I went for smoked paprika and garlic to give the main flavour. Sage and parsley, besides having a beautiful green colour, give a nice herby smell and taste to my whole roasted cauliflower; and nutritional yeast boasts with its ever-so-popular cheesy flavour.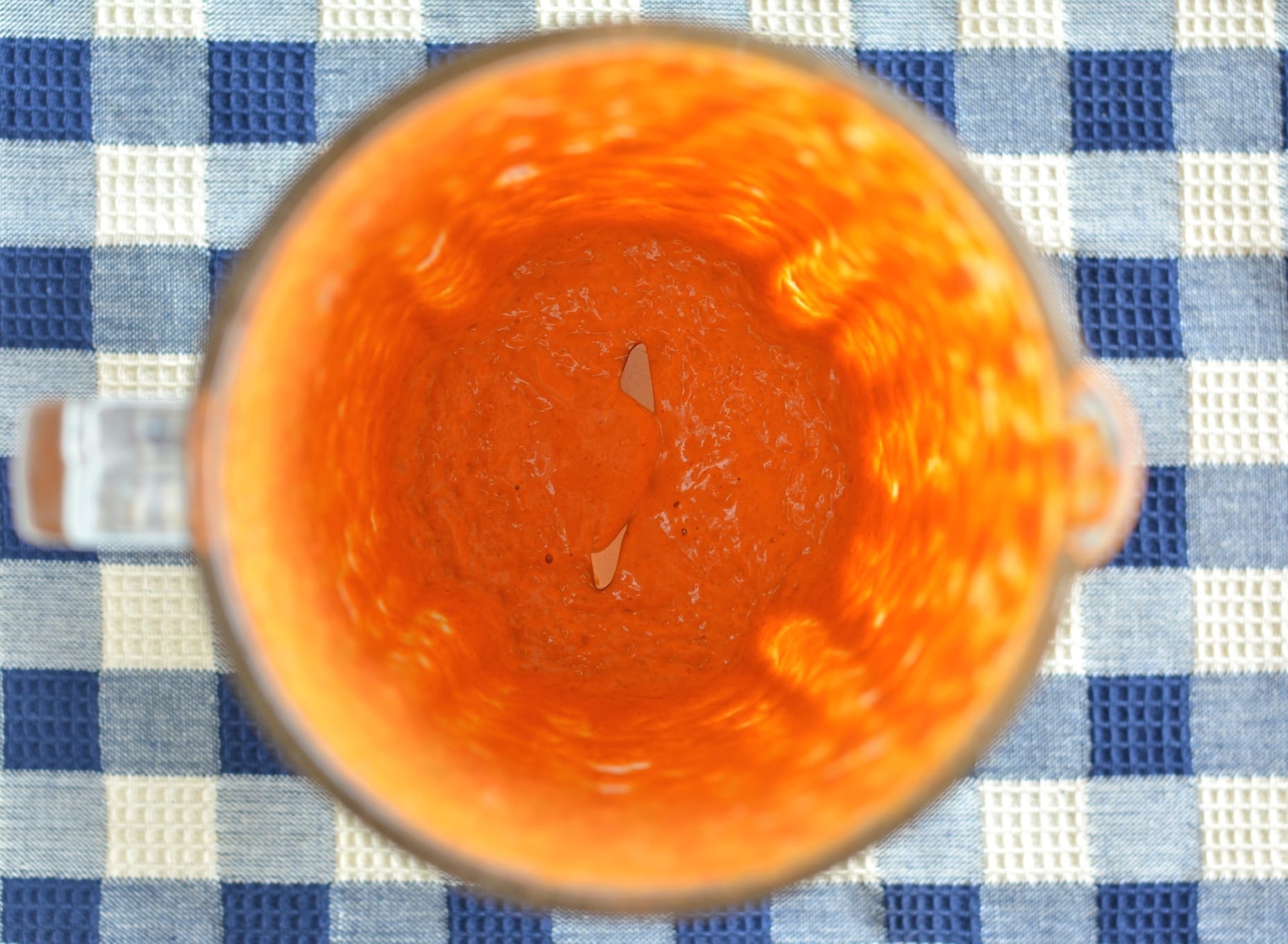 Those of you not familiar with whole food plant-based eating might think that what about the juiciness if no oils are added. You can set your mind to rest! There'll be enough sweet juices from the veggies and cauliflower making you forget the existence of oils. Strangely enough the liquid in the bottom of the pan does look oily. This was one of the most amazing discoveries I made when I first started eating whole food plant-based – you actually don't need any oils to make your meals hearty as it's the vegetables that give all the flavour and moistness to your dishes. Nuts/seeds, nut/seed butters, olives and avocados are the healthy fats that can be added to recipes.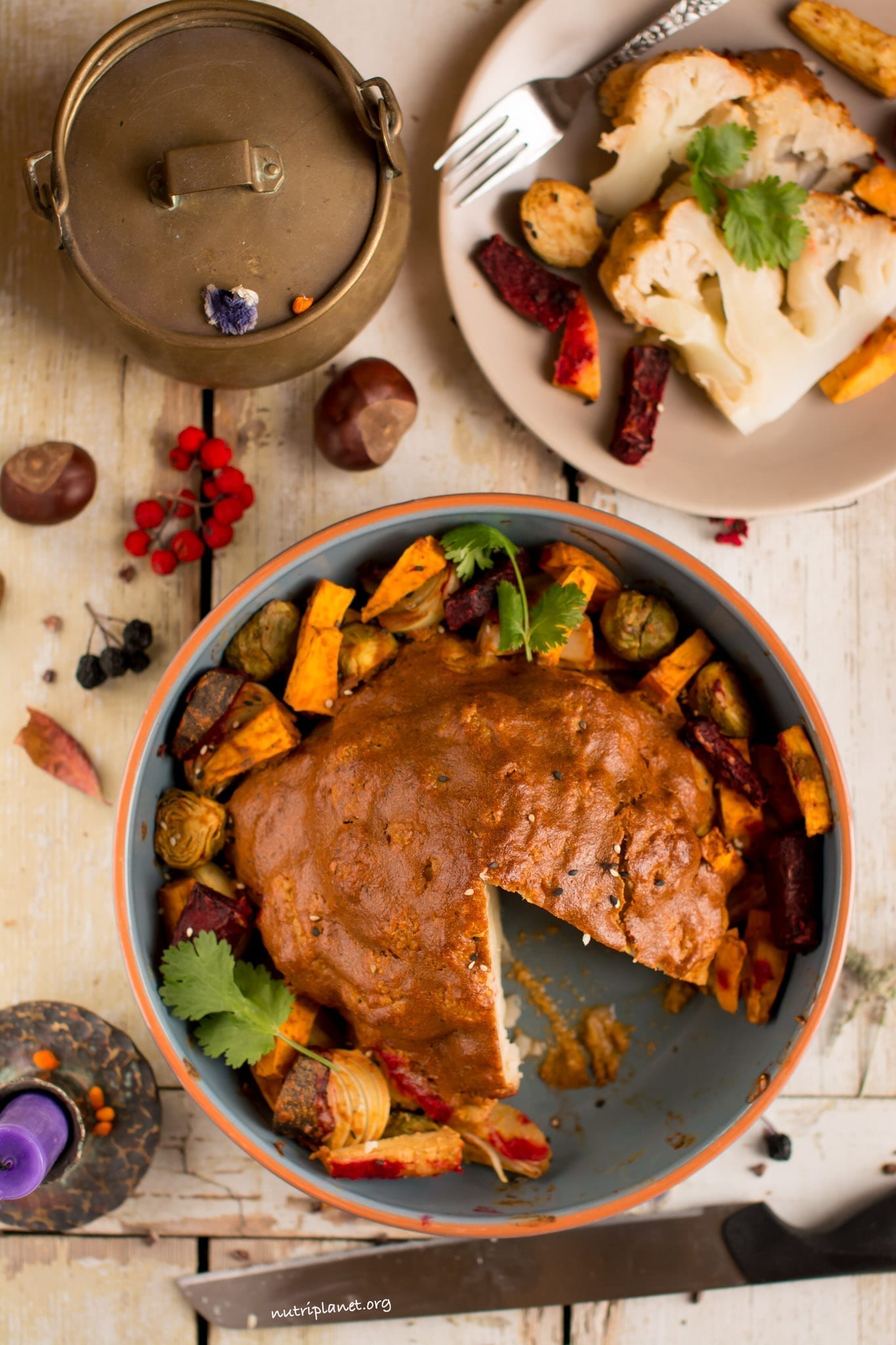 So, please let me know in the comments below if you have any questions about my whole roasted cauliflower. Please tag me in social media whenever you try one of my recipes! I'd love to see your creations! Instagram @thenutriplanet and Facebook @nutriplanet.health.hub
Print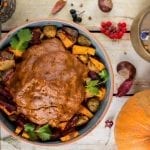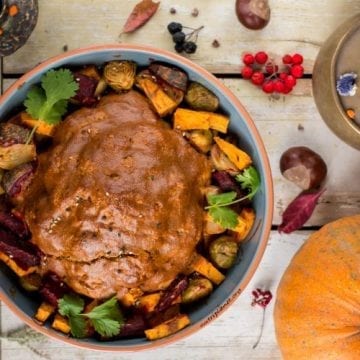 Whole Roasted Cauliflower Recipe
---
Description
Whole roasted cauliflower with tangy garlic and paprika paste. Juicy and hearty, yet oil-free and vegan. Perfect for holidays.
---
CAULIFLOWER + PASTER
A big whole cauliflower head (about 2 kilos, 4.4lb whole weight)

4

garlic cloves

4

tbsps. lemon juice

2

tsps. unsalted peanut butter

2

tsps. unsalted tahini

2

tsps. smoked paprika
Himalayan salt and black pepper to taste

50

ml (1.7 fl oz) water

4

tbsps. nutritional yeast

4

sage leaves
some parsley, chopped
VEGGIES ON SIDE
1

big onion, cut into

16

pieces

1

bigger beetroot, cut into cubes

2

big carrots, cut into thicker discs
---
Instructions
Blend everything besides the cauliflower and parsley in a high-speed blender into a nice paste.
Remove the leaves from cauliflower. Also, remove the stem so that the cauliflower can sit flat and cut a cross into the base (it allows the cauliflower to soften evenly).
Put the cauliflower head into a big pot. Add a few centimetres of water and steam covered for 30 minutes. Less in case you have a smaller cauliflower.
Let the cauliflower cool down a bit, turn it upside down and drizzle a bit of soy sauce into it. Then transfer it onto an oven pan (flat side down). Rub the cauliflower over with the paste using your hands.
Heat oven to 190°C (375°F) and bake covered with foil or lid for 20 minutes. Then remove the foil and add vegetables onto the pan and bake for another 35-40 minutes until the veggies are done. If you like your cauliflower very crispy on the outside, put the oven on grill mode for the last 10 minutes.
Keywords: whole roasted cauliflower
Tips on my whole roasted cauliflower:
Add pieces of cauliflower and the veggies to your salad.
Have the cauliflower with cashew mayonnaise, cheesy sauce or oil-free veggie sauce.
Eat with lentil loaf or plant-based patties, e.g. quinoa-chickpea patties, beet-chickpea patties, chickpea-zucchini patties.
Have any veggies on side: fennel, potatoes, sweet potatoes, Brussels sprouts, turnip, eggplant, summer squash, bell pepper.
Spread/mix the veggies with the same tangy paste before baking.