Patties are not something I make very often, as it is more time-consuming than preparing food on stove top. However, every now and then I take the time and delight my family.
Beet and chickpeas is probably one of the most popular combos for patties – but hey, what can one do? It just is so delicious, beets providing the juiciness and chickpeas the heartiness.
This recipe is oil-free, sugar-free, lactose-free, and casein-free.

Ingredients |6 patties|
1 can unsalted chickpeas, washed and drained
2 tbsp chickpea flour
400 g (about 2 cups) boiled beets, grated
parsley
black pepper and Himalayan salt to taste
oregano
Preparation:
Process the chickpeas in a food processor. You could also mash them with fork, but it is more time-consuming.
Mix together the chickpeas, grated beets, chickpea flour and herbs/spices.
Form 6 patties and place them on a baking sheet lined with parchment paper.
Bake at 350 F (175 Celsius) for 15 minutes, then give the patties a flip and bake for another 10-15 minutes.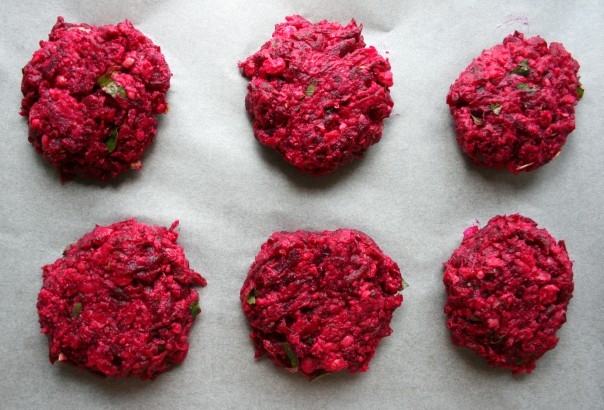 I served the patties with pan-roasted zucchini (just sprinkled some salt on them), slices of fermented buckwheat bread, and with sunflower seed cream.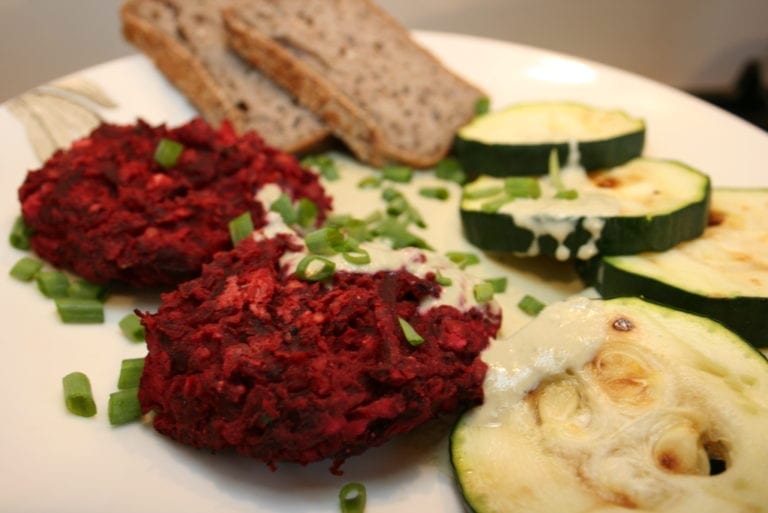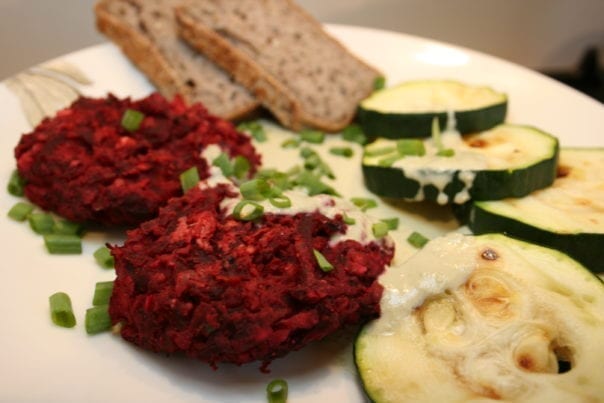 Tips:
* If your beets are not very juicy you might not need to use chickpea flour.
* Chickpea flour can be substituted with other flours (brown rice, buckwheat, etc.)
* Use any herbs/spices you deem fit. Make Indian or Mexican version of the patties – whatever appeals you at the moment you start cooking.
*I did not use any extra salt as the canned chickpeas already came with it. Should yours be without salt, feel free to use some in the recipe.
Nutritional info (per patty): 109 kcal, 19.1 g carbohydrates, 1.24 g fats, 5.26 g protein, 5.65 g fibre.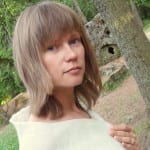 Nele Liivlaid: founder of Nutriplanet.org She has been into healthy eating for many years, but developed a more profound interest in nutrition and related diseases when she started reading The China Study and other special books on nutrition. After being in real estate and hospitality business for more than 10 years she decided to totally change her path to spread the word about healthy and sustainable nutrition and lifestyle.