I am usually more of a stew/wok/soup kind of person and do not make patties very often as it requires quite a bit of messing around and you end up with more dirty dishes. However, the effort pays off – the kid is super-happy and you have something different on your plate for a change. Oh, and of course it also tastes delicious!
I am especially happy about the vegan cheesy potato sauce, which came into existence while I was trying to find a leaner sauce option – potato, sweet potato and nutritional yeast do a fine job.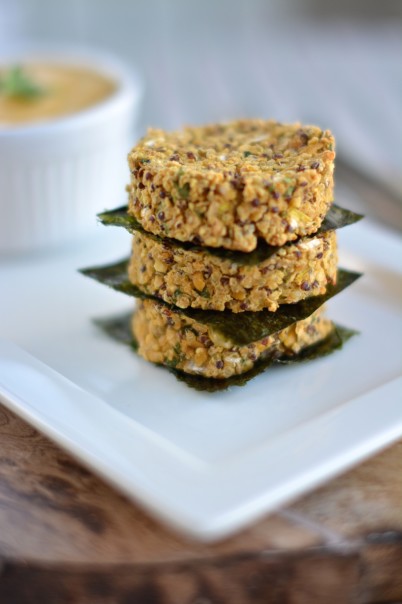 Ingredients |4-5 servings|
2 cans chickpeas, rinsed and drained
50g (1.76oz) white quinoa
50g (1.76oz) red quinoa
2 garlic cloves
6 two-centimetre thick leek slices
A handful of fresh parsley
1tsp paprika powder
2tbsp (not heaped) corn flour
3tbsp oat milk

Preparation:
Measure the quinoas, wash thoroughly and boil with some sea salt for 17 minutes. Let sit covered for another two minutes. Should there be any water left in the pot, drain it.
While the quinoa-mix are cooking, place the chickpeas, garlic, leek, parsley and paprika powder into a food processor. If your chickpeas are unsalted, add some sea salt as well. Process well. Scrape the sides with a spoon and process again.
Pour this mixture into a bowl and add boiled quinoa-mix. Mix well with a spoon or use your hands. Add corn flour and oat milk and mix again. I find using your hands is the most effective.
Take a baking sheet and cover it with parchment paper. Take one tablespoon of the batter, form a nice patty and place it on the baking sheet. Repeat.
Heat oven to 190 C (375F) and bake for 15-20 minutes. They firm up as they cool down.
Cheesy Potato Sauce |4 servings|

½ sweet potato, peeled and cut into small cubes
1 big white or red potato, peeled and cut into small cubes
1tsp broth powder
1tbsp onion flakes
1tsp garlic powder
2tbsp nutritional yeast
Preparation:
Put all ingredients except the nutritional yeast into a small pot and cover with water. Boil until potatoes are soft – 10-12 minutes. Let cool a bit and blend with immerse blender. Mix in nutritional yeast and blend again. If the sauce is too thick, add some plant-based milk or boiled water.
Store leftovers in the fridge – you will definitely need to add some liquid on the next day as it thickens quite a bit.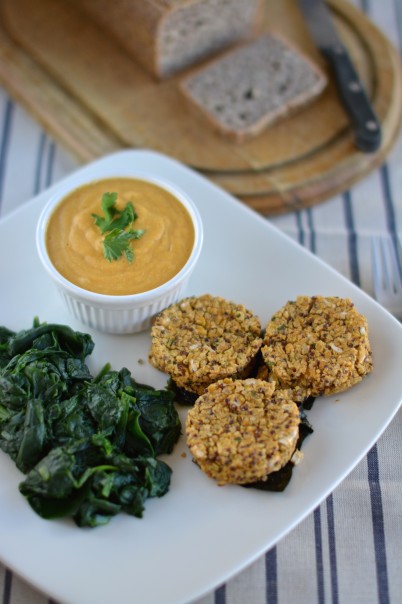 Tips:
substitute oat milk with any other plant based milk or water
you can use only white or only red quinoa, if you do not have both in hand

add some cashews to the sauce for extra creaminess

serve the patties and sauce with steamed spinach or chard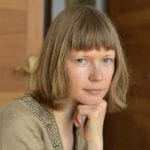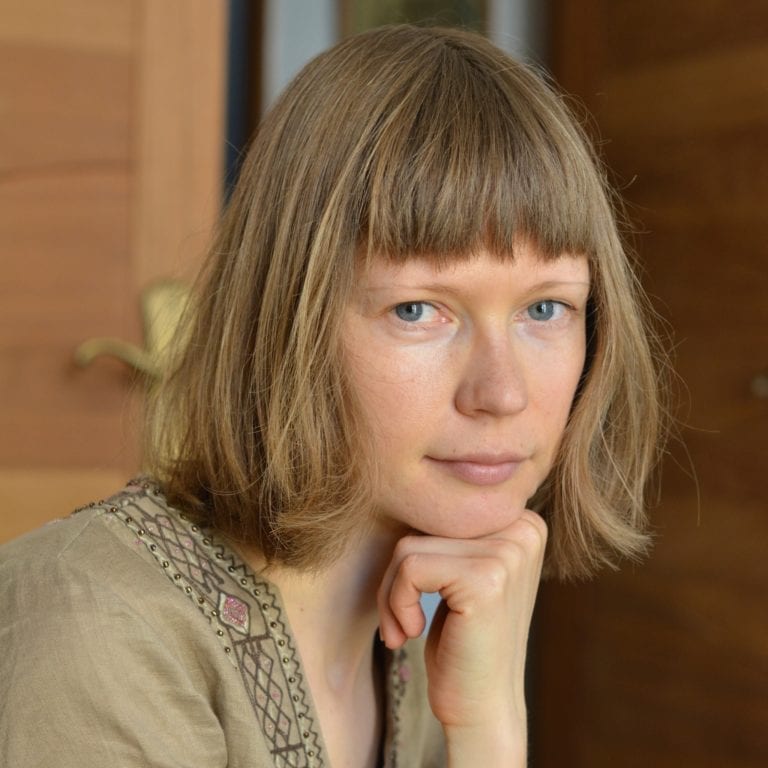 Nele Liivlaid: founder of Nutriplanet.org She has been into healthy eating for many years, but developed a more profound interest in nutrition and related diseases when she started reading The China Study and other special books on nutrition. After being in real estate and hospitality business for more than 10 years she decided to totally change her path to spread the word about healthy and sustainable nutrition and lifestyle.