Here are delicious and satiating quinoa chickpea burgers that taste heavenly with my cheesy vegan sauce. Besides, it is a perfect recipe for batch cooking for effortless weeknight meals. Furthermore, this vegan burger recipe has only simple ingredients that you can find in every supermarket.
Now, to be honest, I am usually more of a stew/wok/soup kind of person and do not make burgers very often. It's simply because they require quite a bit of messing around and you end up with many dirty dishes. However, the effort pays off – the kid is super happy and you have something different on your plate for a change. Oh, and of course, those quinoa chickpea burgers also taste delicious!
It needs to be mentioned that I am especially happy about the vegan cheesy potato sauce, which came into existence while I was trying to find a leaner sauce option. As it turns out, potato, sweet potato and nutritional yeast do an excellent job in creating a tasty and creamy vegan cheese sauce.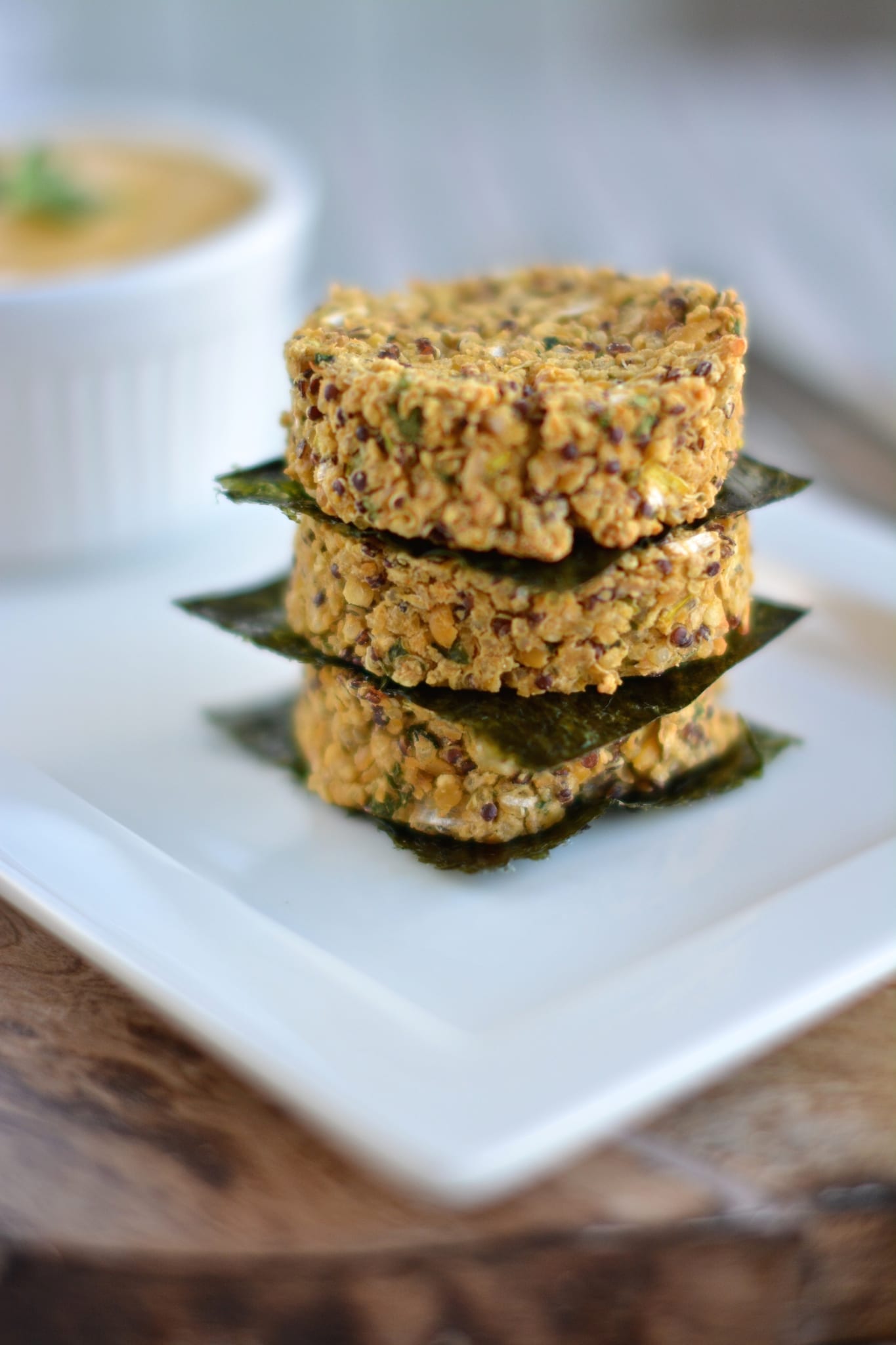 Finally, my quinoa chickpea burgers have many good qualities for those with dietary restricions, such as:
Gluten-free
Vegan
Candida diet friendly (ditch the sauce and sub corn flour when on the cleanse menu)
Nut-free and peanut-free
Low-fat
Soy-free
And last, but not least, I'd be so glad to hear from you when you try those quinoa chickpea burgers! Just leave a comment below or tag me in social media.
Enjoy!
Quinoa Chickpea Burgers
Ingredients:4-5 servings
2 cans unsalted chickpeas, rinsed and drained
50g (1.76oz) white quinoa
50g (1.76oz) red quinoa
2 garlic cloves
6 two-centimetre thick leek slices
A handful of fresh parsley
 1 tsp. paprika powder
2 tbsps. (not heaped) corn flour
3 tbsps. oat milk
Himalayan salt and black pepper to taste
Directions
First, measure the quinoas, wash thoroughly and boil with some sea salt for 17 minutes. Let sit covered for another two minutes. Should there be any water left in the pot, drain it.
While the quinoa-mix is cooking, place the chickpeas, garlic, leek, parsley and paprika powder into a food processor. If your chickpeas are unsalted, add some sea salt as well. Process well. Scrape the sides with a spoon when necessary and process again.
Then, pour this mixture into a bowl and add boiled quinoa-mix. Mix well with a spoon or use your hands. Add corn flour and oat milk and mix again. I find using your hands is the most effective.
Next, take a baking sheet and cover it with parchment paper. Take one tablespoon of the batter, form a nice patty and place it on the baking sheet. Repeat.
Finally, heat oven to 190°C (375°F) and bake for 15-20 minutes. They firm up as they cool down.
Ingredients:cheesy vegan sauce|4 servings|
½ sweet potato, peeled and cut into small cubes
big white or red potato, peeled and cut into small cubes
1 tsp. broth powder
1 tbsp. onion flakes
1 tsp. garlic powder
2 tbsps. nutritional yeast
Directions
First, put all ingredients except the nutritional yeast into a small pot and cover with water. Then, boil potatoes until soft – 10-12 minutes. Let them cool a bit and blend with immersion blender. Finally, mix in nutritional yeast and blend again. If the sauce is too thick, add some plant-based milk or boiled water.
Store any leftovers in the fridge – you will definitely need to add some liquid on the next day as it thickens quite a bit.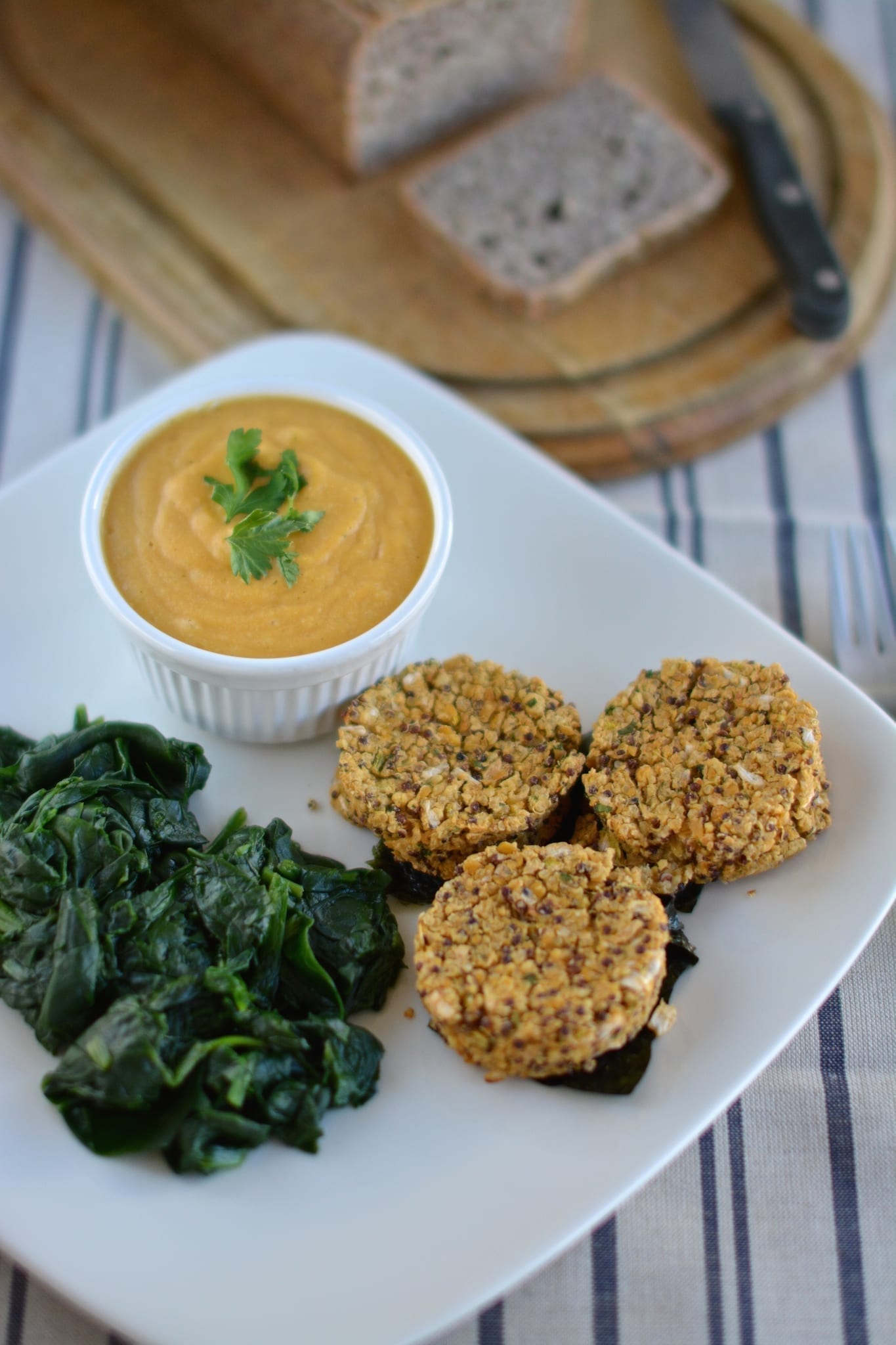 Tips on my quinoa chickpea burgers:
Substitute oat milk with any other plant based milk or water.
You can use only white or only red quinoa, if you do not have both in hand.

Add some cashews to the sauce for extra creaminess.

Serve the burgers and sauce with steamed spinach or chard.