Christmas is at our doorstep and everyone is thinking about what to bake during the holidays. And I though about how to combine ginger with nutty, I'm sure it will become gingered nutty cake for Christmas.
I'm sure there are plenty of people who'd like to make healthier choices, especially when it comes to sweet treats, but this is where people very often slip as the conventional sweets and Christmas cakes are loaded with butter or oil and sugar. Truly, you only get to enjoy the treat or cake while eating and regret it seconds after. You might even feel the adverse aftereffects days later.
The best way to control the contents of the sweets you're going to eat is to prepare them yourself of whole food plant-based ingredients.
It's almost four years now that I've been preparing my own cakes, muffins, cookies, brownies and candies and am so very grateful to myself.
I still remember myself eating the conventional way during holidays – first, I wouldn't eat all day before and after the feast I couldn't sleep at night and felt I shouldn't be eating for at least two days to feel well and in peace with myself again.
However, having delicious dishes and sweets made of whole food plant-based ingredients (even if over-consuming a bit) I can't wait to have breakfast the next morning. What a bless! Can you imagine how liberating it is to feel good all the time, not just when you are eating? I would never go back to the old ways. I have no regrets and no temptations. The conception "treats have to be rare and are bad for me" has totally shifted. On a whole food plant-based diet it's: "treats are good for you and you can have them every day". Obviously it doesn't mean that I can eat myself senseless, but rather have a few slices of this delicious cake or 1-2 muffins a day. I couldn't do that with conventional cakes and muffins. Everyone needs to find their own balance and limits.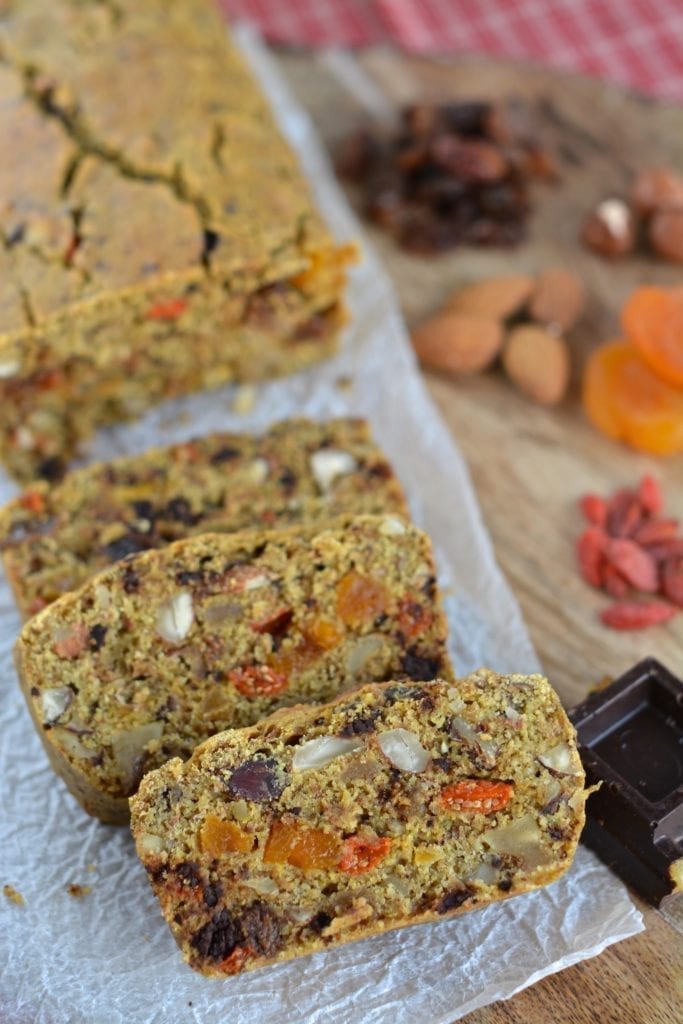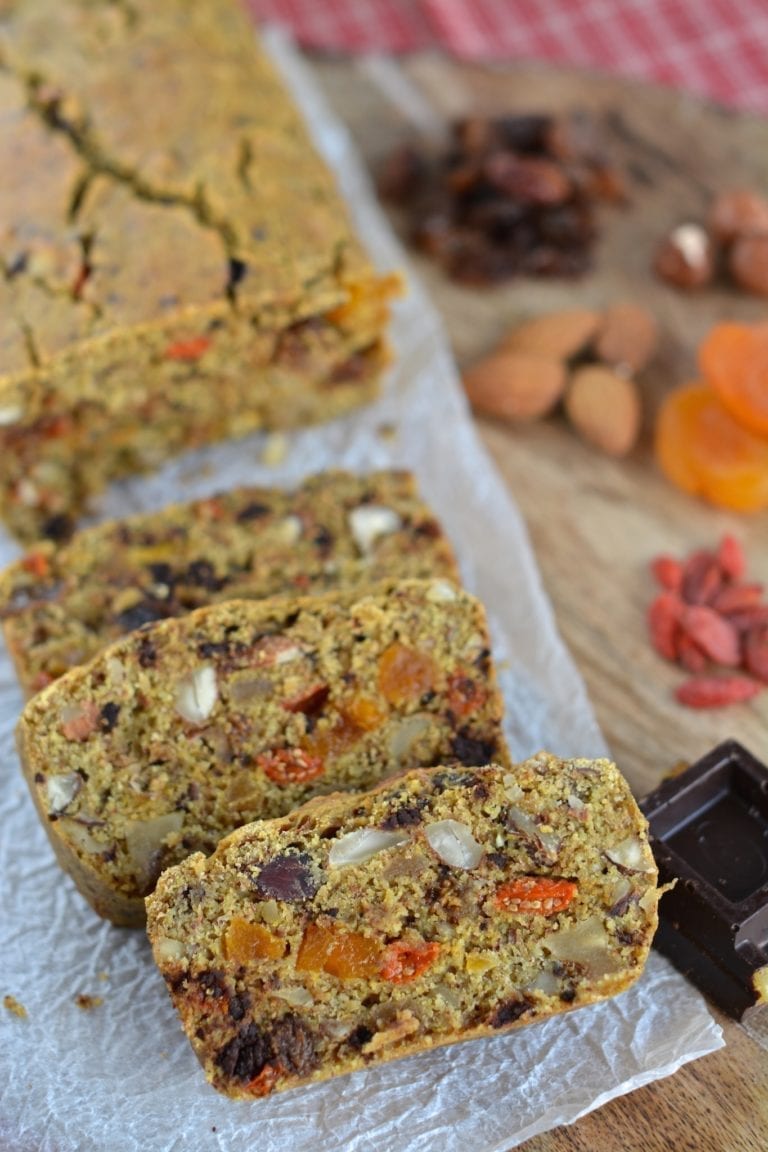 My gingered nutty Christmas cake is full of flavour and richness and it sure looks and tastes like a "real" one, but instead it's made of soaked gluten-free whole grains, nuts, dried fruits, banana and a bit of dark chocolate. It contains NO oil, sugar or nectars. Moreover, contrary to what people might expect, there's no rocket science to it. The recipe is very easy to make and it's extremely unlikely that you'd fail. Don't get intimidated by soaking the grains – it's water that does the job for you!
The most time-consuming part of this Christmas cake recipe is chopping the nuts and dried fruits, but that's what you'd need to do even when following a conventional recipe. So, go ahead and make your holidays lighter and healthier!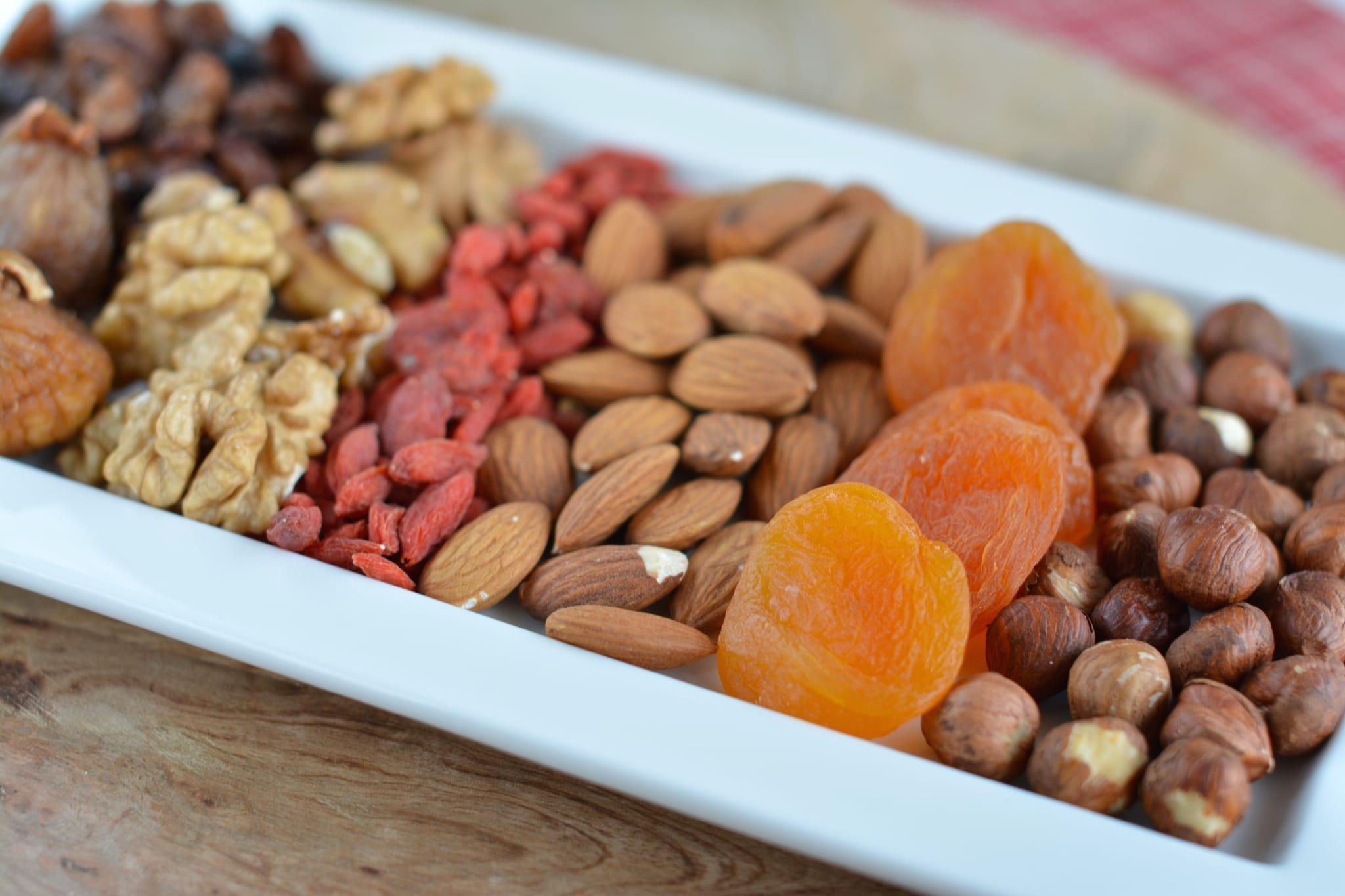 So, lease let me know in the comments below if you have any question about my gingered nutty cake. Please tag me in social media whenever you try one of my recipes! I'd love to see your creations! Instagram @thenutriplanet and Facebook @nutriplanet.health.hub
Print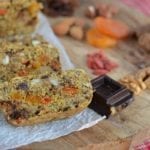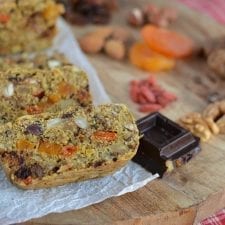 Nutty Christmas Cake Recipe
---
Description
Christmas is at our doorstep and everyone is thinking about what to bake during the holidays.
---
THROW INTO BLENDER TO MAKE BATTER
MIX INTO BLENDED BATTER
¼ cup

hazelnuts, chopped

¼ cup

almonds, chopped

¼ cup

walnuts, chopped

¼ cup

dried apricots, chopped

¼ cup

raisins, soaked in rum

5

figs, chopped

⅛ cup

goji berries

2

tbsps. grated orange peel or candied orange peel (use organic)

50g

(

1.8oz

) dark chocolate, chopped
---
Instructions
Soak millet and buckwheat overnight (or all day) in water in separate bowls. Wash and drain (you can use one sieve).
Soak raisins overnight in rum and warm water mixture (half and half). You can discard the soak liquid afterwards or you can replace some of the oat milk in the recipe.
Chop everything that needs to be chopped from the second table.
Heat oven to 175 C (350 F) and line a loaf tin with parchment paper.
Put all ingredients in the first table except baking powder in blender and blend until smooth batter is formed. Don't worry; it's supposed to be fairly liquid as millet swells quite significantly.
Now, blend in baking powder.
Finally mix in (DON'T BLEND) chopped nuts, dried fruits and chocolate.
Pour the batter into loaf tin lined with parchment paper and bake for 40-45 minutes until your Christmas cake is golden.
Notes
Let it cool before slicing and serving. If you leave it on the counter, cover with clean kitchen cloth or with foil (loosely) to keep the cake moist.
This nutty Christmas cake is delicious as dessert, decadent breakfast or mid-morning/afternoon snack.
Cook Time:

40 minutes

Method:

Baking
Tips for my nutty Christmas cake:
If you want to bake the nutty Christmas cake in the evening, put the grains to soak in the morning.
If you want to bake the nutty Christmas cake in the morning, put the grains to soak the evening before.
If you have leftovers, cut it into thick slices and store in freezer. Heat up in the oven whenever needed.