Delicious and comforting festive lentil loaf with potatoes and nuts that is vegan, oil-free, low-fat and Candida diet friendly.
Now, I've made vegan loaves before, but to my great surprise I didn't have any recipes up on my blog just yet. So, I'm about to put it right with this lentil loaf.
To be totally honest, it took me four goes to perfect my own Christmas lentil loaf recipe, but it was worth it as the final version really came out perfect. I dare to say it as I tested it on guests who only confirmed my opinion.
I must mention that I this lentil loaf was inspired by Gaz Oakley's recipe.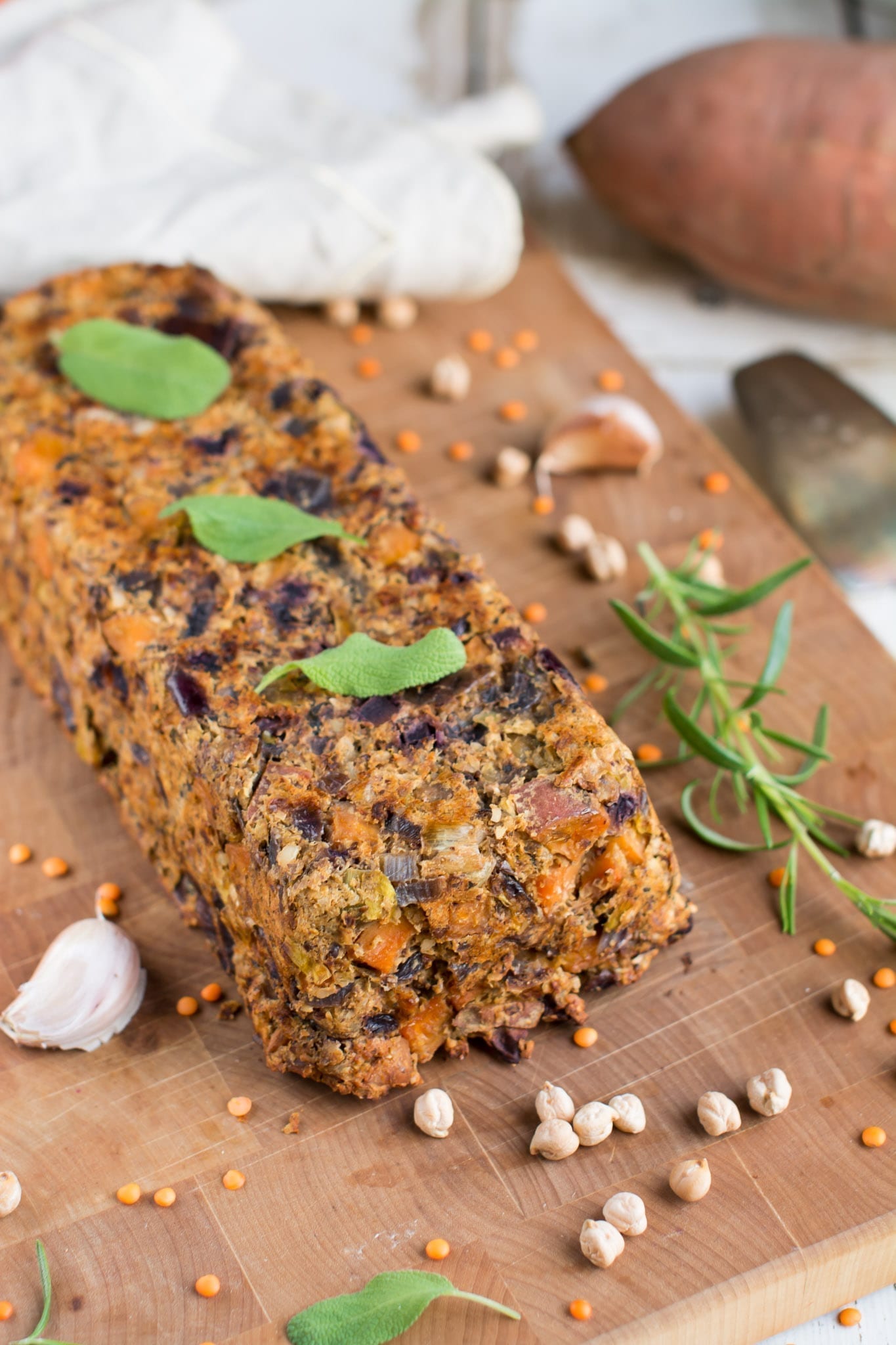 The Story Behind My Lentil Loaf
So, I made the first lentil loaf with rice and big pumpkin cubes, but the loaf tended to fall apart a bit and therefore was not very sliceable. Also, I didn't like the huge pumpkin cubes. So, I chopped them finer for the second go and used mung beans instead of lentils discarding the rice altogether.
However, the lentil loaf was still not perfect. Moreover, I used a whole cup of nuts for the first version and even without any added oils it was just too heavy and oily in my mouth (my hubby totally agreed on this). So I diminished the quantity of nuts from 1 to ½ and then even to ⅓ cup bringing the roast's calories-from-fat-percentage down from 50 to 26.
Much better, isn't it? Now I can munch on it without any regrets. Christmas or not, I still want to feel great after my meal.
In my third vegan Christmas lentil loaf version I used sweet potatoes instead of pumpkin. It was delicious, but I though a bit too sweet for a main course. So, the final version contains a mixture of sweet potato and potato bringing the sweetness down and adding heartiness.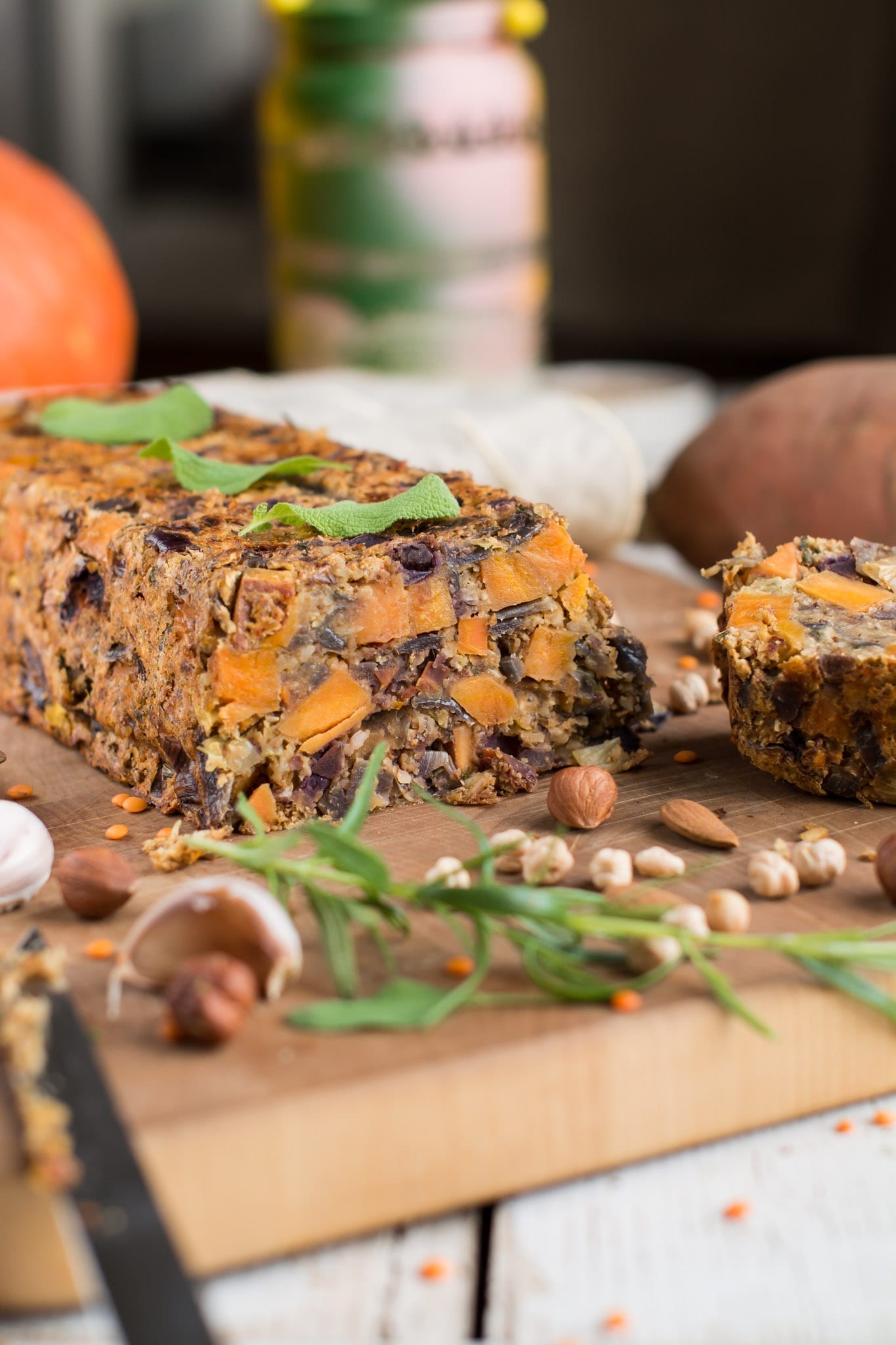 To sum it up, my Christmas lentil loaf is vegan, plant-based, gluten-free, low fat, egg-free, vegan Candida diet friendly (except for those on cleanse) and totally quilt-free.
The lentil loaf goes extremely well with my vegan cheese sauce (see recipe below), a salad of Romain lettuce, steamed kale, oven roasted tahini-sauce coated Brussels sprouts and raw red cabbage.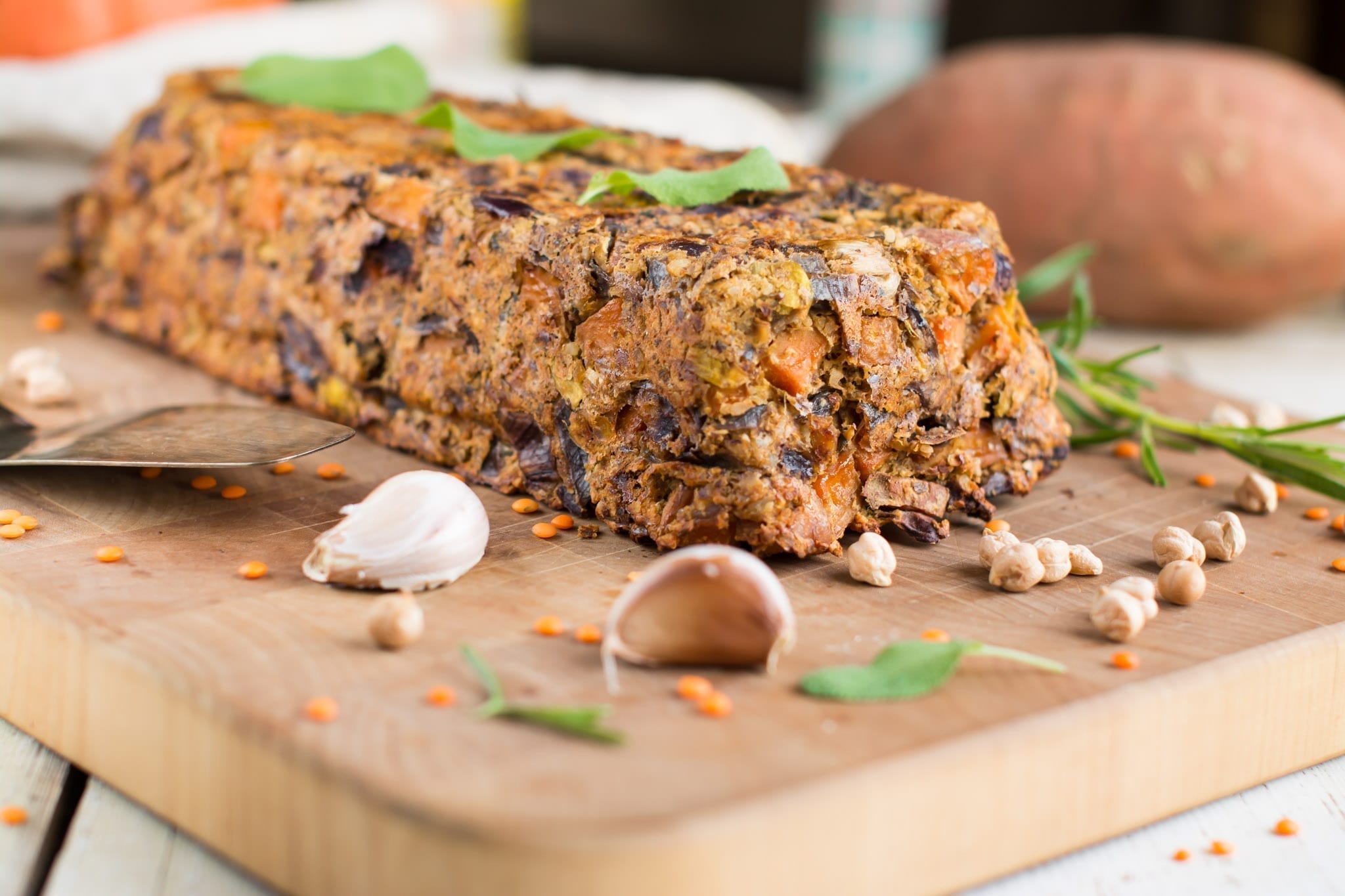 Finally, please tag me in social media whenever you try one of my recipes and leave me a comment bellow if you have any questions! I'd love to see your creations! Instagram @thenutriplanet and Facebook @nutriplanet.health.hub
Print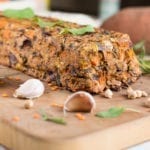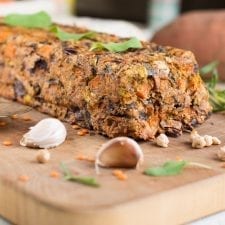 Vegan Festive Lentil Loaf with Nuts and Potatoes
---
Author:

Nele Liivlaid

Total Time:

1 hour 20 minutes

Yield:

5

servings

1

x

Diet:

Vegan
Description
Delicious and comforting festive lentil loaf with potatoes and nuts that is vegan, oil-free, low-fat and Candida diet friendly.
---
100g

(

3.5oz

) dry red lentils, (

240g

,

8.5oz

cooked)

85g

(

3oz

) boiled unsalted chickpeas

1

red onion, chopped

12

leek slices, about

1

cm thick

1

medium carrot, chopped

½

sweet potato (about

160g

,

5.6oz

)

1

big potato (about

160g

,

5.6oz

)

4

garlic cloves

2

pinches of chilli flakes

1 tsp

. smoked paprika powder

15g

(

0.5oz

) miso paste
Leaves from

3

fresh rosemary stalks, chopped
Leaves from

5

fresh sage stalks, chopped

25g

(

0.9oz

) hazelnuts

25g

(

0.9oz

) almonds

2

tbsps. ground flax seeds +

4 tbsp

s. water

3

tsps. dried tomato granules

½ tbsp

. raw buckwheat flour
Black pepper and Himalayan salt to taste (max a dash for Plantricious version)
---
Instructions
Wash the lentils well and boil. Set aside.
Process the nuts in food processor into coarse crumbs or chop them with knife. Process the chickpeas in food processor or mash with fork.
Mix ground flax seeds with water and set aside.
Chop onion, leek, carrot, sweet potato and potato into smaller cubes and throw them into a bowl.
Take a big pot, add 2 tbsps. of water (you shouldn't need more) and heat it up. Once the water starts to sizzle, bring down the heat, add chopped veggies and mix for a while. Cover with lid and mix every now and then. Sautee the veggies for a total of 8-10 minutes.
Peel garlic cloves and crush them through garlic press. Add to pot of veggies and mix well. Also add chilli flakes, paprika powder, miso paste and chopped sage and rosemary into the pot. Mix well. All this in the range of 8-10 minutes.
Turn off the heat and cool the veggies a bit by mixing it with spoon and let the excess water to vaporize.
Add into pot: boiled lentils, processed nuts and chickpeas, tomato granules and flax eggs. Mix really well. Taste and season with Himalayan salt and black pepper.
Finally mix in ½ tbsp. of buckwheat flour. The mixture has to be quite dry – it's still moist, but not liquid.
Heat oven to 190°C (375°F). Take loaf tin (I used 23cm x 8cm x 7cm) and line it with parchment paper.
Transfer the loaf mixture into tin and press it down really well using spatula to make sure there are no air bubbles.
Bake for 50 minutes until it's golden. Remove from oven and let breathe for a couple of minutes. Then, place chopping board over the tin and flip it over. Remove the tin letting the loaf to breathe for another couple of minutes before taking off the parchment paper. Let cool before slicing.
Prep Time:

30 minutes

Cook Time:

50 minutes

Method:

Baking
Nutrition
Serving Size:

1/5 of recipe

Calories:

235 kcal

Sodium:

214.9mg

Fat:

8g

Saturated Fat:

0.7g

Carbohydrates:

25.6g

Fiber:

7.7g

Protein:

10.3g
Tips on my lentil loaf:
If you don't have miso paste, sub it with soy sauce or just with Himalayan salt.
You can use any nuts – just fill ⅓ cup with them, which is about 50 grams. Measure whole nuts.
You can sub dried tomato granules with drained and chopped sundried tomatoes – about four halves should be enough.
Print
Vegan Cheese Sauce Recipe
---
Author:

Nele Liivlaid

Total Time:

10 minutes

Yield:

2

–

3

servings

1

x

Diet:

Vegan
½

sweet potato (

160g

,

5.6oz

with peel), peeled and chopped

1

medium potato (

140g

,

5oz

with peel), peeled and chopped

2

tbsps. onion flakes

1 tsp

. garlic powder

1/4 tsp

. Himalayan salt

15

almonds (about

18g

, 0.6oz)

2

tbsps. nutritional yeast
Water
---
Instructions
Boil water in kettle for later use.
Put all the ingredients except nuts and nutritional yeast in a small pot. Add enough of the boiling water (about 195ml) to cover the veggies. Mix well.
Simmer for 10 minutes or until the potatoes are soft. Let cool a bit.
Add the nuts and nutritional yeast and puree with an immerse blender. Add more boiled water if the sauce is too thick.
Cook Time:

10 minutes

Method:

Boiling
Nutrition
Serving Size:

1/3 of recipe

Calories:

157 kcal

Sodium:

155.4mg

Fat:

3.5g

Saturated Fat:

0.3g

Carbohydrates:

21.8g

Fiber:

5.2g

Protein:

5.7g